Han Chowon is a South Korean actress, who came close to debuting as one of the 12-member Korean Pop (K-Pop) girl group called IZ*ONE, as she ranked No.13 in the finale of Mnet's reality television survival series, "Produce 48," that launched the idol group. She signed an exclusive artist contract with Cube Entertainment in 2019.
Just a simple reminder that article is created and owned only by kpopwiki.org. Article cannot be re-published in any other pages or documents. Copyright is protected by DMCA. All found copies will be reported.
Original source: https://kpopwiki.org/who-is-former-produce-48-contestant-han-chowon-bio/
Early life and family
Han Chowon was born on 2 September 2002, in South Korea. Little is known about her family, except that she has a younger brother.
Education background
She matriculated from Hanlim Multi Art School in Seoul in 2019, with a major in Applied Music.
Career
It was said that she auditioned with Cube Entertainment to be an actress, and she did start out as such when cast in the South Korean movie, "58 Years" (2014), then appeared in the documentary film, "Dilkusha" (2016). She also became one of the trainees of the pre-debut team of Cube Tree under Cube Entertainment, and trained for almost two years before taking the opportunity to become a Korean Pop (K-Pop) idol and debut in a girl group.
"Produce 48"
Reality television survival series have become a popular route to stardom, as participating in the show can giain exposure and a fan base for an aspiring idol, and needed to debut whether or not the trainee made the final line-up.
The respective agencies of the non-winners would capitalize on this to debut them as a solo artist, in a duo, or include them in the idol group that they would launch after the show ended.
She joined the survival series "Produce 48," and competed against 95 girls to secure a spot in the debuting 12-member girl group. The show was a collaboration between the producers of the "Produce 101" franchise series, and the Japanese idol group AKB48, which is why 39 of the participants are members of AKB48 and its sister groups such as HKT48, NGT48, NMB48, and SKE48. The girls started filming for the show in April, and it was aired from June to August 2018 on the Mnet Cable Network. It was also broadcast on Mnet Japan and tvN Asia.
Cube Entertainment's K-Pop groups such as BtoB, (G)I-DLE, and Pentagon sent video messages to show support and help promote Han Chowon.
The contestants were initially grouped according to their skill level after the evaluation part of the show. Chowon didn't impress the mentors when she performed the song "Red" by Hyuna at that time, and received a "D" grade – "A" being the highest and "F" as the lowest. She was re-evaluated later and got a "B" grade. She and the girls received training from vocal, dance and rap coaches to help them accomplish their missions and deliver a solid performance. Studio audience votes would decide the winning team on every mission, and so awarding bonus points.
The viewer votes were then added to establish the ranking of the participants – those who ranked low would leave the competition during the elimination rounds.
In one of the missions, Chowon won in the vocal category and earned 100,000 points, which greatly improved her ranking. She impressed the viewers with her stable, strong vocals when she sang her part in Heize's "Don't Know You" her team performed for the cover evaluation mission.
Her skills in rapping shone, when she along with Kwon Eunbi, Lee Sian, Kim Sihyeon, and Murase Sae performed the song, "Rumor." Although their team didn't win, their song performed well on the charts when it was released on 18 August 2018, as one of the tracks in the extended play (EP) "30 Girls 6 Concepts," by Stone Music Entertainment.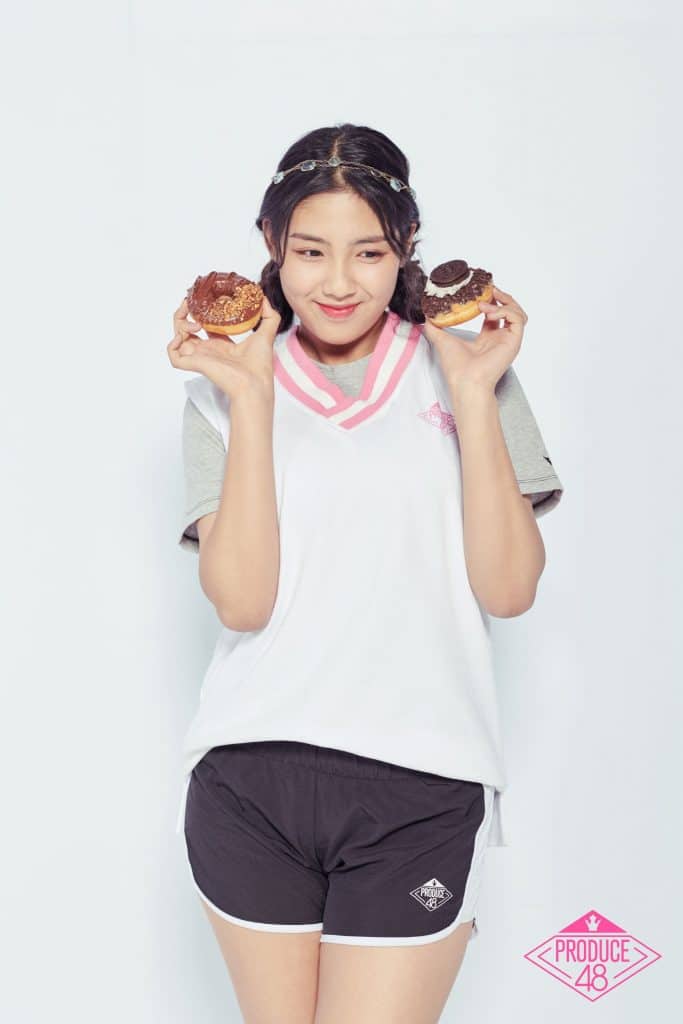 It peaked at No. 24 on the South Korean Gaon Digital Chart, and No. 37 on the Billboard Korea Hot 100, and the EP itself made it to No. 9 on the Billboard World Albums Chart, No. 14 on the Billboard Japan Hot Albums Chart, and No. 7 on the Oricon Digital Album Chart.
She has been given the nicknames "Reversal Queen" and "Trainee with a Twist," as she surprised everyone with her versatility, which caused her unexpected rise in the rankings. After delivering great performances on every mission, Chowon, who was once in 88th place, jumped to No.47, and then rose to No.9. Even if there were times when she didn't get the position that she wanted in the team, she still gave her all on stage, which caused the viewers to love her more. Unfortunately, she wasn't able to hold on to that position, as she went down to 13th place in the finale. Those who made the cut debuted as members of the temporary girl group called IZ*ONE, and would promote for two and a half years.
When the show ended, she went back to trainee status at Cube Entertainment. She posted on her Instagram account that her experience in doing the series was good, even if there were difficult times. She expressed her gratitude toward those who showed her love and support.
Vote manipulation controversy on "Produce 48"
After the fourth season of the "Produce 101" franchise series called "Produce X 101" was over, the viewers of the show noticed a pattern in the voting results that raised the possibility of vote-rigging taking place. They later filed a lawsuit against Mnet for electoral fraud, as the show charged a fee for text voting.
The Seoul Metropolitan Police Agency conducted an investigation into the parties involved, and search warrants were issued on the text voting company and the offices of CJ E&M, the creator of the show. Voice recordings of staff members talking about manipulating the votes on previous seasons of the "Produce 101" series were discovered, which prompted an investigation on all survival shows on Mnet.
The director of the series, Ahn Joon-young, was arrested along with the producers of the show and representatives of entertainment agencies involved in the case. He later admitted under  questioning of having manipulated the votes, as the final rankings of the top 20 participants in "Produce 48" and "Produce X 101" were predetermined before the final broadcast. According to Ahn, he met with the producer of the show to determine the 12 members who would debut as IZ*ONE. The people involved in vote-rigging were fined and sentenced to jail.
However, they didn't reveal who the real winners were, but according to Mnet, those who were unfairly eliminated were financially compensated.  With placing 13th in the final ranking, fans were wondering if she was one of those who were bumped off the original line-up.
As an actress
Han Chowon finally signed an exclusive contract as an artist with Cube Entertainment in 2019. She was cast to play Soo Jeong, one of the main characters who is described as a mysterious schoolgirl in the crime-action film, "Bully Bad Guys." The movie starring Seo Se Myung and Nam Seung Min was released in March 2020. She reprised her character as Soo Jeong in a supporting role in "The Dominator 3: Junior Bullies", released in June 2020.
She appeared in "Turtle Channel" that produces films which help spread awareness of people with disabilities.
Personal life
She is 18 years old and single. As someone who's just starting to make a name for herself in the entertainment industry, it's not surprising that she's keeping mum about her personal life, particularly if she is seeing anyone at the moment, which her initial contract forbids.
Happy birthday to amazing rapper and singer CUBE Entertainment' Han Chowon!❤❤❤ I hope despite everything Cube does lately, you'll be able to debut soon!❤💙💜❤ #HAPPYCHOWONDAY pic.twitter.com/GRwITnkpHC

— 𝐨𝐥𝐚 🏳️‍🌈💜 (@reikoox3) September 15, 2018
Hobbies, favorites, rumors, and interesting facts
Fans wondered if she would debut in a duo along with label mate, Lee Joo Hyun, who has participated in reality TV survival series such as "The Unit" and "Dancing High."
Some fans wanted her to join the K-Pop group (G)I-DLE, following in the footsteps of label mate Kwon Eunbin, another "Produce 101" participant who joined the girl group CLC after the show.
She is good at waacking dance, which is a street dance that uses posing and rotating arm movements.
She can play the piano.
Chowon considers eating as one of her hobbies.
Appearance
Chowon is 5ft 5ins (1.68m) tall, weighs 110lbs (50kg), and has a slim build. Her natural hair color is black and her eyes are brown.
Net worth
Han Chowon has an estimated net worth of close to $100,000 as of November 2020 according to sources.