Do Kyungsoo, more popularly known as D.O., is a South Korean actor and singer, who debuted as one of the main vocalists of the boyband EXO, under SM Entertainment. He rose to prominence with his group's breakthrough hit, "Growl," and best-selling albums such as "XOXO," "Exodus," "The War," and "Don't Mess Up My Tempo." He ventured into acting, and won the Best New Actor award for "It's Okay, That's Love" (2014), "My Annoying Brother" (2016), and "Along With The Gods: The Last 49 Days" (2018).
Just a simple reminder that article is created and owned only by kpopwiki.org. Article cannot be re-published in any other pages or documents. Copyright is protected by DMCA. All found copies will be reported.
Original source: https://kpopwiki.org/do-kyungsoo-exo-age-height-brother-eyes-lips-glasses/
Early life and family
Do Kyungsoo was born on 12 January 1993, in the city of Goyang in Gyeonggi Province, South Korea. His father was a professional painter who owns an art business, and his mother was a hairdresser. His parents raised him and his older brother, Seungsoo, in a Christian household. Not much information about his family is available, but some photos of them circulated online.
All that was known about Seungsoo was that when he was in the military for his mandatory service, Kyungsoo sent him a letter that revealed how close they were as brothers.
His parents were very proud of what he had achieved, not just as an idol but also as an actor. They were happy about hearing good things from their peers about their son's performance in movies and television dramas.
Educational background
He attended Goyang Poongsan Elementary School and Baekshin Middle School, then matriculated from Baekseok High School. Kyungsoo enrolled in Kyunghee Cyber University.
Career
First steps
Singing had been one of his hobbies since he was very young, and it continued until high school, as he joined a vocal band and performed on stage at school events. He was also known for beatboxing and rapping back then.
In 2010, he participated in the Gyeonggi Youth Competition and won, after which a talent scout from SM Entertainment approached him and invited him to audition. He officially became a trainee of the company after passing the audition, as he sang "My Story" by Brown Eyed Soul, and "Anticipation" by Na Yoonkwon – he kept this to himself as he continued to attend school.
As there were many trainees who could sing well in the company, all vying for a spot in an idol group that would be launched, he felt he needed to show a unique vocal color and tone to stand out. He focused on listening to R&B soul music to help him add style, and put more emotion into his singing.
Debut as EXO
It took him two years of training before he debuted on 8 April 2012, as part of the 12-member group called EXO, and used D.O. as his stage name.
The group was originally divided into two, namely Exo-M (Mandarin) and Exo-K (Korean), so that they could promote in Korea and China separately but simultaneously. Their first extended play (EP) "Mama," was commercially successful in both countries, as it had cumulative sales of over 520,000 copies, with the Korean EP topping the Gaon Album Chart, and the Mandarin version topping China's Sina Album Chart. Both versions made it to the top 12 of Billboard's World Albums Chart. The title track was No.46 on the Gaon Digital Chart, and No.89 on Billboard's World Digital Song Sales chart, as it had over 380,000 downloads in South Korea, and 38,000 in the US.
They promoted their succeeding releases in Korea as a whole group. Their first studio album, "XOXO" released in June 2013, and its repackaged album "Growl," released a month later, collectively sold more than a million copies – it had been 12 years since a K‑Pop act achieved such a feat.
It became the best-selling album that year, and topped both the Gaon Album Chart, and Billboard's World Albums Chart.
The song "Wolf" had over half a million download sales in Korea, and 36,000 in the US, and gave them their first music show win on 14 June 2013, as the No.1 Song of the Week in KBS' "Music Bank." "Growl" was their breakthrough hit song, as it had over two million downloads in South Korea; it also won Song of the Year at the Melon Music Awards, and Record of the Year in Digital Release at the Seoul Music Awards. With 62,000 downloads in the US, Billboard ranked it at No.5 on the Biggest-Selling K-Pop Songs in the US in 2013, and No.1 on their 20 Best K-Pop Songs of 2013.
Best-selling albums
Despite three members filing a lawsuit against their label, and leaving the group sometime in 2014 and 2015, Exo remained strong and maintained their position as one of the most popular and bankable acts in the K-Pop music scene for several years, with their best-selling albums.
"Overdose" (2014) had over 650,000 copies sold in Korea and 3,000 copies in the US as it charted at No.129 on Billboard 200. "Exodus" (2015) made it onto Billboard 200 at No.95, and together with the repackaged album, "Love Me Right," they sold close to 1.3 million copies in Korea, and 15,000 in the US. "Ex'Act" (2016) and its repackaged album "Lotto" had almost 1.2 million copies sold. "The War" (2017) peaked at No.87 on Billboard 200, and when combined with its repackaged album "The War: The Power of Music," sold around 1.6 million copies in Korea, and 11,000 in the US.
In 2018, although "Don't Mess Up My Tempo" was not the best-selling album that year, it was certified Million by the Korea Music Content Association (KMCA) for having sold more than a million copies, and it charted at No.23 on Billboard 200. The repackaged album, "Love Shot," received Double Platinum certification from the KMCA, as it surpassed 500,000 copies sold. Both albums had cumulative sales of over 1.9 million copies in Korea, and 50,000 in the US.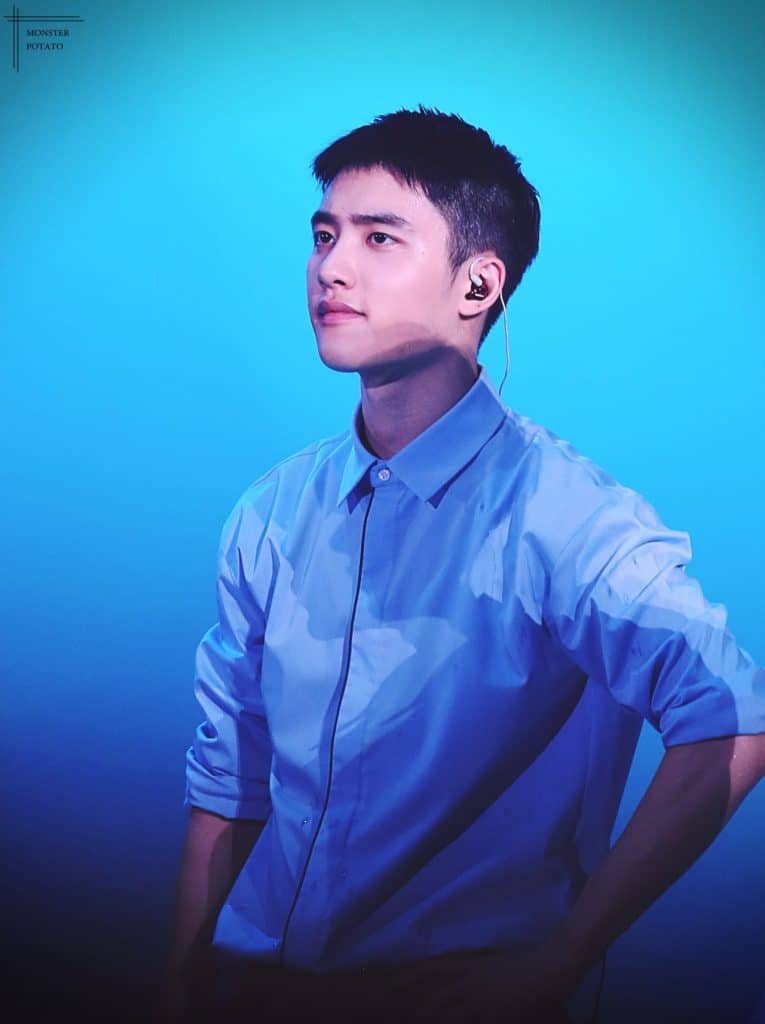 "Obsession" (2019) had close to 830,000 copies sold, which earned Triple Platinum certification from the KMCA. It also sold 25,000 copies in the US, as it reached No.182 on Billboard 200.
Kyungsoo's group had several singles that became commercially successful, including "Overdose" with 1.1 million downloads in Korea and 58,000 in the US, "Call Me Baby" with 1.2 million downloads in Korea and 56,000 in the US, "Love Me Right" with 1.1 million downloads in Korea and 34,000 in the US, and "Monster", with 830,000 downloads in Korea and 69,000 in the US, which topped Billboard's World Digital Song Sales chart.
As an actor
Kyungsoo has been making a name for himself as an actor too, as he played various characters that showcased his skills and earned him recognition from critics, which ranked him first among idols that ventured into acting.
🎬 210416

cjenm.official Instagram Update with #KYUNGSOO ❤

Head over to the post, like and leave some comments!! 🥰#디오 #엑소디오 #DO @weareoneEXO pic.twitter.com/yS1iH8acfW

— DO KYUNGSOO GLOBAL (@DKSooGlobal) April 16, 2021
"Cart"
He made his debut as a movie actor in "Cart," which was screened at the 2014 Toronto Film Festival and Busan International Film Festival. Kyungsoo played a supporting role as a son of a supermarket's temporary worker, who was laid off by the management. He was nominated as the Best Newcomer from the 9th Asian Film Awards, and Best Supporting Actor from the 52nd Grand Bell Awards. He didn't have a separate acting lesson, but he went over the details with the director. Yeom Jungah, the veteran actress who played his mother, was all praises for his acting and attitude on the set. Kim Heewon, who played the store boss, saw how serious the idol-actor was with his acting, that he decided to hit him hard in one scene to help the idol-actor focus on his emotions. He also shared how he had to tell Kyungsoo's fans to stop screaming every time the idol-actor was hit, as it only resulted in re-doing the scene. Kyungsoo sang "Cry No More," one of the soundtracks of the movie.
"It's Okay, That's Love"
That same year, he debuted on the small screen in SBS' romantic melodrama "It's Okay, That's Love," which tackled mental health. He played the role of Kangwoo, a high school student with an alcoholic father who often beat him and his mother. He's also a fan of the mystery fiction novelist Jaeyeol, played by Jo Insung. Kyungsoo won the Best Young Actor Award at the 16th Seoul International Youth Film Festival, and Best New Actor at the 3rd Apan Star Awards. He credited this drama for making him fall in love with acting, as he said that he had no clue about the craft, but as filming progressed, he gained a deeper insight into it. One particular scene with Jo Insung stirred up 'deep, inexpressible feelings in him that he would never have experienced as a singer.' He said that he had a hard time letting go of his character, and was teary-eyed saying goodbye to the writer, as they were two people who understood Kangwoo best.
With the positive feedback he received for his acting in his debut film and TV series, he found himself inundated with offers to do more, but he only accepted projects in between his group promotions and concerts.
Kyungsoo won his first Best New Actor award for movies at the 38th Blue Dragon Film Awards for the 2016 comedy-drama "My Annoying Brother," as he portrayed the main male lead role, that of a national judo athlete who became blind. Jo Jungsuk played his estranged brother who was paroled from prison; it was an engaging film due to their performance and chemistry according to critics. The two also sang the soundtrack entitled "Don't Worry." It topped the box office, as it grossed $20.6 million.
He won another Best New Actor Award in 2018 at the 18th Director's Cut Awards for his role as a soldier in the military in the fantasy-action movie "Along with the Gods – The Last 49 Days."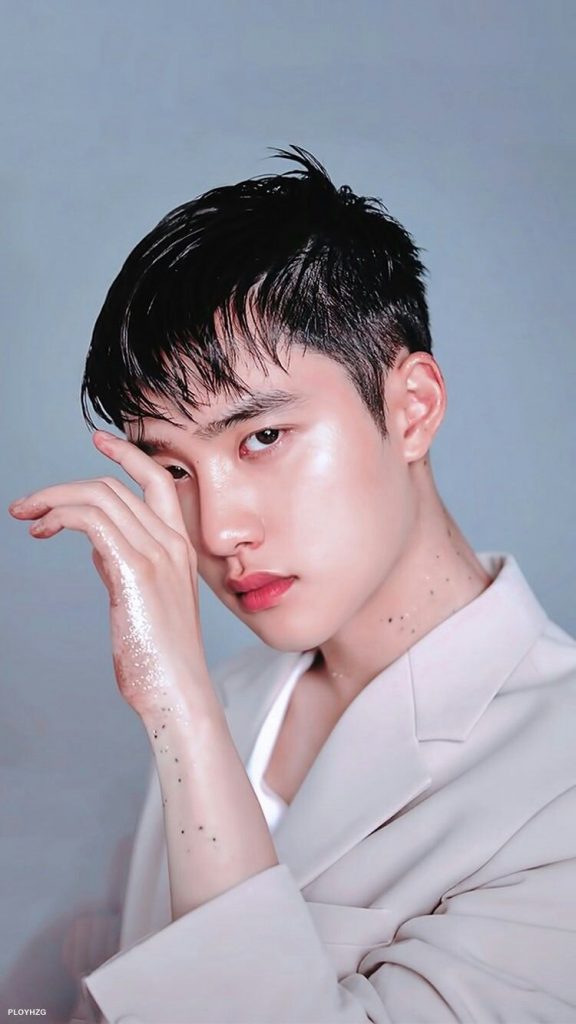 It was the sequel to "Along with the Gods: The Two Worlds" (2017), in which he was also a part. Both movies were included in the top seven most viewed movies in South Korean film history, as the original grossed $108 million while the sequel grossed over $90 million, with a budget of around $18 million for each one.
He lent his voice to the main character, the stray dog named moongchi, in the 2018 animated film "Underdog," which premiered at the 22nd Bucheon International Fantastic Film Festival, and was chosen for the South Korea-North Korea film exchange program. He also starred as a North Korean soldier who fell in love with tap dancing in the 2018 musical drama movie "Swing Kids," which was screened at the 1st PyeongChang International Peace Film Festival in 2019.
Kyungsoo was cast as the main lead with the role of an aspiring film director in the six-episode romantic-comedy web series "Be Positive," produced by Samsung and aired from 31 October 2016.
It became the second most-watched web series, as it gained almost 22 million views within two weeks of its release, and exceeded 50 million views by the end of the year. It was picked up by JTBC, and was aired in 2017.
He worked on the historical drama series, "100 Days My Prince," and played the role of a crown prince who found himself with amnesia, in a village, and ended up marrying a peasant girl. It was aired for 16 episodes in 2018 on tvN, and ranked ninth on the highest-rated South Korean drama series in cable television history, according to AGB Nielsen Media Research.
He enlisted for mandatory military service as soon as he received his enlistment notice for 1 July 2019. Although he could delay it 'til 2021, which was the deadline, he wanted it to be done as soon as possible. He was discharged in January 2021.
Personal life
Kyungsoo is 28 and single.
He had been in a relationship during his second year in high school, as revealed through a letter to his brother about having a girlfriend at that time, and having their photo taken during their 100th day as a couple. No more information has been disclosed about his love life after that.
In 2015, he was rumored to be dating Girl's Day Soji as she described her ideal man in detail, which some fans assumed pertained to Kyungsoo, and then a few months after that, he was romantically linked to Red Velvet's Iren just for holding her wrist as he assisted her when she stepped down off the stage after a performance. A member of the Korean media made a big deal of the 'skinship' (physical affection) between the idols, and wrote an article that the two were dating.
Kyungsoo actually dreamed of being a farmer as he liked eating rice and vegetables that he planted. He wanted to live simply in a serene environment with his future wife.
Kyungsoo said he doesn't talk much because he's not good with words.
There were times when he thought of quitting, as he felt fame didn't suit him although he knew life wasn't easy no matter who you are or what you do. It was his members who kept him going.
Appearance
He is 5ft 7ins (1.73m) tall and weighs 132lbs (60kgs). He has black hair, and always keeps it short as he considered having longer hair to be a bother, and he'd rather be comfortable than look cool. Kyungsoo has dark brown eyes and heart-shaped lips.
According to his co-members, their first impression of Kyungsoo was really bad, as he had a scary gaze. He explained that his astigmatism was so severe, that wearing contact lenses was uncomfortable, but he also couldn't wear prescription glasses during the broadcast. As a result, it might have seemed that he was glaring when looking at people, but it was a way for him to see well.
Net worth
Kyungsoo has an estimated net worth of $10 million as of April 2021, according to sources.