Kim Da-mi is a South Korean actress, whose fame skyrocketed via the 2020 mega-hit television drama series "Itaewon Class," and she won the Best New Actress award from Baeksang Arts Awards for her first TV drama role. She was first noticed when she played the titular role in the 2018 box-office hit movie "The Witch: Part 1 – The Subversion," as she swept the board in the Best New Actress category at all the major acting award-giving bodies, including the Blue Dragon Film Awards, Baeksang Arts Awards, Grand Bell Awards, and Director's Cut Awards.
Just a simple reminder that article is created and owned only by kpopwiki.org. Article cannot be re-published in any other pages or documents. Copyright is protected by DMCA. All found copies will be reported.
Original source: https://kpopwiki.org/revealed-details-about-kim-da-mi-height-husband-family/
Early Life and Family
Kim Da-mi was born on 9 April 1995, in Paju, Gyeonggi Province, South Korea; she has a brother who looks like her male version. Her childhood dream was to be an actress, and she would even create fake tears by splashing water on her face and pretend to cry just to prove that she could act.
She only told her parents about her dream when she was in high school, and while her family was quite supportive of what she wanted to achieve in life, some people questioned if she had any charm or was she talented enough to be an actress. Those comments made her even more determined to pursue her dreams, and she continued to watch drama series on TV to learn more about acting. She then attended an acting academy to prepare for her future career.
Educational Background
She graduated with a bachelor's degree in Performing Arts from the Incheon National University.
Career
Da-mi's personality was neither introvert nor an extrovert, but somewhere in the middle. She rarely engaged in outdoor activities as she was so busy with school up until her fourth year in college. During that time, she decided to get serious about pursuing her goal of becoming an actress.
She'd been putting it off for quite some time, not because she wasn't ready but it was more of waiting for the right time. Initially, she thought that she would just treat it as a part-time job until she was 30 years old, and if it didn't work out, she planned to stop trying.
First Steps – Auditions and "Marionette" (2017 – 2018)
Dami browsed online and found several entertainment agencies that were looking for young actresses. She took professional photos, applied online, and went in for the face-to-face auditions. She got a lot of help from friends and other people as they provided her with valuable information about the industry, and it helped her get a part in a movie quickly. If not for that, it would have taken her quite a long time to achieve her dream.
She started by getting minor roles in small independent movies, such as "2017 Project With The Same Name," part of a movie series collection produced yearly, appearing in the "Hello, My Hard Work" episode.
In that same year, she played another small role as a secretary in the movie "Romans 8:317." However, people didn't consider any of this as her acting debut for the reason that they were quite forgettable and insignificant that her roles weren't even given proper names.
Her acting debut in mainstream movies was entitled "Marionette", released in April 2018 with Kim Hee Won and Lee Yoo Young. It was a thriller-crime movie centered in a high school in which a girl was gang-raped by a group of boys, and was all recorded by the girl's boyfriend. The video went viral online and was tagged as the Marionette video. Da-mi played the younger version of Yoo Minah, the sexual crime victim who unfortunately also became the subject of an aggressive media pursuit. While it was just a supporting role, it was significant enough that she was able to impress the right people. It was her ticket to more acting roles, as she entered the radar of movie producers and directors.
Best New Actress for The Witch: Part 1 – The Subversion (2018)
Her experience in "Marionette" encouraged her to audition for her next role, even if there were close to 1,500 girls whom she needed to beat to get it. It turned out to be her biggest break, as the movie "The Witch: Part 1 – The Subversion" became a huge hit at the box-office. With a budget of only $5.5 million, it had raked in around $25 million when it was released back in June 2018. It didn't matter that the movie was more than two hours long, as the story was as compelling as her portrayal.
The movie was written and directed by Park Hoon Jung, and Da-mi played the female lead role of Ja-Yoon, an orphan with special skills who ran away from a facility managed by people who turned out to be a black-ops group, sponsored by the government. It was physically draining for Da-mi as it had many action scenes, even though the director used a double for the most difficult stunts.
Her remarkable portrayal did not go unnoticed, as she swept the Best New Actress awards from the prestigious award-giving bodies in South Korea in 2018, such as Blue Dragon, Baeksang Arts (movies), Director's Cut, and the Grand Bell Awards. She even topped the celebrity brand reputation ranking in June 2018.
The interest in the movie went beyond South Korea, as it became one of the favorite picks from Netflix's Korean movie line-up during the start of the Covid-19 pandemic.
Loveable 'sociopath' in "Itaewon Class" (2020)
From January to March 2020, her portrayal of the uncaring, smart and talented girl believed by others to be a sociopath, made Da-mi one of the most loveable actresses in South Korea. Her role as Jo Yi Seo in the mega-hit series, "Itaewon Class," opposite popular actor Park Seo Joon, had helped her inch her way to stardom.
Since Korean dramas had gone global more than a decade previously, she gained international fans as well. The drama series was so huge that their merchandise such as souvenir t-shirts, mugs, towels, etc. had become best-sellers on online stores. Even the official soundtrack album, which was released in four parts, became a favorite – one of the theme songs entitled "Start Over" peaked at No.1 on the Gaon Digital Chart.
Da-mi's style as Jo Yi Seo was even talked about in the fashion world. While the clothes she wore were all provided to match her character, fashion stylists and designers were amazed by the way she carried the outfits. They called her one of the budding fashionistas in the movie industry. Fashion editors featured her in their lifestyle magazines, including Cosmopolitan, High Cut, W Magazine, and Dazed & Confused just to show her impeccable style and charisma.
Petetion for #JeonYeoBeen and #KimDami to be in the same action/thriller movie. Same vibes. Goosebumps 🤯🤯#NightInParadise #JeonYeoBeen pic.twitter.com/38aQPiMkqb

— Emma Baby #NightInParadise (@emmababyfandom) April 9, 2021
She again dazzled the critics and took home the Best New Actress award from the prestigious Baeksang Arts Awards for TV and the Korea First Brand Awards. The drama series won the Drama of the Year from the 25th Asian Television Awards.
More Drama Series and Movies To Be Released (2021 – present)
Due to the restrictions on public gathering and traveling, filming had taken a backseat during the start of the Covid-19 pandemic. It's only in 2021 that things are slowly getting back to normal, with the South Korean government lightening up the restrictions, as they had one of the best pandemic responses in the world.
Da-mi has three projects scheduled to be released in 2021 and 2022. The first movie project entitled "Soulmate" was a Korean movie adaptation of a Chinese novel with the same name, written by Anni Baobei. She played one of the main characters along with Byeon Woo Seok and Jeon So Nee, as they navigate in a complicated love triangle that would test the love of two childhood friends.
She personally wanted to make the movie, as she was a fan of the 2016 Chinese movie adaptation.
The second project is the long-anticipated sequel of the box-office hit, entitled "The Witch: Part 2 – The Other One." Dami would reprise her role as Ja-Yoon, along with Jo Min Soo as Dr. Baek.
Her fans were excited that Da-Mi would be filming another TV drama series called "Us That Year," which had her reuniting with Choi Woo Shik, one of her co-stars in the movie, "The Witch: Part 1 – The Subversion" in 2018. The 16-episode series is scheduled to be released either in 2021 or 2022. Fans would see these two actors in a different light, as it's a romantic-comedy. Instead of trying to kill each other as in past movies, they play former lovers who have a bad break-up but are forced to be together again, as the documentary they both filmed ten years ago becomes viral.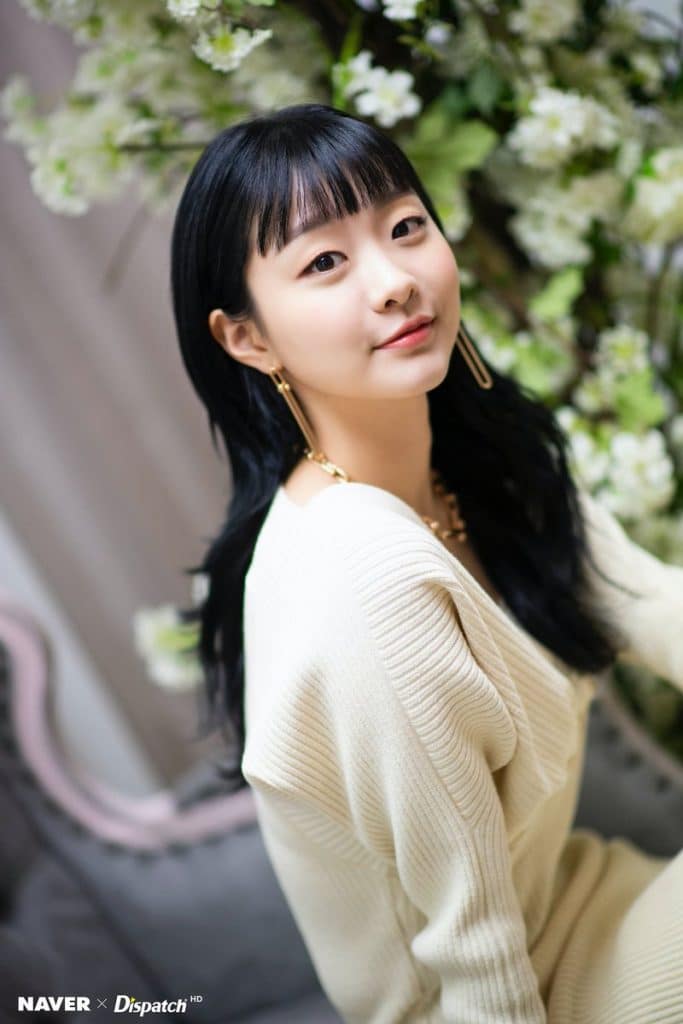 As an influencer – Product Endorsements
In 2018, her acting awards became an effective calling card for product endorsements, for such as Vaseline, ETIQA Advance Facial Mask, and Bank Salad, but they were all practical products, which most of the time didn't really bring in the big bucks. However, when her popularity soared after her TV drama series "Itaewon Class" was aired in 2020, she was chosen as the new face of Benefit Cosmetics – anything beauty-related in South Korea meant a higher endorsement fee. It wasn't a surprise anymore when she was seen applying a lip Love Tint from Benefit Cosmetics, and the fans became obsessed with it, and whatever else she used in the drama.
Her popularity was welcomed by many Asians, particularly those with monolids. There was a recent resurgence of appreciation for girls without double eyelids, courtesy of South Korean actresses Kim Go Eun ("Guardian: The Lonely and Great God") and Park So Dam ("Parasite"). In a world where cosmetic surgery has become a normal route to achieve certain beauty standards dictated by society, Da-mi offers a refreshing take on beauty.
Personal Life
Da-mi is officially single at the moment, as there isn't any news that says otherwise. She hasn't been involved in any dating rumor, but fans continued to ship her with Park Seo Joon due to their characters in drama series. People might see her as having a bland personality, as she doesn't really get surprised by things and doesn't easily become angry. Her friends say that any man who wants to date Da-mi should be patient enough to pursue her, as she doesn't like to put herself out just to get noticed. It takes a long time to get to know and befriend her, as she puts a wall around herself. However, once you get past that, she becomes a loyal friend.
She still feels awkward being a celebrity, especially after her TV drama series became popular as free TV had a wider reach. She was quite thankful for her family and close friends as they still treat her as they used to before she entered show business. With her busy schedule now, she wanted to advise her 20-year-old self that it would be best to hang out more when you still can, because 'adulting' is hard.
Hobbies, favorites, rumors, and interesting facts
Da-mi tried working as a part-timer and used to be a fitting model for an online shopping mall.
The online chat room the cast of "Itaewon Class" launched is still active, and even though the drama finished, no member left the group; they still send messages to each other.
During the 2019 Blue Dragon Awards, Da-mi presented the award for the Best New Actress, and the production assistant told her to look at the name of the winner inside the envelope so she wouldn't make a mistake later on. It turned out to be Kim Hye Joon, who is a close friend and a label mate. She had a hard time putting on a blank face as she was so excited for her friend.
Dami's perfect travel destination is somewhere peaceful, where she can sit on a terrace of a house looking at the sunset while taking a sip from a cold can of beer.
During the filming of the drama series, "Itaewon Class," she bleached the tips of her hair once a month for continuity purposes. It not only damaged her hair, but also caused her to feel pain on her scalp.
Dami can't sleep well when she's involved in a movie or TV drama as she constantly thinks about her performance. However, when she's done with filming, she takes long breaks and sleeps for about 15 hours a day just to rejuvenate.
Her parents would only focus on watching her parts in any project she was in. They would give high-fives and clapped as they were excited to see her on the screen. Her father would instruct them to make a family group hug after watching.
She is most happy when eating, so she spends most of her hard-earned money on food. Her biggest concern during the filming of her drama series was what to eat for lunch. She likes to sleep when she's at home but loves to eat when she's out working.
Appearance
Da-mi is 5ft 7ins (1.70m) tall and weighs around 110lbs (50kgs), with a slim body. Her shoe size is 6. She has black hair and dark brown eyes. She has monolids, as do her brother and parents.
Net Worth
According to authoritative sources, Da-Mi has an estimated net worth of $2.5 million as of March 2021.