Xuan Yi is a Chinese singer-dancer, and currently part of the South Korean-Chinese 13-member girl group Cosmic Girls, also known as WJSN (Wonder, Joy, Sweet, Natural), co-managed by Yuehua Entertainment and Starship Entertainment. She became popular when she ranked second in the Chinese version of the reality television competition series, "Produce 101". For two years she became a member of a temporary girl group, Rocket Girls. In 2018 she debuted as a solo singer, with the song "25."
Just a simple reminder that article is created and owned only by kpopwiki.org. Article cannot be re-published in any other pages or documents. Copyright is protected by DMCA. All found copies will be reported.
Original source: https://kpopwiki.org/the-untold-truth-of-cosmic-girls-wjsn-member-xuan-yi/
Early Life and Family
Wu Xuan Yi was born on 26 January 1995, in Hainan, China; she has a younger brother. She was quite a tomboy as a kid until she started liking pretty things when she reached the age of seven.
Educational Background
There was no information about her education.
Career
She first trained under Yuehua Entertainment in Beijing. Xuan Yi easily became the leader of the Yuehua trainees, after she was accepted in the agency's open audition and then signed up with them. Due to the partnership that her Chinese entertainment agency has with Starship Entertainment in South Korea, Xuan Yi traveled to Seoul, and started her K-Pop training in 2014‑15.
First Steps – Debut Year and Creation of Sub-Units WSJN (2016)
Xuan Yi was first launched with 11 other girls, namely Bona, Cheng Xiao, Dawon, Dayoung, Eunseo, Exy, Luda, Mei Qi, Seola, Soobin, and Yeoreum as members of the K-Pop girl group called Cosmic Girls in December of 2015.
When the girls were introduced to the public, their record label divided them into sub-units – W – Wonder, S – Sweet, J – Joy, and N – Natural with four members each.
Xuan Yi belonged to the Joy sub-unit with Yeoreum and Eunseo. On 10 December 2015, a cover of Mariah Carey's Christmas hit song, "All I Want for Christmas is You" was released, with the Wonder and Joy units participating in the recording.
After a couple of months, all of the members officially debuted as Cosmic Girls on 25 February 2016 by releasing the extended play entitled "Would You Like." It has six tracks including "Take My Breath," "Tick Tock," "Space Cowgirl," and the lead track, "Mo Mo Mo" along with its Chinese version. It peaked at No. 7 on the South Korean Gaon Album Chart with a total of 14,000 units sold, but the lead track charted way down at No. 206 on the Gaon Digital Chart, so the group's debut was regarded as weak.
Xuan Yi's record label decided to follow it up with another EP release. This time, another trainee, Yoo Yeon Jung, joined the group, making them a 13-member girl group.
The popularity Yeon Jung has in winning a slot in the original Korean version of "Produce 101," a reality TV competition series, helped with the sales of the newest EP, "The Secret." It peaked at No. 6 on the Gaon Album Chart with 15,000 units sold. The lead track, "Secret," sold over 134,000 units, and peaked at No. 49 on the Gaon Digital Song Chart.
Variety Shows, First Studio Album Release, and First Concert (2017)
To help boost the group's popularity, Xuan Yi made several guest appearances in popular South Korean variety shows, including "Knowing Brothers," "Idol Party," "K-Rush," and "We Like Vines."
On 4 January 2017 the girls released the group's third EP entitled "From WJSN", with six tracks including "Say Yes," "Baby Come To Me," "Hug U," and the lead track, "I Wish," along with its Chinese version. The EP peaked at No. 4 with more than 36,000 physical units sold, and the lead track has a total of 167,000 digital sales.
Following the steady increase in sales of their EPs, Xuan Yi's record label released their first studio album entitled "Happy Moment" on 7 June 2017. It has 10 songs with the lead track, "Happy," along with "Mr. Badboy," "Miracle," and "Follow Me." It peaked at No. 3 on the Gaon Album Chart, with 35,000 physical copies sold.
With the group's rising popularity in South Korea, fans were treated to Cosmic Girl's first concert entitled "Would You Like", a successful two-night affair held at the Blue Square Samsung Card Hall in Seoul.
Ranked No. 2 on the Chinese Version of Produce 101
For the first half of 2018, Xuan Yi wasn't seen in any of the Cosmic Girl's activities, as along with Mei Qi she returned to Beijing to participate in the Chinese version of the popular South Korean reality TV survival series, "Produce 101." Just like the Korean version, many girls from different entertainment agencies competed for a slot in the temporary 11-member group called Rocket Girls 101. After a tough competition, Xuan Yi finished second place with her groupmate, Mei Qi as the winner.
Xuanyi for K!ND magazine! #吴宣仪 #선의 #xuanyi #우주소녀 pic.twitter.com/VeygUkduGr

— xuanyi pics ♡ (@xuanyispics) December 1, 2020
Her new group released the song "Rocket Girls", and was scheduled to release their official single when a contract controversy occurred in which Xuan Yi and Mei Qi along with a girl from another agency opted to leave the group due to schedule disputes. It was straightened out by the agencies, and Xuan Yi re-joined the group, and had been with them for almost two years from June 2018 to June 2020.
During the time she was a member of Rocket Girls 101, they released two extended plays and a studio album. The first EP entitled "Collide" came out on 18 August 2018, with four tracks including "Light," "Sailor Moon," "Born To Win," and the title track. It has sold over 2.2 million units. It was followed by the release of a studio album, "The Wind," containing 13 tracks including "Full Sugar Declaration," "It's Raining," "That's Me," and the lead track, "Wind."  It didn't break the sales record of the first EP as most people thought it would, but it was still able to sell a total of 750,000 units.
"Hello Goodbye" was the last EP Xuan Yi released with the group, on 25 May 2020. It has four tracks including "5452830," "Ssh! You Say To Me," "11 Times Heartbeat," and lead track, "Hard Candy."
Rumors on Cosmic Girl's Disbandment
After the end of Xuan Yi's Rocket Girl 101 promotions in 2020, fans were waiting for her to return to Cosmic Girls, however, she and the rest of the Chinese girls remained in China to pursue solo projects. Soon after, rumors abounded in fan forums and social media that the group would soon disband. Neither Starship Entertainment nor Yuehua Entertainment addressed the rumors, and Cosmic Girls continue to promote as nine members in South Korea – the last time they promoted with all the members present was in 2018.
As an actress (2018 – 2019)
Xuan Yi's acting debut was in the Chinese period movie entitled "Marna," playing the title role opposite Zhou Yi Xuan and Theo Zhu along with label mate Men Mei Qi.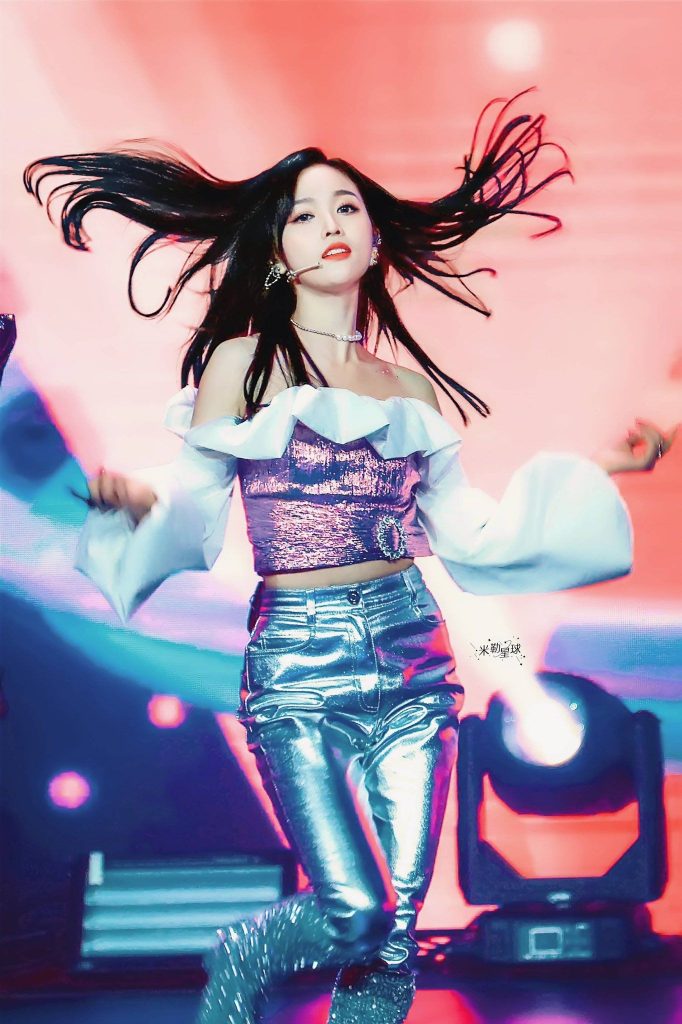 She took the role of a young woman exploring her sexuality during the Chinese Revolution in the '60's and '70's. It was regarded by many fans as a risqué movie, and not all of them approved of her sexy scenes, particularly when she showed some skin, even if it was minimal compared to the regular racy movies, and done artistically. The movie was released in local theaters in China in 2018.
She also filmed two Chinese TV drama series, both scheduled to be released in 2021. The first one, "Sweet Tooth," was the TV adaptation of the popular Chinese novel of the same name written by Mu Fusheng. She played the part of the female lead role, Zeng Li, a librarian, who will be entangled in a love triangle when her first love (Shai Xiao Wen) suddenly came back into her life and pursued her earnestly, while her current love interest (Bi Wen Jun) was about to propose to her. It will be aired on iQiyi network with 24 episodes.
Xuan Yi's loyal fans are also eagerly waiting for the airing of her first historical-fantasy-martial arts drama series entitled "Duolulo Continent." She took the role of the female lead, Xiao Wu, a child prodigy with supernatural powers and would fight many battles against evil forces with the male lead character Tang San, played by Sean Xiao. The drama series consisted of 40 episodes and was produced by Tencent Pictures.
Solo Debut and Chinese Reality TV Series and Variety Shows
She was kept so busy by her jam-packed schedule of solo activities in China, that she wasn't able to return to her K-pop group after finishing her contract with Rocket Girls 101; she had so much on her plate as a regular member of the popular reality TV series and variety shows in 2019 including "Chase Me," "Meeting You," "Space Challenge," and "Rampaging 20's Season 1."
In 2020, Xuan Yi became part of new Chinese shows such as "Go Newbies," "Perfect Summer," "We Are Blazing," and also in Season 2 of Rocket Girls 101 reality TV series, and "Rampaging 20's."
As predicted by her loyal fans, Xuan Yi released her debut solo single entitled "25" using her English stage name, Betty Wu. She co-wrote the lyrics of the song, mostly about her state of mind at the age of 25. It was announced that it would be part of a single album with two more songs to be released soon. The official music video of "25" was released on 25 September 2020.
Personal Life
There is no information if Xuan Yi is in any relationship right now, as it's taboo in South Korea to talk about it.
The K-Pop industry has been known to practice a no-dating policy for its artists, particularly those who belong to idol groups, which would last three to five years after debut.
However, dating rumors about and Meng Qi spread like wildfire in 2017. They were depicted as lesbian Chinese billionaires having a romantic relationship, and ended up getting married. It started as a tweet and was re-tweeted thousands of times accompanied by a cropped wedding photo of the two girls sitting on a couch. It was a hoax that many people initially believed, until some fans cleared it up and tweeted that those girls are members of a K‑Pop group, Cosmic Girls. Apparently, the photo used was cropped from a photo that Xuan Yi posted in Weibo, a Chinese social media app that is quite similar to Twitter. It was originally taken in a premiere event at the Beijing Film Festival.
So Xuan Yi is currently single, and lives with the other members of her group in a dormitory provided by her record label.
Hobbies, favorites, rumors, and interesting facts
Her Korean name is Oh Sen Ee.
Xuan Yi plays the piano during free time.
She's a self-confessed shopaholic.
Cheng Xiao is one of her best friends, and one of her unforgettable moments with her was when they skydived together.
She calls her loyal fans, 'Yiyuans.'
Her hidden talents are providing funny and cute expressions of a fish and a rabbit.
Xuan Yi loves to show her "aegyo" or cute antics when begging other Cosmic Girls members to buy her things in South Korea. She also made them do the same thing when they were in China, before buying things for them.
Two of her favorite foods are ramen and seaweed.
Xuan Yi can easily handle bugs, and even catch them with her bare hands.
One of her role models growing up was the popular Chinese singer, Jolin Tsai.
Her constant companions at home are her cats.
Appearance
Xuan Yi is 5ft 6ins (1.66m) tall and weighs around 100lbs (45kg) with a slim body. She has long black hair and dark brown eyes. She would sometimes dye her hair in a different color during TV appearances, and has been seen sporting blond, light brown, and auburn colors in the past.
Net Worth
According to authoritative sources, Xuan Yi has an estimated net worth of close to $1 million, as of November 2020.