Yang Jeong-in (Stray Kids) Wiki
Yang 'I.N' Jeong-in was born in Busan, South Korea, on 8 February 2001 – his zodiac sign is Aquarius and he holds South Korean nationality. He is a singer, probably best known for being a member of the boy group Stray Kids.
Just a simple reminder that article is created and owned only by kpopwiki.org. Article cannot be re-published in any other pages or documents. Copyright is protected by DMCA. All found copies will be reported.
Original source: https://kpopwiki.org/yang-jeong-in-stray-kids-wiki-age-height-relationships/
Early life and education
Jeong-in was raised alongside his one older and one younger brothers in Busan by their father who is a businessman and the owner of his own small company, and their mother who is teaching at a local high school.
Jeong-in's career was launched when he was seven years old, as he was noticed by a modelling scout who invited him to attend his first modelling audition – Jeong-in passed it, becoming a child model, but it lasted only around a year for him. He soon became interested in music, and his parents paid for his music teacher who taught him how to sing and to play the guitar. Upon completing his elementary education, Jeong-in enrolled at the School of the Performing Arts Seoul (SOPA) at which he studied applied music – he has just recently matriculated in February 2020.
Jeong-in won't be pursuing a college degree, but will focus on his group Stray Kids.
Career as a singer and the group Stray Kids
JYP Entertainment announced in August 2017 that it would be launching a new boy group – Stray Kids. All the nine boys were chosen through the reality show "Stray Kids", and although Felix and Lee Know were initially eliminated, their fans urged and eventually convinced JYP Entertainment to bring them back to the group. – and their first music video was released on 17 October entitled "Hellevator".
Stray Kids' pre-debut extended play (EP) was released on 8 January 2018 entitled "Mixtape", made up of seven songs including their previously released "Hellevator" – the EP became very popular, and peaked at #2 on both the Billboard World Albums Chart and the Gaon Album Chart.
On 25 March, the boys performed at Seoul's Jangchung Arena in the showcase called "Stray Kids Unveil (Op. 01: I Am Not)", and a day later they released their new EP "I Am Not" with its lead single "District 9" – the EP peaked at #4 on the Gaon Albums Chart.
Stray Kids went on to sing at KCON Japan 2018 on 14 April, which was their debut overseas performance. On 5 August, they sang at Seoul's Kyung Hee University in the showcase "Stray Kids Unveil (Op. 02: I Am Who)", and a day later their new EP came out entitled "I Am Who", with "My Pace" as the lead single. The third and final showcase in the series entitled "Stray Kids Unveil (Op. 03: I Am You)" was held at Seoul's Olympic Hall on 21 October and on 22 October, and the boys released their final EP in the series called "I Am You".
On 25 March 2019, the boys launched their new series of EPs called "Cle", with the release of their first EP "Cle 1: Miroh" – the lead single "Miroh" gave the boys their first show win in "M Countdown". The second part of the series – "Cle 2: Yellow Wood" – came out on 19 June with its lead single "Side Effects". On 9 October, Stray Kids released their new digital single "Double Know", and then on 23 November, the boys embarked on their "District 9 Unlock World Tour" starting it with a performance at Seoul's Olympic Hall. It was announced that their new EP "Cle: Levanter" would be released on 25 November but as Woojin left the group on 28 October for personal reasons, the release of the EP was postponed to 9 December.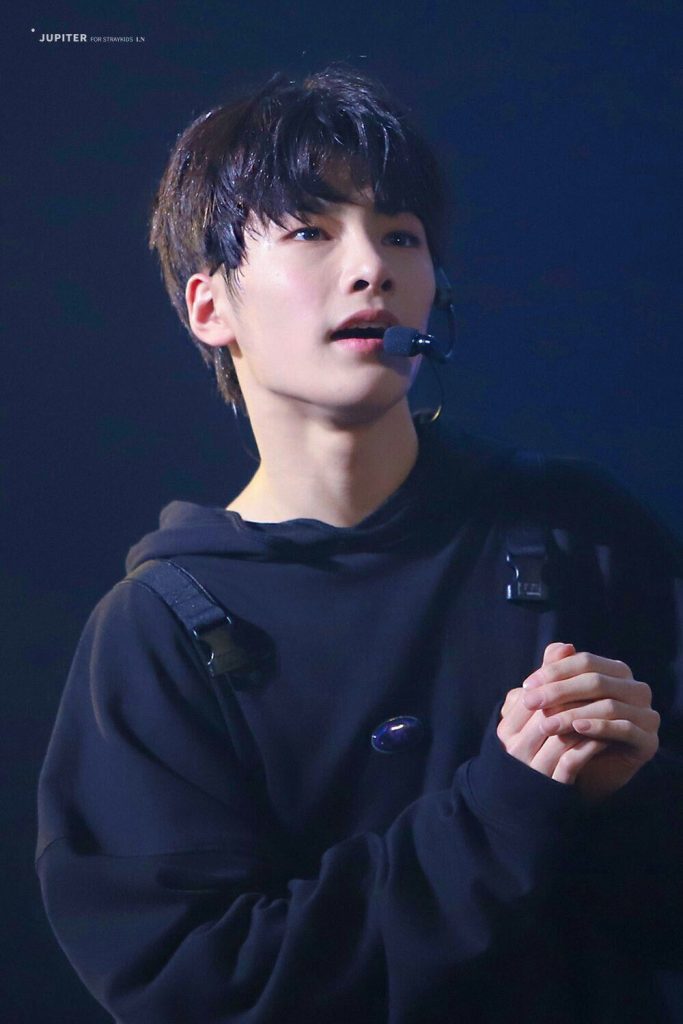 On 26 December, they launched their new "Mixtape Project", with the release of their single "Mixtape : Gone Days".
On 18 March 2020, the boys debuted in Japan with the release of their compilation album "SKZ2020". They released their second digital single in their Mixtape Project on 26 March entitled "Mixtape : On Track", and on 3 June their debut Japanese single album came out entitled "Top", and the song then served as the theme song of the South Korean web anime "Kami no To –Tower of God-" – the Korean and English versions of the song were released on 13 May and 20 May, respectively.
Most recently, the boys' debut full-length album "Go Live" was released on 17 June 2020, with its lead song "God's Menu".
Endorsing clothing brands
Stray Kids began endorsing clothing brands as early as of 13 February 2018, when they were chosen as Jambangee Jeans' models. In June they became Ivy Club's exclusive models, and promoted their entire Fall Semester Collection. On 24 July, they started modelling for Youth Brand Festival which ended on 31 August, then on 19 September Stray Kids' boys became the ambassadors of Lotte Duty Free, followed on 16 October by beginning modelling for the Pro-Specs sportswear brand.
On 17 June 2019, they became Talk Talk Korea Contest's ambassadors, and a day later were honored with becoming the ambassadors of the Korean Culture and Information Service, Ministry of Culture, Sports and Tourism.
Love life and relationships
Jeong-in hasn't commented on the girls he might have dated since he debuted with Stray Kids, and it is widely known that his agency is one of those which do not allow their rookie artists to date. However, he has talked about his ideal type of a girl, and how she would have to have a bubbly personality and to smile a lot, as he smiles a lot so that they could smile together. The girl would have to be honest, innocent and have a warm heart, and would need to have a playful side, but also know how to enjoy peace.
There are rumors circulating the internet that Jeong-in has recently been seen spending time with a mysterious girl at a restaurant in Seoul, but he hasn't commented on these. As of August 2020, he is single, hasn't married and doesn't have children.
Hobbies and other interests
Until 17 January 2019 Jeongin wore braces, and believed these were his most charming point, while his now believes this to be his teeth.
He likes to listen to old rock and pop music in his spare time, and some of his favorite bands are "AC/DC", "Guns 'n' Roses" and "Aerosmith", while his favorite song is "Sweet Child O' Mine" – he also likes to listen to Charlie Puth and Bruno Mars.
Jeongin's favorite season is winter as he likes to go skiing and snowboarding, and his second favorite is autumn because of its colors.
He is a lover of animals with puppies being his favorites.
He can eat a variety of foods, but can't stand eating beans – Jeongin's favorite food is knife noodles with fresh kimchi (kalguksu with geotjeori).
Jeongin has recently become a fashionista, and today goes shopping for clothes at least twice a week.
He is interested in teaching children, and has stated that if he hadn't become a singer, he would have worked as an elementary school teacher.
Age and height
Jeongin is 19 years old. He has short brown hair and his eyes are brown as well. His height is 5ft 7ins (1.7m), and weighs around 128lbs (58kgs).
As of August 2020, Jeongin's net worth has been estimated at over $200,000.