Leeteuk is a South Korean idol singer-songwriter, radio host, and television presenter, who rose to prominence as the leader of the boyband Super Junior, under SM Entertainment. His group was regarded by the media as the "King of Hallyu Wave", as they had largely contributed to the popularity of Korean Pop (K-Pop) across Asia with their breakthrough hit "Sorry Sorry", and best-selling singles such as "Neorago (It's You)," "Miina (Bonamana)," "Mr. Simple," and "Sexy, Free & Single." His gift of the gab made him a staple in TV and radio shows, either as a guest or host. He had been battling depression while completing his mandatory military service, which worsened in 2014 when his father murdered his own parents and committed suicide, leaving Leeteuk $4.4 million in debt.
Just a simple reminder that article is created and owned only by kpopwiki.org. Article cannot be re-published in any other pages or documents. Copyright is protected by DMCA. All found copies will be reported.
Original source: https://kpopwiki.org/the-untold-truth-about-super-junior-member-leeteuk/
Early life and family
Leeteuk was born Park Jeongsu on 1 July 1983, in Seoul, South Korea. His childhood was not a good one as his parents fought a lot.
He was afraid of his dad, and felt bitter towards him as he was 'physically disciplined' many times. His parents finally divorced in 1998 when he was 15, and he and his older sister, Inyoung, stayed with their mother.
After middle school, his sister went to New Zealand and stayed there for eight years to complete her studies, majoring in Asian Linguistics. However, when she returned to Korea, she pursued acting as a career, and has been cast in movies and television series.
Educational background
Leeteuk attended Sinsa Elementary School and Pai Chai Middle School, then matriculated from Soongsil High School. He enrolled at the Suwon Science College's Broadcasting Department and Chungwoon University's Broadcasting Music Department, then Gachon University's Graduate School of Commerce: International Commerce.
Career
First steps
In 2000, Leeteuk was approached by a talent scout from SM Entertainment when he got out of the Apgujeong subway station in Gangnam, and was invited to audition.
He officially signed as a trainee that year, after he passed the company's test performances and recordings. In 2003, he was included in the five-member boyband that the label planned to launch called Smile, but it didn't push through.
He officially debuted on 6 November 2005 as the leader of Super Junior 05, along with 11 members (Donghae, Eunhyuk, HanGeng, Heechul, Kangin, Kibum, Kyuhyun, Ryeowook, Shindong, Siwon, Sungmin, and Yesung). They performed their first single, "Twins (Knock Out)," on SBS' "Popular Song" – currently known as "Inkigayo". It was included in their first studio album, "Twins," released in December 2005, which had cumulative sales of over 120,000 copies, as it peaked at No.3 on the Music Industry Association of Korea (MIAK), and No.16 on the Taiwanese G-music chart.
"U" was the digital single released in May 2006 for free, with cumulative downloads of 1.7 million, and it gave Leeteuk's group their first music show win in June.
Mini hilo de Teuki cantando en solitario✨ #LEETEUK #이특 💛

✨Nothin' On You – Bruno Mars
[ https://t.co/RiaDaZi2da ] pic.twitter.com/YPKajx4Rm9

— 그 커피 잔에 난 없어✨🤎 (@lacaritadeteuki) April 16, 2021
Originally, the group had a rotational concept, with line-up changes each year to keep the group always fresh and young similar to Japan's girl group, Morning Musume. Kyuhyun was added to the group, but the concept was abandoned due to strong objections from the fans. The suffix "05" was then dropped, so the group became known as Super Junior.
Leeteuk, Sungmin, Heechul, Eunhyuk, and Shindong formed the sub-unit Super Junior-T (Trot), to release trot music, which was a genre of Korean music known for its distinctive vocal inflections and repetitive rhythm. "Rokuko" was their debut single, released in February 2007, and according to MIAK it became the best-selling single that year, with over 45,000 copies sold.
Car accident in 2007
As Leeteuk, Eunhyuk, Shindong, and Kyuhyun along with their two managers were on their way back to their dorm after a radio show recording on 19 April 2007, the front left tire of the van they were in burst, and the van ran into a guard rail causing it to flip over.
Eunhyuk and Shindong sustained minor injuries, and although Leeteuk was bleeding considerably, he was more concerned about Kyuhyun as the latter was thrown 20 to 30 meters from the van. When the emergency responders brought stretchers to take him, Leeteuk said he was fine and to take Kyuhyun first; he was seriously injured, and in a coma for four days, requiring 130 stitches on his hips, and 50 on his forehead due to glass shards embedded mostly in these areas. He was discharged from the hospital on the 30th of April.
All members of Super Junior-T except for Heechul, who was replaced by Yesung, formed the sub-unit Super Junior-H (Happy) in 2008, and released their first extended play entitled "Cooking? Cooking!" in June. It sold over 25,000 copies by the end of August, and earned them nominations for Song of the Year, Artist of the Year, and Best Dance Performance from the Mnet Asian Music Awards.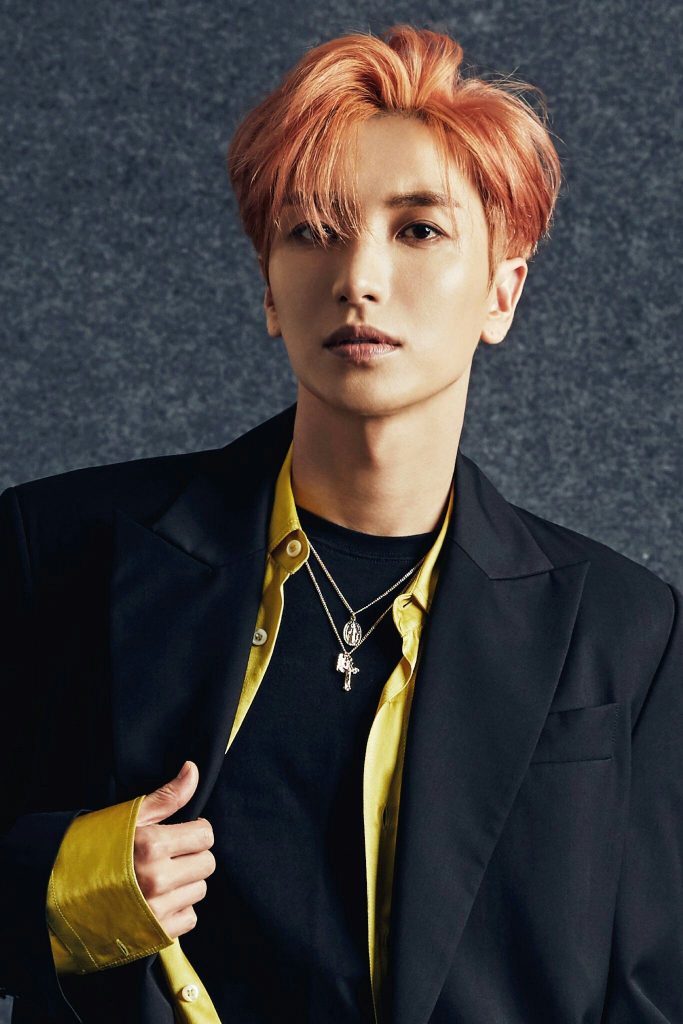 Super Junior held a successful concert tour in Asia called "Super Show", that started with a three-day concert in Seoul in February, and was followed by six shows in China, Thailand, and again in Korea, with a total of over 115,000 attendees. They also held a fan meeting in Japan in April, with 12,000 in attendance.
Breakthrough hit
The digital single "Sorry, Sorry" released in March 2009, became the best-selling single in the country that year, with three million downloads, and won ten music show trophies and Record of the Year award at the 24th Golden Disc Awards. It peaked at No.9 on Billboard's World Digital Song Sales chart. Their third studio album with the same title became the best-selling album in Korea, with over 250,000 copies sold that year, and the highest-selling K-Pop album in China, Thailand, Taiwan and the Philippines. They held the "Super Show 2" concert tour in Asia from 2009 to 2010 in support of the album, and it had 185,000 attendees.
Further success
Leeteuk's group became one of the top boybands in Korea, that helped popularize K-Pop music across Asia and other parts of the world. They released commercially successful albums and singles including "Neorago (It's You)" in 2009, and "Miina (Bonamana)" in 2010 with 1.2 million downloads each, "Mr. Simple" (2011) with 1.9 million downloads in Korea, and 48,000 in the US, and "Sexy, Free & Single" (2012) with 870,000 downloads.
Super Junior had eight active members left by 2019, with HanGeng filing a lawsuit against SM Entertainment in 2009, but officially leaving the group in 2011. Kibum didn't renew his contract when it expired in 2015, Kangin left the group in 2019, and Sungmin has been an inactive member since 2015 after marrying in December 2014, despite fans' objections.
SM Entertainment established Label SJ in 2016 for Leeteuk and the other members, to manage their group and solo activities.
After all the members completed their mandatory military service, they held a comeback with the remaining active members in October 2019, with their ninth studio album "Time Sleep," which topped the Gaon Chart with cumulative sales of 550,000 copies, and was certified Platinum by the Korea Music Content Association. It peaked at No.9 on Billboard's World Albums Chart with 1,000 copies sold in the US, and the lead single, "Super Clap," gave them two music show wins.
Their 10th studio album, "The Renaissance," released in March 2021, topped the Gaon chart and iTunes chart in 20 countries.
Solo Activities
Leeteuk has been quite active as a TV host, since 2005 in Mnet's music show "M Countdown," and a radio disc jockey since 2006 on KBS' "Super Junior's Kiss The Radio." Through the years, he was constantly seen as a host, regular cast member, or guest in variety shows. His hosting skills in "Strong Heart" (2009-2012) were recognized as he won the Best Newcomer Award (2009), Excellence Award (2011), and Best Entertainer Award (2012) at the SBS Entertainment Awards.
Other noteworthy shows include "We Got Married" (2011-2012), "Star King" (2011-2012 then 2015-2016), and "I Can See Your Voice" (2015-2018).
He's been the lyricist and/or composer of almost 20 songs. He appeared in several TV series and movies from 2000 to 2018, but all of them were cameo roles.
Personal life
Leeteuk is 37 and known to be single. He fell in love at first sight with a woman older than him back in 2005 when he was just a rookie idol – his bandmate, Shindong, helped him out in getting her number. At first she rejected Leeteuk due to the pressure of dating a celebrity, as she knew she'd have a hard time once fans discovered them. As he continued to pursue her, she finally agreed to date him and they went out a couple of times. However, the woman suddenly didn't get in touch with him for a week, then called him up for a movie date.
210418
Leeteuk IG STORY Update#Leeteuk pic.twitter.com/Yv5MkWUVLY

— peeTeuk (@SJ_special1004) April 18, 2021
As they were watching a movie, her phone rang and he recognized the name as a well-known celebrity who was the son of a rich 'chaebol' (CEO of a conglomerate). Apparently, she was already in a relationship with the guy when she started dating Leeteuk. They stopped seeing each other after that.
Military enlistment
Leeteuk enlisted for his mandatory military service in October 2012. He was supposed to be on reservist status due to his injuries from the vehicular accident, but ended going onto active duty after receiving treatment.
His father's murder-suicide in 2014
On 6 January 2014, his 57-year-old father, Park Yongin, and grandparents were found dead by a relative in an apartment in Dongjak, Seoul. Police investigation revealed that Yongin strangled his own parents then hanged himself, leaving a suicide note that said, 'I will take my parents and go to heaven together so live well…I am sorry to my children.' After the divorce, he lived with his parents and took care of them.
However, Yongin suffered from depression as he was on the brink of bankruptcy with their house seized, his 84-year-old father had dementia, and his 79-year-old mother, who had been taking care of her husband, was diagnosed with terminal lung cancer and then dementia and became bedridden. He planned to put them in a nursing home, but a day before he could do that, he decided to end their lives instead.
Leeteuk was already battling depression while he was in the military, when this happened. It became all the more painful for him when his father left him one last message, 'Do you truly believe you achieved success all by yourself?' that suggested resentment towards him, along with a debt of 5 billion won ($4.4 million).
Not much is known about the kind of relationship he had with his father after his parents divorced, but while he was serving in the military, his father wrote him a couple of letters as seen on the Military Daum Café.
His father was concerned about how Leeteuk was adjusting to life in the army, and reminded him to work hard serving the country. He also recalled Super Junior's anniversary, and the first time they won in a music show, as Leeteuk called him to share this good news.
When this tragedy happened, Leeteuk's depression worsened, and the military recommended early discharge due to illness, but after discussing this with his management, it was decided that he would complete his service. He was discharged in July 2014, then he sold his car and worked doubly hard accepting as many jobs as his schedule could accommodate, to pay off his father's debt.
He gave a talk entitled "There is no hope without despair" at a local high school in Kyungjoo in 2019, and shared about his depression and tragedy in the family. His depression had got better through talking with his members, and being busy with their group activities. He said, 'a celebrity's life is not all that it seems, it's filled with despair and sadness, much like everyone else's.'
Rumors and interesting facts
In 2007, an article came out about him being humiliated as the figure skater, Kim Yuna, rejected him when he added her as a friend on Cyworld (similar to Facebook). Around 500,000 ELFs (official name of Super Junior fans) visited her site after the article was posted, as they were angry. Apparently, when the group was filming a school uniform CF with Yuna, she and Yesung briefly talked about Cyworld, and Leeteuk who was there said, 'Let's be friends on Cyworld' and added her, but she didn't accept. They both apologized for what happened.
He once sent a direct message to what he believed was the personal Instagram account of Momoland's Yeonwoo, but it turned out to be just Yeonwoo's fan, who then posted it online. Some fans found it creepy, as Leeteuk was 13 years older than her. He apologized to Yeonwoo and the fans, saying he only wanted to say, 'you've worked hard,' to a junior in the industry, after co-hosting the 2018 Asia Song Festival with her. His fans defended him against online users (netizens), who bashed him for this. However, rumors of him sending DMs again to multiple women circulated online, but fans said that these messages were photoshopped.
The hashtag #ApologizeToLeeteuk trended on Twitter in January 2019, after many netizens criticized Leeteuk for allegedly making Red Velvet's Irene uncomfortable by unnecessary touches during a dance performance of "Lo Siento" at the SMTown concert in Chile. His fans said the original choreography required him to put his hands on her hips, so they shouldn't put malice into it.
Appearance
He is 5ft 7ins (1.74m) tall, weighs 128lbs (58kgs), and has a lean build. He has black hair and dark brown eyes.
Net worth
Leeteuk has an estimated net worth of $5 million, as of April 2021 according to sources.