Luo Yunxi is a Chinese actor, singer and dancer, who debuted as a member of the boyband JBOY3 in 2010, and then as half of the duo called Double JL two years later. He gained the public's attention when he played the young He Yichen, the lead character in the successful romantic melodrama series "My Sunshine" in 2015, and rose to fame when he was cast as Runyu, the Night Deity, in the hit romantic fantasy series, "Ashes of Love" in 2018. He earned Best Actor nominations for his roles in "Princess Silver," "And the Winner is Love," and "Love is Sweet."
Just a simple reminder that article is created and owned only by kpopwiki.org. Article cannot be re-published in any other pages or documents. Copyright is protected by DMCA. All found copies will be reported.
Original source: https://kpopwiki.org/luo-yunxis-biography-age-height-wife-net-worth-family/
Early life and family
Luo Yunxi was born Luo Yi on 28 July 1988, in Chengdu, Sichuan Province, China; his English name is Leo Luo. At the age of three, his father, who was a ballet teacher in an amateur class, brought him to the rehearsal hall. Seeing that his young son danced well, his dad decided Yunxi should start learning how to dance; he received professional training in ballet for 11 years, and also learned folk dancing for amateurs for several years.
He posted a photo of his family on Weibo in 2020, with the caption, 'It's always beautiful when we get together, but it's too short.' Some online users (netizens) were wondering if the girl in the photo with him and his parents was his older sister, even if his official profile didn't indicate that he had one.
Educational background
He got into both Shanghai Theater Academy and Beijing Dance Academy, and decided to enroll in the former as he wanted to meet Hu Ge, the lead actor in the highly popular series, "Chinese Paladin" (2005) that was airing at that time. Unfortunately, that didn't happen as his favorite actor graduated on Yunxi's first year at the academy.
As a representative of his school, he performed an impromptu solo, "The Burning Flame," at the 6th Chinese Lotus Award Campus Dance Competition in 2008. He and his classmates won the gold medal in that competition for their group ballet performance of "Tchaikovsky Rhapsody."
That same year, they also won the grand jury prize at the Professional Dance Competition in Six Provinces and One City in East China.
Yunxi graduated with a major in Ballet from Shanghai Theater Academy.
Career
First steps
He wanted to be a ballet dancer in a dance troupe at first, but failed to meet the height requirement of being taller than 1.8m. Yunxi then went to Macao and worked as a modern dancer with a good salary. He had classes in the morning then rehearsals in the afternoon as they practiced for the ballet performance of "Flying to the Moon", with the choreography done by Ying Eding and Yang Minjian, for the 10th Anniversary of the Transfer of Sovereignty of Macao from Portugal to the People's Republic of China held at the Macao Cultural Centre Grand Auditorium in 2009.
After a year, he went back to his hometown and started to teach ballet in an amateur class, and was strict with all his students.
He was very passionate about his craft, and found fulfillment in sharing his skills. An alumnus of his dance academy, who worked for a TV program, invited him to be a guest, and when an entertainment agency in Beijing watched his performance, they asked him to become a trainee. Although he was happy teaching, he said he wanted to try it as he liked to sing as well.
His parents weren't keen on the idea at first, as it would mean giving up ballet and he'd have to start training again; he was grateful when they ended up supporting his decision. His father said that as long as he made his own choice, he had to bear the consequences no matter what, but assured him they would welcome him back should he fail.
Yunxi then went to Beijing, and stayed with two other trainees at an apartment that the agency rented with each having his own room. They received training in singing and dancing, working hard from morning 'til night.
Debut as JBOY3 and Double JL
By the end of 2010, he had officially debuted as a member of the idol group JBOY3, also known as J3, with the release of their first single – "Promise of Love." The three-member group released the singles "Gravity" and "Walking Emoji" in 2011, before disbanding in 2012. Not long after that, Yunxi and his co-member Fu Long Fei, aka Jason Fu, formed the duo called Double JL, and debuted in April 2012 with the release of their single entitled JL. They officially disbanded in 2013.
Acting Debut
He gained fans when he joined the singing competition program "Asian Wave" in 2012, and was scouted by a director to do a movie. When asked why he decided to venture into acting, he said portraying various characters offered a different kind of enjoyment and challenge than singing. Yunxi was cast in a starring role as Guo Yang, the love interest of Tan Songyun's character, Yang Fangfang, in the romantic film, "The Spring of My Life," released in December 2015.
He didn't have a hard time filming the movie as a rookie actor, as it was the whole production that made the necessary adjustments.
For his next project, he was cast in a supporting role as Xiaoshen in the 36-episode series "Flip in Summer," which was aired after five years in 2018. Yunxi had a difficult time filming this drama, as he was criticized a lot by the director for not knowing what to do on set, and was even told to go home if he didn't know how to act. As a result, his acting got worse, as he became more nervous.
He considered giving-up, but then thought of ways on how to improve his skills instead, so he started staying on the set even when he had no more scenes to shoot, to observe his more experienced co-actors and ask them for advice. He studied and practiced hard but knew it wasn't enough, so in between filming, he received professional performance training.
In 2014, he signed with Lafeng Entertainment, and his first project under them was the web series, "Hello Aliens," which the company co-produced.
He's so handsome😭❤️

– Luo Yunxi studio update –#罗云熙 #LuoYunxi pic.twitter.com/ZUi2KwnAOx

— 《Word of Honor》updates | spl | 2ha | modu (@xi_yunxi) April 10, 2021
Fortunately, his fans didn't have to wait long to see his work, as it was aired that same year on the online video platform iQiyi,. He starred alongside Chinese and Korean idols, and his character was the handsome and cheerful college student named Guo Xin.
"My Sunshine"
Yunxi gained more attention from the public when he portrayed the role of the young He Yichen, opposite Janice Wu as the young Zhao Mosheng in the romantic melodrama, "My Sunshine." The main leads were Wallace Chung and Tiffany Tang as counterparts after seven years had passed. When photos of the young actors were leaked, some netizens criticized the production for the difference in appearance between the young and adult actors, and asked if the characters had plastic surgery in South Korea during the time jump.
The drama, which was based on the novel by Gu Man entitled "Silent Separation," became a huge hit as it garnered more than 10 billion views online. It was aired simultaneously in January 2015 on iQiyi, Jiangsu TV, and Dragon TV.
Further success
His exposure to a commercially successful series contributed much to his rising popularity, and his acting skills were also recognized. He received many offers to do dramas on television; his criteria for choosing a script are simple – the roles should be something that would suit and attract him. Yunxi didn't know if his choice would be wrong or right, but he had to like it so that there would be no regrets. He also didn't know which project would have good results when it was aired, so he just took satisfaction in doing a good job of interpreting a character and completing the work.
Yunxi said he used to be more absorbed with the plot rather than the actors when watching movies, but when he became an actor himself, he focused on the performance of the actors while the story unfolded. He had a different understanding of characters, and learned so much through observation, which helped a lot with his acting.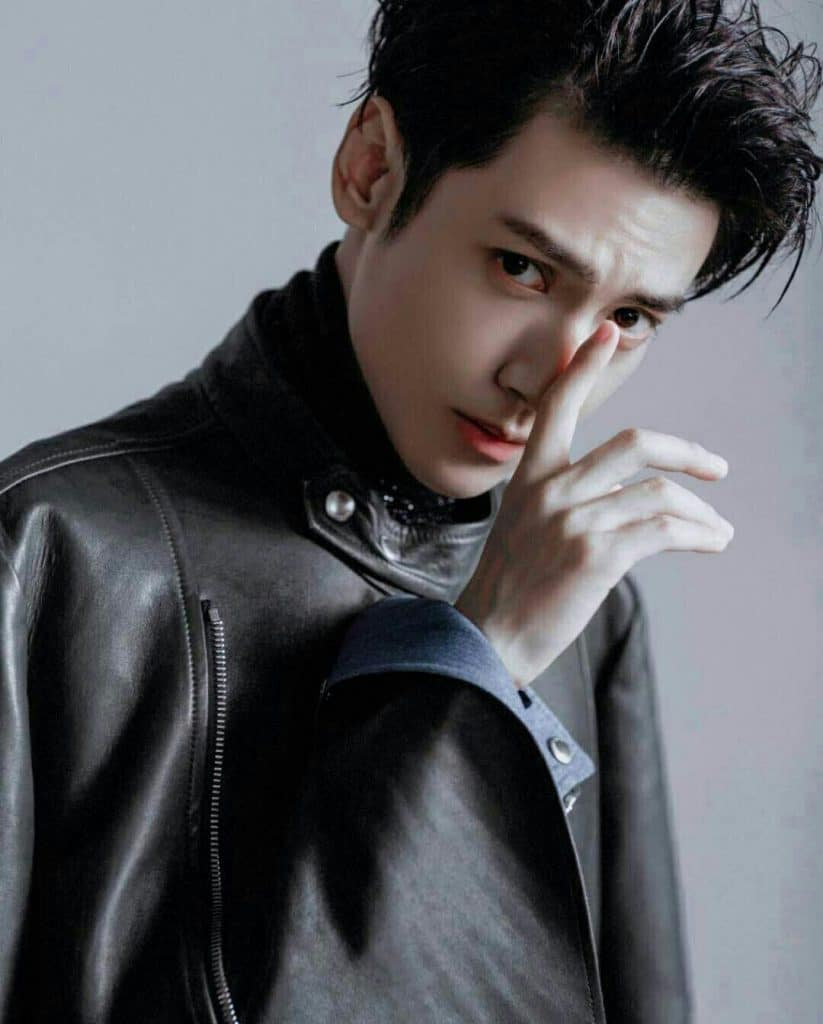 From 2016 to 2017, he accepted supporting roles such as Sule Kai in "The Love of Happiness" and Xuanyang Zhiruo in "A Life Time of Love", as well as main roles including Shen He in "Children's Hospital Pediatrician", and Yu Yan in "Fox in the Screen"; he also sang the soundtrack for the latter.
"Ashes of Love"
The breakthrough role that catapulted him into stardom was that of the eldest prince of the Heavenly Realm and the Night Deity, Runyu, in Jiangsu TV's 2018romantic fantasy "Ashes of Love", based on Dian Xian's novel "Heavy Sweetness, Ash-like Frost." The 63-episode drama series topped the ratings game in its time slot, and received mostly positive reviews from critics for the storyline, cinematography, special effects, and actors' performance. The series had more than 15 billion views online, and won several awards, including the Weibo Annual Hot Drama Honor at the Weibo Award Ceremony and Most Popular Foreign Drama of the Year at the Seoul International Drama Awards.
However, the series became controversial when the production decided to use two scripts that resulted in extending the series from 42 episodes to 63, favoring the second lead, Yunxi, more than the male lead in terms of screen time. According to the screenwriter, after the script was submitted the editor expanded it, which greatly affected the development of the characters and the plot. Fans of both actors waged war online, with one side complaining and the other defending this development in the drama. The producer said that 'a good drama should not simply revolve around the male and female leads.'
Yunxi was tapped to become part of the gaming variety show, "Beyond It! Hero." Many people didn't understand why he accepted an e-sports program when it wouldn't help much with his career, as the audience was limited compared to national reality shows. He said he didn't hesitate to do this show because he loved gaming, and had been going to an internet cafe to play games since his college days. Now that he's an actor, it helped relieve some of the pressures of work, as he was focused on the game and not on anything else.
Some people were addicted to gaming, but he knew to indulge only when he had no work schedule the following day.
He continued to appear in various dramas – most notable was the historical romantic fiction, "Princess Silver" (2019), which was based on Mo Yanshang's novel, "Bai Fa Wang Fei." His portrayal of the Emperor of Qi, one of the main characters in the 58-episode series, earned him his first Best Actor nomination at the Golden Blossom – The 4th Network Film and Television Festival.
Yunxi was again nominated for Best Actor in 2020, for his role as the Master of Moon Valley in iQiyi's 48-episode romantic drama series, "And the Winner is Love." It was the most-watched web series from April to June 2020 despite receiving mixed reviews for having a bland storyline, according to some. He sang the soundtrack for this series entitled "Fate Begins,". His acting was also recognized in the 36-episode romantic comedy, "Love is Sweet," for portraying the role of an executive director named Yuan Shuai.
He won the Popular Actor of the Year and Dynamic Actor awards for both series.
In 2021, he was cast in several drama series, including "Immortality," "Broker," "Lie to Love," and "Medical Examiner Dr. Qin: Corpse Whisperer."
As a singer
Despite having a successful acting career, he hadn't forgotten his love for singing. In April 2018, he released his first solo album, "Love Yourself," for digital download and streaming for free. Yunxi dropped two singles in 2019 such as the "Year for Reunion," which he performed at the CCTV Lantern Festival, and "Against the Current," which had over 350,000 download sales. In December 2020, he released another album entitled "X" digitally, and it had more than 125,000 downloads. The song "Waiting for the Wind to Stop" was included in the album, and it had over 550,000 downloads. Both albums were under the Wonderful Music label.
Personal life
Yunxi is 32 and single, although there've been several rumors regarding his love life.
Speculations that he was dating the actress Bai Lu, his co-star in "Love is Sweet," started in July 2020, as they reportedly had dinner together at the Hengdian Hotel. It was said that the actress arrived first followed by Yunxi, then after a while, both came out one after the other and left in their respective cars. They said that the two met after they finished work for the day. Fan clubs of both stars denied the dating rumors, and said that socializing with colleagues or friends shouldn't be interpreted the wrong way.
Another rumor that spread was that he had a non-celebrity girlfriend for five years, but it wasn't true, as according to his company, he's bound by his contract that prohibited him from dating for five years.
Appearance
He is 5ft 8ins (1.77m) tall and weighs 125lbs (57kg) with a lean build. Yunxi has black hair and black eyes – he considers his eyebrows as his best feature.
Net worth
Yunxi has an estimated net worth of $5 million as of March 2021, according to sources.