Hyunjin is a South Korean singer-songwriter, rapper, and main dancer of the Korean Pop (K-Pop) boyband, Stray Kids, signed under JYP Entertainment. It took his group two years after their debut to be considered one of the top K-Pop boybands in the world, with the successful release of their certified-Platinum first studio album "Go Live," in 2020.
Just a simple reminder that article is created and owned only by kpopwiki.org. Article cannot be re-published in any other pages or documents. Copyright is protected by DMCA. All found copies will be reported.
Original source: https://kpopwiki.org/the-untold-truth-of-stray-kids-member-hwang-hyunjin/
Early Life and Family
Hwang Hyunjin was born on 20 March 2000, in Gangdong-gu, Seoul, South Korea. When he was around 6 years old, his family flew to the United States and lived briefly in Las Vegas. Most people in his school couldn't pronounce his name right, so his parents gave him Sam as his English name.
It didn't take long for Hyunjin's family to miss their home back in South Korea and decide to return to Seoul. He grew up very active in individual sports, including badminton, skiing, and tennis.
While accompanying his mom to the mall when he was still a middle school student, he was approached by a JYP talent scout to invite him to participate in the label's Open Audition. At first Hyunjin thought that the man was a scammer, but after checking the business card given to him online, he found that his offer was legit.
Educational Background
He went to Seoul Seongil Elementary School, then to Seongnae Middle School and matriculated from the School of Performing Arts Seoul in 2019. He is currently enrolled at the Global Cyber University, taking up Bachelor of Arts in English.
Career
When he joined the audition at JYP Entertainment, he had no skills to be proud of except for having great visuals. However, the label saw potential in him and included him in the training program along with other trainees.
After some time, the entertainment agency announced they would soon form a new boyband through the reality television survival show "Stray Kids." Hyunjin and eight other male trainees were thrown together to do some group missions to prove to J.Y. Park, founder of JYP Entertainment, that they were worthy to be given an official debut.
At one point in the 10-episode survival series, aired on the Mnet Cable Music Channel, he became a candidate for elimination due to his unclear pronunciations during one of his rap performances. This weakness was pointed out to him a few times in the show, and he was advised to practice more. Hyunjin became nervous when two trainees were removed from the line-up for not being on par with the other trainees, so he worked even harder on his enunciation problems, and in the end he was chosen to be a part of the new boyband.
— hyunjin pics (@hyunjinpost) December 31, 2020
In the final episode, the two eliminated trainees were given another chance to debut through audience voting. Since the purpose of the reality show was more for the trainees to succeed as a group rather than compete individually, the fans were asked if they wanted the group to be launched with seven or nine members. At the end of the live broadcast on the 19 December 2017 episode, 96% of the audience voted for the trainees to debut as a nine-member group.
As Hyunjin and the boys started preparing for their debut, they released a mixtape with seven tracks that they composed and used for their performances in the reality TV show. It peaked at No. 2 on both the South Korean Gaon Album Chart and Billboard World Album Chart, with sales of over 60,000 copies in the year-end chart of 2018.
First Steps – Debut Year (2018)
Hyunjin along with Changbin, Han, Lee Know. I.N., Seungmin, Felix, and Bang Chan debuted as Stray Kids on 25 March 2018, with the release of the extended play (EP) entitled "I Am Not", consisting of seven tracks including "Awaken," "Mirror," "Grow Up," and the lead track, "District 9."  A day before the release of the EP, the group held a live grand showcase – "Stray Kids Unveil: Op. 01: I Am Not" – at Jangchung Stadium in Seoul. The EP peaked at No. 5 on both the Gaon Album Chart and Billboard's World Album Chart, with over 130,000 units sold.
They released three music videos (MV) to help promote the EP, and the "District 9" MV broke the record previously held by Wanna One for the most number of views in 24 hours for a debut MV at that time, with over 4.3 million. It has over 48 million views to date, and counting.
Due to their rising popularity not only in the local K-Pop scene but also with international K-Pop fans, Hyunjin and the boys headed to Japan two weeks after their official debut for the annual Korean Convention dubbed KCON Japan 2018. They performed songs from their debut EP, and put on a joint performance with label mate, Wooyoung.
The group was off to a great start with a solid fan base, and so they released two more EPs – as "I Am Who" and "I Am You" – on 6 August and 22 October 2018, respectively. Hyunjin was quite relieved that the sales of their EPs continued to increase. The first had almost 80,000 physical copies sold in the month it was released, and subsequently accumulated sales of 156,000. The sales result of the second EP was just as great, with 77,000 physical versions sold in October, and accumulated sales of almost 200,000 at the year-end tally.
Hyunjin and the boys were quite overwhelmed when they capped their rookie year with several nominations, and took home the Best New Artist of the Year award from five major award-giving bodies, including Mnet Asian Music, Gaon Chart Music, Genie Music, and Asia Artist Awards.
Further Success – Successful Clé EP Series and First World Tour
His second year as a K-Pop idol became even busier, with the Stray Kids' first world tour, "Unveil Tour I am…," which kicked off in Bangkok, Thailand on 19 January 2019. Hyunjin's group performed more than 20 songs each night in 14 cities around the world, including Jakarta, Manila, and Tokyo in Asia; Melbourne and Sydney in Australia; Newark, Los Angeles, and Houston in the US; and Berlin, Paris and London in Europe.
In between concert schedules, Stray Kids released three EPs, which they promoted as part of a trilogy series.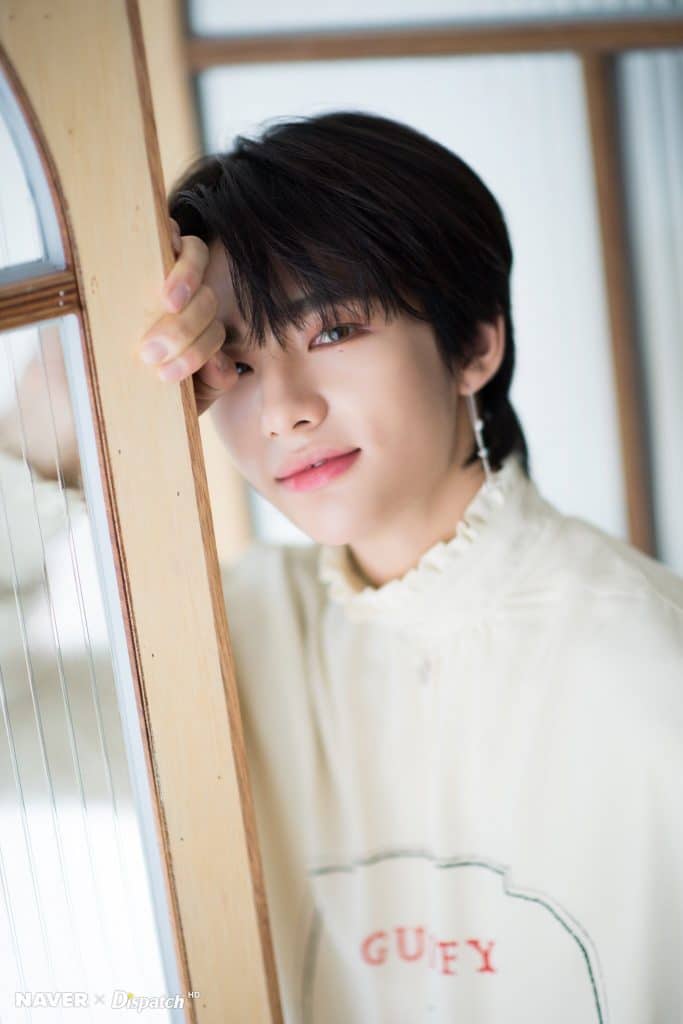 After headlining a concert in Australia, they stayed in Seoul for a whole month to promote their fourth extended play, "Clé 1: Miroh." The first of the Clé series was released on 25 March 2019 with physical and digital versions – the digital has seven tracks while the physical has an additional track entitled "Mixtape #4." The title track, "Miroh" gave the group their first music show win for Top Song of the Week, from Mnet's "M Countdown."
Prior to the release of the EP, Hyunjin and the boys went on their "Hi-Stay Tour in Korea", traveling to several major cities including Incheon, Busan and Daejeon to meet with their fans, culminating with a fan meeting in Seoul. Their hard work paid off, because the EP topped the Gaon Album Chart and went on to enter the Billboard World Album Chart at No. 3. It even charted on the Japanese Oricon Album Chart at No. 15.
The total accumulated number of units sold was almost 200,000 in South Korea, 6,-00 in Japan, and over 1,000 in the US.
The next EP drew almost the same sales result as the first one in the series – "Clé 2: Yellow Wood" was more of a compilation album, with three new songs and other "Mixtape" songs that were available only on the physical CD of each of the previous EPs. It didn't top the local charts, but around 170,000 units were sold. The last one in the series, "Clé: Levanter," is their biggest-selling EP to date with almost 220,000 units sold locally, and over 9,000 copies sold in Japan.
Stray Kids as an Eight-Member Group
Before "Clé: Levanter" was released, Woojin officially left the group, which caused the remaining eight members to re-record the whole EP. So many theories came out, but the official statement released by JYP Entertainment was that Woojin left for personal reasons, choosing to terminate his exclusive contract.
Initiall, fans were saddened by the news, and kept wondering why he left a successful career. Rumors came out later about alleged sexual harassment, and impregnating a fan site administrator.
Through all this, Hyunjin and the boys chose to stay quiet. No one officially addressed the issue, and it seemed that they decided to intentionally avoid talking about their former member. However, later on, the leader of their group, Bang Chan, posted on his social media account reminding everyone to be responsible for keeping promises, and that continuously making mistakes could lead to deceit and selfishness; fans immediately assumed that Bang Chan's post was about what happened with Woojin. The scandal about Woojin didn't affect Stray Kids' popularity, and the boys didn't need to take a temporary hiatus as a consequence of being inadvertently involved in a scandal in the K-Pop industry.
First Studio Album, Japanese Debut, and Second World Tour
On 18 March 2020, Hyunjin and the boys officially debuted in Japan with the release of their Japanese album, "SKZ2020," with 14 tracks including the Japanese versions of "Levanter," "My Pace," and "Double Knot", along with re-recordings of songs previously included in their Korean extended plays. It peaked at No. 3 on both the Oricon Album Chart and Billboard Japan Hot Albums 100. They also released the digital single, "Top," which was used as the theme song for the anime entitled "Kami no To – Tower of God."
In the second half of the year, Stray Kids released the group's first studio album entitled "Go Live" on 17 July – it has 13 tracks including the lead track, "God's Menu." The album topped the Gaon Charts and peaked at No.4 on Billboard's World Album Chart. It became Stray Kids' best-selling album at that time, with over 250,000 units sold, and was certified platinum by the Korea Music Content Association (KMCA).
After two months, they released a repackaged version of the studio album entitled "In Life", and the same thing happened. It gave them their second Platinum certification by KMCA for having sold more than 250,000 units, and it also topped the iTunes Album Charts in 23 countries.
Product Endorsements
As a member of Stray Kids, Hyunjin was chosen as an endorser of a variety of products during their debut year, including Jambangee Jeans for its Spring Collection, Minute Maid Sparkling, Pro-Specs, and he also became the brand ambassador for Lotte Duty Free.
Due to the rising popularity of the group, more products and government agencies trusted their brand power to them in 2019. They were made honorary ambassadors for the Korean Culture and Information Service, Ministry of Culture, Sports, and Tourism, as well as for the Talk Talk Korea Contest.
Stray Kids(스트레이 키즈) DEBUT ALBUM<I am NOT>TEASER IMAGE #HYUNJIN #현진 2018.03.26 MON 6PM#StrayKids #스트레이키즈#IamNOT #District9

Posted by Stray Kids on Tuesday, March 13, 2018
Personal Life
Hyunjin is currently single, as he is still bound by the no‑dating rule included in their contracts, which lasts for three to five years after his debut. Fans sometimes get curious if he is secretly dating anyone, and jump to conclusions whenever he is extra caring to any of his label mates. However, fans now acknowledge that he is quite the gentleman, and would take good care of any girl he is working with, just like he is towards label mate, Yeji of ITZY. Fans labeled them as the Hwang Twins since they share the same last names, and basically look quite similar as if they are siblings in real life.
He still lives in the company dorm along with the other members of Stray Kids, sharing a room with Seungmin, Bang Chan, and Lee Know.
Hobbies, favorites, rumors, and interesting facts
Hyunjin likes playing with pets, particularly his Chihuahua named Kkami, but he won't touch a cat as he has an adverse reaction to its fur.
Aside from playing his favorite sports, he would spend his free time at home dancing or reading books.
Hyunjin's favorites: autumn (season), bubble tea (beverage), black and white (colors), sushi, fried chicken and pizza (food), watermelon (fruit), cold noodles (ramen), romance (movie genre), Fruit Ring (cereal).
He can generally eat a variety of foods, but has an aversion to eggplant, carrot, onion and avocado.
Of all the celebrities he's met and looks up to, Hyunjin considers label mate, Jinyoung of Got7, as his role model.
He has a wide collection of "I Love (name of city)" T-shirts. He would buy one before leaving any city he visited.
After taking a Myers-Briggs Type Indicator personality test for fun, along with the other members, Hyunjin ended with an ENTP-T, which stands for Extraverted, Intuitive, Thinking, Perceiving, and Turbulent.
Appearance
Hyunjin is 5ft 10ins (1.78m) tall and weighs 130lbs (60kgs) with a lean muscular body. His shoe size is 270mm (10 US). He has black hair and dark brown eyes, with a distinguishing mark below his left eye.
Net Worth
According to authoritative sources, Hyunjin has an estimated net worth of close to $1 million, as of November 2020.