Yuna is a Korean singer, rapper and dancer, who became famous for being a member of the K‑Pop (Korean pop) girl group Itzy, under JYP Entertainment.
Just a simple reminder that article is created and owned only by kpopwiki.org. Article cannot be re-published in any other pages or documents. Copyright is protected by DMCA. All found copies will be reported.
Original source: https://kpopwiki.org/yuna-itzy-age-height-hair-plastic-surgery-parents-wiki/
Early life and family
Shin Yuna was born on 9 December 2003, in Suwon, Gyeonggi South Korea. Little else is known about her family, except that she has an older sister.
Educational background
She attended Suwon Hwayang Elementary School, then Youngbok Girls Middle School. She is currently enrolled at the Hanlim Multi Arts School in Songpa District in Seoul, in the department of Practical Dance.
Yuna is very athletic and used to play floorball for four years since sixth grade, and received the National Assembly Award for placing first in both city-level and province-level competitions.
Career
First steps
In 2015, she accompanied her older sister who is a fan of the boy group, BTOB, to attend the annual year-end music festival, "KBS Gayo Daejeon," in which many singers and idol groups would be performing. As they were waiting by the road, Yuna was approached by a tiny woman who wanted to talk to her, but as she didn't have time, the woman gave her a business card and asked her to contact her later. It turned out that the person is a casting manager from one of the biggest entertainment companies in South Korea, JYP entertainment.
Yuna was asked to bring her school records to the company, and was interviewed during her first audition and passed both. She went back for the second audition for a skills test in singing and dancing; admittedly, she wasn't good at dancing at that time and only knew some basic moves; when she was asked to do freestyle dancing, she just clapped her hands to the rhythm and even missed a beat or two.
Then she sang the Korean-American singer Ailee's "Evening Sky." Next, she had to do a visual test and this involved several poses similar to what a model would do.
After passing all the audition levels, she became a JYP trainee in 2017, and was given proper training in all aspects of performing. There is no guarantee that she will be able to debut; she has to work hard on improving her talents to pass the monthly evaluations and be included in the line-up of members, should the company decide to launch a new girl group.
She was first seen by kpop fans in BTS' "Love Yourself" Highlight Reel video on YouTube on 15 August 2017, when she appeared in a scene with BTS' main vocalist, Jungkook, although nobody knew her at that time; it had more than 17 million views and more than a million likes.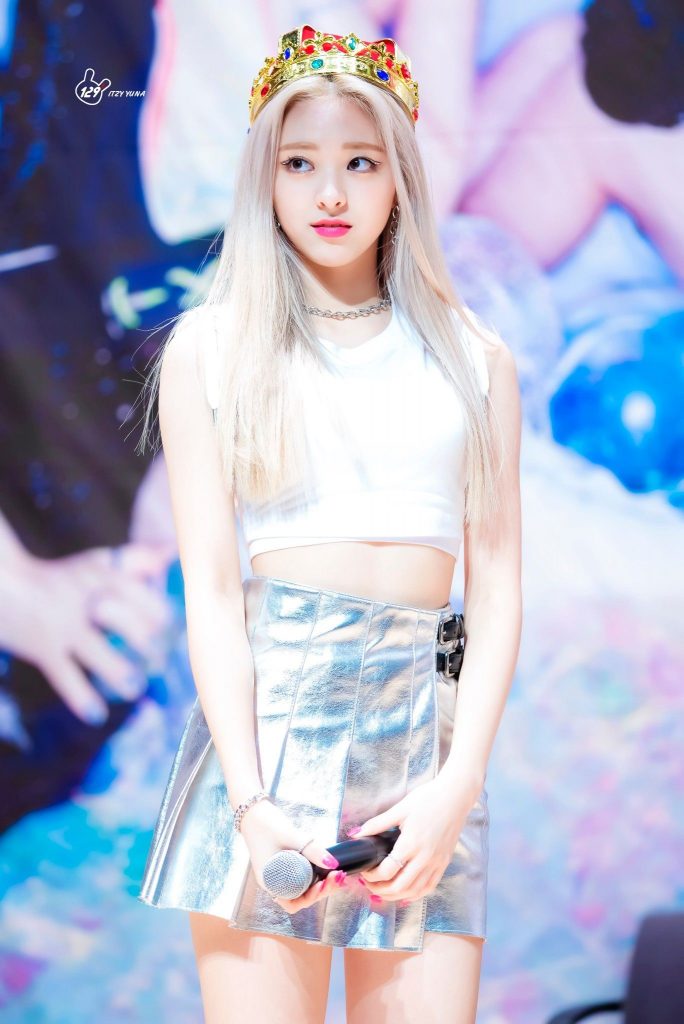 As a trainee, she participated in the boys vs girls showdown in JYP's survival reality show, "Stray Kids," (2017) on Mnet, which was intended to launch a new male idol group of the same name.
JYP announced the name of its new girl group, Itzy, on its official website in January 2019, pronounced as "itji" in Korean which means that they have everything that everyone wants in a girl group; the word literally means "to have."
Yuna, after three years of training, finally debuted on 11 February 2019 as part of the five-member group, Itzy. She is the "maknae" or youngest at 15 (16 in Korean age) and the lead rapper, lead dancer, vocalist, and the visual of the group. Other members of the group include Yeji as their designated leader, Lia as the main vocalist, Chaeryeong as the main dancer, and Ryujin as the main rapper and center.
Their debut song, "Dalla Dalla" (Different Different), which is a combination of house and hip‑hop genres, peaked at Number 2 on Billboard's World Digital Songs chart and South Korea's Gaon Digital Chart. It has the distinction of being the first kpop group's debut song to have been certified platinum by the Korea Music Content Association (KMCA), as it exceeded 100 million streams on the Gaon Music Chart. It is part of their digital single album, "It'z Different," that has "Want It?" on its B-side. Its music video had over 17 million views in its first 24 hours, and currently has over 200 million views.
They performed at various music shows including Mnet's M Countdown from which they received their first win – making it the fastest ever for a girl group's debut track – KBS' Music Bank, MBC's Show! Music Core, and SBS' Inkigayo from which they had their triple crown.
Yuna along with her group members starred in the reality TV show, "Itzy? Itzy!," which premiered on 20 February 2019 on V Live, Naver TV Cast, and YouTube. Two weeks after their debut, she appeared in the SBS' variety show, "Master in the House," in which the company's CEO and owner Park Jin Young, commonly referred to as JYP, was a guest. He visited the girls in their practice room, and you can see how critical he is of each member's performance. He said that he takes screenshots of the parts that he finds lacking in their performance, and sends them to their group chat to let them know what they need to improve on and practice more. When he takes a photo of the five members while they are dancing, each one should be in the exact same dance position which will indicate that everyone is doing it right.
Her group released their EP on 29 July 2019, entitled "It'z Icy", with "Icy" as their title track. Although not as successful as their debut song, it peaked at Number 3 on the Gaon Album Chart, 11 on Billboard World Albums chart, and 10 on Japan's Oricon Digital Albums Chart. The music video had over 18 million views in the 24 hours after release, and currently has over 160 million views. Other songs in the album include "Cherry," "Summer," and the "Dalla Dalla", and "Want It?" remixes. They were also seen in the reality shows "Itzy in Paris" and "Itzy It'z Tourbook." They went on a showcase tour, "Itzy? Itzy!," that started in Jakarta on 2 November 2019 followed by other cities in Asia, then in the US in January 2020.
At the year-end awards, Itzy won Rookie of the Year or Best New Artist from various award-giving bodies, such as the Melon Music Awards, Korean Music Awards, Mnet Asian Music Awards (MAMA), and Seoul Music Awards.
Further steps
On 9 March 2020, Itzy released their second EP entitled "It'z Me," which has seven tracks, entered the Gaon Album Chart at Number 1 and the Billboard World Albums Chart at Number 5. Its lead single, "Wannabe," entered the music charts of several countries, debuted at Number 6 on the Gaon Digital Chart, and Number 4 on the World Digital Song Sales chart in the US. Its music video had more than 11 million views in its first 24 hours, and at present, has over 160 million views. Even their performance videos and dance practice videos have garnered millions of views.
Personal life
Yuna is 16 and currently single. New girl groups usually have a dating ban included in their contracts, so it might take time before Yuna starts dating. She and the other members of Itzy live together in a dorm provided by her agency, and she is said to share a room with Lia.
Interesting facts and rumors
On looking back at her participation in BTS' "Love Yourself" Highlight Reel video, she said it was funny and sad because most girls in the clip were made to look pretty, but her role was someone who is sick so she had to look pale and wasn't even allowed to smile. Also, she was supposed to have a line, but being unable to deliver it properly even if it was reduced to a single word, the director had instructed her to do a hand signal instead.
Some of her fans are worried that she would receive hate comments when it was revealed that she was the girl on the scene with BTS' Jungkook, especially when she was able to hold his hand, because his fans might get jealous; kpop fans are quite possessive of their idol, and they usually don't want their biases to be linked or to be associated with girls, particularly those belonging to a girl group.
There were rumors that Yuna replaced the popular JYP trainee at that time named Somi as a member of Itzy. When the latter decided to leave the agency and transferred to another label to become a solo artist, her position was said to be given to Yuna.
Her English name is Hussey Shin, and she chose the name because she loves Olivia Hussey, who played the role of Juliet in the 1968 movie, "Romeo and Juliet."
She loves to eat pizza, go for walks, find nice restaurants to dine in, and shopping.
Favorites: the color pink, things that glitter, the scents of lavender or rosemary, bingsu (shaved ice with sweet toppings), the winter season as she loves to watch the snow fall, and the movies "Miracle in Cell No.7" and "Shawshank Redemption."
She is emotional and cries easily.
She is most afraid of oversleeping because she doesn't want to be late for work, so she sets her alarm, and checks her 'phone the moment she awakes, for any missed calls.
Yuna was dubbed as the "living Barbie" by the Korean media, as she presented the perfect visual and body ratio during their "It'z Icy" promotions.
When her pre-debut photos surfaced, knetizens (Korean internet users) were able to confirm that her beauty is 100% natural, and that she hadn't undergone plastic surgery. Her photos wearing her floorball uniform went viral, as she receives compliments on how beautiful she was even then.
Even after debut, Yuna along with the other members continue to receive vocal lessons even from JYP himself.
She is considered the funniest in the group, and it was her dream to become a pretty comedian before she became a JYP trainee. She also wanted to become a news anchor when she was a kid.
Other names being considered for the group included Queendom, Purple Heart, and Triggle, which combined the words "trigger" and "giggle." It was Park Jin Young who decided on the name Itzy.
She learned how to play the recorder when she was young.
Her group's introductory greeting or slogan is "All in us", and their fandom is called Midzy, which is a combination of the word "trust" in Korean, and their group name.
Appearance
She is 5ft 7ins (1.73m) tall and weighs around 105lbs (48kg). She has brown eyes and black hair. but had it dyed red when her group debuted, blonde when promoting "Icy", and dark brown when they performed at the "MBC Gayo Dajeon" on 31 December 2019.
Net worth
Being a member of a successful girl group whose popularity is not just limited to South Korea, but extends to other countries, her net worth is estimated at over $100,000 as of July 2020.