Who is CocoSori? What happened to CocoSori?
CocoSori was a girl duo made up of Coco and Sori, which disbanded in 2019 because of problems regarding Coco.
Just a simple reminder that article is created and owned only by kpopwiki.org. Article cannot be re-published in any other pages or documents. Copyright is protected by DMCA. All found copies will be reported.
Original source: https://kpopwiki.org/who-is-cocosori-what-happened-to-cocosori-wiki-2020/
Kim Sori was born in Seoul, South Korea on 21 July 1990 – her zodiac sign is Cancer and she holds South Korean nationality. Lee Coco was born in Los Angeles, California USA, on 25 March 1991 – her zodiac sign is Aries and she holds both American and South Korean nationality. The two girls came under the spotlight on 5 January 2016, when they debuted as CocoSori with their debut single "Dark Circle".
Early life and education
Sori was raised an only child in Seoul by her father who was a businessman, and her mother who was a housewife – because of her father's work, Sori also spent some time living in Japan.
She became interested in ballet at a very early age, and began taking lessons at the age of seven while she continued to practice it for the next 14 years. She attended a local high school at which she was physically active, and was the lead cheerleader. Upon matriculation in 2008, Sori enrolled at Sangmyung University from which she graduated with a Bachelor of Arts degree in dance in 2012.
Coco was raised in Los Angeles alongside her older brother Steven, who has become a songwriter and a music producer, by their father who was working at a law firm, and their mother who was an accountant. Coco became interested in singing while attending elementary school, and after noticing her talent, her parents enrolled her at a school for the performing arts. She matriculated from high school in 2009, and then enrolled at the Pepperdine University from which she graduated with a Bachelor's degree in 2013.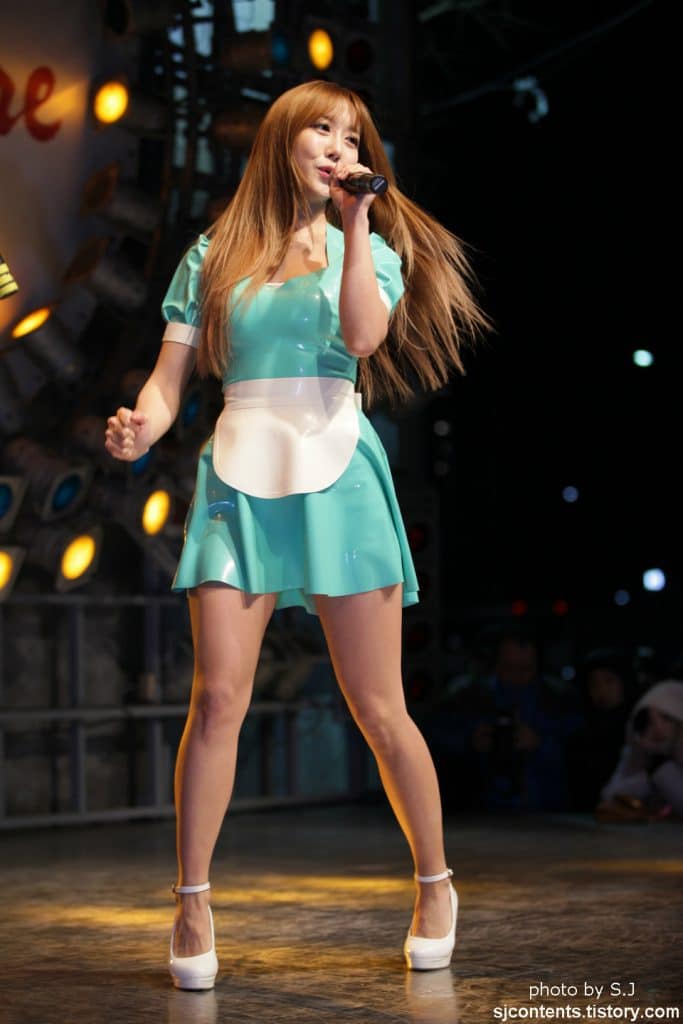 The duo CocoSori
The girls attracted a lot of attention in South Korea with their debut single "Dark Circle", and in the same year they released their next single "Exquisite!", although neither of the songs managed to make their way onto any chart. In the second half of 2016, the two released their debut Japanese single, "Itoshi no Mameido" which peaked at #71 on the Oricon Singles Chart, then after around a year and a half long break, their first album came out on 12 February 2018 entitled "Mi Amor", with its eponymous lead single, and it peaked at #34 on the Gaon Music Chart.
It was reported by the girls' agency Mole Entertainment, that the duo would be disbanding because of problems with Coco who had breached her contract – there are rumors circulating the internet that Mole Entertainment went on to sue Coco due to this.
Sori is also a bit of an actress, as she made her debut appearance in the South Korean drama series "Hi! School: Love On" in 2014. She launched her solo career on 4 September 2018 when her debut single "Touch" was released.
Coco has also launched her solo career, on 28 May 2017, when she released her debut single "Wishy Washy".
Love life and their boyfriends
Sori has been keeping the details of her love life away from the media's attention, and while the group CocoSori was still active their agency had a dating ban put on the girls, and thus the two shouldn't have dated anyone from 2016 to the end of 2018. It was reported in December 2019 that Coco was in a relationship with Song Jaeyeob who is a dancer, as the two were seen together on multiple occasions – they also appeared as a couple in the second season of the reality show "Somebody".
Coco is a YouTuber and on 6 January 2018 uploaded a video onto her channel featuring her while going out on a date with a beauty YouTuber Edward Avila – rumors instantly started spreading around the internet about how long the two were seeing each other, and if they were indeed romantically linked. It appears as the two have since broken up, so Coco is currently single, she hasn't married and doesn't have children.
Another rumor has it that Sori might be in a relationship today, as several of her fans have stated seeing her spending time with a mysterious man at a restaurant in Seoul on multiple occasions, and that the two were rather close to one another – Sori hasn't commented on the rumors, and as of August 2020, she appears to be single, hasn't married and doesn't have children.
Hobbies and other interests
Sori is keen on learning languages, and is fluent in Chinese, Japanese and Korean, also knowing a bit of English.
One of her main hobbies is practicing break-dancing – she started taking lessons while attending university.
She likes to watch animated movies in her spare time, and prefers Studio Ghibli over Disney – some of her favorite Studio Ghibli movies are "The Tale of Princess Kaguya", "Ponyo" and "Porco Rosso".
#Honoka #LoveLive #ホワイトデー覚醒 #러브라이브 #호노카 https://instagram.com/cocosori_2015/ https://twitter.com/cocosori22 http://worldcosplay.net/member/CoCoSori

Posted by CocoSori 코코소리 on Wednesday, 21 October 2015
Winter is Sori's favorite season as she is an avid snowboarder, while she also knows how to ski – she isn't much of a fan of summer as she doesn't like the hot weather. Sori is also physically active, as she has two to three training sessions at the gym each week, and occasionally goes cycling, and running outdoors.
Until recently, Coco's main hobby has been YouTube, and her channel was subscribed to by over 200,000 people. Many of her videos featured other popular South Korean singers, actors and YouTubers, however, it appears that she has recently abandoned the channel.
She likes to watch movies in her free time, and her favorite is the Disney animated film "The Minions", while the little yellow minions are also her favorite movie characters.
Coco is a gamer, and enjoys playing third-person shooters such as "Fortnite" and "PUBG", and while her YouTube channel was still active, she would often upload videos of her gameplays. She is highly social and has many friends – some of her best friends are Jae from the group Day6, Woosung from the group The Rose, and Alex from the group HIGH4.
Looks and net worth
Sori is 30 years old. She has long brown hair and brown eyes, is 5ft 4ins (1.63m) tall and weighs around 106lbs (48kgs).
As of August 2020, her net worth has been estimated at over $50,000.
Coco is 29 years old. She has long brown hair and her eyes are brown as well, while her height is 5ft 4ins (1.63m) and she weighs around 100lbs (46kgs).
As of August 2020, her net worth has been estimated at over $70,000.