Nancy is a Korean-American singer, who first gained notice when she joined the reality television survival series, "Finding Momoland" in 2016, and made the cut to become the lead singer, lead dancer, and visual of the Korean popular (K-Pop) girl group called Momoland. She rose to fame in 2018 with the group's breakthrough hit, "Bboom Bboom," and was in 10th place on TC Candler's "The 100 Most Beautiful Faces of 2020." She was a victim of "molka" in 2021, as her doctored photo was shared online.
Just a simple reminder that article is created and owned only by kpopwiki.org. Article cannot be re-published in any other pages or documents. Copyright is protected by DMCA. All found copies will be reported.
Original source: https://kpopwiki.org/the-untold-truth-about-momoland-member-nancy/
Early life and family
Nancy Jewel McDonie was born on 13 April 2000, in Daegu, South Korea to an American father of Irish descent, Richard Jowel McDonie, and South Korean mother, Lee Myeongju. She has an older sister named Brenda, who is a cellist. Her father served in the US Army, and later became an assistant professor at Gachon University in Korea.
Her Korean name was Lee Seungri but it was legally changed to Lee Gru (sometimes spelled as Geuroo).
Her family moved to Ohio in the US when she was two, and stayed there for six years before returning to Korea. She was happy when she lived there, and was grateful for the chance to experience two cultures. She didn't have a hard time adjusting to living in Korea even if she didn't speak good Korean at first, because of her friends. Her mom also explained the difference between American and Korean schools so she was prepared for it. She noticed that people kept staring at her because she didn't look Asian to them.
Educational background
She attended Daegu Wolbae Elementary School, Yongin Hyoja Elementary School, and Seongseo Middle School but dropped, out then later took the equivalency exam.
She matriculated on 9 February 2018 from Hanlim Multi Art School. Nancy went to Sungshin Women's University.
Career
First steps
She loved acting, singing, and dancing when she was young, but it was not something she dreamed of pursuing as a career. However, when she moved back to Korea, she was exposed to K-Pop music as people were already obsessed with boybands and girl groups at that time, and so she became interested in it too. Her mom then enrolled her into a dance academy, from which she appeared on EBS' "Hangul Train Chipo" (2010), then she and other pre-teens in the class formed the hip-hop group called Cutie Pies.
Her group joined the first season of the talent show competition, "Korea's Got Talent," which premiered in June 2011 on tvN, and reached the semi-final round.
After the competition, she was seen on shows that aired on the cartoon and anime channel Tooniverse, such as "The Unlimited Show" (2011-2013), "Mak Eerae Show: Just Do It Expedition" (2012), and "Olala School 2" (2014). Nancy was later cast as the lead actress on rapper MC Gree's "Dangerous" music video in 2016.
"Finding Momoland"
The Duble Kick Company, a subsidiary of Duble Kick Entertainment, planned to launch their girl group Momoland through the reality TV survival series called "Finding Momoland," which aired on Mnet for ten episodes from July to September 2016. Seven out of ten trainees from the company made the cut, and Nancy was one of them. However, they didn't debut in the finale due to the girls' failure to gather 3,000 fans for the last mission – only 2,300 came to the event.
They were given another mission, which was to raise seven million won – approximately $6,300 – to fund their album, and with 10 million won ($9,000) raised through crowdfunding, their debut was assured. After six years of training, Nancy officially debuted with JooE, Ahin, Hyebin, Nayun, and Yeonwoo as Momoland in November 2016. They held their grand debut showcase on the 9th, and released their first extended play (EP) "Welcome to Momoland" on the 10th, consisting of six tracks including "Love Sick," "Oh-Gi-Yeo-Cha," and the lead track, "Jjan Koong Kwang." The EP was No.53 on the Gaon Monthly Album Chart, and sold less than 1,900 copies that month.
In March 2017, eliminated trainees from the survival series, namely Taeha and Daisy, joined Momoland in time for the release of their single album, "Wonderful Love," in April. "Freeze," their second EP released in August, made it onto the Gaon Monthly Album Chart at No.63, with 2,200 copies sold that month, however, their singles failed to chart.
Their first three releases had weak results, but the next one catapulted Nancy and the girls to stardom. "Great" was their third EP, released in January 2018 and peaking at No.3 with over 22,000 copies sold that year. The lead single, "Bboom Bboom," peaked at No.2 on the Gaon Digital Chart, No.2 on Billboard K-Pop Hot 100, and No.4 on Billboard's World Digital Song Sales Chart. It received platinum certification from the Korea Music Content Association (KMCA) first in August 2018 for having 100 million streams, then in July 2019 for 2.5 million downloads, which made them the first girl group and second K-Pop act to have done so since music recording certification was first introduced in 2018.
The song also gave Nancy and the girls their first music show win as the No.1 song of the week, on 11 January 2018 courtesy of Mnet's "M Countdown", and it won a total of seven trophies from various music programs. The official music video (MV) attracted 490 million views.
Nancy momoland#MOMOLAND #Nancyjewel#momolandnancy #mmld #nancyfancam #nancy pic.twitter.com/AR7s5IND5F

— ANice48 (@Anice48) April 6, 2020
Its success was marred with controversy, as the Russian girl group, Serebro, accused Momoland of plagiarizing their song, "Mi Mi Mi," with "Bboom Bboom," but Shinsadong Tiger, the composer of the latter, denied it saying that the two were only similar due to the guitar riff in the introduction, and the genre.
Further success
Her agency changed its name to MLD Entertainment in May 2018. Nancy's group signed with King Records for their Japanese promotions, and released the Japanese version of their breakthrough hit, "Bboom Bboom," in June 2018. It entered Japan's Oricon Singles Chart and Billboard Japan Hot 100, peaking at No.4 and at No.9, respectively.
"Fun to the World," their fourth Korean EP, was released in June 2018; the five-track EP reached No.6 on the Gaon Album Chart and sold close to 14,500 copies. Its lead single, "Baam," peaked at No.13 on the Gaon Digital Chart, and No.5 on Billboard's World Digital Song Sales Chart.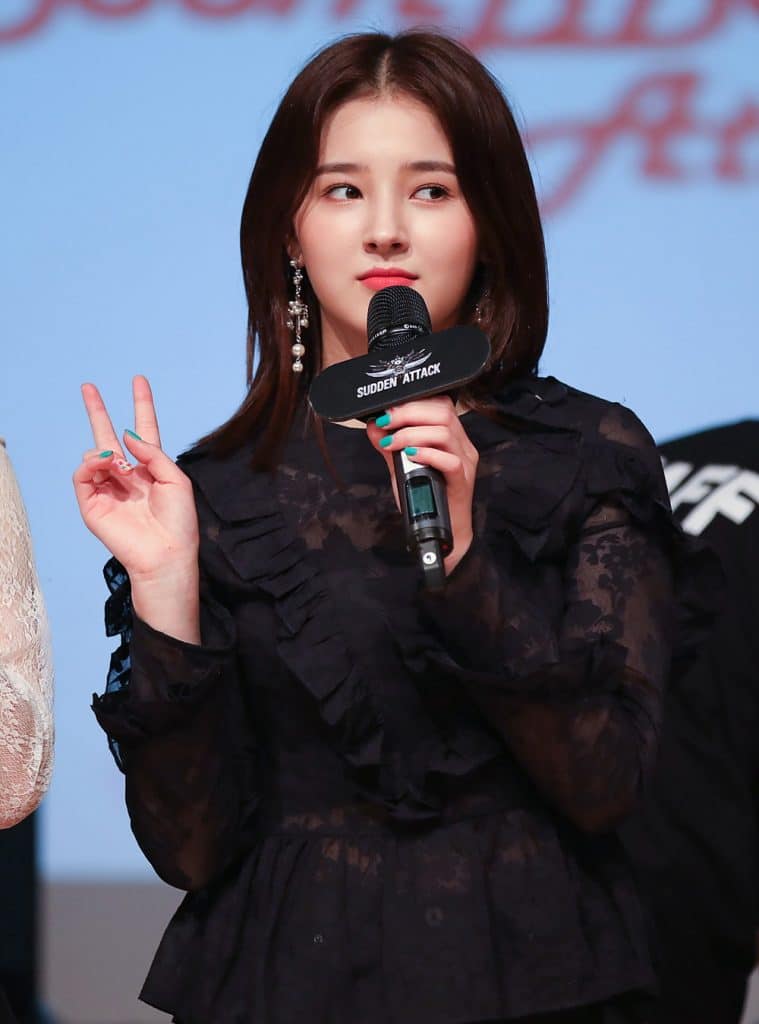 The Japanese version of the song was No.8 on the Oricon Singles Chart and No.12 on Billboard Japan Hot 100, with cumulative sales of 13,000 copies. The official MV garnered more than 210 million views – two more MVs were released such as a dance practice video with over 60 million views and the moving dance practice video with over 200 million views.
The succeeding releases of Nancy and the girls were not as commercially successful as the two previous Korean EPs. The fifth EP, "Show Me," was released in March 2019 and reached No.7 on the Gaon Album Chart with 9,000 copies sold that month. It consisted of six tracks including "What You Want," "Falling U," and "Light Up." The lead track, "I'm So Hot," only made it at No.181 on the Gaon Digital Chart, No.36 on Billboard Korea Hot 100, and No.13 on Billboard's World Digital Song Sales Chart, but Nancy and the girls won a few music show trophies for the song.
They released their first Japanese studio album, "Chiri Chiri," in September 2019, comprised of ten tracks including the title track, "Pinky Love," and the rest were Japanese versions of previously released songs. The album reached No.30 on the Oricon Chart, and No.49 on Billboard Japan Hot Albums.
"Thumbs Up," was released in December 2019 with four tracks including the title track, as well as its English, remix, and instrumental versions. It peaked at No.4 on the Gaon Album Chart with over 5,500 copies sold.
By the end of 2019, it was announced that Taeha and Yeonwoo had left the group, with Daisy still in discussion with the company. Momoland's fandom, Merry-Go-Round, feared that news of the group's disbandment would follow; it didn't help that Daisy alleged in January 2020 that their survival show in 2016 was rigged, as she was offered a spot in the group after her elimination.
She also said she owed the company around $60,000 as her share for the cost of producing the show. The company denied her accusations, and that the cost was agreed upon by the members and their parents as stipulated in their exclusive contracts.
Momoland continued with six members, and released their sixth EP, "Starry Night," in June 2020, which peaked at No.21 on the Gaon Album Chart with 4,800 copies sold. "Ready or Not" was their third single album released in November 2020; it reached No.25 on the Gaon Album Chart  selling 3,500 copies.
Acting and variety show appearances
After debut, Nancy appeared in several variety shows – she hosted Arirang TV's "Pops in Seoul" from March 2017 to June 2018; she was one of the cast members in "Law of the Jungle," who experienced living in the wilderness of the Tasman District in New Zealand in 2019; then competed against other idols aspiring to be an actor in the show "I Am The Actor," but it was AOA's Chanmi who emerged the winner.
She also joined MBC's singing competition, "King of Masked Singer" in 2020, wearing an Atlantis Princess disguise.
As an actress
Nancy was cast in the lead female role opposite Ha Minwoo (ZE:A) in the web drama series, "Some Light", which aired for six episodes on Naver from October to November 2017; the two main leads also sang the official soundtrack of the series. The following year she along with some of her co-members had a cameo appearance as an idol trainee in MBC's romantic drama series, "Dae Jang Geum is Watching".
As her company signed a co-management agreement with ABS-CBN Corporation, the biggest entertainment and media group in the Philippines in 2019, it gave Nancy the opportunity to star as the main lead in the upcoming Filipino drama mini-series, "The Soulmate Project," opposite popular actor James Reid.
The filming was set to begin in 2020 in South Korea, however, due to restrictions caused by the COVID-19 pandemic, as well as the ABS-CBN shutdown ordered by the Philippine government, the project was postponed. It was reported in December 2020 that it will push through in 2021.
Personal life
Nancy is 20 and officially single – her ideal type is someone with dignity and goal-oriented. Rumors of her dating The Boyz' main dancer, Q, surfaced in June 2019 when they were spotted together having drinks in a bar near Konkuk University. Her agency clarified that the two were only friends, and that they were there for an hour and a half that night with Eric (The Boyz) and Jiwon (Cherry Bullet). Q's agency also denied the dating rumors, and said it was just a simple get-together with friends. She is currently living on her own.
In an interview in 2020, she said one of her biggest concerns that time was that most netizens (online users) commented about her body, as they made a big deal of how much weight she lost or gained.
She said that being judged on her singing or dancing skills was natural as it was part of her job, but her weight should not be important at all.
She was a victim of "molka" (hidden camera) as she was secretly filmed while changing her outfit in the dressing room during the Asian Artist Awards held in Vietnam in November 2019. The photos that circulated online in January 2021 in various social media platforms were illegally manipulated, and showed her in a state of undress. Some fans alleged that it was taken by a staff member of her company, as the person had access to the room. The awards committee apologized to Nancy, and promised to co-operate with the authorities to help with the investigation. MLD Entertainment announced that they would take legal action against the person who took the photo, posted it, and spread it online. Nancy was said to undergo 'severe emotional turmoil' because of the incident.
180831 Nancy MOMOLAND @ VHEARTBEAThttps://t.co/Yr9xbYziwL#nancymomoland #BAAM #momolandbboombboom #momolandbaam #momoland #nancyjewelmcdonie #nancyjewel #nancy #momolandnancy #mld #merrygoround pic.twitter.com/sKn7xuyLN7

— Sy__KSic (@KeooKwonn) September 2, 2018
Hobbies, favorites, rumors, and interesting facts
Favorites: blue (color), anything with cheese (food), chocolate mint (ice cream flavor)
She has an elephant doll collection.
She spends her leisure time watching Netflix, and doing diamond painting.
The singer-songwriter IU is a favorite of hers, as she said, 'I could listen to her voice for the rest of my life and never get tired of it.'
Acting in musicals is something she wanted to try as she enjoys watching them, particularly "Les Miserables." She already mentioned her interest in that field back when she auditioned for "Korea's Got Talent."
She wants to learn how to ride a bicycle so she can go on bike rides with her friends.
Traveling to beautiful places around the world is her lifelong goal. She considers going to the beach as a perfect vacation for her.
Playing the handheld digital pet, tamagotchi, helps in relieving her stress.
She would have become a violinist if she weren't a K-Pop artist. Her love for singing and dancing stopped her from continuing to play the violin.
She was criticized for allegedly making fun of people suffering from bulimia, but she explained that she also had an eating disorder in the past, and joking about it was her coping mechanism.
Appearance
She is 5ft 3ins (1.62m) tall, weighs 101lbs (46kg), and her vital statistics are 34-26-39. She has brown hair and brown eyes. Her shoe size is 240 mm.
Net worth
She has an estimated net worth of $1 million as of February 2021, according to sources.