Kim Jae-young is a South Korean actor and model, born on 30 September 1988 in South Korea. He's best known for his leading role in the drama "Beautiful Love, Wonderful Life".
Just a simple reminder that article is created and owned only by kpopwiki.org. Article cannot be re-published in any other pages or documents. Copyright is protected by DMCA. All found copies will be reported.
Original source: https://kpopwiki.org/kim-jae-young-age-girlfriend-net-worth-family-biography/
Early Life
Unfortunately there's no information about Kim Jae-young's family and education. It's known that during his childhood he was somewhat overweight, but was interested in fashion, liked to read magazines, and wanted to be a Chef.
Military – Weight Loss
It's unknown when exactly Kim Jae-young enlisted in the military, however, he revealed in an interview that he was in the ROKAF (Republic of Korea Armed Forces) before starting his modeling career in his 20s, thus he supposedly enlisted right after his 18th birthday.
He weighed over 220lbs (100kgs) by the time he entered the military, though he lost over 66lbs (30kgs) during his 2-year long service.
Although he found himself wanting to become a Chef after leaving the ROKAF, his parents refused to support him with his career election.
Career
Modeling
Kim Jae-young started looking online for jobs as a model per his parents' suggestions, as he revealed in an interview on Showbiz Korea. Luckily enough, he was accépted by the Esteem Model agency after registering on their website, obtaining his first modeling jobs soon after.
When asked if becoming a model was part of his life goals, he said: 'Honestly, I didn't think at all about modeling as I was fat when I was young. I wasn't interested in this outlet.
When I first tried it, I thought I wouldn't be able to make it. But, in the early days, I was really lucky.'
Acting – First Steps
Kim Jae Young's first TV appearance was as a contestant in the TV survival show for actors "Running Man" – also known as "Flowerboy Casting Oh! Boy" – in 2011. He warmly recalled his experience in this show: 'That's when I first learned acting and began appearing on TV. It was really fun.When I was a model, I could only show a part of myself, but when I act I could be different people, and so it was very attractive because of such traits, that's why I began acting.'
In 2012 Kim also appeared in "Human Condition", another survival show in which contestants had to complete weekly missions in order to remain in the program.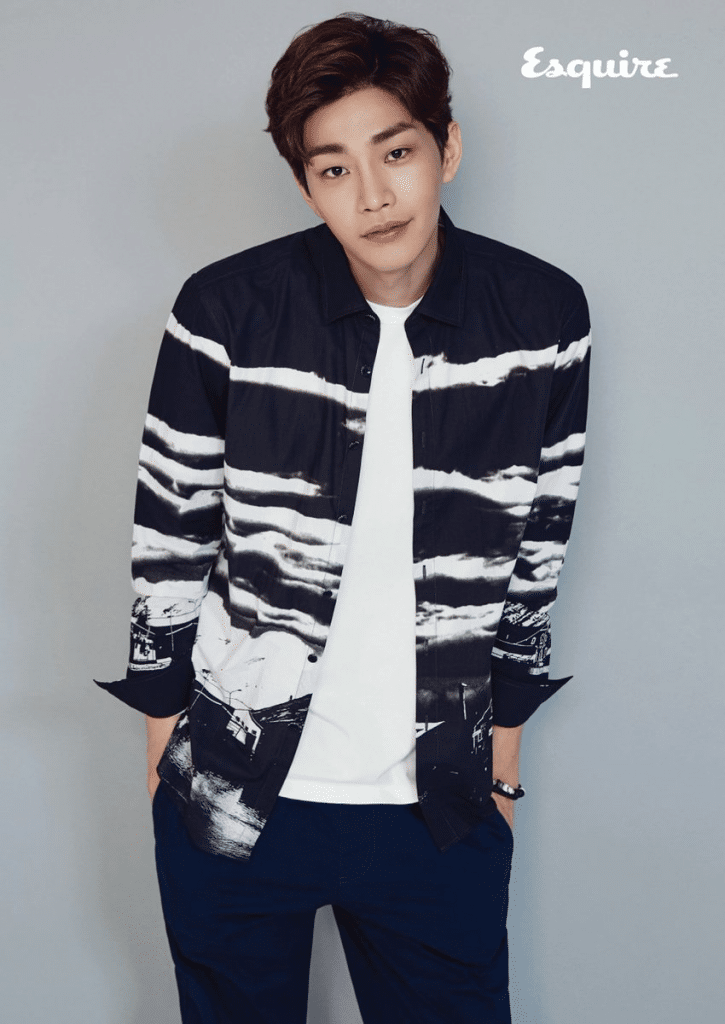 However, Kim's final position in the overall ranking in the show is unknown.
Debut as Actor
In 2013 Kim Jae-young obtained his debut acting role when he was cast as Dae-chan in the movie "No Breathing". During his training process for this character, Kim learned to swim professionally for five months. His experience playing this character wasn't easy for him though, as he didn't have formal training as an actor: 'I did as I was told to do, not knowing how to act, and like that it was rather hard'.
In 2014 Kim made his debut on TV when he appeared as Je-gil in the romantic fantasy series "Blade Man". The next year he played other minor roles in the series "Hello Monster" and "Yong-pal".
Derailed
Although Kim Jae-young appeared in various TV productions such as "The Master of Revenge" and "Entourage", he didn't start gaining moderate recognition until he acted as the villain Kang Sung-hoon in the 2016 movie "Derailed". The fame he gained from this movie was unexpected though, as he confessed that he didn't obtain the role for his acting skills: 'I thought a lot, wondering if I should act intensely, but the director cast me in this film after just seeing my looks, he didn't know I was an actor. He just chose me, as he often said I look mean.'
Despite the situation that led him to be hired, Kim Jae-young worked hard to portray his character the best way possible: 'At first he (the director) just told me to act like myself. But I'm not that mean.
Since I was young or when I'm playing around with my friends, I tend to be quite heartless. So I emphasized such qualities, and thus I looked even more malicious and showed such acting.'
100 Days My Prince
In 2017 Kim Jae-young had a minor role in the thriller series "Black", and appeared in the romantic comedy "My Secret Romance". Then in 2018 he obtained his first role in an historical drama as the mysterious Moo-yeon in "100 Days My Prince" on tvN. Regarding his participation in this series, Kim Jae-young confessed that it was a new experience altogether for him: 'The dialogue, costumes, and action were all a first for me and a little awkward, but thanks to a lot of help from the director and actors, I was able to make it through to the end of filming'.
His work in "100 Days My Prince" was positive for Kim Jae-young's career, as his artistic skills slowly gained him more recognition. As a result of this, he was given the leading role in "Dear My Room", followed by his starring role in the noir drama "Secret Boutique".
Beautiful Love, Wonderful Life
In 2019 Kim Jae-young appeared in the movie "Money", playing a minor character named Jun Woo-sung. However, he was soon given another starring role in the successful drama "Beautiful Love, Wonderful Life", premiered on KBS2 in September 2019. In this romantic series Kim appears as Goo Joon-hwi, who is on a journey to discover the truth about his brother's death.
In a press conference, Kim talked about his experience working on this series: 'It's my first time as a lead in a weekend drama. I think it's burdensome whether you're a lead actor or a supporting actor. This drama is about family and it's my first time having a mom [onscreen]. It's a lot of responsibility, but I'm enjoying filming. I think a really good drama will come out.'
"Beautiful Love, Wonderful Life" broke audience records, and became one of the most acclaimed series of that season, reaching an average of 30.4 percent in audience ratings until its end in March 2020, when the whole cast shared their thoughts regarding their work in the drama. For his role in the film, he won an award for Best New Actor.
For  his part, Kim shared his gratitude to the rest of the cast and production staff: 'When filming began, I learned a lot on set, and the people around me helped me a lot, so I was able to safely make it to the end.
The 50 episodes felt both long and short. It was a meaningful time during which I was able to learn a lot and grow while filming'.
Personal Life
Details about Kim Jae-young's personal life are unknown, including his past and present romantic partners or actual relationships, which is not unusual for young Koreans in the entertainment industry.
Net Worth
As a result of his work as an actor and model, Kim Jae-young has an estimated net worth of closet o $200,000.
Physical Appearance
Kim Jae-young is mostly recognizable for his handsome facial features, which have gained him fame as a model and actor. He's 6ft 1in (1.86m) tal, and although his weight is unknown, he's noticeably slender and athletic.
Interesting Facts
Kim Jae-young confessed to BNT Korea that he's not interested in the physical aspect when it comes to his romantic relationships: 'I look for someone who loves my job and can stay beside me, because sometimes I feel tired and uneasy. It could be great if there's someone I can lean on.'
His hobbies are hiking and watching movies.
His blood type is O.
People started recognizing him in the streets after he appeared in "100 Days My Prince".
He says he has an 'ironic charm' due to people's tendency to tell him he has hard eyes but a sweet smile.
Kim Jae-young wants to work with actress Kim Hye-soo in the future.
He admires actor Lee Byung-hun for his ability to play both rough and charismatic characters.