RM, formerly called Rap Monster, is a South Korean rapper, singer-songwriter, and music producer, who became well known for being the leader of the phenomenal K-Pop group, BTS, which stands for Beyond The Scene (formerly called Bangtan Boys). After performing the song, D.N.A., at the American Music Awards in 2017, his group became global superstars, and their 2020 digitally released song "Dynamite" debuted at No.1 on Billboard's Hot 100 chart. As a solo artist, his second mixtape, "Mono," peaked at No.26 on Billboard's 200, making him the highest-charting solo artist from South Korea.
Just a simple reminder that article is created and owned only by kpopwiki.org. Article cannot be re-published in any other pages or documents. Copyright is protected by DMCA. All found copies will be reported.
Original source: https://kpopwiki.org/the-untold-truth-of-bts-leader-kim-namjoon-rm-rapper/
Early Life and Family
RM was born Kim Nam-joon on 12 September 1994, in Dongjak-gu, South Korea. At the age of five, his parents left their hometown to raise him and his younger sister in a comfortable home in Ilsan-gu, a city 23 kilometers from Seoul.
Growing up, he learned to speak and write in English through his mother – she would let RM watch her favorite show, "Friends," on DVD and made him watch international news networks including CNN and BBC. His family loves to travel around the country and overseas; his fondest childhood memories centered on the family's camping adventures, as well as crossing several rivers in South Korea.
His father works for SK Telecom and his mother is a successful realtor. They thought that music and rapping was just a hobby for him and that he wouldn't pursue a musical career, which they vehemently opposed as they wanted him to have a stable career in business.
RM's interest in music, particularly of the hip-hop scene, began when he heard Epik High's "Fly," when he was 11 years old. When he learned about Eminem from a school teacher, his passion for poetry writing shifted to writing lyrics and ultimately into rapping.
He started joining amateur hip-hop groups during his freshman year in high school, and recorded his rapping using Cool Edit, which is now known as Adobe Audition. By 2008, he was into the underground hip-hop scene in South Korea, using the moniker "Runch Randa," and even participated in a concert, collaborating with several underground artists including Zico, a popular South Korean mainstream rapper today.
Educational Background
For a short while during the start of his middle school education, he went to New Zealand to study, but only stayed there for four months then returned to South Korea. He attended Apgujeong High School, and was considered one of the top students with an IQ of 148. During the mandatory university entrance examinations, his score results included him in the top 1% in the country. RM is currently enrolled at the Global Cyber University taking up an Electronic Engineering degree.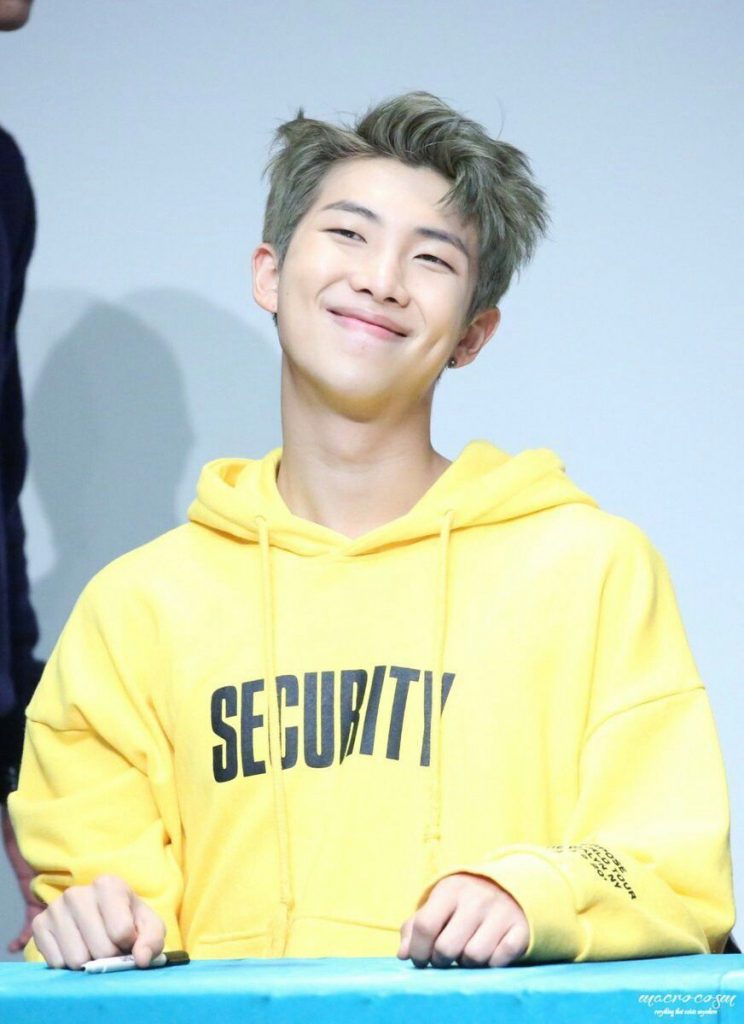 Career
With these academic achievements as a student, his parents were initially against his chosen career, feeling that RM was wasting his time and intelligence with his foray into the music industry. Still, in 2009 he went to Big Deal Records for an audition, but didn't get past the second round after forgetting his lyrics. Another rapper named Sleepy told him about auditioning for Big Hit Entertainment, and also mentioned RM's name to one of Big Hit's record producers. Finally, in 2010 he took the audition, and impressed the Owner/CEO Bang Si-Hyuk who immediately offered him a contract. RM accepted without consulting his parents, as he knew they wouldn't agree, but eventually he convinced them, particularly his mother saying that she might like it better to have a number one rapper for a son rather than a 5,000th ranked student.
First Steps – Training and Debut
At the age of 16, RM became a trainee with Big Hit Entertainment, and was chosen to lead a new boy group named BTS or Bangtan Boys, which means Bulletproof Boys. The training lasted for three years, and he debuted with six other boys – namely Min Yoon-gi (Suga), Kim Tae-hyung (V), Jung Ho-seok (J-Hope), Kim Seok-Jin (Jin), Park Ji-min (Jimin), and Jeon Jung-kook (Jungkook) on 13 June 2013. They released the single album, "2 Cool 4 Skool," with the lead track, "No More Dream." Unfortunately, it only sold 24,000 copies and reached No.84 position when it was released. The second single was also a bust, and didn't even enter the charts.
They continued to release extended plays (EPs), and while more units were sold than the previous ones, they fell immediately from the charts, even if they were promoted in every music show in South Korea.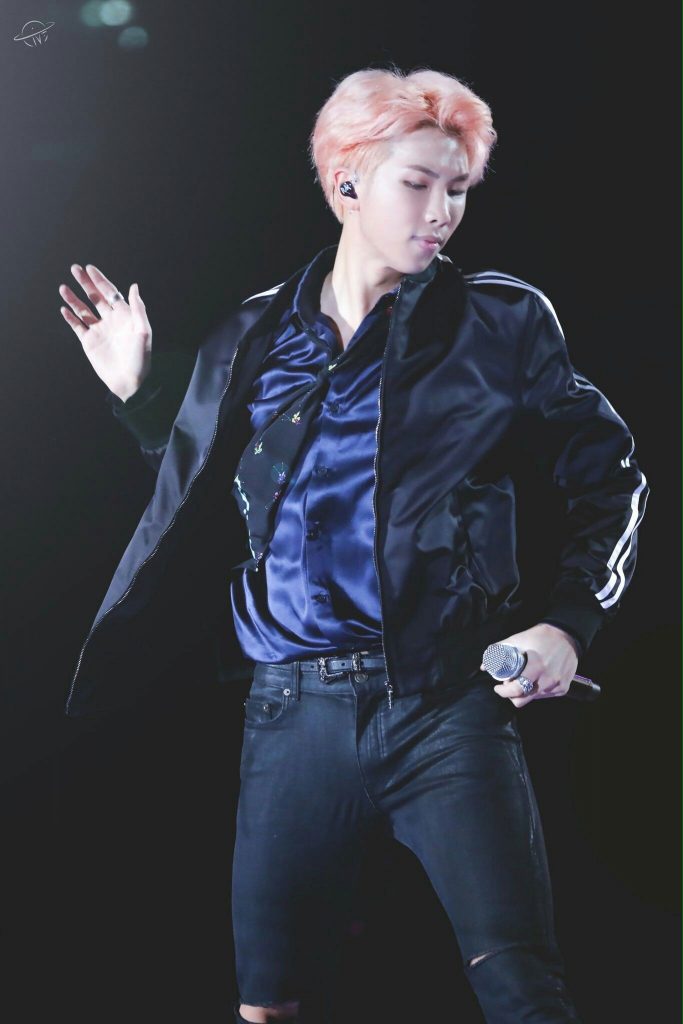 To boost their popularity, Big Hit Entertainment produced a television show for them entitled "Rookie King Channel Bangtan", aired over at the SBS MTV network. The group's hard work paid-off, as they won the Rookie of the Year Award in three major award-giving bodies including the Golden Disc, Melon Music, and Seoul Music Awards.
First Solo Releases, Collaborations, Variety Show, and BTS First Studio Album
In 2014, they were in a reality TV show, "BTS American Hustle Life" in Los Angeles, in which they met rap superstars from the '90s to teach them the ropes on how to make it big as rap stars in the US, and prepare them for the release of their first studio album. The experience and lessons they received from the show were evident on the studio album, "Dark & Wild," released on 20 August 2014.  RM was credited in all the 14 songs on the album, including the title track, "Danger."
The album peaked at No.3 on the South Korean Gaon Album Monthly Chart, while the singles "Danger" and "War of Hormone" peaked at No.7 and No.11 respectively, on Billboard's World Digital Songs Chart. RM and the boys also released the group's first Japanese studio album, which reached No.3 on the Oricon Album Chart.
Following the success of their album releases, BTS went on a Japanese concert tour, performing in four cities, and then returned to South Korea for a series of concerts in Seoul.
One of the rappers and record producers he met in the reality show in L.A., Warren G., gave RM a beat to work on. On 4 March 2015, RM released a song with Warren G called "P.D.D. (Please Don't Die)." He also collaborated with other hip‑hop artists, including MFBTY, Dino J, and EE for the song "Bucku Bucku,", and developed a great relationship with popular rapper, Tiger JK.
The month of March proved to be his busiest, as he also released his first, self-titled solo mixtape; Spin Magazine ranked it at No.48 on the Best 50 Hip Hop Albums of 2015.  He was also given a chance by Marvel to participate in releasing a soundtrack for the movie, "Fantastic Four," specifically for the Korean audience. The song "Fantastic," which featured Mandy Ventrice, was released digitally in August of 2015.
RM would only release singles in between BTS projects. His main priority is BTS and he always placed the group's project over his solo career promotions. He was one of the cast members in a South Korean variety show, "Problematic Men," on TVN network, but had to leave the show after participating for 22 episodes to join his group in their "BTS' 2015 Red Bullet World Tour."
BTS Mainstream Success in South Korea and Asia
The group released a trilogy of EPs, namely "The Most Beautiful Moment in Life, Parts 1 to 3" in March and November 2015 and May 2016, which helped them achieve mainstream success, not only in South Korea but also in other Asian countries.
The song, "I Need You," from the first EP gave the group their first music show win, and it became the group's first Top 5 hit in South Korea. The song's music video also attracted a million views within 16 hours. Five more songs on the EP entered the Billboard World Digital Songs Chart upon their release.
The second EP debuted at No.1 on the Gaon Album Chart, while its title track, "Run," debuted in the top spot on the Melon Digital Chart; all nine songs entered the Gaon Weekly Digital Chart. This time, instead of just one music show win for the title track, they scored five. It also became the best-selling album in South Korea in 2015.
The third EP eclipsed all the achievements of the first two, as it became their first million-seller, and gave BTS their first Album of the Year Award from Melon Music Awards in 2016. It also topped the Gaon Album Chart, peaked at No.2 on Billboard's World Album Chart, and gave them their first entry to Billboard 200, making them the second K-Pop artists to do so. Three songs on the album – "Fire," "Save Me," and "Epilogue: Young Forever" – became the top three songs on Billboard's World Digital Songs Chart, never previously achieved by any K-Pop artist.
After the commercial success of their releases, they had a series of sold-out concerts in South Korea and key cities in Asia.
Second Mix Tape
In October of 2018, RM released his second mixtape entitled "Mono," which he fondly called playlist with seven songs that he co-wrote and co-produced. It peaked at No.26 on the Billboard 200 Chart and No.2 on the World Album Chart.
Happy birthday 🎉🎂🎊
I love you ☺️💜#RM #Rapmon #RMBirthday pic.twitter.com/644EtblJmj

— Ly (@Ly54418876) September 11, 2020
BTS Conquered the World, Biggest Boyband in the World
RM and the boys released three more studio albums and several EPs from 2016 to 2020, the most noteworthy being "Love Yourself: Her" (2017), selling more than two million copies, topping the South Korean Charts, and debuting at No.7 on the Billboard 200. The group performed the lead track "DNA" at the American Music Awards, and was declared the biggest boyband in the world.
"Love Yourself: Tear" (2018) sold more than two million copies, and debuted at No.1 on Billboard 200, making them the only Asian artist to do so.
"Map of the Soul: 7" (2020) has sold over four million units; they collaborated with Halsey for the lead track, "Boy in Luv," which debuted at No.8 on the Billboard Hot 100.
On 21 August 2020, they released the song "Dynamite" and made history by having the biggest Spotify debut of 2020, with over 7.7 million first-day streams. They also became the first all-South Korean act to debut at No.1 on the Billboard Hot 100.
RM was part of the creative process in all of BTS' hit songs, and has over 100 songs under his name.
Personal Life
Little is known about RM's personal life, except that he had a girlfriend back in high school. She was a popular student on campus particularly with the boys and it didn't sit well with him, so they eventually broke up due to his insecurity.
Fans are quite suspicious of his single status. They wondered if he is keeping a secret girlfriend, due to the lyrics of the songs that he has written. Since he debuted in 2013, he is no longer forbidden to date. Most K-Pop artists have a 'no dating' clause in their contracts which lasts up to three to five years after debut. Since Korean fans are possessive of their favorite artists, dating anyone out in the open is a big no-no for the artists.
Currently, he still shares an apartment with other members of his group, provided by Big Hit Entertainment.
Hobbies, favorites, rumors, and interesting facts
Known nicknames: Rap Mon, Pink Mon, Leader Mon, and The Destroyer. He earned the last one due to his habit of accidentally destroying objects around him.
He is considered one of the progressive thinkers in South Korea, as he strongly supports LGBT rights.
In his free time, if given the chance, he loves to walk in the park or trek in the mountains, and take pictures.
His younger sister shares the same age as the youngest member of BTS, Jungkook, but he would never introduce her for a date.
Favorites: Meat and Kalgusu – or Korean Knife noodles (Food); Pink, Purple, and Black (Color); Clear Weather (Climate); One (Number)
Two important things he'd like to take everywhere he goes: books and a laptop.
He has an American Eskimo pet dog named Rap Mon.
Appearance
RM is 5ft 11ins (1.80m) tall and weighs about 165lbs (75kgs), with a lean body. He is of Asian descent, with black hair and a natural eye color of dark brown. However, expect to see him using colored contact lenses in some of his promotional activities. His black hair would sometimes be styled and dyed with a different color as most K-Pop artists do, to present a different persona to match the group's concept during performances and MV shoots.
Net worth
His earnings have soared high along with his popularity, as his group released hit after hit in the past few years, and in which he also had a hand in the creative process. RM has an estimated net worth of $8 million as of September 2020 according to sources, which is expected to increase along with continued success of the group and himself personally.