Who is Ruki (The Gazette)?
Takanori Matsumoto was born in Kanagawa Prefecture, Japan on 1 February 1982 – his zodiac sign is Aquarius and he holds Japanese nationality. He is a singer, known under his stage name of Ruki, and for being a member of the boy group The Gazette.
Just a simple reminder that article is created and owned only by kpopwiki.org. Article cannot be re-published in any other pages or documents. Copyright is protected by DMCA. All found copies will be reported.
Original source: https://kpopwiki.org/ruki-the-gazette-age-no-makeup-height-tattoo-married/
Early life and education
Ruki was raised in Japan alongside his older brother, by their father who is an engineer and their mother who is a housewife. He grew up playing video games on his computer and PlayStation 1, and became interested in music while attending a local high school. Ruki was a member of the school's drama club, and was asked to sing in the play he was cast to appear in, and after hearing his voice, his teacher encouraged him to take singing lessons, which marked the beginning of his singing career.
He was in a school band until matriculation in 2000, and after that chose not to enroll at a college, but to focus on becoming a popular singer.
Career as a singer and his band The Gazette
The group The Gazette was formed in 2002 with Ruki as the lead vocal, Reita on the bass guitar and Uruha on the lead guitar – second guitar Aoi was recruited by the end of January 2002, along with Yune on the drums. The boys signed to Matina, and released their debut single "Wakaremichi" on 30 April, followed in December 2002 by their compilation album "Yougenkyou", with the song "Okuribi" as its lead single.
At the beginning of 2003, Yune quit the band and Kai joined it, and The Gazette signed a new contract with the PS Company.
Their debut extended play (EP) came out in May entitled "Cockayne Soup", and they released three more EPs during 2003. In January 2004, the boys released their DVD named for their solo performance at "Tokyo Saihan –Judgment Day", and on 30 March their new EP "Madara" came out, peaking at #2 on the Oricon Indie Chart. Their second DVD was released on 25 August, while their debut full-length studio album was released on 13 October 2004, entitled "Disorder", which reached the top five on the Oricon Indies Daily Chart.
On 6 July 2005, the Gazette released their new EP "Gama", and by the end of the year they signed a contract with the major label PS.
On 8 February 2006, their second full-length studio album came out called "Nil", and a couple of days later, the boys went to Japan for a second time for their "Standing Tour 2006 Nameless Liberty Six Guns". Their first performance outside Asia was held on 20 July 2006 in Bonn, Germany, and in November, they toured Japan for a third time, ending with a concert at Yokohama Arena.
On 4 July 2007, the Gazette released their third full-length studio album, "Stacked Rubbish", which peaked at #2 on the Orion Chart only 24 hours after its release. In October the Gazette went on their first European tour, performing in countries such as England, Germany and Finland.
They held their first secret show on 15 November 2008, when they performed at the Shinjuku station in Tokyo, Japan, however, after 7,000 people came to watch them perform instead of 250 who were planned to attend, the police had to intervene and end the show. On 15 July 2009, The Gazette released their fourth full-length album "Dim", followed by another Japanese tour.
In early 2010, the group announced that they were signing a contract with Sony Music Records, with the first song they released under the label being "Shiver". The following three years didn't see the release of any new material from The Gazette, as the boys rather chose to undertake several tours around both Asia and Europe, and release several of their DVDs which included footage taken during these tours.
In March 2015, they announced that they were about to start "Project: Dark Age" made up of 13 'movements', with the first being their album "Dogma", which came out on 26 August 2015. The second movement was a tour organized to promote the album, while the third movement was the single "Ugly" that came out on 18 November 2015. Their tour "Dogmatic – Due" was the fourth movement, while another tour served as the fifth. The following movement was the release of their single "Undying", and The Gazette then performed around the US and Canada for the seventh movement – the other six movements were tours to Taiwan, China, several European countries, and Japan.
The 13 June 2018 saw the release of the boys' full-length album "Ninth", and 16 days later they announced that they had left PS Company and have launched their own independent company – HERESY Inc. On 30 April 2019, The Gazette went on their new World Tour starting it in Los Angeles, California US, later moving to Europe where they played in London, England (after 12 years) while the tour eventually ended in Taipei, Taiwan.
Their latest performance has been at the Rock in Japan Festival 2019 on 10 August.
Love life and girlfriend. Married?
Ruki is very secretive when it comes to his love life, and hasn't talked about any girls he might have dated since the start of his journey with The Gazette, however, there are many rumors circulating the internet regarding whom he might have dated (or married).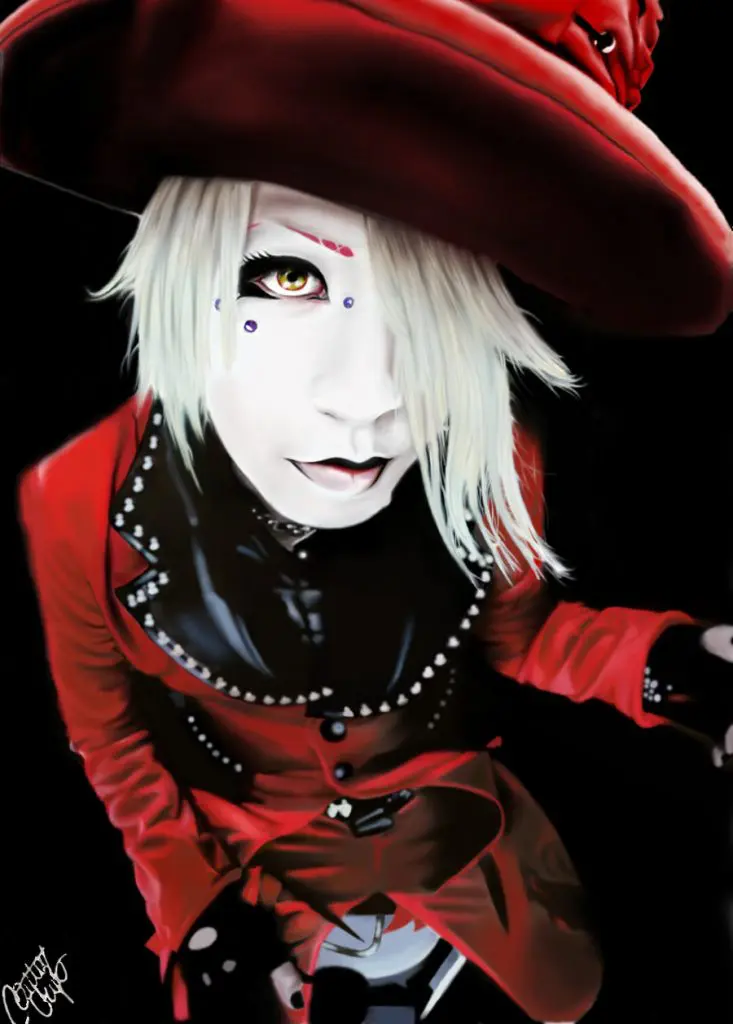 In 2009, rumors spread about Ruki having married a girl in Hawaii, but after several months during which Ruki didn't comment on them, they died down, until November 2011 when new rumors around the internet suggested that Ruki had married a girl known as Mako. Although Ruki hasn't commented on the rumors, it is widely believed that all of the rumors were created only to increase The Gazette's popularity.
As of July 2020 and according to several sources, Ruki is single, hasn't married and doesn't have children.
Hobbies and interests
Ruki is interested in clothes and is a bit of a shopaholic, as he goes shopping for clothes at least once a week – he is the sole designer of The Gazette's merchandise.
He is a fan of tattoos and has several, while he got his first shortly after he turned 18. Ruki likes to wear jewelry and has posed for several magazines related to jewelry.
One of his main hobbies is photography, and many pictures taken by him can be found uploaded onto his Instagram account.
Ruki likes to eat all kinds of foods, while his favorites are fruits, but he doesn't like strawberries.
In his spare time (which he has very little of), he likes to watch Hollywood movies, and some of his favorite actors and actresses are Brad Pitt, Johnny Depp and Angelina Jolie, while some of his favorite movies are "The Curious Case of Benjamin Button", the franchise "The Pirates of the Caribbean" and "Mr. and Mrs Smith".
His motto is 'When you're alive, dissatisfaction is unavoidable'.
Age, height and tattoo. No makeup.
Ruki is 38 years old. He has brown hair which he dyes blonde, and his eyes are brown as well. He is 5ft 3ins tall, and weighs around 110lbs (50kgs). Ruki can rarely be seen without make-up, and when he does go out without it, people usually can't recognize him.
As of July 2020, Ruki's net worth is estimated at over $5 million.