Just a simple reminder that article is created and owned only by kpopwiki.org. Article cannot be re-published in any other pages or documents. Copyright is protected by DMCA. All found copies will be reported.
Original source: https://kpopwiki.org/choi-jong-ho-ateez-wiki-who-is-choi-jong-ho-biography/
Who is Choi Jong-ho?
Choi Jong-ho, also known simply as Jongho, was born in Seoul, South Korea on 12 October 2000 – his zodiac sign is Libra and he holds South Korean nationality. He is one of the vocalists of the famous South Korean boy band ATEEZ. He is not to be mistaken with Choi Jong-hoon who was the lead singer and guitarist of the South Korean rock band F.T. Island.
Where did he grow up?
Choi was raised in Seoul, and has a younger brother who is also interested in music but hasn't made his way up in the music industry. Choi's father is staying out of the spotlight, and is said to hold a degree in telecommunications, while his mother is working at a local supermarket as a cashier.
Choi attended Noil Middle School at which he was mostly focused on singing, and upon finishing he enrolled at Surak High School in 2014, where he became a member of his first band, but was also interested in working on his education, as his parents were hoping he would pursue a college degree upon matriculation. As he launched his singing career while he was still attending Surak, he took a year off before he enrolled at Global Cyder University's Department of Broadcasting and Entertainment, and he is currently in his second year.
Career and band ATEEZ
In 2016, Choi joined KQ Entertainment, and in the following year the entertainment group recommended to some of their trainees that they attend the audition for the reality show "MIXNINE". Choi was among them, and was one of four boys who passed the audition in front of  among 200 others and went on to compete in the show but was voted out during the tenth episode and ranked #27 in their show "MIXNINE Just Dance".
In 2018, the KQ Entertainment founded the boy band Ateez made up of eight people including Choi – Hongjoong, Yunho, San, Mingi, Seonghwa, Wooyoung and Yeosang.
They debuted with their extended play (EP) "Treasure EP.1: All to Zero" on 24 October 2018, and the band attracted attention on 2 November 2018 when they were invited to perform one of their first songs – "Pirate King" – on the show "Music Bank", which aired on the South Korean free-to-air channel KBS2.
Before they made their debut performance, the band was called KQ Fellaz, and KQ Entertainment created a series of YouTube videos, "KQ Fellaz American Training", in which one can see the band working on their singing and stage performing skills in Los Angeles, California USA. Around this time, the band counted one more member – Lee Junyoung – who helped them compose and choreograph their songs, and trained with the band at Millennium Dance Complex and Movement Lifestyle.
However, after their first song video was released on YouTube on 18 May 2018, it was revealed that Lee wouldn't be a member of the band. On 3 July 2018, KQ Fellaz released their final video, "From", before becoming what they are today – Ateez. On 20 July, the band appeared in the new show "Code Name is Ateez", created solely for the purpose of advertising the new band, which was set to perform at Yes24 Livehall on 24 October.
On 15 January 2019, their second EP – "Treasure EP.2: Zero to One" – came out, plus a music video for the EP's lead single "Say My Name", which became very popular on YouTube. The band attracted a lot of attention in the US, and by the end of January, they announced that they were ready to tour several US states including Illinois (Chicago), California (Los Angeles) and Georgia (Atlanta), and every ticket for their live performances was sold.
In mid-February, the band announced that they were going to tour Europe, in cities such as London in England, Berlin in Germany and Budapest in Hungary, and all tickets were once again sold out.
On 17 May 2019, the band performed in Japan for the first time, when they were invited to appear in Chiba at KCON 2019 Japan, and a month later the band announced that they were touring around Australia. On 10 June, their third EP came out entitled "Treasure EP.3: One to All", with the album's lead single "Wave" becoming one of their most popular songs to this day. They went on to perform at KCON 2019 NY in the US, as well as at KCON 2019 in Los Angeles. Ateez received their first award in 2019 – the Best Performance Award presented at Soribada Awards.
Their debut full-length album "Treasure EP.Fin: All to Action" came out on 8 October 2019 and their debut Japanese album followed entitled "Treasure EP.Extra: Shift the Map". The band has been very active in 2020, as they started the year with the release of their fourth EP, "Treasure Epilogue: Action to Answer", which ended their series "Treasure". Their European tour was supposed to start in March 2020, however, it had to be cancelled because of the outbreak of the COVID-19 virus.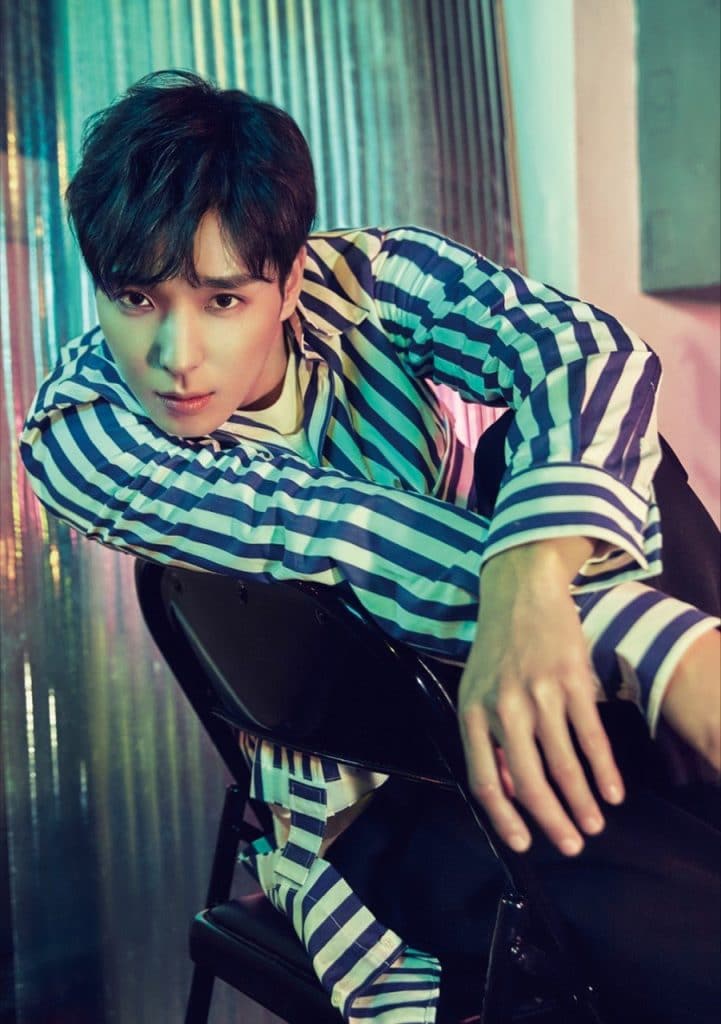 Choi's girlfriend
Choi has been keeping the details of his love life hidden from the media's attention, but it is widely known that members of K-pop bands such as Ateez are not allowed to talk about their girlfriends or boyfriends, as that might reduce the number of their fans because many of the people who are listening to them and following them on social media networks are doing so because they are attracted to them. Choi maybe isn't allowed to talk about his girlfriend, but there is a rumor circulating the internet that he is in love with a girl whom he met during one of his performances in the US, and that the two have been together for over a year now, however, another rumor has it that Choi is gay, but he hasn't commented on either of these, mainly because he isn't allowed to.
As of June 2020, Choi is single, hasn't married and doesn't have kids.
Hobbies and interests
Choi is keen on working out, and occasionally uploads videos onto his Instagram account which feature him running on a treadmill at the gym, reportedly during four to five training sessions each week, and he's also keen on running outdoors, and cycling. He likes being a popular musician, because travelling is one of his main hobbies, and his association with Ateez has made it possible for him to travel all around the US, Europe and Australia. He is a fan of plush toys and even has many of them on his bed, and can occasionally be seen bringing his favorite plush toy with him to his interviews.
He is following a strict diet and is mostly focused on eating fruit and vegetables, with his favorite fruit being apples, and Choi usually avoids eating meat as he is a huge lover of animals.
Choi likes to listen to music, and his favorite singers are JungKook who is a member of BTS, and Bruno Mars, and some of his favorite hobbies include playing soccer and acting. His motto is 'Do not be afraid if you have not even tried.'
Choi's net worth
The band Ateez has a combined net worth of around $485,000 as of June 2020 and Choi's share of this would be around $60,000. He is 19 years old and has brown eyes and black hair (which he usually dyes blonde), while his height is 5ft 9ins (1.76m).