Lee Jae Wook is a rising South Korean drama actor, who first gained notice when he was cast in a supporting role for his acting debut in tvN's high-rated sci-fi action thriller, "Memories of the Alhambra (2018), which starred the A-list actor, Hyun Bin, and Park Shinye. He debuted on the big screen in 2019 in the war film, "The Battle of Jangsari." He was recognized as the Best New Actor at the MBC Drama Awards for his portrayal of a guy living in a teen comic book, as one of its characters in the romantic fantasy series "Extraordinary You" (2019). His first male lead role was as the mysterious but warm-hearted Sunwoo Joon in the romantic‑comedy series, "Do Do Sol Sol La La Sol," which aired on Netflix and KBS2 in 2020.
Just a simple reminder that article is created and owned only by kpopwiki.org. Article cannot be re-published in any other pages or documents. Copyright is protected by DMCA. All found copies will be reported.
Original source: https://kpopwiki.org/details-about-lee-jae-wook-from-extraordinary-you-biography/
Early life and family
Lee Jae Wook was born on 10 May 1998, in Seoul, South Korea. His name means 'to shine in a high place.'
He was mischievous as a child, but one of his earliest memories was crying at a school festival, as he was told by a teacher to stand at the center of a group for being tall, even if he wasn't good at dancing.
When he first started acting, his mom and older sister felt surreal watching him in a drama series, that they kept glancing back and forth between him in real life and on television. He said he felt uncomfortable watching with them, particularly when he had kissing scenes in the drama, so he would find an excuse to leave them.
Educational background
One of his happiest memories was passing the college entrance exam. He enrolled at Chung-Ang University's Theatre Department in 2018.
Career
First steps
Jae Wook was exposed to various part-time jobs while studying, but none of them interested him enough to pursue as a career. It was acting that caught his interest, as it was the first time he felt a desire to work hard for something.
 "Memories of Alhambra"
He attended an acting class, and saw an audition notice posted at his school, so he went to audition for the first time. When he passed the first round, he was informed that the TV series was highly anticipated and going to be a very expensive production; it made him scared, so he told the director, Ahn Gil-ho, not to choose him as he didn't know anything. He was worried that his words came out as rude, but fortunately the director thought it was cute, and he was cast in a supporting role as a computer whiz and hacker named Marco Han, who was a scruffy drug addict, in the science-fantasy action-thriller, "Memories of the Alhambra."
The series was much talked about, not only because it was the popular actor Hyun Bin's return to the small screen after almost four years, but was also South Korea's first drama with augmented reality gaming as its concept; the writer, Song Jae Jung, revealed that the story was inspired by the Pokemon Go mobile game. Filming took place overseas, and Jae Wook said that his first day on the set was magical although everything around him was unfamiliar.
It was difficult for him as he was in Spain without a manager and he didn't know anybody, so he ended up spending most of his free time alone. His director told him to sleep whenever he could, as shooting entailed long hours, so he'd really fall asleep on the street. Despite the circumstance, every word spoken to him by a staff member or an actor was memorable, and made him feel that he belonged. He was also comforted by the director's words, 'Keep following your heart. You're doing well.'
The drama series aired for 16 episodes from December 2018 to January 2019 on the tvN cable network and Netflix, and was commercially successful as it became one of the highest-rated Korean dramas in cable TV history. Its popularity was not limited to Korean viewers, as it was also received well by the international k-drama fans.
Being part of this TV series for his acting debut gave Lee the exposure he needed to get noticed by producers and directors, and land more jobs. Vast Entertainment, which was Hyun Bin's own agency, signed him up as one of their talents.
Further success
"Search WWW"
He was cast in another television series, "Search: WWW," a romantic melodrama that revolved around three women in their late 30s, played by Im Soojung, Lee Dahee, and Jeon Hyejin. Unlike his scary character in his debut drama, Jae Wook played the role of a rookie actor named Seol Jihwan, who's sweet and romantic, and it got him a lot of attention from k‑drama fans. Dahee played the role of his fan named Cha-Hyun, who became his girlfriend.
Jae Wook had to lose weight for his role, as he had to look mature and in his 30s. He went on an extreme diet for a month, that is, he starved himself to quickly get rid of the baby fat that made him looked chubby during the first screen test. The series aired for 16 episodes from June to July 2019 on tvN.
"Battle of Jangsari"
His next project was a war film entitled "The Battle of Jangsari," also known as "Jangsari: Forgotten Heroes." It was Kwak Gyeong-tae, one of the movie directors, who invited Jae Wook to audition, and cast him, surprised when he first met the actor as he was impressed with his gaze and his smile as he said, 'Wow.
There's a boy who looks like this… and his gums are to kill for.' He found Jae Wook perfect for the role of Lee Gae-Tae, who had to have a naïve face as he's the son of a hunter who lived in the mountains.
The actors went to Jangsari and everyone just looked around and couldn't say anything. Jae Wook said going there helped him become more immersed in the situation. The movie was based on a true story, in which 772 student soldiers were tasked with staging a diversion at the Jangsari Beach, to deceive North Korean forces during the Korean War. It also starred the Hollywood actress Megan Fox in a fictional character of an American war correspondent.
Although the movie was filmed prior to "Search: WWW," it premiered in September 2019 and sold around 700,000 tickets at the cinemas in five days.
"Extraordinary You"
Jaewook's popularity rose when he was included as one of the main cast in "Extraordinary You," a 32-episode fantasy romantic-comedy that aired on MBC TV from October to November 2019, based on a webtoon entitled "July Found by Chance."
His role was that of a high school student named Baek Kyung, who slowly became aware that he's one of the characters living in a teen comic book, "Secret". He was engaged to Danoh, played by Kim Hyeyoon, who tried to change her fate as she realized that her character was an extra in the said comic book.
Jae Wook heard from his company that he was invited by the director to audition first for the role of the male lead character, Haru, but was found to be a better match for Baek Kyung. Despite his character being rude and arrogant, it was said that he later made fans fall for him, as they experienced the "second-lead syndrome." When asked if he had ever been the second male lead in real life, he said he had a crush on someone before, but had never been in a love triangle.
Filming for this drama and "Search: WWW" overlapped for a month, so he only had two to three hours of sleep. It was hard but he was grateful for it, as he was doing the job that he wanted.
MOST BEAUTIFUL CRIER I SAID 😭🤧#LeeJaeWook pic.twitter.com/KKRTYpoCV8

— misskOne (@missk_one) April 8, 2021
His hard work paid off, as he won the Best New Actor Award along with Rowoon of SF9 at the 2019 MBC Drama Awards and was nominated for the same category at the 56th Baeksang Arts Awards.
He didn't realize how popular he had become at first, as he was too busy to go out, but when he went to his regular café, he was being called by his characters' names, and was asked for his autograph; many fans visited his set.
"When the Weather is Fine"
Jae Wook's first project for 2020 was JTBC's drama series, "When the Weather is Fine," aired for 16 episodes from February to April. The drama, which was based on the novel by Lee Dowoo entitled "I'll Go to You When the Weather is Fine," starred Seo Kangjoon and Park Minyoung. He was cast in the supporting role of Lee Jangwoo, a high school friend of the main male lead, and had a bright and cheerful personality.
"Do Do Sol Sol La La Sol"
It had been less than two years since he debuted as an actor when he was cast as the main male lead in the romantic-comedy series, "Do Do Sol Sol La La Sol," the role of Sunwoo Joon, a mysterious part-time worker who was drawn to Go Ara's character, Goo Rara, a pianist who touched the lives of people around her, despite being down on her luck since her family's finances collapsed. The 16-episode series was aired on Netflix and KBS2 from October to November 2020.
Before the year ended, Jae Wook appeared in a cameo role as his former drama character, Baek Kyung, in tvN's coming-of-age series entitled "True Beauty."  He will make a special appearance in an original Netflix series called "Move to Heaven", set to air late in 2021.
His acting was again recognized, as he won Rookie of the Year at the 5th Asia Artist Awards and 2020 Brand of the Year Awards.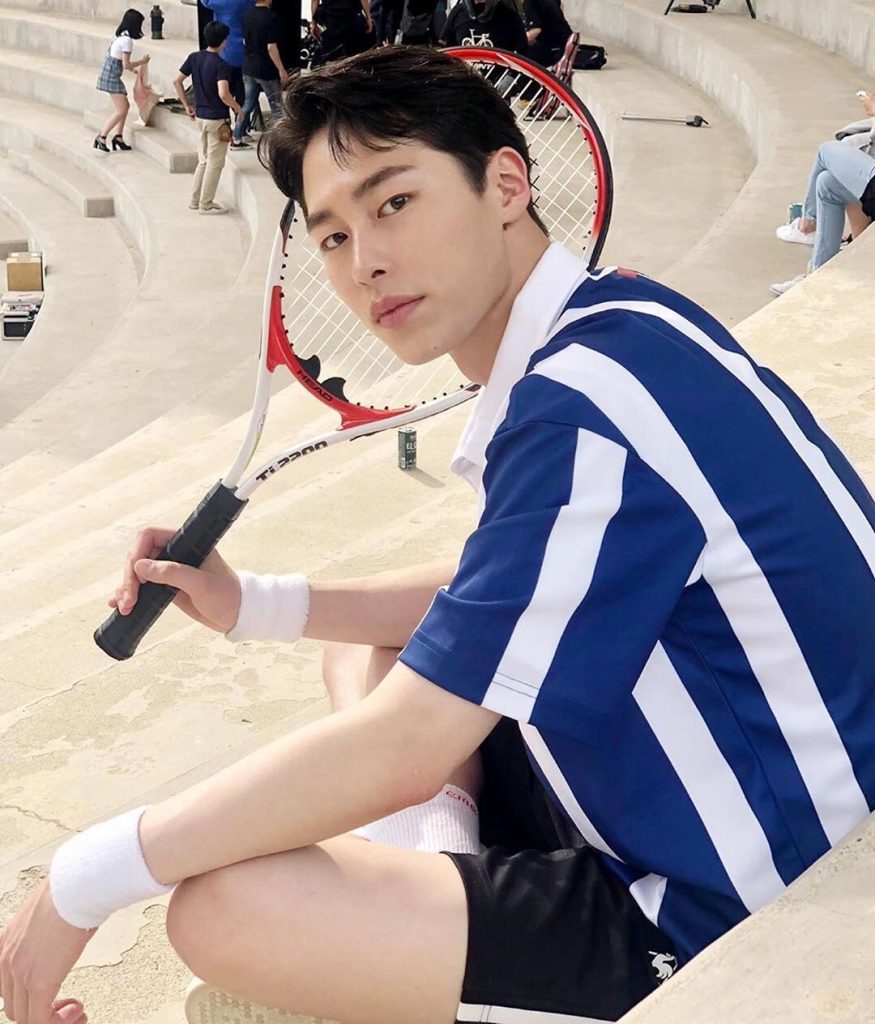 In an interview about his acting career, he said that as he was just starting out, he wasn't in a position to choose his projects, but was lucky to portray different characters. His principle as an actor was to not make himself feel embarrassed about his work. He kept a notebook in his bag and would make what he called a 'mind map', as he wrote down his character's lines, personality, and circumstance to have a better understanding of it, although he's unsure if it showed in his acting. Jae Wook began this since he was in theater, and knew that many directors wanted to cast someone who could act and deliver the lines perfectly. If given the opportunity, he wanted to act in plays which he described as 'being alive', since the actor had to communicate well with the audience for two hours to build the emotions.
Jae Wook didn't renew his contract with Vast Entertainment after it expired in March 2021.
Personal life
He is 22 and currently single, but was once romantically linked to his co-star, Lee Dahee, as they were all praise when talking about one another.
Dahee referred to Jae Wook as 'my actor' in the series, and continued to do so afterward. She left a comment on a photo of him and his on-screen father that he posted on his Instagram, and told him how proud she was of him as he 'slowly becomes even more amazing.' Jae Wook was grateful for having worked with Dahee, and was vocal about his admiration for the actress. People wondered if they were in a relationship, especially when he revealed that his phone wallpaper was one of him and Dahee facing the sunset. He was candid about it, and didn't know it would cause people to talk. He said he took the photo while they were filming the drama as the view was good, and he used it as his wallpaper as it 'gives off that pretty feeling.'
Jae Wook doesn't have a fixed ideal type, but he prefers someone positive whom he could connect with and loves her work.
He described himself as a positive person, and wanted to be known as a hard-working actor.
He still lives with his family, who are happy that he's doing well. Jae Wook knew his mom was proud of him although she doesn't say it.
Hobbies, favorites, rumors, and interesting facts
His favorites: "Good Will Hunting" (movie), IU (singer), "Making A New Ending For This Story" by Han Dong-Geun (karaoke song), romance (genre), puppy (animal), black (color), sweats or streetwear (fashion), fast food
His hobbies include swimming and skiing. He said he would like to go to a ski resort for a vacation.
He'd like to have the opportunity to act in a film noir someday as he found it cool, and wants to portray something similar to Ha Jung-Woo's character as a gang boss in "Nameless Gangster: Rules of the Time" (2012).
Watching movies alone at home or the theater is something he enjoys doing, as it inspires him in his acting.
Jae Wook learned to cook while watching a cooking program, and would sometimes cook for his mother when he has time – grilling steak is his specialty.
He gets drunk after having more than a bottle and a half of soju. At an after-party, he held a VLive broadcast to thank his fans ,and was admittedly 'a teensy bit drunk,' which the fans found adorable.
Appearance
He is 6ft 1in (1.87m) tall and weighs around 155lbs (70kg) with a lean physique. Jae Wook has black hair and dark brown eyes – he wears prescription contact lenses.
Net worth
Jae Wook has an estimated net worth of $400,000 as of March 2021, according to sources.