While some Korean Pop (K-Pop) groups and stars are bludgeoning successes from the get-go, for others it's a series of stops and starts scattered with comebacks and lulls. For Lee Naeun, both her solo and group career has followed this pattern. Now a member of the K-Pop girl group APRIL, Lee Naeun attended one of the most illustrious art schools in South Korea, and has committed herself to her career. To many, she is the most popular (or ultimate) bias of the group, but this did not save her from being accused of bullying, although those statements were later retracted.
Just a simple reminder that article is created and owned only by kpopwiki.org. Article cannot be re-published in any other pages or documents. Copyright is protected by DMCA. All found copies will be reported.
Original source: https://kpopwiki.org/lee-naeun-april-age-height-boyfriend-parents-bio/
Early Life and Family
Lee Naeun was born on 5 May 1999, in Daejeon, South Korea, the second daughter in her Christian family.
She grew up in a household with two dogs over the years – one named Odie, and a red toy poodle named Hammer. Although she would later become best known for her performance in the K-Pop industry, as a child her dream was to become an actress. Determined to help her achieve her goals, her parents selected the best schools and institutions leading to her future career.
Education
Lee Naeun attended local schools in the beginning – first Daejeun Galma Elementary School, and then Daejeon Dunsan Middle School. She started her high school years at Hanbat High School, but then transferred to the Seoul School of Performing Arts, where she was able to take the steps necessary to establish her career.
She graduated on 8 February 2018 alongside multiple other staple names in the K-Pop industry, including two members from WJSN, Arin from OH MY GIRL, and Laun of ONF. After her graduation, she took to Instagram to celebrate the milestone, posting "My precious people! Let's become great people. Thank you so so much to my family and Fineapple who congratulated me." This was accompanied by a photo of her wearing her yellow and navy uniform for the last time.
Career
Early Career
Lee Naeun started her training as a member of the JYP Entertainment group. The K-Pop management company has had vast success in the industry, having produced multiple artists, such as Got7, Itzy, and Day6.
However, when JYP Entertainment planned to start the filming of "Sixteen", a girl group survival show in which they wanted Lee Naeun to take part, she left the company, explaining that her parents were not enthusiastic about her appearing in the reality show.
Lee Naeun continued to work for her dreams, and auditioned to join DSP Media, who had already produced two girl groups at the time. Her performance of "Into the New World" by Girls' Generation, and "I Love You" by Shin Hyobum earned her a position as a trainee in the company. She trained with DSP Media from May to August 2015, before making her official debut.
APRIL
The K-pop Girl Group, APRIL, was announced on 9 February 2015, months before Lee Naeun had even arrived on the DSP Media scene.
However, after her four months of training, she was ready to debut with the group The name APRIL was comprised of two aspects: "A", meant to denote that they were the best, and "Pril" meaning lovely girls.
The six-member group made their debut on 24 August 2015, with their first Extended Play (EP) "Dreaming". Their start was a little rocky, with the leader of the group leaving a few months later on 9 November, claiming that the group's concept made her uncomfortable. Despite this, the group was very active for the rest of the year, releasing a single album called "Boing Boing", which included the popular song "Muah", as well as the B-side "Glass Castle", and a Christmas special called "Snowman".
2016 was a year of complete reformation and milestones for Lee Naeun and the rest of the group.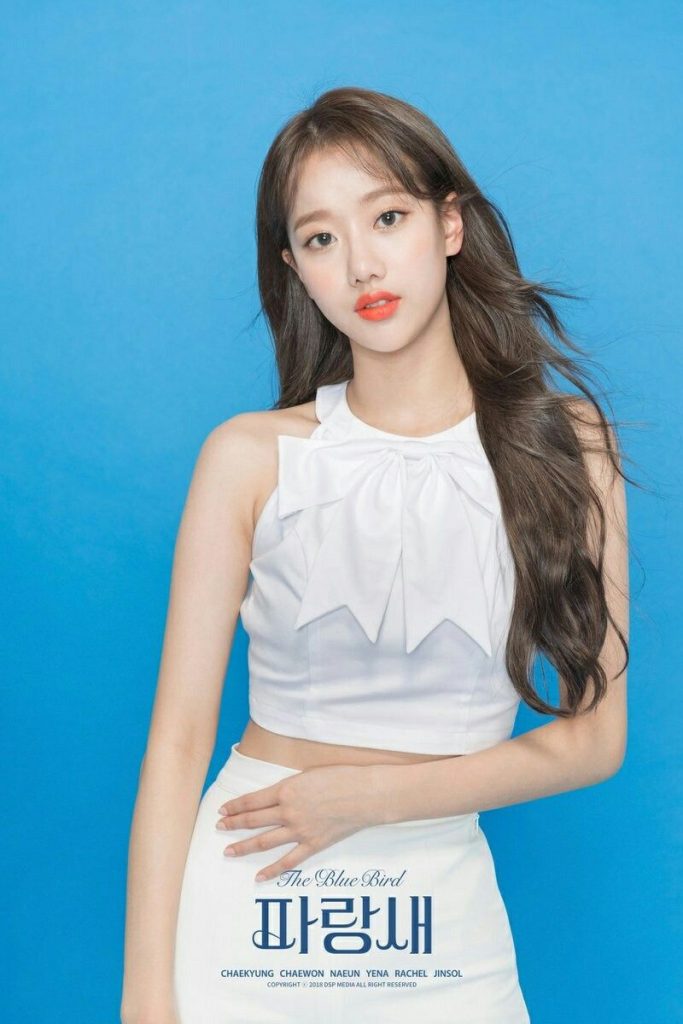 On 12 February, DSP announced that their fans would be called "Fineapples" (Apples being a Korean pun on the name APRIL). Two days later, the group held a mini Valentine's Day concert – "Everland Romantic Concert", which was the last time that all five members performed together, as a member took an hiatus (which then turned into a retirement) to deal with an injury.
On 27 April the group released their second EP, "Spring", and then held their first full concert later that year, dubbed "Dream Land", and held at Baek Am Art Hall, Seoul on 21 August 2016, as a celebration of the group's first anniversary. Two members were then added to the APRIL line-up, one of whom had performed as a guest with the group, bringing their total back up to six members.
The newly configured group released their first EP, "Prelude" on 3 January 2017, and made appearances on "M Countdown", and the 100th episode of "The Show". 2017 was also an extremely successful year for their reality shows – in total, the group has featured in at least four APRIL-centric reality shows – "April's in April" (2015 and 2019), "Here Goes April" (2015), "A-IF-RIL" (2017), and "April Secret" (2017). They also spent much of the year solidifying their Japanese presence, holding multiple shows and concerts.
Since their inception, APRIL has released a total of 11 singles, four single albums, and seven EPs for which they have made 12 music videos. Although Lee Naeun was one of two members of APRIL selected for the honor of featuring in a sub-unit in 2018, scheduled to release the sub-unit debut "My Story" later that year, the venture never came to fruition.
so fucking pretty😭https://t.co/c6YJMTku75#에이프릴 #이나은 #나은 #LeeNaeun pic.twitter.com/CfxNEoVxjL

— 🐶 (@S89064461) September 22, 2020
The group has had a series of ups and downs with multiple promises of comeback appearances, but this did not stop them from being noticed in the K-Pop industry.
APRIL has won several awards, including "Female Rookie of the Year" at the 22nd Korean Entertainment Rewards in 2016, and the "K-Pop Artist Award" at the Korean Culture and Entertainment Awards for two consecutive years – 2017 and '18. They were also nominated for "New Artist of the Year" at the Gaon Chart Music Awards in 2016, and for four titles at the Seoul Music Awards in 2016, including the prestigious Bonsang and Popularity awards.
Drama and TV
Lee Naeun has had a relatively prolific career in the Korean drama industry – a difficult thing to maintain in tandem with band activities.
Although she has appeared as a guest in a couple of shows – "My Father is Strange" (2019), and Twenty-Twenty (2020) – she has acted predominantly in the capacity of the main actress. These appearances include drama series such as "A-Teen" seasons one and two (2018 and '19), plus "The Guilty Secret" and Extraordinary You", both in 2019). Her roles have required her to act in carefree teenage scenes, to the more serious topics of keeping secrets, and a terminal heart illness.
In addition to the multitude of APRIL themed reality shows, Le Naeun has appeared in a battery of other Korean variety and talk shows. Like many, she made one of her first appearances in "Pops in Seoul" at a very young age, many years pre-debut.
Since then, she has made appearances in shows such as "Running Man" (2010), "Singderella" (2016), "Transongation" (2019), and "Get it Beauty" (2020).
Personal Life
Bullying Allegations
Mid-2020, an anonymous individual, promenading under the pseudonym "A", took to the internet to make allegations about Lee Naeun's past behavior. She claimed that the two of them had been friendly in elementary school, but that she was subsequently so badly bullied by Lee Naeun, that she was still plagued with the memories.
Lee Naeun denied the allegations, and when her managing company, DSP Media found out about the claims, they threatened to act against the anonymous "A".
On 23 July 2020, "A" updated her post claiming that "Would I be that crazy to make up lies while taking the risk of being sued?…I'll take down my writing within today. I don't think I can bear this anymore with my mental state." and discussed the abusive comments she was receiving from viewers. She also stated her belief that "This was an obvious outcome how they would handle the situation…I really told the truth, but I just don't have the evidence." However, by the following day, she had deleted the offending posts, replaced with a handwritten apology admitting that the entire thing was false.
Life outside APRIL
Although Lee Naeun is widely regarded as the most energetic and loud member of APRIL, she is also one of the most popular members in the group – often being referred to as the group's ultimate bias.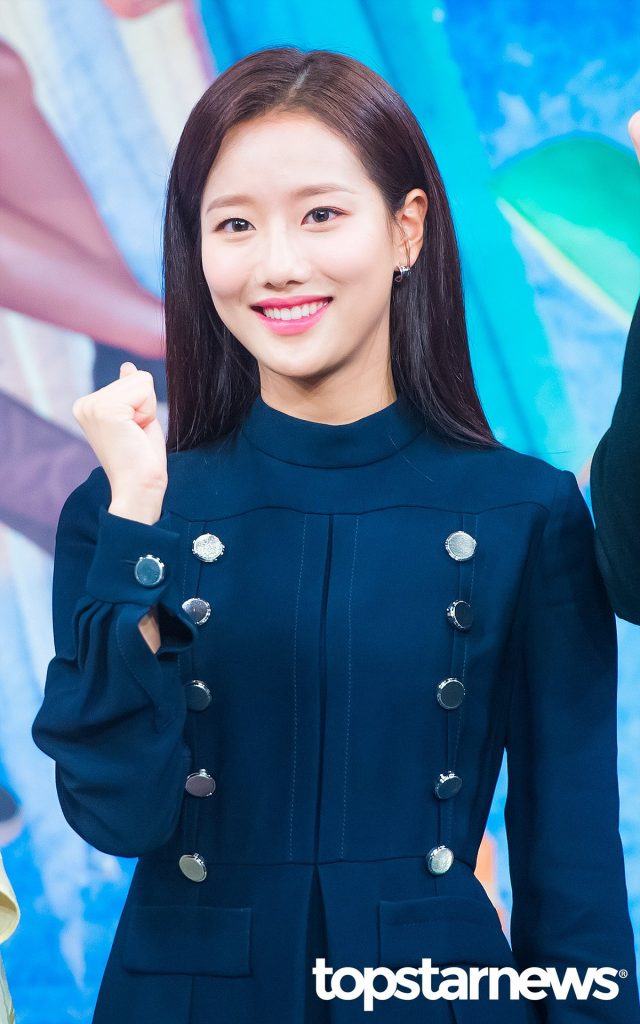 She is a staunch fan of BlackPink, much of her life revolving in and around the K-Pop industry. She has many friends from other groups, including three TWICE members, Doyeon from I.O.I, and Daisy from Momoland. She has recently embarked on several solo projects, as well as projects with her co-star, Jinsoul. As is the case with many stars, Lee Naeun expresses that her fans are incredibly important to her, and she loves to connect with them.
Appearance
Lee Naeun is exceedingly slender and fit, as is often the case with K-Pop stars. She doesn't appear to make drastic color changes to her hair but tends to keep her naturally black and brown tones.
Where her adventurous spirit does have an impact on her hair, is her frequent experiments with different styles of bangs and fringes. Lee Naeun is said to strongly resemble Korean actress Moon Chae Won. While many K-pop stars are not upfront about any cosmetic surgery they have had done in the past, consensus agrees that Lee Naeun was naturally pretty from a young age. She is 5ft 6ins (1.67m) tall and weighs 100lbs (45kgs).
Net Worth and Salary
Lee Naeun has made a name for herself in K-Pop and Korean acting – both can be extremely lucrative given the right conditions. She has a net worth estimated at over $200,000 as of late 2020 – her yearly income varies according to commitments, and relative success of the projects.