T.O.P is a South Korean singer-rapper and actor, whose fame skyrocketed when he became one of the members of the Korean popular (K-Pop) boyband called Big Bang. Just a year after their debut, his group won the Song of the Year award in the 2007 Mnet Asian Music Awards (MAMA) with "Lies," the title track of their first extended play (EP). They won Artist of the Year for releasing iconic K-Pop hit songs the following year, and took home the Best Worldwide Act award at the 2011 MTV Europe Music Awards, plus became the first K-Pop boyband to enter the elusive US Billboard 200 chart, with their fifth EP, "Alive."
Just a simple reminder that article is created and owned only by kpopwiki.org. Article cannot be re-published in any other pages or documents. Copyright is protected by DMCA. All found copies will be reported.
Original source: https://kpopwiki.org/revealed-truth-about-t-o-p-from-big-bang-choi-seung-hyun/
The group held the record as the K-Pop act with the highest audience tour at 1.5 million attendees for their "Made World Tour" (2015-2016) at that time. Big Bang was one of the few artists who helped in globalizing K-Pop, long before BTS came into the picture, and that earned them the title "Kings of K-Pop."
#HAPPYTOPDAY We love u 🙂 pic.twitter.com/zJ5wOGLEr2

— TOP(BIGBANG) (@TOP_Bingu) November 3, 2013
As a solo artist, he became a million-seller with his debut digital single "Turn It Up" in 2010, and as an actor, he won the Best New Actor award from Blue Dragon Awards and Baeksang Arts Awards for the 2010 John H. Lee's movie "71: Into The Fire."
Early Life and Family
T.O.P was born Choi Seung-Hyun on 4 November 1987, in Seoul, South Korea. He was raised in a comfortable home, with his older sister named Choi Hye Yoon. His great-grandfather was Kim Kwanki, the pioneering artist of abstract art in South Korea.
As a kid, he grew up fascinated not only with art but also with music. In middle school he met Kwon Jiyong, who would later be known as G-Dragon (GD) of Big Bang, as they shared the same interest in hip-hop, and often rapped verses together. He joined underground clubs, and rapped under the stage name Tempo, which led him to pursue a career in the hip-hop music industry.
Educational Background
He had his primary education in Seoul Sincheon Elementary School, and matriculated from Hansol High School. He graduated with a bachelor's degree from Dankook University.
Career
In 2003, still using the moniker Tempo, he joined and won the KBS radio competition show, "Battle of Rap." He then received an invitation from GD to send demo tapes to the latter's record label, YG Entertainment, which at that time was looking for new trainees to form the new hip-hop boyband named Big Bang. When T.O.P met Mr. Yang, the CEO of the label during the audition, he was rejected, and was advised to lose weight if he wanted to join his entertainment agency, as T.O.P was chubby back then. Since he was desperate to join the label, he worked hard each day to lose the 20 kilos, and  after six months he auditioned again, and passed.
First Steps – YG Survival Documentary and Debut (2006)
During his training under YG Entertainment, he ditched the name Tempo, and was given another stage name, T.O.P, courtesy of one of his senior labelmates, Se7en. His label has been known to conduct one of the strictest training programs in South Korea, and the hardship he experienced that time was documented in the 10-part series, "Big Bang – The Beginning."
The survival phase of the training program was YG's way of figuring out who among his pool of trainees was ready to be given a debut.
On 19 August 2006, T.O.P along with G-Dragon, Taeyang, Daesung, and Seungri made their official debut at the "YG Family 10th Anniversary Concert", held at the Olympic Gymnastics Arena. After a month it was aired on national TV, and their self-titled first single album was released. It consisted of four tracks including the title track, "We Belong Together," which featured labelmate Park Bom along with "A Fool's Only Tears," "This Love," and "Put Your Hands Up." It peaked at No.5 on the music charts according to the Recording Industry Association of Korea, and while it stayed in the charts for weeks, it was perceived to be a lukewarm debut. They followed it up in December 2006 with the release of their first full-length studio album, "Big Bang. Vol. 1" – it entered the charts at No.3, with close to 35,000 units sold upon release, and later on had sales of more than 155,000 units.
Commercial Success, Song of the Year, Artist of the Year (2007 – 2008)
From 2007 to 2008, T.O.P and his group released three EPs along with one full-length studio album, that helped them become one of the most popular K-Pop boybands in South Korea. Big Bang was in the industry for barely a year when they won the award for Song of the Year from MAMA, with the song "Lies", from the group's first EP, "Always," released in August 2007. It became their first No.1 hit song with almost five million downloads. In 2008, they were crowned Artist of the Year by MAMA, as they continued to release iconic songs including "Farewell," "Sunset Glow," and "Haru Haru" with each song having more than five million downloads. Clearly, South Korea had fallen in love with their sound and style.
Global Expansion, MTV EMAs, and Billboard 200 Entry (2008 – 2012)
T.O.P and his group debuted in Japan, and released four full-length albums and three EPs from 2008 to 2012. "Big Bang," "Big Bang 2," and "Alive" were certified Gold by the Recording Industry Association of Japan, and topped the Oricon Album Chart during their release.
They won the Song of the Year award from the 52nd Japan Records Awards, for their fourth Japanese single, "Tell Me Goodbye," which was used as part of the official soundtrack of the popular South Korean drama series "Iris," when it was aired in Japan.
In 2011, they released the EP "Tonight," which dominated the local charts in South Korea and entered three Billboard charts including World Albums Chart at No.3, Heatseekers Albums at No.7, and Independent Albums at No.29. It led to the boys winning the Best Worldwide Act representing Asia-Pacific, with around 58 million votes at the 2011 MTV Europe Music Awards, which was a first for any K-Pop act.
Big Bang made history in 2012, as their fifth EP, "Alive," became the first Korean album to enter the US Billboard 200 chart at No.150; however, Boa was the first Korean artist to enter that chart at No.127, but with an English album. At that time, "Alive" was the second best-selling album in South Korea, and was critically praised for its trendsetting music that mixed traditional K-Pop with other genres in one album.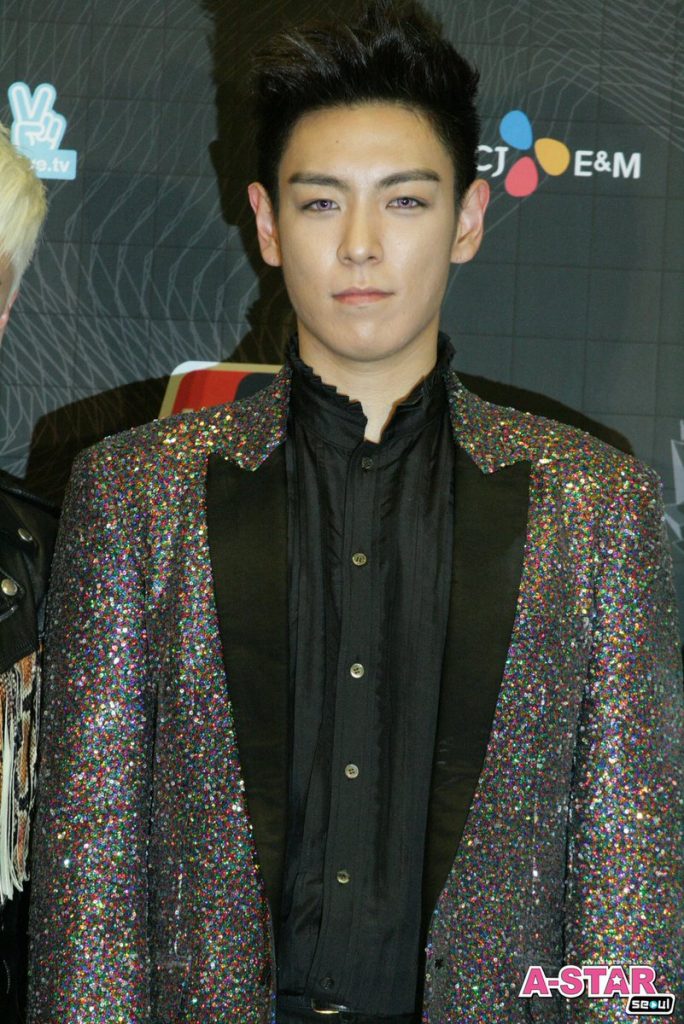 The EP spawned more iconic million-seller K-Pop songs, such as "Bad Boy," "Blue," "Monster," and the group's quintessential EDM track, "Fantastic Baby," which had close to eight million downloads.
M.A.D.E. Single Album Series, World Tour, Flower Road (2015 – 2018)
In 2015, Big Bang released four single albums, "M," "A," "D," and "E," with each one consisting of two tracks. All of them ruled the South Korean Charts with more than a million downloads for each song, the most notable being "Loser," "If You," "Bae Bae," and "Bang Bang Bang," which became the best-selling single on the album, with downloads of 2.5 million in South Korea, 3.5 million in China, 100,000 in Japan, and 32,000 in the US.
T.O.P's group made history again when in 2015 they embarked on their second world tour, "Made World Tour," that attracted about 1.5 million fans, making it the biggest tour by a Korean artist at that time. Forbes magazine reported that Big Bang was one of the highest-paid boybands in the world that year, and earned $44 million as compared to Maroon 5's $33.5 million.
Music insiders acknowledged that they were the first mainstream hip-hop idols who composed and produced their own music. They have inspired many popular K-Pop acts today, not only with their music, but also their fashion style as seen on Vogue Korea's exhibit in 2016.
Their last released song as a five-member group was "Flower Road" in 2018, which they never had the chance to promote, as most of the members were doing their mandatory military service. It had over five million downloads and was certified platinum by the Korea Music Content Association. It was their first single to be awarded a certification, since it was only in 2018 that the KMCA started handing-out certifications to South Korean artists.
Solo Activities – Music Released, TV and Movie Projects (2009 – 2017)
His label allowed Big Bang to pursue individual interests whenever they were on a temporary group hiatus. T.O.P had featured in other artists' songs since 2007, including Gummy's "I'm Sorry," Uhm Jung Hwa's "D.I.S.C.O.," Se7en's "Digital Bounce," and Pixie Lott's "Dancing On My Own."
In 2010, he released his self-composed first digital single, "Turn It Up," and it peaked at No.2 on the Gaon Digital Chart with close to 1.4 million downloads. He also teamed up with Big Bang's leader, G-Dragon, and released the full-length album "GD & TOP" that same year. It topped the Gaon Album Chart, and spawned three hit songs – "High High" at No.1, "Knock Out" at No.3, and "Oh Yeah" at No.2 on the Gaon Digital Chart. His second single came out in 2013 called "Doom Dada", and it entered Billboard's World Digital Song Sales chart at No.3.
T.O.P ventured into acting in 2007, and debuted as part of the main cast in the TV drama series "I Am Sam." In 2009, he joined the big-budgeted spy-thriller TV series "Iris," with popular actors Lee Byung Hun and Kim Tae Hee, playing the role of a mysterious assassin. The series generated so much hype, and had an average viewership rating of more than 30%.
Encouraged by his TV drama experience, T.O.P started accepting movie roles; his debut performance in "71: Into the Fire," released in 2010, was highly praised by critics, and which starred veteran actors Cha Seungwon, Kim Seungwoo, and Kwon Sangwoo. He won the Best New Actor award from prestigious acting awards such as Blue Dragon Awards and Baeksang Arts Awards.
The movie was based on a true story during the Korean War, when 71 students defended a local school, which helped safeguard the perimeter from being overrun by North Korean forces. He played the role of the student-soldier tasked to lead the group in defending the area.
After three years, he did a couple of movies that also performed well at the box-office, such as "Commitment" (2013) with Kim Yoo Jung and "Tazza: The Hidden Card" (2014) with Shin Se Kyung and Yoo Hae Jin. His last movie was in 2017 called "Out of Control," a Chinese-German action movie with Cecilia Cheung, which premiered at the Film Festival Cologne.
Marijuana Scandal, Alleged Suicide Attempt, and Military Enlistment (2017 – 2019)
T.O.P made headlines in June 2017 when he was investigated for illegal drug use. He was already in the military for his mandatory service when the news broke; at first he denied it, but later on admitted that he smoked marijuana on four occasions in October 2016, with K-Pop trainee, Han Seo Hee, who was allegedly his girlfriend at that time, and had implicated him when she was investigated by the police for drug use. He tested positive after a hair follicle test was done at the request of the police. He wrote an apology letter to fans, which was posted by YG Entertainment.
A few days later, he was hospitalized with a drug overdose. Apparently, he was taking prescribed sedatives since 2016, but he consumed more than the prescribed dosage, and was brought to the intensive care unit. Some people assumed it was a suicide attempt, but no one confirmed it. When his case was heard, he pleaded guilty to the charges, and was sentenced 10-month prison term suspended for two years, because the court found him remorseful of his misdeeds, and he had no previous criminal offense.
Due to the result of the case, T.O.P was discharged from serving as a conscripted police officer, and could only render his military obligation by being a public service worker at Yongsan Craft Museum. He finished his mandatory service on 6 July 2019, and was completely overwhelmed when his fans organized a quiet welcome party on the day of his discharge.
Personal Life
T.O.P is officially single at the moment. In May 2020, he had been rumored to be dating new actress Kim Ga Bin, as fans were quick to note in one of the group photos that Ga Bin uploaded online, his arms were wrapped around her shoulders. When it went viral, she deleted the photo.
Fans discovered more photos that the two of them uploaded onto their Instagram accounts, with uncanny similarities such as couple pajamas, same backgrounds, and same items. They could be coincidences, but when he deleted photos from his account, the fans grew even more suspicious. When reporters asked his label about it, YG Entertainment responded with their standard answer: 'It's difficult for us to confirm anything regarding our artists' private lives. We ask for your understanding.'
Appearance
He is 5ft 11ins (1.81m) tall and weighs 143lbs (65kgs) with a lean body. He has black hair and dark brown eyes.
Net Worth
According to authoritative sources, T.O.P has an estimated net worth of $35 million as of April 2021.
He has an extensive art collection with original artworks by famous artists including Warhol.
He reportedly bought a vineyard in Argentina that produces around 8,000 bottles of wine.
T.O.P has three houses and lives in a luxury villa valued at $2.6 million in 2017, and owns a building in Hannam.