Hoshi is a South Korean singer, songwriter and dancer, who rose to prominence through his inclusion in the 13-member Korean Pop (K-Pop) group, Seventeen. Billboard included them as one of the best K-Pop groups of this generation.
Just a simple reminder that article is created and owned only by kpopwiki.org. Article cannot be re-published in any other pages or documents. Copyright is protected by DMCA. All found copies will be reported.
Original source: https://kpopwiki.org/hoshi-seventeen-age-height-family-relationships-wiki/
Early Life and Family
Hoshi was born Kwon Soonyoung on 15 June 1996, in Namyangju-si, Gyeonggi-do, South Korea. He and his older sister were raised in a modest home with a businessman for a father and a homemaker for a mother. Hoshi showed an interest in taekwondo and music, particularly in dancing very early in life. His parents were quite supportive of his passion, as they let him compete in several dance and taekwondo competitions growing up.
Educational Background
He attended Maseok Elementary School for his primary education, then went to Maseok Middle School, matriculated from Maseok High School, and is currently attending Dong-ah Institute of Media and Art.
Career
Hoshi's passion for dancing led to his trainee recruitment by Pledis Entertainment. He was participating in a District Dance Competition with his middle school dance club when he was spotted by one of the casting agents.
First Steps – Audition and Training
It took him four years of training in dancing, singing and acting along with language lessons, before his management decided to debut him along with 12 other boys under the group name Seventeen. All his hard work and training were documented in a TV show called "Seventeen TV", originally streamed on UStream in 2013 – each season, the fans were able to get to know the trainees, some of whom eliminated along the way, and some added. The reality series lasted for five seasons, which showed how each trainee earned his spot in the group. Due to the huge number of members, the agency decided to divide them into three sub-units: Hip Hop, Vocal and Performance Units – Hoshi was appointed leader of the Performance Unit.
Debut Showcase and First EP – stayed for 11 weeks on Billboard Chart
When the final group was formed, Pledis Entertainment CEO decided to challenge the boys again, and made them participate in a month-long survival series entitled "Seventeen Project: Big Debut Plan", to test their tenacity in just how much they wanted to debut. The CEO took back their membership rings, and told them to prove to him that they are worthy of a grand TV debut showcase he was planning for the group.
The boys worked hard, and as promised, Pledis Entertainment gave them an hour-long debut showcase that was never done before by other K-Pop artists on 26 May 2015 in one of the major broadcasting television stations in South Korea.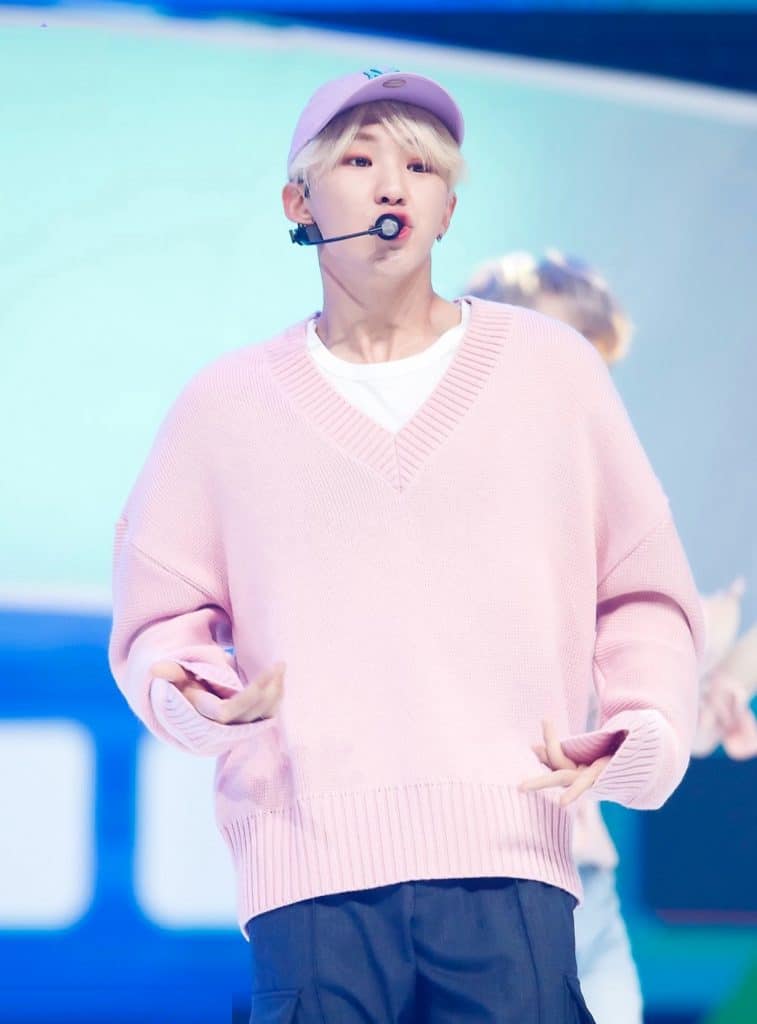 The strategy worked because of the positive sales result of the group's first extended play (EP) entitled "17 Carat." It was released immediately after their grand TV debut, with them performing the lead track, "Adore U" in popular TV music shows including KBS' "Music Bank," SBS' "Inkigayo," Mnet's "M Countdown," and MBC's "Music Core." The debut EP became the longest-charting K‑Pop album on the Billboard World Album chart at that time, staying there for 11 weeks and peaking at No. 8.
Sophomore EP released on the same year
After the success of the first EP, the group decided to take a risk and release their second EP, "Boys Be," just a few months after the first one was launched. It was the right move, as it surpassed the sales result of the first one, earning them a spot in the list of "21 under 21 2015: Music's Hottest Young Stars," compiled by Billboard. To cap the year, they held a four consecutive day concert series – "2015 Like Seventeen – Boys Wish" – at Yongsan Art Hall in Seoul.
Hoshi and the boys were nominated in several award-giving bodies for Best New Artist of the Year, and scored a win from Golden Disc Awards, and were also given the World Rookie Award at Gaon Chart Music Awards.
2016 – 2017 Studio Album and Concert Tour
K-Pop groups in South Korea were evolving, and instead of just relying on their record labels to produce music for them, members are involved in the whole creative process. Bigbang, one of the popular K-Pop groups started this change. Seventeen, just like their "sunbae" (senior artist-colleague in Korean) is also hailed as a self-producing group, as most of the songs in their album are co-written and co-produced by some of the members. Even with the dance choreography, promotional concepts, and music video direction, Pledis Entertainment allowed them to be part of it.
Hoshi co-wrote some of the songs in the group's full-length studio albums "Love & Letter" (2016) and "Teen Age" (2017), as well as in their third EP, "Going Seventeen."
He even created some of the choreography used in their dance performances during promotional activities.
They made their first Asian tour in 2016, called "1st Asia Tour Shining Diamonds", performing in several countries including China, Japan, Singapore and Taiwan. They also performed in major cities in Australia and New Zealand.
The group embarked on their first world tour, "Seventeen 1st World Tour, Diamond Edge," kicking it off with three days of concerts in Seoul, followed by a series of shows in North and South America from July to October. They also released another EP, "A/1," which sold over 300,000 units, topping the Gaon Album Chart, peaking at No. 3 on the Japanese Oricon Chart, and reaching No. 2 on the Billboard World Album chart. Hoshi co-wrote the lead track, "Don't Wanna Cry," in the digital version, and the song, "Who," in the physical version.
The official MV of the lead track has the most number of views in all of Seventeen's music videos with, with over 170 million views.
Official Japanese Debut, and EP Gold Certification in 2018
While their Korean albums and EP were well received in Japan, it is customary for K-Pop artists to release a Japanese album, and officially debut there if they want to fully penetrate the local market. Japanese fans are highly appreciative of the gesture, and would always give back by buying the albums released, and other merchandise. Seventeen's Japanese EP entitled "We Make You," sold over 100,000 copies, and was certified Gold by the Recording Industry of Japan. The group even had their reality TV series, "One Fine Day," there to accommodate Japanese fans' growing interest in them. The show lasted for two seasons and was co-produced by both South Korean and Japanese TV stations.
Seventeen Sub-Unit, BSS Debuted
Hoshi along with DK and Seungkwan formed a sub-unit called BSS, meaning BooSeokSoon and taken from their nicknames.
They released a single entitled "Just Do It," which was co-written by all three and performed in music shows. The official music video of the song gained more than four million views on YouTube.
Time Magazine Feature and Certified Platinum for Albums, EPs
As Seventeen continued to make their mark on the global stage, Time Magazine was quick to recognize their achievements, and the group was chosen as one of the Best K-Pop groups in 2018. The Director's Cut version of the group's 2017 full-length album, "Teen Age," sold over 600,000 copies, and was given platinum certification by the Korea Music Content Association or KMCA. The lead single entitled "Thanks" peaked at No.1 on iTunes single charts in 30 countries around the world. They also scored another platinum certification from KMCA when they released their fifth EP, called "You Make My Day."
Dislocated Shoulder During 2018 Concert
Seventeen held their concert in November entitled "The 2018 Seventeen Concert 'Ideal Cut – The Final Scene' in Seoul" at the Olympic Gymnastics Arena inside the Olympic Park.
During one of the performances, Hoshi dislocated his shoulders, remained still for a few seconds, and then rushed backstage for treatment, and was only able to return to the stage near the end of the concert. Fans were in awe of his professionalism when a video that captured the moment went viral.
2019 Triple Crowns and Grand Slam Wins in Music Shows
The group continued on its way to the ultimate goal of being the best K-Pop group in South Korea, with the release of its sixth EP, "You Made My Dawn," at the start of 2019. The EP sold in great numbers both locally and internationally, peaking in top spot on the South Korean Gaon Album Chart as well as the Japanese Oricon Charts, and at No. 4 on the Billboard World Album.
The lead single, "Home," gave the group its first triple crown in two popular music shows, Mnet's "M Countdown" and KBS "Music Bank", cementing their status as one of the leading K-Pop groups in South Korea.
[SCAN] 24H A ver. #SEVENTEEN #세븐틴#호시 #HOSHI⁠⁠⁠⁠ #ホシ#Jun #준 #ジュン#WONWOO #원우 #ウォヌ#Woozi #우지 #ウジ pic.twitter.com/KwclavsNMr

— Minnie S. (@MinnieS1713) September 17, 2020
Each week, the three most popular songs would vie for the top song in a music show – an artist can only win three times with a specific song, with a win regarded as a milestone for every K-Pop artist.
Album of the Year, International Recognition
2019 saw the release of the third full-length album of the group entitled "An Ode" – Hoshi participated in writing one of the songs, entitled "247", along with the other members. This time the album sold more than 800,000 units in South Korea, earning 3x Platinum certification by KCMA. It was also certified Gold by the RIAJ, as the album topped the Japanese Oricon Album chart and sold over 220,000 units.
The group's hard work paid off as they scored big in the annual music awards in South Korea, bagging Album of the Year Award from the 2019 Asia Artist as well as the Disc Bonsang Award from the 2020 Golden Disc.
The international music critics have been generous in their appreciation by including them in their year-end lists, and the album "An Ode" earned a spot in Billboard's 25 Best K-Pop Albums of the Year (2019). The lead track, "Fear," was included on the list of Top 10 Songs of 2019 by Rolling Stone India, CelebMix, SBSPopAsia, and BuzzFeed.
2020 – Million Seller Group
Despite the pandemic global crisis caused by the spread of the Covid19 virus, Seventeen became a million-seller K-Pop group when they released their eighth EP entitled "Heng:garae" on 22 June 2020, which has sold over 1.2 million units and counting.
Personal Life
There is not much information about Hoshi's personal life, as most K-Pop artists are quite private, particularly about dating. In South Korea, a no-dating policy on the first three to five years after debut is included in management contracts as a common and accepted practice.
This is to ensure that the artist focuses on their training and promotions. South Korean fans are quite possessive as well, and most of them wouldn't like their favorite idols to date. So any dating is done in secret – exposure would likely result in expulsion from their group.
Hoshi still lives in the group's dormitory owned by the agency, even if he has already purchased a home for his family. His father's business suffered in the past, and he sold their home to try to recoup his losses. The moment Hoshi earned enough money from his work, he repurchased it. He said he couldn't forget his father's face full of tears when it happened. He was always embarrassed when his family would continue to ask his debut date when he was training for four years, and he couldn't give a specific answer as he didn't have any idea himself.
As there is no dating news yet, Hoshi is currently single.
Hobbies, favorite things, and interesting facts
His stage name, Hoshi, is a combination of two Korean words, Horang (Tiger) and Shison (Gaze), which means "gaze of the tiger."
He is a resident choreographer of the group, responsible for creating the dance routines.
He was a black belt in Taekwondo and a champion in his younger years. The sport made him more interested in dancing, as he thinks certain moves are quite similar.
The group considered him and Jihoon as the most hardworking members in the group, as they continue to practice even during free time. It was the reason why he decided to take as many food supplements and multivitamins as possible, to avoid dehydration.
He considered Keone Madrid, a popular choreographer, as his role model, admiring his originality and personality.
His favorites: Blue, Black, and White (Color); Soda (Beverage); Hamster, Tiger (Animals)
His Myers-Briggs Type Indicator or MBTI Personality Type is INFP, which stands for Introverted, Intuitive, Feeling and Prospecting personality traits.
Appearance
Hoshi is 5ft 10ins (1.77m) tall, weighs 135lbs (61kgs), and has a lean build. He is Asian with black hair and black eyes. Expect to see him with different hair colors and hairstyles during his K-pop promotional activities.
Net worth
With Seventeen's successful album sales and sold out concert tours, sources estimate Hoshi's net worth at over $300,000 as of August 2020, a division of the Seventeen group's overall wealth.