Wooyoung is a South Korean singer, dancer and actor, who rose to prominence when he became a member of the Korean popular (K-Pop) boyband 2PM, formed by JYP Entertainment in 2008. His group had numerous chart-topping hits including "Again and Again" (2009), "Heartbeat" (2009), "Without U" (2010), and "Hands Up" (2011). He later debuted as a solo artist with the release of the extended play "23 Male Single" in 2012, and also became known for his portrayal of a Korean-American student in the popular drama series, "Dream High."
Just a simple reminder that article is created and owned only by kpopwiki.org. Article cannot be re-published in any other pages or documents. Copyright is protected by DMCA. All found copies will be reported.
Original source: https://kpopwiki.org/jang-wooyoung-2pm-age-height-girlfriend-net-worth-bio/
Early Life and Family
Jang Wooyoung was born on 30 April 1989, in Busan, South Korea, raised in a middle-income household with his older sister Junhwa. His father, a quiet and conservative man who was a government official, wanted Wooyoung to follow in his footsteps and become a civil servant, but his mother was open-minded and very supportive of whatever the children wanted to pursue in life.
He was attracted to the limelight early on in life, and was quite comfortable being on stage. Wooyoung joined a competition when he was in grade school called "Pretty Children Contest", and won it. He said that his cute visuals and cool dance moves impressed the panel of judges. His aspirations to become a K-Pop artist someday were kept from his father, as he knew how traditional his father was, and wouldn't approve of his dreams.
Educational Background
Wooyoung attended Dongsung Elementary School, Geumsong Middle School, and matriculated from Geumsong High School. He graduated with a bachelor's degree majoring in Broadcasting from Howon University.
Career
Wooyoung had a unique story of how he was accepted into the training pool of JYP Entertainment.
He was quite aware of how important it was to choose the right entertainment company, as trying to become a K-Pop star could mean spending a lot of money. Out of desperation, he went to an audition when JYP was specifically looking for female trainees, thinking that he'd give it a try even knowing he'd be rejected, as he was hoping he'd be scouted for male trainees. Unfortunately, he failed on both counts.
He continued auditing for JYP every six months, but was rejected every time, and told he needed to improve his skills. Once he went to a smaller agency, thinking that if he was accepted with his skills, it would mean the agency was a sham, as he believed he was still lacking. True enough, he did get in but was immediately asked to pay for his training. From then on, he decided to only audition at JYP. Finally, he won first place in the 2007 JYP audition, and started his training with the agency.
Only his mother and sister knew about it. When his father learned about his training, he was so mad at Wooyoung that he even broke the portable player he bought for his son, thinking it would help in his studies when his grades were failing, but Wooyoung only used it for his dance practice. His mother said in one TV interview that she thought her marriage would end in divorce, as they fought about it. She specifically told Wooyoung's father what would happen if he continued to oppose it. She said, 'if you saw two bodies floating down the Han River tomorrow, know that they will be the bodies of Wooyoung and I.' He never said anything against Wooyoung's dreams after that.
First Steps – 2PM Debut (2008)
On 29 August 2008, Wooyoung along with Taecyeon, Chansung, Jun K, Junho, Nickhun, and Jaebeom debuted as the boyband called 2PM.
They were known as the beast idols, and started the trend of male idols having a manly and tough image in South Korea. The K-Pop industry back then was full of boybands, with cute and pretty boy images. They released their first single album, "Hottest Time of the Day," with six tracks including "Only You" and "Angel." It peaked at No.10 on the Gaon Album Chart, and they performed the lead track, "10 Out of 10," on popular music shows. It wasn't as successful as other K-Pop debuts, but they gained more fans as they presented a different type of music, dance choreography, and so visual concept.
First No.1 Hit, Group Controversy, Jaebeom Left the Group (2009)
"Again and Again" was released on 16 April 2006, and dominated the charts peaking at No.1. They had their first music show win from Mnet's "M Countdown"; this No.1 Song of the Week award from a music show was one milestone that every K-Pop group wanted to reach.
It would mean that for a certain week, more people bought, downloaded, streamed, and voted for the song. It was also awarded Song of The Year during the KBS Year-End Music Festival, accumulating close to 60,000 online votes.
Just as Wooyoung and his group were starting to enjoy their first No.1 hit, in September 2009 a scandal erupted involving the group's leader, Jaebeom. Someone hacked Jaebeom's social media app, MySpace, and revealed his online posts in which he ranted about what he didn't like in South Korea. Posts like "Korea is whack," "I hate Koreans," and "Korea is gay" were taken out of context by the Korean media, and a backlash ensued with some people demanding that JYP should terminate his contract. Others even campaigned for Jaebeom to commit suicide. He apologized to everyone and left the group and the company.
YOU EVER JUST ❤️____❤️ pic.twitter.com/wj4vm1WAHd

— wooyoung pics (@wooyoungpic) February 12, 2021
JYP founder, Park Jin Young, explained why and how it happened in a letter posted online, so fans would understand Jaebeom better. Wooyoung was reported to have fainted when Jaebeom left the group, and was hospitalized.
2PM's First Studio Album, Artist of the Year, First Solo Concert (2009 – 2010)
After the Jaebeom controversy died down, Wooyoung and his group released their first studio album, "01:59PM," on 10 November 2009. It consisted of 13 songs, including "I Was Crazy About You," "Tired of Waiting," "Gimme the Light," and the title track, "Heartbeat," along with previously released singles. The album charted at No.1 on the Gaon Album Chart with 110,000 units sold in South Korea, and peaked at No.16 on the Japanese Oricon Album Chart with close to 14,000 units sold. The lead track peaked at No.1 on several music charts, and won seven music show trophies for being the No.1 Song of the Week.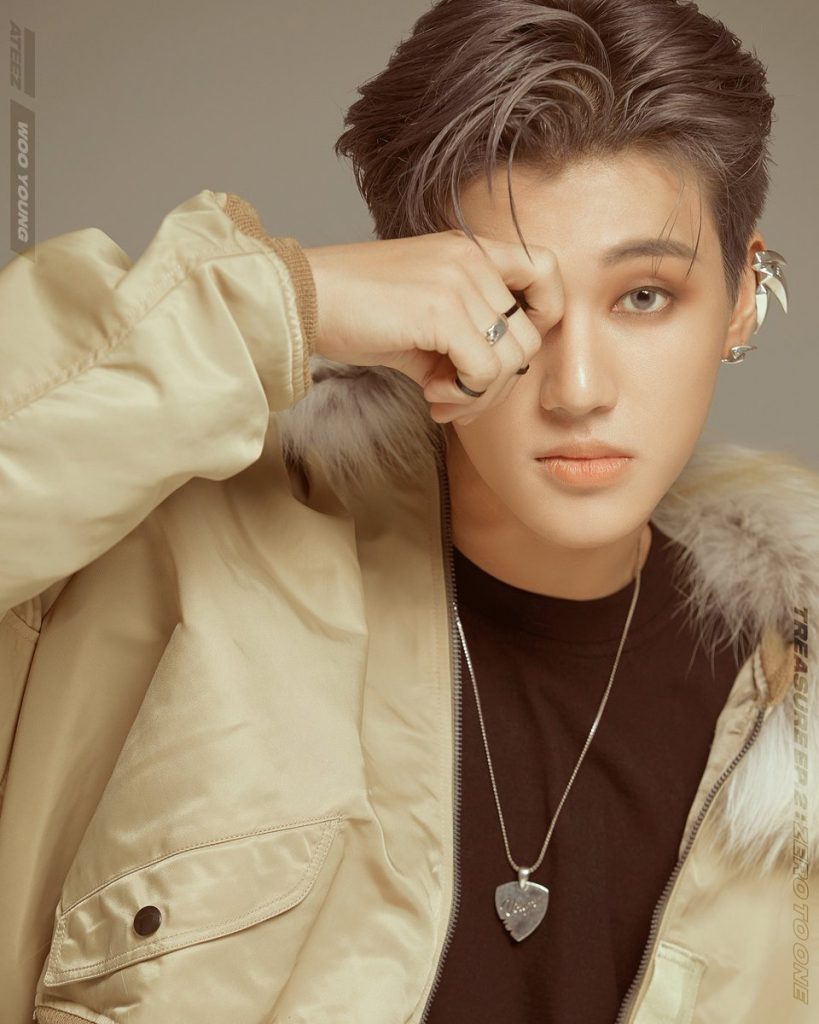 They ended 2019 by winning the Artist of the Year and Best Male Group at the 11th Mnet Asian Music Awards. During their performance on awards night, Wooyoung and the boys didn't change the dance formation. They put a spotlight on Jaebeom's position, and didn't replace his voice in the song. The boys also decided to split earnings of the album with their former leader, even though they re-filmed the music video of the lead track, and excluded him from the album cover.
In April 2010, the boyband released "Don't Stop Can't Stop" which charted at No.15, and then "Without U," which peaked at No.1 on the local music charts with close to two million downloads.
They held their first solo concert entitled "Don't Stop Can't Stop" on 31 July and 1 August 2010 at the Seoul Olympic Arena. They also held a two-night concert in Busan the following month, and then another two-night encore concert in Seoul in September 2010.
By October 2010, Wooyoung and his group dominated the music charts again, with the song "I'll Be Back," which was the lead track from their first extended play (EP), "Still 02:00PM." The boys were surprised when the EP charted at No.13 on Billboard's World Album Chart, when they hadn't done any promotions in the US at all. It also peaked at No.1 on the Gaon Album Chart, with more than 90,000 units sold.
2PM's Further Success, Japanese Promotions and Concert Tours (2011 – 2017)
2PM released five more studio albums from 2011 to 2016 and four of them peaked at No.1 on the Gaon Album Chart – "Hands Up (2011)," "Grown (2013)," "No.5 (2015)," and "Gentleman's Game (2016)." The most notable was the second album, "Hands Up," which sold around 115,000 units, and the title track had close to 2.8 million downloads, making it one of the most successful songs in their discography.
Wooyoung and the boys also became very successful in Japan. They debuted there in 2011 with the single "Take Off," which charted at No.3 on Billboard's Japan Hot 100, and No.4 on Oricon Digital Chart. Three more singles were released which were all successful, and were included on their first Japanese studio album, "Republic of 2PM." The album sold close to 75,000 units, and peaked at No.4 on the Oricon Album Chart.
Four more Japanese studio albums were released from 2012 to 2016 – "Legend of 2PM (2013)," "Genesis of 2PM (2014)," "2PM of 2PM (2015)," and "Galaxy of 2PM (2016)." All of them peaked at No.1 on the Oricon Album Chart, with the last album certified Gold by the Recording Industry Association of Japan for having sold over 120,000 units.
Due to the support the boyband received from their Japanese fans, Wooyoung and the boys held around 10 concert tours in Japan from 2011 to 2016, performing nearly 100 shows in different Japanese cities.
They also embarked on "Hands Up Asia Tour" in 2011, and "What Time Is It – Asian Tour" in 2012. Collectively, they performed in 19 Asian cities including Taipei, Jakarta, Kuala Lumpur, and Hong Kong. In 2014, Wooyoung traveled to various parts of the world as his group went on a world tour, "2PM World Tour Go Crazy", performing in 13 cities including Seoul, Bangkok, Beijing and Los Angeles.
In 2017, and the group went on a temporary hiatus, as some of the members needed to enlist for their mandatory military service.
Solo Debut and Acting Debut (2011 – 2018)
During breaks from his group's activities, Wooyoung debuted as an actor in the popular KBS' drama series, "Dream High," which was aired in January to February 2011, starring Suzy (Miss A), Taecyeon, Eunjung (T-Ara), and actor Kim Soohyun.
He took on the role of Jason, an American-Korean student with singer IU as his love interest. The cast was filled with K-Pop artists, as the story was about high school students dreaming of becoming K-Pop stars.
In July 2012, Wooyoung debuted as a solo artist with the release of his first EP, "23 Male Single." It had seven tracks including "DJ Got Me Goin' Crazy" composed by Jun K., and "Be With You" composed by Junho along with the title track, "Sexy Lady." The album peaked at No.2 on Gaon Album Chart, with around 70,000 units sold.
In March 2015, he debuted in Japan with the release of his first EP, "R.O.S.E.," which peaked at No.5 on the Oricon Album Chart. After two years, Wooyoung focused more on the Japanese market, and released two more studio albums, "Party Shots" in April 2017 and "It is Still…" in October 2017.
He also went on a solo concert tour in Japan.
A few months before his military enlistment, Wooyoung released his second Korean EP, "Bye," in January 2018. It peaked at No.4 on the Gaon Album Chart and No.25 on the Oricon Album Chart.
On 9 July 2018, he started his mandatory military service, and was discharged on 25 February 2020. His group is scheduled to make a comeback in 2021 as they wait for the last member, Junho, to be discharged in March 2021.
Personal Life
Wooyoung is officially single right now as there has been no news about him dating anyone. Most K-Pop artists have a 'no-dating' clause in their contracts for the first three to five years after their debut. However, his bandmates were worried about him, as he never dated even when the dating ban was lifted.
He was once rumored to be dating Sandara Park of 2NE1, but it turned out that they were just good friends. Wooyoung even watched Dara's musical "Another Oh Haeyoung," a month after he was discharged from the military, and fans of the two artists couldn't help but wish they were dating in real life.
After his military service, he revealed that he'd dated someone in the past, but it didn't work out as he was quite troubled back then due to depression. His mental problem came after he achieved fame and had already earned money. He thought of giving it all up and returning to his hometown, saying that he was lost and couldn't find himself. His love for his bandmates helped a lot in overcoming the problem, feeling that after all their hardships he couldn't betray them by just giving up.
181027 © 1126jubilee pic.twitter.com/PuhyXzBSKH

— wooyoung pics (@wooyoungpic) January 25, 2021
Hobbies, favorites, rumors, and interesting facts
Wooyoung's favorites: chicken (food), yellow and red (color), Michael Jackson and Usher (singers).
His bandmates claimed that he cooks the best ramen.
Wooyoung helped and trained actress Kim Gyuri for her participation in "Dancing with the Stars."
He is quite sensitive and can easily empathize, so when watching sad movies, his bandmates would always have ice cream on hand to calm him down as he would bawl his eyes out.
Appearance
He is 5ft 10ins (1.78m) tall and weighs 145lbs (65kgs) with a lean well-toned body. His shoe size is 10 US (275mm). He has black hair and dark brown eyes.
Net Worth
According to authoritative sources, Wooyoung has an estimated net worth of close to $1 million as of February 2021.