Kim Sejeong is a South Korean singer-songwriter, actress, host, and television personality, who rose to fame when she debuted as a member of the Korean popular (K-Pop) girl group called I.O.I in May 2016 after she ranked second place in the first season of Mnet's reality TV survival program, "Produce 101." She also became one of the main vocalists and face of the group Gugudan, under her label Jellyfish Entertainment, in June of that year, until it disbanded in December 2020. She was cast as Do Hana, one of the demon-hunters called Counters, in the highest-rated OCN series, "The Uncanny Counter" (2020).
Just a simple reminder that article is created and owned only by kpopwiki.org. Article cannot be re-published in any other pages or documents. Copyright is protected by DMCA. All found copies will be reported.
Original source: https://kpopwiki.org/kim-sejeong-ioi-age-height-boyfriend-family-net-worth/
Early life and family
Kim Sejeong was born on 28 August 1996, in the city of Gimje in North Jeolla, South Korea. She was only four or five when her parents divorced, and her mother raised her and her brother, who is three years older than her, in Anyang where they all lived in her aunt's place.
Her mom had a lot of debt, and took on multiple jobs such as teaching at a cram school, working at a restaurant, and delivering milk, to provide for her children.
It also helped that they received support from the government. She used the "Hungry Child Food Card" so she could eat three meals a day, especially during the holidays since she couldn't eat cafeteria food from school. She could spend around three dollars each day, and buy jjajangmyeon (noodles in black bean sauce) with it, and if she collected enough coupons, then she could eat tangsuyuk (sweet and sour pork) as well.
Sejeong had a tough time growing up, and learned to hide her emotions by smiling. Her mom worked so hard, that as her daughter, Kim felt she couldn't let her mom know how she feels or even act out, and be childish around her.
As a result, she was once reprimanded in high school by her teacher for something she did, and although she was reflecting on it, her teacher asked her if she's laughing. She then tried not to show any emotion, which was hard since smiling was her way of coping. Another consequence of having to put up a front was losing friends when she was in her teens, as she was unable to connect with them on an emotional level.
She said that she drew strength from her mom, who became an accountant at age 40 to improve their living conditions.
Her father was living in Indonesia, and it was only when she was in middle school that they met again after 10 years. At first, she was embarrassed to see him after such a long time, and she didn't even want to hear what he had to say, even if his first words to her were, 'I'm sorry.' However, she gave him a chance when he came back and she spent the day with him, and they've been in contact since then.
In an interview in August 2016, she talked about how her grandmother, who was hard of hearing, had to turn the volume up when listening to trot music, and Sejeong would sing along with it, saying it was that which inspired her to become a singer. She also talked about being unable to visit her maternal grandfather, despite his deteriorating health, because of her busy schedule. This was one of those times that made her regret that she'd become a celebrity. Being new in the industry meant it was hard for her to make time. She told her grandpa to hang on a little more and that she'd visit him soon; he passed away in December 2016.
Educational background
Kim attended Mangyeong Elementary School in Gimje then transferred to Anyang Buheung Elementary School, and went to Hogye Middle School. She matriculated from Indeogwon High School, and enrolled through a scholarship at Hangyang Women's University in the Department of Applied Music.
[IG] ohella.official's Instagram update https://t.co/SH9dhBwbQV#Sejeong #김세정 #세정 #WarningBySejeong pic.twitter.com/T3bqRYchBs

— 김세정 – KIM SEJEONG (@_sejeongdays) April 27, 2021
Career
First steps
She loved singing, but pursuing it as a career wasn't something she was sure of, because there was no guarantee that she'd be successful. What was foremost in her mind was to repay her mom for everything she did, and she knew she couldn't do that if she failed to make it as a singer. However, her mom told her to do what she wanted, and not to worry about her. Since that time, she decided to take a path that wouldn't bring shame to her mom.
One of the most effective ways to become a singer, or at least get scouted by a record label, was to participate in a singing competition on national television such as the SBS' "K-Pop Star" in which the judges were Yang Hyun-suk (founder of YG Entertainment), Park Jin-young (founder of JYP Entertainment), and BoA (SM Entertainment). She was 16 when she joined the second season of the reality TV audition program in 2012.
Although she failed during the second round of the audition, Yang Hyun-suk chose her as a wildcard for the final casting round, but she was eliminated in the end.
Sejeong didn't give up on her dreams, and auditioned at several entertainment companies. She made sure that she had 30 songs under each music genre, so that she could sing whatever was asked of her, be it slow, fast, a popular one, even in English. However, she failed many times until she auditioned for Jellyfish Entertainment, which she thought was some other big agency. She realized her mistake when she passed the audition and consulted with her mom first on what to do. When her mom told her, 'it's better to be head of a snake than be the tail of a dragon,' she then signed with Jellyfish Entertainment and became one of their trainees in June 2014.
"Produce 101" and debut as I.O.I and Gugudan
After training for more than a year and a half, she participated in another reality TV survival series called "Produce 101", along with two other Jellyfish trainees, Kang Mina and Kim Nayoung. It was aired on the Mnet cable network from January to April 2016. The show's aim was to launch an 11-member girl group out of 101 trainees from 46 agencies; the final line-up would be chosen by the public through a voting system. At the onset, it was clear that Sejeong was talented enough to earn a spot in the debuting group, and the public was convinced of it as she was in first or second place every voting period, which earned her the nickname, "God Sejeong." At the finale, she ranked second as she garnered over 525,000 votes.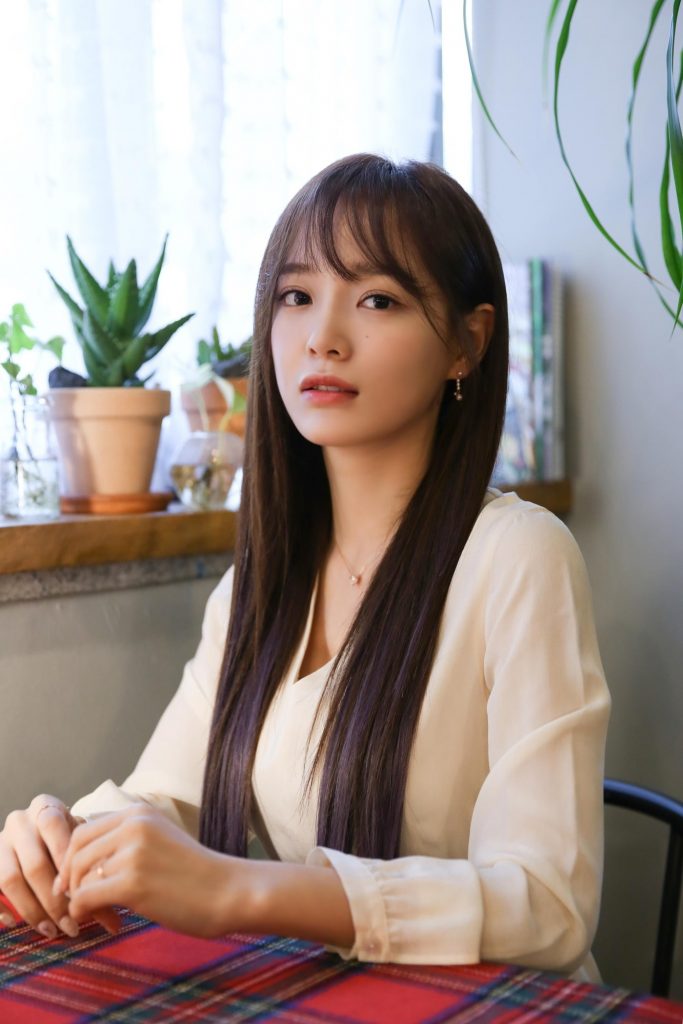 Sejeong finally debuted on 4 May 2016 as a member of I.O.I (short for Ideal of Idol) under YMC Entertainment, along with labelmate Mina, with the release of their first extended play (EP) "Chrysalis," which peaked at No.4 on the Gaon Album Chart, with cumulative sales of 87,000 copies. It consisted of seven tracks, including the pre-released single "Crush," with 340,000 download sales, and the lead single "Dream Girls" with 650,000 downloads. At first, they weren't able to promote much less be nominated on music shows in major networks such as KBS' "Music Bank," SBS' "Inkigayo," and MBC's "Show Music Core", as they were a product of another network. However, since they were very popular at that time, the producer of "Music Bank" allowed them to perform on their show.
Kim shared that the massive fame she enjoyed at that time felt surreal, and that when someone hits her, she'd wake and realize that it was only a dream.
As per Jellyfish Entertainment's agreement with YMC Entertainment, Sejeong and Mina went back to their agency, and were launched as members of Gugudan. They released their first EP, "Act 1. The Little Mermaid," on 28 June 2016, and it peaked at No.2 on the Gaon Album Chart with 22,000 copies sold. Its lead single "Wonderland" reached No.35 on the Gaon Digital Chart, with cumulative downloads of 117,000.
Sejeong promoted again with I.O.I when the group released their second EP, "Miss Me?" in October 2016. Its lead single, "Very Very Very" topped the Gaon Digital Chart with 1.3 million downloads, and peaked at No.4 on Billboard's World Digital Song Sales chart. "Downpour" was the last single they released, and it achieved 1.1 million download sales in Korea, and 2,000 in the US. I.O.I disbanded in January 2017 as per their contract, and each member returned to their respective agency.
She continued to promote with Gugudan, and although their releases charted well, they weren't commercially successful, at least not enough to keep the group from disbanding.
She also formed the sub-unit "Gugudan SeMiNa," with Mina and Nayoung, in July 2018, and they released their self-titled album, which sold over 11,000 copies, as it peaked at No.6 on the Gaon Album Chart. Gugudan debuted in Japan in September with the Japanese single "Standby." They released their Korean EP, "Act.5 New Action" in November – she wrote the lyrics of the third track, "Dear."
After their group promotions were over in 2018, they went on hiatus for two years, then Jellyfish Entertainment announced that Gugudan would officially disband on 31 December 2020, with the members pursuing solo careers still under their management. After thanking the fans for the love and support, they apologized for this sudden development, and said that the decision was made after an in-depth discussion with the members.
Solo activities
In November 2016, she dropped her solo single "Flower Way," as part of her agency's music channel project called Jelly Box, in which the company would release singles from time to time.
The song was written, composed and produced by Zico, and reached No.2 on the Gaon Digital Chart with close to a million cumulative downloads. It achieved an all-kill status on the Instiz Chart, which meant it topped all real-time music charts in Korea. Her first solo music show win was on the 30th of November, as it became Song of the Week in MBC Music's "Show Champion."
She collaborated with NCT's Doyoung on "Star Blossom" for the SM Station Season 2 project, and with Block B's Tae-il in "I Like You, I Don't." She sang the soundtrack for several TV drama series, including "Lover" for tvN's "Mr. Sunshine" (2018) and "All of My Days" for tvN's "Crash Landing on You" (2020).
Sejeong released her first EP, "Plant," on 17 March 2020, and it charted at No.4 on Gaon with 10,000 copies sold; the title track won first place on the 24th in SBS MTV's "The Show." Her second EP, "I'm," was released on 29 March 2021, and it charted at No.19 with 7,500 copies sold. She participated in the songwriting process for most of the tracks in both albums.
As a television personality
Kim has appeared in several variety shows in various capacities. Most notable were KBS2's "Talents for Sale" and OnStyle's "Get It Beauty" as a co-host, as well as "King of Mask Singer" and "Immortal Songs 2" as a contestant. Sejeong appeared in three seasons of the Netflix Original "Busted!", headed by veteran MC, Yoo Jaesuk. The cast played detectives as they solved murder mysteries by getting clues through solving puzzles and accomplishing tasks similar to an escape room.
As an actress
Sejeong made a cameo appearance in the web series "The Sound of Your Heart" (2016), but her acting debut was considered to be in the teen comedy series "School 2017," as she played the lead role, "Ra Eunho," an 18-year-old student who dreamed of becoming a webtoon artist. Her performance in the series earned her the Best New Actress Award at the 31st KBS Drama Awards.
She was cast again to play the lead role opposite Yeon Woojin in the 2019 romantic comedy "I Wanna Hear Your Song," which aired for 32 episodes on KBS2 in 2019. She played the role of Do Hana, one of the demon-hunters called Counters, in the fantasy thriller, "The Uncanny Counter," which was based on Jang Yi's Daum webtoon, "Amazing Rumor." It aired for 16 episodes from November 2020 to January 2021, and was the highest-rated series on the cable network OCN, so was renewed for a second season. She sang, wrote and co-composed the soundtrack entitled "Meet Again."
Personal life
Sejeong is 24 and single. Her ideal type is someone witty, and has matured at an early age.
She was rumored to be dating Sehun from the boyband EXO whom she worked with in "Busted!" Due to their good chemistry on screen, some fans became suspicious of their closeness, so they started to spread malicious rumors.
As a result, Sejeong and her mom received a lot of hate from fans of Sehun out of jealousy. In January 2021, during her live broadcast on Instagram, she directly addressed the issue, saying that apart from having that chemistry, fans had nothing to worry about, as they only had fun during filming but that she had never personally contacted Sehun outside of work. She also requested that they stopped leaving hateful comments on her and her mom's social media accounts.
Sejeong is currently living alone, next to her manager's apartment. She has nine bank books to help her keep track of her expenses and obligations.
Appearance
Kim is 5ft 4ins (1.64m) tall, weighs about 105lbs (48kgs), and has a slim build. She has black hair and dark brown eyes.
Net worth
Sejeong has an estimated net worth of $2.5 million as of April 2021, according to sources.