Kim Ji-yeon -better known as Bona- is a South Korean singer, dancer and actress, born under the zodiac sign of Leo on 19 August 1995 in Daegu, South Korea. She's known for being a member of Korean pop (K-Pop) girl group Cosmic Girls (WJSN), and for her outstanding work as an actress.
Just a simple reminder that article is created and owned only by kpopwiki.org. Article cannot be re-published in any other pages or documents. Copyright is protected by DMCA. All found copies will be reported.
Original source: https://kpopwiki.org/bona-wjsn-how-old-is-she-age-height-parents-bio/
Early Life
Bona's family is formed by her parents and an older brother, though not much is known about her early life and childhood hobbies. She matriculated from Dongguk Girls' High School in 2012.
Having developed a deep interest in music from an early age, Bona became a trainee under the management of CUBE Entertainment in 2009while she was still attending high school. She stayed with said agency for six years until 2015, when she signed with Starship Entertainment.
Career With Cosmic Girls
Debut
In December 2015 Bona was announced to debut as a member of Cosmic Girls, a group formed by Starship Entertainment in collaboration with Chinese agency Yuehua Entertainment. However, Bona revealed in an interview that she didn't know the name of the group until the official announcement: 'We were all practicing together ,when an article came out. It said 'WJSN.' It was really shocking'.
She also revealed she didn't know her stage name until then, as she didn't have access to the internet during her pre-debut training: 'I didn't know that the article had come out and then the staff said to me, 'Bona, congratulations on your debut!' I was like, 'Who's Bona?' I thought it was a new member! But it turned out it was my name'.
In its debut, it was announced that Cosmic Girls (WJSN) would be divided into four units -Wonder, Joy, Sweet and Natural- formed by 12 girls of South Korean and Chinese origins. The group officially debuted on 25 February 2016 with the release of "Would You Like It?", their first extended play (EP). The singles "Catch Me" and "MoMoMo" had modest sales in comparison to the EP, which peaked at number seven in Gaon's charts.
The Secret & More
In July that year, it was announced that Yoo Yeon-jung – a former member of I.O.I – was going to become the thirteenth member of WJSN. Then in August the group released their second EP – "The Secret" – which charted at number six on Gaon's list, and number 12 on Billboard's.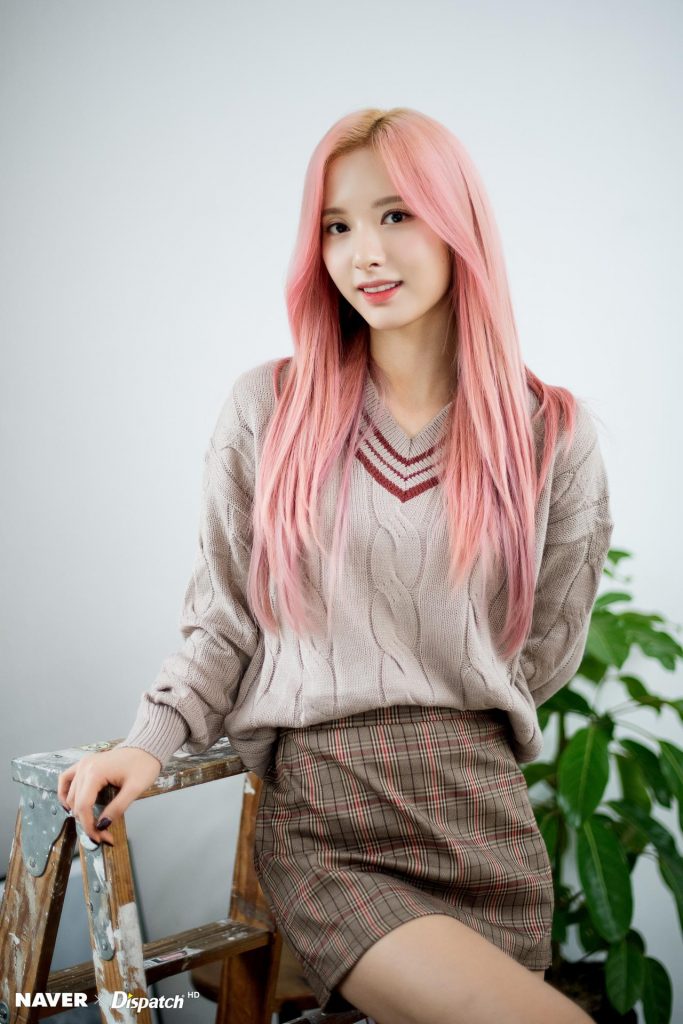 On 4 January 2017 Cosmic Girls made their comeback with their third EP "From WJSN", which included six songs. In May that year the group celebrated their first concert as headliners at the hall Blue Square Samsung Card, and as a celebration for its success in June "Happy Moment" – WJSN's first studio álbum – was released, topping Hanteo's list and reaching number four on Gaon.
2018 – WJ Please?
As a celebration for the second anniversary of the group, Cosmic Girls released "Dream Your Dream" on 27 February 2018. The EP – which charted at number two on Gaon – was showcased during a performance at Yes24 Live Hall.
In September that year, the group released their fifth EP entitled "WJ Please?", which charted at number three on Gaon and number 14 on Billboard's list.
Regarding the filming of the album's lead single "I Wish", Bona said: 'This time the director filming the music video is someone whom we have known since we were trainees. As such, he knows how to angle the camera which captures the best of our facial features. All in all, we believe all of us turned out pretty great in the music video.' Following this release, WJSN participated in and won the music program "The Show".
2019 – "WJ Stay?
In January 2018, Cosmic Girls returned with another EP entitled "WJ Stay?". Interviewed by The Star Magazine during the promotion tour, Bona shared her expectations regarding the album: 'I hope that it'll be an album that we can be satisfied by, considering how hard we worked on it.
I also hope that our promotions will be a happy time for our fans, WJSN, and everyone.'
She also went on talking about the group's dynamic as a team: 'I think it becomes stronger after we go through difficult things. The members probably each went through a slump, but we can feel our attachment after overcoming them.'
An especial EP entitled "For the Summer" was released in June that year and was followed by "As You Wish" in November.
2019 – Present
In an interview with ONSEN at the start of 2019, Bona revealed her hopes and expectations regarding the new year: 'For WJSN, I want us to accomplish things we've never done before. For example, I want to meet fans in various countries at WJSN's concerts and go on tour. I also want the members to create unit albums to show new charms! I really hope it comes true'.
Bona's wishes became true as WJSN started their second tour "Obliviate", during which they held concerts in South Korea and Japan. Although the group took a months-long hiatus after it, in June 2020 they released their eighth EP of the group's career, entitled "Neverland".
Career as Actress
Bona debuted as an actress with a supporting character in the 2017 drama "Hit the Top". Then she was cast as Lee Jung-hee in "Girls' Generation 1979" set in the 1970s. After a cameo in "Radio Romance" as DJ Jay in 2018, she obtained the role of an advertising company intern, Im Da-young in the drama "Your House Helper". When asked to describe her character, she said: 'Da Young is a passionate character who always does her best.
She is a very ordinary woman in her 20s who will appeal to many people in their youth. I tried acting out my days as a trainee when I was dreaming of debuting. I am making an effort to express the reality of youth in our twenties and the positive energy during those hard times.'
She also revealed she was very worried before the drama started filming, though she son changed her mind and decided to show more determination: ' I realized that worrying about it wasn't going to help me. I'm doing my best with the mindset of, 'As long as I do well, things will be fine.''
Regarding the thoughts of her fellow bandmates of WJSN about her acting career, she said: 'Whenever I get back to the dorms late after filming, they're always there to make healthy meals for me and they give me lots of support'.
Bona also appeared in the survival show "Law of the Jungle in Northern Mariana Islands" in 2018, and won the category of Female Idol-Actor at the Korea First Brand Awards.
Personal Life
In April 2020, the portal Sports Chosun revealed Bona was dating her label mate and a member of MONSTA X, Yoo Kihyun. However, Starship Entertainment soon negated said affirmations in a public statement: 'Kihyun and Bona are just a senior and junior of the same agency. It is not true that they dated for five years, or went on a trip together'.
How old is she?
As of late 2020, Bona of WJSN is 25 years old.
Net Worth
To date Bona has an estimated net worth of over $200,000, which is a result of her work as a singer and actress.
Physical Appearance
Bona is a gorgeous young woman with beautiful features. She weighs 92lbs (42kgs) and is 5ft 3ins (1.63m) tall.
Interesting Facts
Bona is friends with Jisoo, a member of the girl group BLACKPINK.
During her participation in the program "Ask Us Anything", Bona revealed that she started learning about financial education recently: 'I used to use my mom's credit card, but I recently got a credit card under my own name' (…) 'Becoming financially independent was an item on my bucket list. I started earning money last year, so I was able to become financially independent. I'm now earning and spending my own money.'
Regardless of the fact she had never taken acting classes, her role in "Girls' Generation 1979" was highly acclaimed.
Bona said "Tick-Tock" is the song of WJSN that represents her.
She describes her fellow band mates as her 'sisters'.
She plays piano.
Fellow band member Eunseo is the one who watches Bona's work as an actress the most: She watches my stuff the most. When the episode ends, she sends me a text talking about it.'