Kang Yeo-sang is a South Korean singer and dancer, whose ticket to fame is his Korean Pop (K-Pop) group, ATEEZ, which stands for A TEEnager Z, or teenagers from A to Z.
Just a simple reminder that article is created and owned only by kpopwiki.org. Article cannot be re-published in any other pages or documents. Copyright is protected by DMCA. All found copies will be reported.
Original source: https://kpopwiki.org/kang-yeo-sang-ateez-age-height-girlfriend-net-worth-wiki/
Early Life and Family
Kang Yeo-sang was born on 15 June 1999, in the town of Pohang, Gyeongsanbuk-do, South Korea. As legally practiced in Korea, the last name comes first followed by the first name which makes Yeo-sang his first name. It can be spelled with or without a hyphen, but some Koreans prefer to have them hyphenated to avoid confusion in the family, since there are times the middle name has been rotated within the clan for generations. He has an older sister which makes him the baby in the family.
Education
He went to Incheon Shinjeong Middle School, and matriculated from Incheon POSCO High School. He said that he has plans to enroll in Global Cyber University, an internet-based college, where he intends to take up Broadcasting and Entertainment as his Major.
Career
Yeo-sang tried his luck first with Big Hit Entertainment (K-Pop group BTS' talent management), and became a trainee some time in 2013. After a few years of training, he was eager to debut but Big Hit still has no concrete plans for its trainees, and he tired of waiting so transferred to his present talent management company, KQ Entertainment.
First steps
During his trainee days in his new company, Yeo-sang and his co-trainees were called KQ Fellaz.
To prepare for their debut, KQ Entertainment decided to send them to Los Angeles, California, USA to undergo training from two major dance studios, Movement Lifestyle and Millenium Dance Complex. Both studios are known to have choreographed dance routines for pop superstars including Justin Bieber, Justin Timberlake, and K-Pop mega stars such as Bigbang, Taeyang, and BTS. The group's experience was well documented and was shown through a reality TV show, "KQ Fellaz American Training," which can be streamed at KQ's official YouTube channel. It was also on that trip that the eight trainees learned that a new member would be joining them to eventually form a nine-member boy group. However, during the final episode, the management decided that the newest trainee was not on par with the other trainees, and wouldn't be included in the group's debut.
Yeo Sang° Nom réel : Kang Yeo Sang (강여상)° Nationalité : Sud-coréenne° Date de naissance : 15/06/1999° Début : 2017° Appartient au groupe : ATEEZ (2018 – )

Posted by La Louison on Wednesday, 6 May 2020
When they returned from their L.A. training it was decided that they would participate in another reality TV show, "Code Name is Ateez," in which they would show their debut preparations, and would culminate in the debut showcase of the group. This was when they changed the group's name from KQ Fellaz to ATEEZ for good. They took the name ATEEZ to indicate that they represent all types of teenagers from A to Z. It has eight episodes, aired from July to September over at Mnet Channel.
Finally on 24 October 2018, Yeo-sang and the rest of ATEEZ debuted at "M Countdown," a music show in Mnet channel, performing "Pirate King," and "Treasure," the title tracks of their debut EP, "Treasure EP 1: All to Zero." The EP album peaked at No. 7 on Gaon Album chart during its release, and later at No. 9 on the Billboard World Album Chart.
The official music videos of their debut songs garnered over 40 million views and counting. Yeo-sang is extremely pleased that his decision to transfer to KQ Entertainment proved to be a smart move.
Further Success
In 2019, their promotional activities in South Korea continued with the release of the second installment of their Treasure album concept theme, "Treasure EP2: Zero to One" on 15 January, with the title track "Say My Name".  It reached No. 5 on the Billboard World Album chart, No. 6 on the Gaon Album Chart, and No.7 on the Billboard Heatseekers Album chart. These numbers solidify that they do have a fan base not only in South Korea but also in the US. Yeo-sang participated in co-writing the lyrics in one of the songs on the album.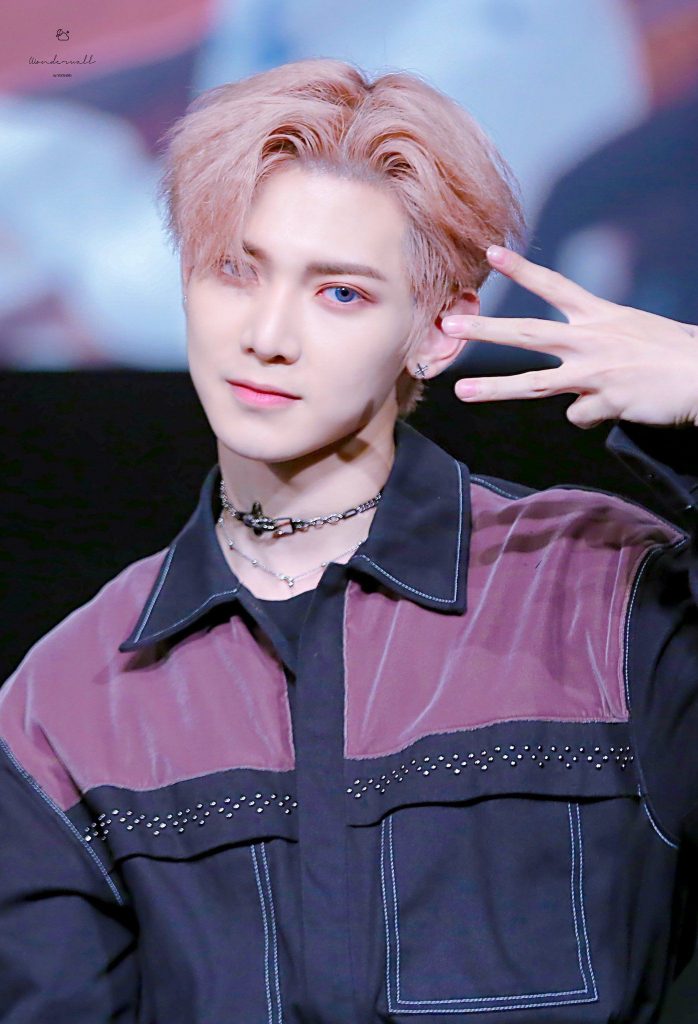 U.S. and European Expedition Tour 2019
They signed with RCA Records for their North American promotions, as due to the positive results of their second album, KQ Entertainment arranged for a US tour entitled "Expedition Tour", with ATEEZ performing to sold out concerts in major cities starting in Los Angeles then Dallas, Chicago, Atlanta, and finally in New York City for the whole month of March 2019.
With only 10 songs under their name, Yeo-sang and his group were shocked with the demand for concerts not only in the U.S. but also in Europe. "The Expedition Tour" European leg started in London and then in eight major cities including Paris, Milan, Berlin, and Moscow.
Australian Expedition Tour 2019
In August, they had two concert dates in Australia, in Melbourne at the Margaret Court Arena and The Big Top in Luna Park Sydney. These venues may not be huge but the fact that there was a demand for them was considered an achievement, especially for rookies on the K-Pop scene.
All these happened after debuting less than a year in the business which made Yeo-sang even more relieved, since he felt responsible for his co-member Jung Woo-young's decision to follow him in leaving Big Hit and moving to KQ Entertainment.
More Firsts: First Studio Album, First Music Program Award, First KCON
The group released a third EP album, "Treasure EP3: One to All," on 10 June 2019 with the lead track "Wave." It was this song that led them to win the group's first award from several music shows, including MBC's "The Show," and Mnet's "M Countdown," in South Korea. Most K-Pop artists who release a new single compete on a weekly music show, as this would indicate the popularity of their songs in South Korea. Yeo-sang was one of the members who cried when their name was called to receive the trophy. It is considered a huge milestone for K-Pop artists to win in the weekly music show awards, as the competition is quite tough. It not only includes accumulated sales and downloading numbers, but also fan votes.
Their local popularity wasn't as explosive as compared to their international success during that time.
2019 was also the year they released the group's first studio album, entitled "Treasure EP Fin: All to Action", with the title track "Wonderful." It took the No. 1 spot on South Korean album charts upon release, and peaked at No. 7 on the Billboard World Album Chart as well as reaching the No. 10 position on the Billboard Heatseekers Album Chart.
It was also in that year that they were included in the list of artists performing in the annual Korean Concert series in major cities in the world, including KCON LA, KCON NY, and KCON Chiba, Japan.
Before the year ended, ATEEZ was the recipient of the Best Performance Award at the Soribada Awards, and Worldwide Fan Choice at the Mnet Asian Music Awards 2019.
They also released their first Japanese album, "Treasure EP Extra: Shift the Map," along with the music video of its title track, "Utopia."
Before Covid19 Global Crisis
Before the Covid19 pandemic crisis halted global activities and quarantine was imposed in several countries, ATEEZ was able to release a fourth EP album, "Treasure Epilogue: Action to Answer," marking the end of the group's Treasure album concept series, with the title track "Answer." Just like with the other albums, it charted well upon its release, peaking at No. 5 on the Billboard World Album Chart, and topping the album charts in South Korea. They were scheduled to perform in key cities in Europe too, but all were canceled due to the pandemic quarantine restrictions.
Currently, Yeo-sang and his group are training for upcoming promotions in South Korea, as they prepare for the release of a new EP this July 2020.
Fans are hopeful that he would be given more singing lines. Among the ATEEZ members, he has the least number of lines assigned to him, even if he is one of the vocalists of the group although this normally happens with huge K-Pop groups.
Personal Life
There is no information about the personal life of Yeo-sang, as expected with K-Pop artists. No scandals yet were reported by entertainment writers and dedicated K-Pop fans. It is safe to say that he is not dating anyone right now. It is expected for K-POP artists to have a 'no dating' clause included in their contracts, which usually lasts for the first three to five years after debut.  This is to ensure that no distractions will interfere with the management's plans for the artists.
Yeo-sang is currently living with other ATEEZ members in a dormitory, owned or rented for them by KQ Entertainment.
200816 ♡ #여상
© addicted #YEOSANG #ATEEZ @ATEEZofficial pic.twitter.com/gyNdNvtgiL

— ateez pics ZERO: FEVER PART 1 (@ot8archive) August 16, 2020
Yeo-Sang's hobbies, favorite things, and interesting facts
He is into drones and apparently has five. One of them was given to him by other ATEEZ members as a birthday gift.
Yeo-sang's stress reliever is watching anime and playing video games in his free time, but he would go skateboarding when he's angry or frustrated about something.
During pre-debut days, he auditioned for YG's MIXNINE reality survival show, but didn't make the cut.
His roommate in their dormitory is Woo-young, who was also a former Big Hit trainee.
He is fluent in the Chinese language.
Most of Yeo-sang and his co-members docu/reality videos are uploaded with English subtitles to cater to international fans.
He admires fellow K-Pop artists, V of BTS and Taeyong of NCT.
Fans notice he shares similar features with JYJ's Jaejoong.
During the Idol Sports Athletics Championships in 2020, in which other K-Pop groups participated, he with co-members Wooyoung and Yunho won gold medals in wrestling.
Appearance
Yeo-sang is 5ft 8in (1.73m) tall, weighs 134lbs (61kg), and has a lean build. He is Asian with black hair and black eyes with a distinctive birthmark on the side of his left eye. His hair color and hairstyle have been changed numerous times due to his group's concept during TV promotions. Expect to see him wearing stage make-up as well.
Net Worth
Authoritative sources estimate that Yeo-sang's net worth is already close to $1 million, as of July 2020.