Jihyo is a South Korean singer/songwriter and dancer, who rose to prominence when she became the leader and main vocalist of the Korean Pop (K-Pop) girl group Twice, managed by JYP Entertainment. The group's first hit song, "Cheer Up," which was awarded Song of the Year by Mnet Asian Music Awards and Melon Music Awards in 2016, made her a household name in South Korea. Other successful releases led her group in becoming one of the biggest and most formidable K-Pop groups in the world.
Just a simple reminder that article is created and owned only by kpopwiki.org. Article cannot be re-published in any other pages or documents. Copyright is protected by DMCA. All found copies will be reported.
Original source: https://kpopwiki.org/park-jihyo-twice-age-body-weight-who-is-she-dating-now/
Early Life and Family
Jihyo was born Park Jisoo on 1 February 1997, in Guri, Gyeonggi-do, South Korea. She and her two younger sisters, Seoyeon and Jiyoung, were raised in a comfortable home in a small city known for the Royal Tombs of the Joseon Dynasty. The young Jihyo would oftentimes go on a hike in the Achasan Mountains with her fitness-focused family.
Her parents were quite supportive of whatever she liked when growing up. Her beautiful features were recognizable even as a child, and she was chosen as a model in magazines at a very young age.
In 2005 when she was in 3rd grade, she participated in a talent competition for children, and finished in second place – she was scouted by a staff of JYP Entertainment and offered an opportunity to be trained at the agency. Jihyo liked the idea of entering a professional training program even at eight years old, and was brave enough to do it even without any singing or dancing lessons to her credit. Her parents gave their approval, knowing that it's one of the biggest entertainment companies in South Korea, home to popular K-Pop artists including Wonder Girls, 2PM, Miss A, and launched the careers of Rain and G.O.D. She practically grew up in the training halls of her record label, as she joined other trainees each day after attending school.
Educational Background
She attended both Sootaek and Baekmun Elementary Schools, then went to Guri Girl's Middle School in Gyeonggi-do, before matriculating from Chungdam High School in Seoul.
Career
In 2015 when JYP Entertainment thought of launching a new girl group, they decided to have their trainees compete for a spot on the group through the reality television survival series "Sixteen,". She legally changed her name to Park Jihyo before joining the reality show, because many artists had already used the name Jisoo, and she wanted to have her own identity without being compared to others.
JYP Entertainment founder J.Y Park was hands-on in the selection process, and he originally intended to get seven girls but decided later on to add two more to complete a nine-member group he called Twice. Jihyo didn't have any problem with singing during the competition stages, but her weight was pointed out as part of the problem in her dancing and photoshoot mission.
J.Y. Park never criticized her for her weight, but reminded her that she needs to care for herself as it slows her down during dancing. It also affected her confidence as observed by one of the magazine editors – Jihyo would subconsciously stay at the back during group photoshoots, so she was advised to lose some weight to pose confidently.
First Steps – Debut (2015)
After 10 years of training, on 20 October 2015 she debuted along with eight other trainees (Jeongyeon, Nayeon, Sana, Mina, Momo, Daehyun, Tzuyu, and Chaeyoung) with the release of the group's first extended play (EP) entitled "The Story Begins." It consisted of six tracks including "Going Crazy," "Do It Again," "Candy Boy," and the lead track "Like Ooh-Ahh."  They performed their debut song on Mnet's popular music show "M Countdown," with favorable reviews. The music video was posted a day earlier than the release of the EP, and it gained a million views in less than 24 hours, making it one of the most-viewed debut MVs at that time in the K-Pop industry, and with 384 million views to date.
It was regarded as a successful debut with over 50,000 units sold in South Korea, and the EP peaked at No.3 on the South Korean Gaon Album Chart, and No.15 on Billboard's World Album Chart.
They capped their rookie year with the Best New Artist of the Year award from Mnet Asia Music Awards and Golden Disc Awards.
Commercial Success – Song of the Year (2016)
Mainstream success came early for Twice with the release of their second EP, "Page Two," on 25 April 2016. While other K-Pop groups struggle to even make it to the top 10, Twice dominated the charts with the lead track, "Cheer Up." It debuted at No.1 on the Gaon Digital Chart, and amassed over 1.8 million digital sales in 2016, while peaking at No.3 on Billboard's World Digital Song Sales Chart. By 2018, it had over 2.7 million downloads and 160 million online streams. The EP accumulated around 180,000 digital sales in South Korea, and peaked at No.2 on the Gaon Album Chart, and No.6 on Billboard's World Album Sales.
TWICE & @colbertlateshow

YouTube Premieres NOV.30(MON) 12:30AM ET#PLAYATHOME#TWICE #트와이스 #TWICE_StephenColbert #StephenColbert pic.twitter.com/1BAtOfzIK2

— TWICE (@JYPETWICE) November 23, 2020
The song became so popular that a short line in the song became a viral meme online. The MV has a total of 415 million views as of November 2020, and was the song that made Jihyo and the girls household names in South Korea. They won Song of the Year from Mnet Asian Music, Melon Music, and Golden Disc Awards.
Jihyo remained busy all-year-round, as her group released another EP, "Twicecoaster: Lane 1," in October 2016. It has six tracks including the lead track "TT", referring to an emoji used for expressing extreme sadness or crying when posting online. The EP surpassed the group's previous sales record and accumulated around 165,000 physical sales after seven days on Gaon Chart, by November increased to 200,000, and 350,000 copies by the end of 2016. At that time, they were the best-selling K-Pop girl group with 100 million streams and over 2.5 million digital copies sold for the lead track.
For four consecutive weeks, it dominated the local charts staying in the No.1 position, and peaking at No.2 on Billboard's World Digital Songs Sales Chart.
Japanese Debut and Success with Platinum Certifications (2017-present)
Jihyo prepared well before heading to Japan, and brushed-up on her limited knowledge of the Japanese language with the help of the Japanese-speaking members in the group, including Mina, Sana and Momo. On 28 June 2017, the girls officially debuted in Japan with a compilation album, "#Twice," with 10 songs including the Japanese versions of their hit songs from previous EPs. It peaked at No.2 on the Japanese Oricon Album Chart with over 326,000 physical sales, and around 28,000 digital sales, earning them a Platinum certification from the Recording Industry Association of Japan (RIAJ).
It was followed by two more studio albums – "BDZ" released in September of 2018 and "&Twice" released in November of 2019; both were awarded Platinum certifications from RIAJ.
They promoted heavily in Japan, with two more Japanese EP's released. The first, "#Twice2," was just as successful as the studio albums and was certified Platinum. The second one, "#Twice3," released in September of 2020 just surpassed the 120,000 mark, and is expected to replicate the success of the previous releases.
Studio Album and EP Releases with Platinum Certifications (2017-2019)
It was one successful release after another, and Twice just kept on dominating the local charts in South Korea, with Platinum certifications by the Korea Music Copyright Association (KMCA). The group's first studio album – "Twicetagram," released on 30 October 2017 – amassed around 390,000 sales. It peaked on top of the Gaon Album Chart and Billboard's World Album Chart. The same thing happened with the releases of their EPs from 2017 to 2019 including "Twicecoaster: Lane 2," "What is Love," "Fancy You," and "Feel Special."
All of them exceeded physical sales of over 450,000, and the lead tracks from these releases also became million-sellers, including "What is Love," "Signal," "Likey," and "Dance the Night Away."
One of the Biggest K-Pop Girl Group in the World (2020)
Due to the busy schedule they have as a group, Jihyo hasn't had the opportunity to pursue solo releases, and has only been able to collaborate with other artists back in 2016, when she released the digital song, "The Reason Why I'm Beautiful," with Jung Eunji and Ben.
Twice's status as one of the biggest K-Pop girl groups in the world has been more evident with the release of their ninth EP entitled "More & More" on 1 June 2020. It topped both the Gaon Album Chart and Oricon Album Chart – pre-orders of the EP reached over 500,000 copies, and they broke the record for the highest first-day sales for Korean girl groups with 260,000 units sold.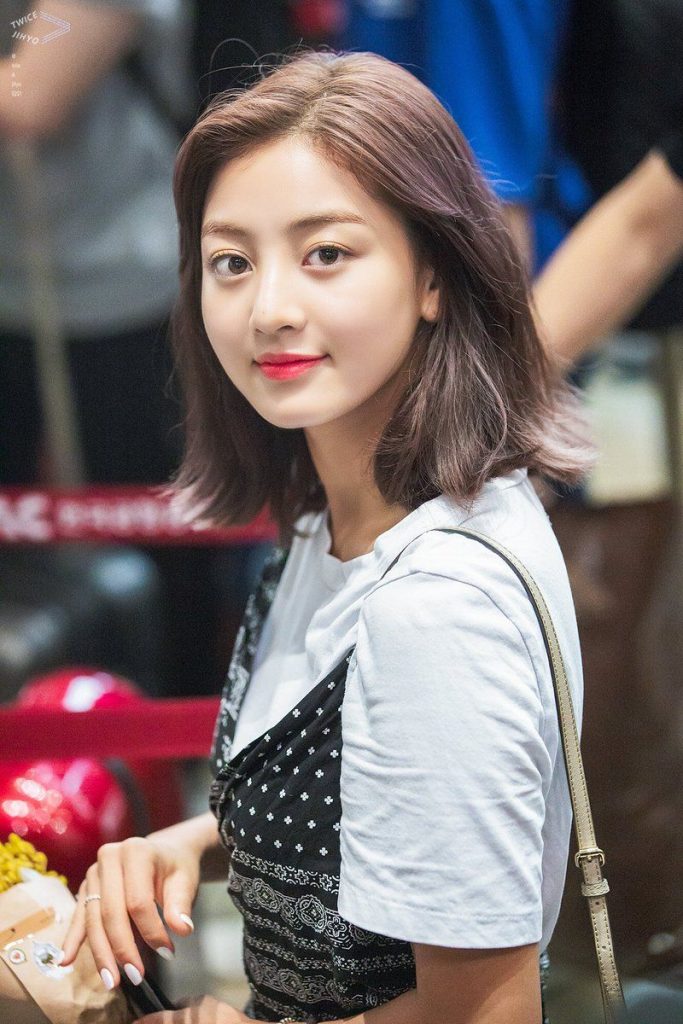 They are now the third best-selling girl group in South Korea, with a double-platinum certification from KMCA. It was also this album that entered the Billboard 200 chart.
Knee Injury Revealed in 2017 and Airport Accident in 2019
It was revealed in 2017 that Jihyo needed medical treatment for her knee; apparently she was  hurt in an accident, but continued with performances during promotions without seeking medical aid until the pain in her knee aggravated. When it was examined by the doctors, she was advised to undergo treatment, and eventually missed out on some of the scheduled activities, and when she returned they adjusted the choreography for her.
In 2019 JYP Entertainment issued a warning and blacklisting notice to unruly fans, as they didn't want a repeat of what happened to Jihyo in the airport arrival area after returning from Japan – she fell due to some overeager fans trying to take pictures of the girls.
Her label was worried that it might have aggravated her previous knee injury, and in the photos taken that day, it was clear that she had a difficult time walking, and needed help to get to the car. JYP announced that if the same incident happened again, they would pursue legal action against anyone harming the girls.
Personal Life
Record labels oftentimes include a no-dating clause in their management contracts. This is to protect the investment they spend in training and managing the artists, and would usually cover the first three to five years after the debut of a K-Pop artist, so fans can delude themselves into thinking that their favorite idols are the ideal boyfriends or girlfriends.
In Jihyo's case, her dating ban was no longer in effect since it only lasted for three years. When in 2019 she was reportedly dating Kang Daniel, a popular K-Pop solo artist and previously the leader of the temporary boyband Wanna One, most fans were expecting a denial from both camps.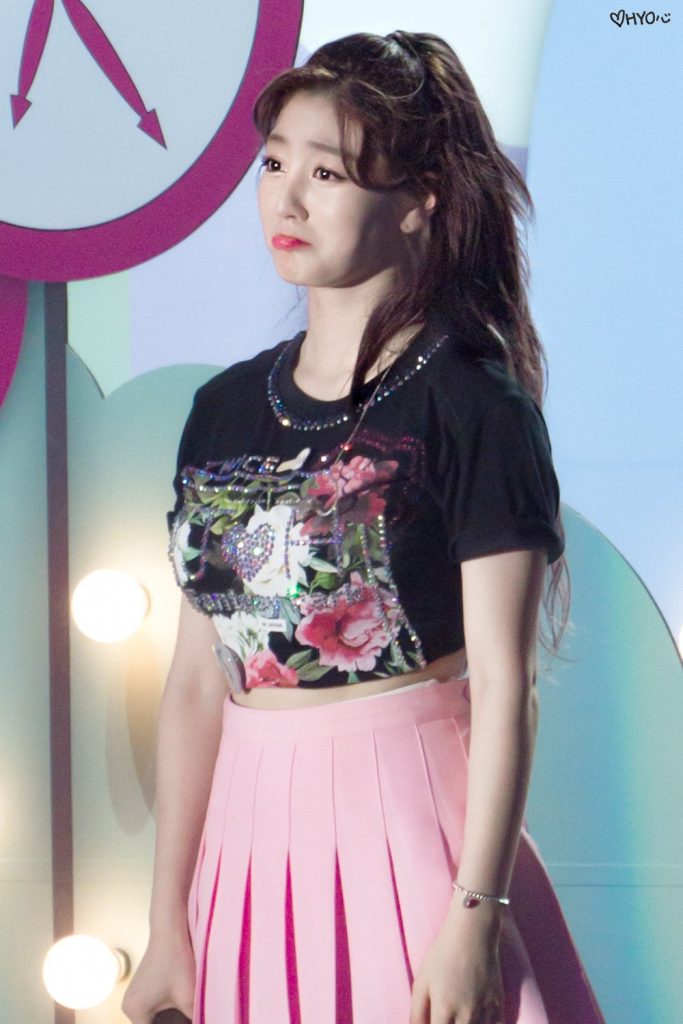 Surprisingly, their respective agencies admitted that the two are in a relationship, a clear indication that things are changing in the South Korean way of handling artists' personal relationships.
However, after a year and three months, both their labels confirmed that they had broken-up, due to busy schedules. In one interview, Jihyo shared that she had a difficult time when her relationship went public, as rumors upon rumors came out.
Currently, she still resides in a company dormitory shared with other members of her group. She along with Sana, Mina and Nayeon occupy the biggest room in the dorm.
As a Songwriter
Jihyo was part of the creative process of some of their songs. She has been credited as a lyricist in nine of their songs including "24/7," "Eye, Eye, Eyes," "Girls Like Us," and "Up No More"
Hobbies, favorites, rumors, and interesting facts
One of Jihyo's nicknames is "Hyo-Mas", taken from the children's TV series "Thomas & Friends" – her huge eyes were likened to Thomas the Train.
She talks and sings in her sleep, as witnessed by her roommates. She listens to classical music to help her sleep at night.
Jihyo's favorites: red (color), yogurt smoothies (beverage), meat dishes (food), R&B (music genre), "Appearance Supermacy" (webtoon).
Jihyo has an adverse reaction to eating pineapple – her throat would immediately get itchy.
She was thought to be of Indian descent when she first met the other members of Twice.
Her dream collaboration is with popular veteran South Korean singer, Lim Chang Jung.
Jihyo is quite afraid of insects or creepy crawlies; she also hates broccoli.
She can use both her hands equally as she is ambidextrous.
Jihyo successfully lost some weight before her debut by being on a diet for three months. She would easily regain the pounds after a while, but would go on a diet again before a new single or album was to be released.
Appearance
She is 5ft 3.5ins (1.62m) tall and weighs around 110lbs (50kgs), but if she's not careful enough, she can put on additional pounds easily as she did before the 2020 album promotions in which she weighed around 115lbs, 56 kgs. She has black hair and big dark brown eyes, so she was often thought not to be of Korean descent.
Net Worth
According to authoritative sources, Jihyo has an estimated net worth of close to $2 million as of November 2020.