Kyungri is a South Korean singer, dancer and actress. She became known in the Korean Pop (K-Pop) industry when she joined the now defunct girl group, 9Muses, managed by Star Empire Entertainment in 2012. Despite releasing one studio album, two single albums, and six extended plays (EP) along with 15 singles, her group disbanded seven years later without achieving top-level popularity. She continues with solo activities, and is focused more on her acting career, appearing in Korean drama series such as MBC's "The Cyborg Mom" in 2017, and will be seen again in JTBC's "Undercover," which is scheduled to air in 2021.
Just a simple reminder that article is created and owned only by kpopwiki.org. Article cannot be re-published in any other pages or documents. Copyright is protected by DMCA. All found copies will be reported.
Original source: https://kpopwiki.org/park-kyungris-biography-height-plastic-surgery-boyfriend/
Early Life and Family
Park Kyungri was born on 5 July 1990, in Busan, South Korea.
Her name can also be spelled as Gyeong Ree, as the letters in the Korean language were sometimes Romanized or translated into English differently for easier reading. She and her older sister were raised in Busan by their parents.
Educational Background
She attended Songwoon Primary School, Ban Song Girl's Middle School, and matriculated from Dae Myung Girls High School.
Career
Kyungri started as a backup dancer for famous K-Pop singers including Chaeyeon, Lee Jung, Park Mi Kyung, and Kim Gun Mo. She was featured in Chaeyeon's official music video of the song "Look Look Look," back in 2011.
She was said to have been one of the original trainees in Star Empire Entertainment, but left the agency for some reason, and auditioned for Jellyfish Entertainment. However, she ended up training under Medialine Entertainment in 2010, and was supposed to be launched as part of Medialine's new girl group, Viva Girls, but for undisclosed reasons, most of the trainees at that time – including Lime (Hello Venus) and Woohee (Dal Shabet) – left the agency, including Kyungri.
First Steps – Debut Year with 9Muses (2012)
In 2012, Kyungri returned to Star Empire Entertainment, and joined the girl group, 9Muses as two of their original members left the group. She was included at the time when the girls released the digital single, "News" on 11 January 2012.
The single had close to 840,000 downloads, and was later included in the group's first EP entitled "Sweet Rendezvous," consisting of six tracks including "Figaro," "Who R U," and the lead track, "Ticket." It peaked at No.6 on the South Korean Gaon Album Chart, but with just 4,500 units sold. The lead track was downloaded almost 475,000 times and peaked at No.33 on the Gaon Digital Chart.
Moderate Success with Album and Single Releases, Project Unit Nasty Nasty (2013 -15)
The group was in a better place when Kyungri joined as compared to its debut back in 2010, when they received negative feedback from the viewers due to their lackluster performance.
Kyungri and her group released their second single album entitled "Dolls" on 24 January 2013, and performed the title track in various music TV shows.
It became the girls' highest-charting single, as it peaked at No.17 on the Gaon Digital Chart, and No.19 on Billboard's |K-Pop Hot 100, with more than 480,000 downloads; the single album had about 3,600 units sold. After only a few months, 9Muses released another EP, entitled "Wild", and it entered the Gaon Album Chart at No.4, with over 5,600 units sold, and the title track went on to peak at No.22 on the Gaon Digital Chart, with close to 400,000 downloads.
While the sales numbers weren't overwhelming, to be considered commercially successful, Kyungri and girls continued to work hard to compete in the tough world of the K-Pop music industry.
In the last quarter of 2013, they released their first full-length studio album, "Prima Donna." It had 11 tracks including "Miss Agent," "Last Scene," "Time's Up," and the lead track, "Gun."
The album peaked at No.7 on the Gaon Album Chart with over 7,000 units sold, while the lead track peaked at No.16 on the Gaon Digital Chart with almost 210,000 digital downloads.
Due to the rather mediocre sales results, the main vocalist and leader of the group, Sera, didn't renew her contract, and left the agency to pursue a solo career in 2014. Starship Entertainment put the activities of 9Muses on hold, and created a project group called Nasty Nasty, with Kyungri and Sojin along with Kevin, one of the members of their boyband, ZEA. They released the digital single called "Knock" which didn't really fare well on the Gaon Digital Chart, only peaking at No.77.
In 2015, Kyungri and the girls released three EPs, namely "Drama," "9Muses S/S Edition," and "Lost," which peaked on the Gaon Album Chart at No.4, No.5, and No.10, respectively.
— kyungri pics (@kyungripics) September 29, 2015
Each of these EPs had close to 8,000 units sold, way better than previous releases. However, the lead tracks didn't fare well, except for the song "Drama," which had over 300,000 downloads.
9Muses Line-Up Changes, First Concert, Sub-Unit with 9Muses A (2016 – 2018)
Kyungri and the girls held their first solo concert entitled "Muse in the City" at the Wapop Hall in Seoul Children's Grand Park, on 19 February 2016. They also went to China to attend two fan meet-and-greet events to widen their reach. However, it didn't stop four more members from leaving the group in 2016 to pursue other projects, leaving 9Muses as a four-member girl group. Instead of adding more members, Starship Entertainment decided to continue with just the remaining four members, Hyemi, Keumjo, Sojin, and Kyungri as the sub-unit they formed back in July called 9Muses A, which was short for Nine Muses Amuse.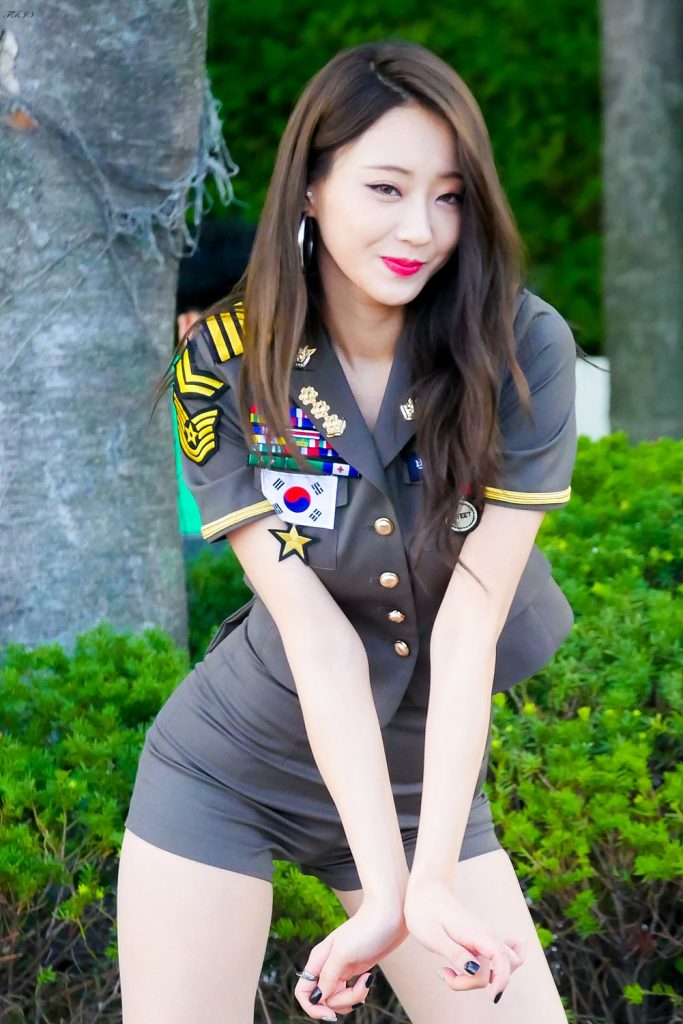 On 29 July 2017, the girls held their second concert, entitled "Re: Mine", at the Blue Square Samsung Card Hall in Yongsan, to drum up more interest in the group. They also unleashed the Muses Diary series including the single album "Muses Diary," on 4 August 2016, which was their best-selling album to date with over 10,500 units sold, and peaked at No.4 on the Gaon Album Chart.
Two more EPs were released under the Muses Diary series – "Muses Diary Part2: Identity," and the "Muses Diary Part3: Love City, on 19 June 2017 and 3 August 2017, respectively. The former sold over 8,000 units, but the latter only 4,000; the lead tracks of these EPs didn't chart at all. Kyungri and the girls worked harder than before, but sales were still dwindling.
9Muses Disbandment (2019)
When her agency announced the disbandment of 9Muses, no one was surprised except for the remaining members of the group, who were caught off-guard.
They never had an inkling that this would happen, as they had been told they would be releasing a new album. They ended up dropping their final digital single, "Remember," on the 14th of February 2019, and also held a meeting for their loyal fans on the 24th, to properly bid them farewell.
Solo Activities – Variety, Talk, and Reality TV Shows (Debut – Present)
In South Korea, one of the best ways to attract more fans is to be active in variety, talk and reality TV shows. Kyungri and the other members of 9Muses made their share of guest appearances in these shows. The production director (PD) would invite her to be a regular member of the cast if her image and personality fitted the character they needed for the show's concept.
The most notable ones were with Lee Sang Min and Tak Jae Hoon in Mnet's "The God of Music 2" (2016), with Yang Se Hyeong and Yoo Se Yoon in MBC's "Oppa Thinking Pilot" (2017), Shin Dong Yup and Eun Ji Won in Channel A's "Coming Soon" (2018), and Lee Sang Min in MBC's "Section TV" (2018-2020).
Kyungri also made guest appearances in popular variety shows, such as "Running Man," "Law of the Jungle," "Weekly Idol," and the annual "Idol Star Athletics Championships."
Solo Activities – Acting Career (2013 – present)
Ever since her debut, Kyumgri had been contemplating pursuing an acting career, so in between 9Muses' activities, she accepted supporting roles in drama series. In 2013 she appeared in the military comedy-drama series, "Blue Tower," with Choi Jong Hoon and Kim Jae Woo. She was also seen in the seventh episode of the mega-hit drama series, "Reply 1994," with Park Bo Gum and Hyeri.
In 2016 she became more visible in web drama series, including "Oh My God! Tip Series 3" in which she played the main lead opposite singer-actor Ken of VIXX. She was then included in the main cast of another web movie, "Descendants of the Airport," along with other singer-actors.
She was part of the 12-episode web series, "I'm Not A Girl Anymore," with Hong Jin Ho and Joo Woo Jae, which was aired from November 2016 to January 2017, and accepted a cameo role in the MBC sci-fi comedy series entitled "The Cyborg Mom" ("Borg Mom"), which starred Park Han Byul, Choi Jung Won, and Yang Dong Geun.
It was the last time Kyungri appeared in a drama series, as she had a difficult time during the disbandment of the group in 2019. It left her feeling lost as if a part of her life had vanished into thin air. Kyungri thought that if she kept a busy schedule, she would bounce back as if nothing happened. However, even with a work-filled day, she didn't feel any better, as she was unable to concentrate. She decided to take a breather, saying, 'I didn't want to keep working with that sadness in my heart.' When she came back after a couple of months, she didn't renew her contract with her agency, and left to start anew.
Kyungri signed up with a new agency, YNK Entertainment, in 2020. In 2021, she will appear in "Undercover," a new drama series with veteran actors Ji Jin Hee and Kim Hyun Joo. She also started vlogging in May 2020, and posted videos on her YouTube channel entitled "Life of Gyeongree," her way of communicating with her fans during the lockdown. Her channel has around 13,500 subscribers, and about 20 videos, planning to upload more in the future as she prepares interesting content.
Personal Life
Kyungri is officially dating another singer-actor, Jeong Jinwoon of 2AM. It was reported on 13 November 2019 by SBS funE that the two K-Pop artists had been dating since 2017 which Jinwoon's agency was asked to confirm, but it was difficult as Jinwoon was serving his mandatory military service at that time.
Later that day, they were able to get confirmation, and his agency released a statement.
On 14 November 2019, Kyungri, being one of the hosts of the MBC's "Section TV" at that time, talked more about it on the show. She said that their relationship just progressed naturally from being friends to lovers. It started in 2017 when they both appeared in the variety show, "Guys Who Buy New Products," and they started going out after the show. Later on, they realized they had been doing it for some time, and chose the most memorable day as a couple as their anniversary date.
Kyungri's ideal type is men who are older than her, but not more than five years, and someone who can sing and produces music. Her present boyfriend fits the description.
Hobbies, favorites, rumors, and interesting facts
She can use both her right and left hands with equal ease, as she is ambidextrous.
Kyungri's favorites: red (color), eight (number), tteokbokki or spicy rice cake (snack), patbingsu or sweet-flavored shaved iced (dessert), bubble tea (beverage), "A Moment To Remember" with Son Ye Jin and Jung Woo Sung (movie), "Whatever Happens" by Michael Jackson (song).
Her celebrity friends are Hyemi (Fiestar), Hyunyoung (Rainbow), Lime (Hello Venus), and Woohee (Dal Shabet).
During her free time, Kyungri likes looking at photos of models in magazines, or watching movies.
One of her hidden talents is the skipping rope, at which she is apparently very good.
At one point she became fascinated with Yoon Jong Shin, for composing the beautiful song, "Tears Are Falling Heavily."
Her role model is BoA.
Kyungri's motto to live by: "Whatever you do, smile and enjoy."
9muses ; kyungri pic.twitter.com/4RxUif3sVo

— ggpics 🌸 (@girlgroupspics) June 24, 2018
Appearance
Kyungri is 5ft 7ins (1.70m) tall and weighs 110lbs (50kgs), with a slim and sexy body. She has black hair and dark brown eyes. If there's one part of her body that she was displeased with, it was her uneven eyelids. When a fan asked her on her Instagram account if she ever wanted to get double eyelid surgery, she said that she almost did. It even got to the point where she already booked an appointment with the plastic surgeon, but canceled it at the last minute. Her agency was completely against it, so she decided not to go through with it.
She said she was thankful for her company's intervention as she realized that she would have regretted it later on, had she gone ahead. She also told the fan that her eyes changed naturally with the passing of time, and that she likes them better now.
Net Worth
According to authoritative sources, Kyungri has an estimated net worth of over $750,000, as of January 2021.