Kun (NCT and WayV) Wiki
Qian Kun was born in Fujian, China, on 1 January 1996 – his zodiac sign is Capricorn and he holds Chinese nationality. He is a singer, songwriter and composer, perhaps best known for being a member of the NCT's sub-unit WayV.
Just a simple reminder that article is created and owned only by kpopwiki.org. Article cannot be re-published in any other pages or documents. Copyright is protected by DMCA. All found copies will be reported.
Original source: https://kpopwiki.org/kun-nct-and-wayv-age-height-net-worth-girlfriend-wiki/
Early life and education
Kun was raised an only child in Fujian by his father, who is the owner of a small computer store, and his mother who is a piano teacher. Kun grew up wanting to become an astronaut after watching a documentary about NASA on TV, and after reading a book related to space.
He became interested in playing the piano at the age of six, and his mother gave him lessons for about two years – it was at the age of nine that he enrolled into a school for the performing arts, at which he practiced his singing and dancing skills.
He attended Beijing Contemporary Music Institute, and was planning to enroll at a college after matriculation in 2014, however, he instead pursued his career as a singer, and thus put aside his plans for a degree.
Career as a singer – NCT and WayV
It was revealed by SM Entertainment in January 2016 that it had been working on gathering members for their new South Korean boy group since December 2013, and that it would be called NCT, and made up of several sub-units.
The SM Rookies train team eventually counted 18 members, and it took two years for them to get ready to become NCT.
The first NCT U sub-unit was launched on 4 April 2016, and was made up of six boys – Mark, Jaehyun, Taeli, Ten, Doyoung and Taeyong. They released their first two digital singles – "The 7th Sense" and "Without You" – on 9 and 10 April, while Kun joined the boys for the Chinese versions of the songs (he wouldn't join the group full-time until two years later). On 9 April, they were guests in the show "V Live" and on the same day also performed at the 16th Music Feng Yun Bang Awards in China, together with Kun.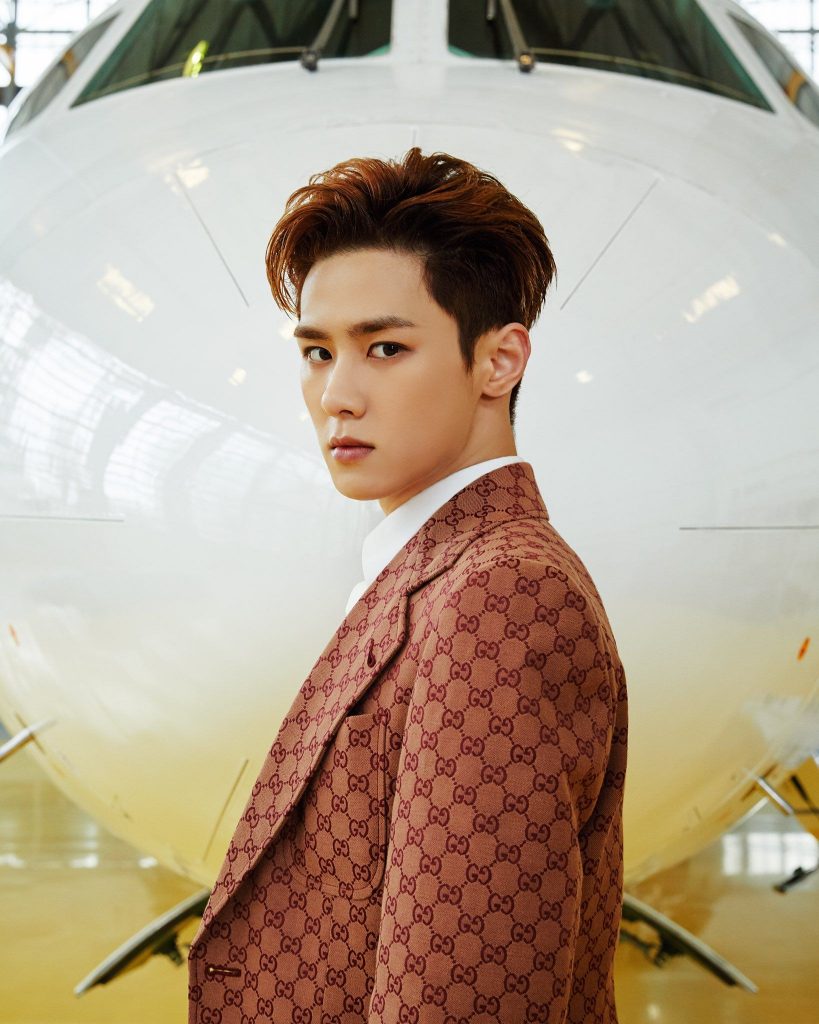 On 15 April, the boys competed in the music show "Music Bank", and then launched their own reality TV series "NCT Life". It was announced by SM Entertainment that it would be launching a new sub-unit, NCT 127 on 1 July, and that it would be based in Seoul. It was made up of seven boys – Taeil, Winwin, Mark, Jaehyun, Yuta, Taeyong and Haechan, and their debut appearance was on 7 July in "M Countdown", where they sang their debut songs "Once Again" and "Fire Truck". They released their first extended play (EP) on 10 July entitled "NCT #127", and on 29 July their song "Taste the Feeling", in collaboration with Coca Cola. NCT's third sub-unit – NCT Dream – was founded on 18 August, made up of seven boys – their debut single came out on 24 August entitled "Chewing Gum", and on 25 August they performed in "M Countdown".
On 6 January 2017, NCT 127 released their new EP "Limitless", and it topped the Billboard World Albums Chart, while the EP's lead single was named by the magazine "Dazed" one of the best K-pop songs of 2017. On 14 February, NCT Dream competed in "The Show", winning it and thus marking the first show victory for NCT – they also used the opportunity to announce that they were chosen to be the ambassadors for the 2017 FIFA U-20 World Cup, and therefore released the song "Trigger the Fever" on 15 March, which served as the tournament's official song. NCT 127 released their new EP "Cherry Bomb" on 14 June, and on 17 August, NCT Dream's debut EP came out, entitled "We Young".
It was announced by SM Entertainment in January 2018 that all the members of the NCT sub-units would be joining to work on the project NCT 2018, and that they would be joined by Kun, Jungwoo and Lucas. NCT's debut studio album came out on 14 March called "NCT Empathy", made up of six songs such as "Boss", "Yestoday" and "Black on Black" among others.
The group's sub-units continued their separate works, and NCT Dream released their new EP on 3 September entitled "We Go Up" with the eponymous lead song. On 12 October, NCT 127's debut studio album came out called "Regular-Irregular", while the song "Regular" was its lead single – the repackaged version of the album "Regulate" came out on 23 November, with its lead song "Simon Says".
On 17 January 2019, the fourth sub-unit of NCT was created called WayV, and made up of Kun, Ten, Winwin, Hendery, Lucas, Yangyang and Xiaojun – their first single album was released on the same day entitled "The Vision". NCT 127 started their first tour on 26 January, performing in South Korea, Japan, Europe and North America. They released their debut Japanese full-length album "Awaken" on 17 April, while their next Korean EP came out on 24 May called "We Are Superhuman". WayV's debut EP was released on 9 May entitled "Take Off" ,with the eponymous lead track, and on 26 July, NCT Dream released their EP "We Boom". WayV's second EP came out on 29 October called "Take Over the Moon" with the song "Moonwalk" for its lead single.
kun world domination 👑 #kun #KUN #kunnct #kunedits #nctedits #nctedit #kunedit #nct #wayv #wayvedits #wayvedit #nctedit #nctedits #edit #edits #editing #videoeditor @NCTsmtown @WayV_official pic.twitter.com/qEObnF9sfa

— e.b. (@_moonchildmp4) August 18, 2020
NCT 127 released their second full-length album on 6 March called "Neo Zone", with "Kick It" the lead single, while NCT Dream released their EP "Reload" on 14 April. On 3, 10 and 17 May WayV, NCT Dream and NCT 127 respectively held live concerts,, using Beyond LIVE, which is an online live concert streaming service.
WayV's debut full-length album came out on 9 June entitled "Awaken the World" with the song "Turn Back Time" as its lead single.
Love life and girlfriend
Kun hasn't talked about any girls he might have dated since he became a member of NCT, and it is very unlikely that he will because SM Entertainment has put a dating ban on all of NCT's members.
This means that if caught with a girl, it is very likely that the member would be kicked out of the group. However, there are rumors circulating the internet that Kun was in a long-term relationship prior to joining NCT, and that the two dated for around three years before they split, because of his career – another rumor has it that they haven't really split, but have continued dating in (supposed) secret.
Kun has talked about what his ideal type of a girl would be, stating that she would have to be mature, be ready to cook and prepare food for him. She would also have to look after him when he gets sick.
As of August 2020, Kun is single, hasn't married and doesn't have children.
Hobbies and other interests
Kun is keen on watching movies in his spare time, and his favorite genre is comedy, while some of the movies he enjoys watching the most are "Airplane!", "Ace Venture: Pet Detective – When Nature Calls", and "The Naked Gun".
Kun likes to listen to a variety of singers both Asian and American and his favorite style is R&B while his favorite two singers are Jason Mraz and Jay Chou.
He likes to learn magic tricks with cards, take photos, and is dreaming about obtaining a pilot's license one day.
Kun is physically very active as he has several training sessions at the gym each week – thus his 6-pack – while he also plays a variety of sports including soccer and basketball.
His favorite numbers are three and seven while his favorite colors are white, black and blue – his favorite two drinks are orange juice and coffee, while his favorite foods are chocolate, ice cream and cheesecake.
He is a lover of animals and his favorites are cats, but he has two pet dogs named Fei Fei and Xiao Mi.
Age, height and net worth
Kun's age is 24. He has short brown hair and brown eyes, while his height is 5ft 9ins (1.76m) and he weighs around 132lbs (60kgs).
As of August 2020, Kun's net worth has been estimated at over $300,000.