Kyulkyung is a Chinese singer, dancer, actor, and television personality, who first became known when she finished sixth in the reality-television survival series, "Produce 101," in South Korea. She debuted in 2016 as one of the members of the temporary Korean popular (K-Pop) girl group called I.O.I. After a successful year, the group disbanded and she was re-launched in 2017 as part of the girl group, Pristin, formed and managed by Pledis Entertainment. The girl group disbanded after two years, and Kyulkyung later filed a legal request for nullification of her contract with the label. She left South Korea and returned to China to work on her solo career.
Just a simple reminder that article is created and owned only by kpopwiki.org. Article cannot be re-published in any other pages or documents. Copyright is protected by DMCA. All found copies will be reported.
Original source: https://kpopwiki.org/all-about-kyulkyung-zhou-jieqiong-from-pristin-ioi-wiki/
Early Life and Family
Kyulkyung was born Zhou Jieqiong on 16 December 1998, in Taizhou, Zheijiang, China; her parents own a clothing store in Shanghai.
She is the oldest child in the family, and has a younger sister and brother. Growing up, she has always been interested in music and her parents had her trained in two musical instruments, the piano and pipa.
Educational Background
She went to the Affiliated Secondary School of the Shanghai Conservatory of Music in Shanghai, China, where she specialized in the traditional Chinese four-stringed music instrument called pipa. She graduated from the School of Performing Arts Seoul in South Korea in 2017.
Career
In 2010, Kyulkyung was scouted by a Pledis Entertainment casting director in Shanghai, China. Her parents allowed her to leave for South Korea to enter a K-Pop idol training program, where She was professionally trained for singing, dancing, acting and hosting along with language lessons before her debut.
First Steps – "Produce 101" reality-TV show (2016)
Pledis Entertainment decided to participate in Mnet's reality TV show called "Produce 101" in 2016, and seven of their resident trainees including Kyulkyung represented the label. It was the first of its kind in South Korea in which 101 trainees from various entertainment agencies in the country, battled against each other for a spot in an 11-member temporary girl group; the viewers would be the ones deciding on the outcome through online voting. The girl group would then release an album and work as a team for a year under YMC Entertainment and CJ ENM, one of the largest entertainment and media companies in South Korea.
Throughout the 11 episodes, they were mentored by successful K-Pop artists and choreographers including Kim Seungeun and JeA of Brown Eyed Girls for vocals, Bae Yoonjung and Kahi of Afterschool for dancing, and Cheetah for rapping.
Only two trainees from Pledis Entertainment made it on the final round – Kyulkyung finished at No.6 with close to 220,000 votes.
Debut with girl group I.O.I – First Win, Album Releases and Disbandment (2016 – 2017)
Kyulkyung was launched as part of the 11-member temporary group called I.O.I with the release of their debut extended play (EP) "Chrysalis," on 4 May 2016. The album consisted of seven tracks, including the lead track "Dreamgirls," "Crush," "Knock Knock Knock," and the show's theme song, "Pick Me." They held a grand showcase on the same day the album was released at the Janchung Gymnasium in Seoul, following their TV debut performance of their title track in Mnet's "M Countdown." The EP peaked at No.4 on the Gaon Album Chart with 78,000 units sold in South Korea, a 1,000 in the US, and close to 500 units in Japan.
The lead track charted at No.7 on the Gaon Digital Chart, and had about 650,000 downloads and more than 2.4 million streams, while the song "Crush" peaked at No.12 with close to 350,000 downloads and 1.8 million streams.
Halfway through 2016, four members went back to their respective agencies, while Kyulkung and the other six members decided to stay and promote as a group. In August 2016, they released the single album,"Whatta Man (Good Man)," which was inspired and used samples from Linda Lyndell's 1968 song, "What a Man." It peaked at No.2 on the Gaon Digital Chart and Gaon Album Chart, with the physical version selling about 90,000 units, while the digital version had 380,000 downloads. The single also gave the group their first music show trophy, courtesy of SBS MTV's "The Show" as it became the Top Song of the Week, and they went on to win four more music show trophies from "M Countdown" and KBS' "Music Bank."
— kyulkyung pics ♡ (@kyulkyungpic) November 29, 2020
By October 2016, I.O.I became complete again as they released another extended play entitled "Miss Me?" with five tracks including "More More," "Ping Pong," "Hold On," and the lead track, "Very Very Very." The lead track was written, composed, and produced by no less than the JYP Entertainment founder, Park Jin Young. The EP peaked at No.2 on the Gaon Album Chart with over 106,000 units sold in South Korea and close to 1,500 units in Japan. The lead single gave Kyulkyung and her group three music show trophies for being the Top Song of Week, from "Show Champion," "M Countdown," and SBS' "Inkigayo."
As stated on their contracts, the girl group disbanded on 29 January 2017 after they released their final single called "Downpour", and held concerts on two nights entitled "Time Slip – I.O.I.", at the Janchung Gymnasium.
Debut with Pristin and Album Releases (2017 – 2018)
After the disbandment of I.O.I., Kyulkyung went back to her original label, Pledis Entertainment, and focused on her debut preparations with the new group called Pristin. On 21 March 2017, she along with Sungyeon, Xiyeon, Yehana, Yuha, Eunwoo, Rena, Kyla, Roa, and Nayoung released their debut album, "Hi! Pristin." The EP consisted of six tracks including "Over n Over," "Be the Star," "Black Widow," and lead track, "Wee Woo."
The group held a grand live showcase in "Mnet Present", performing the tracks in their debut EP on the day it was released. A fan meeting was held the following day, and their TV debut on 23 March 2016 was held in "M Countdown", with the performance of the song, "Wee Woo,". It charted at No.49 on South Korea's Gaon Digital Chart, with 158,000 downloads. The EP peaked at No.4 on the Gaon Album Chart with 45,000 units sold, and entered the US Billboard World Albums Chart at No.10.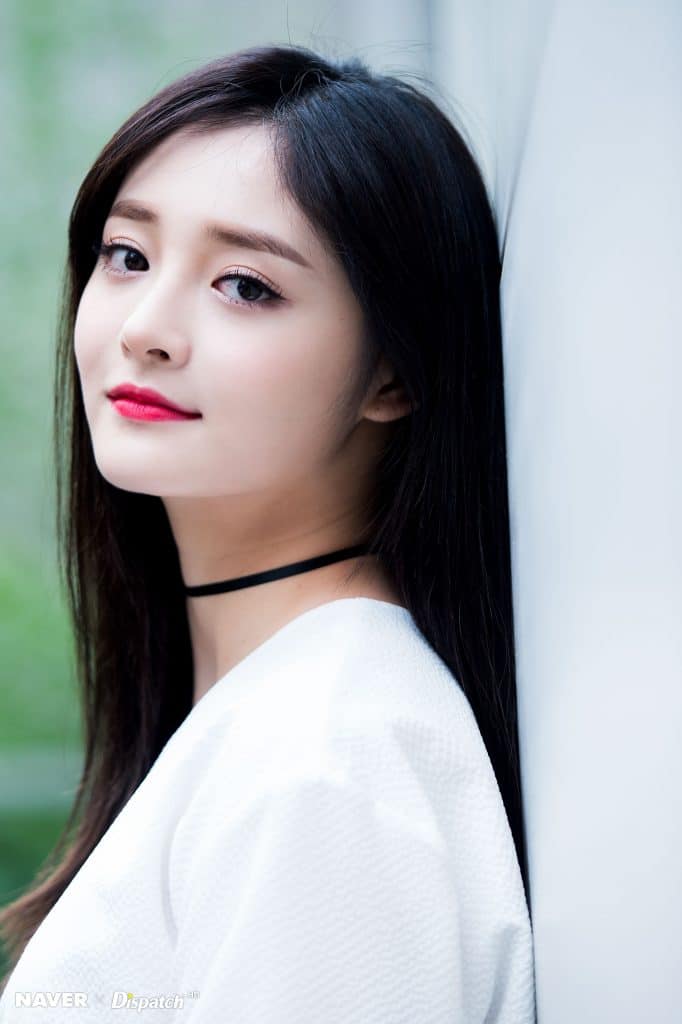 Kyulkyung and the girls were ecstatic that they were included in the line-up of performers for the Korean Convention in Japan, called KCON Japan, held on 19 May 2017. Not all rookies in the K-Pop industry were given the same opportunity, and they knew it meant bigger things would happen to them. It didn't take long for them to be invited to perform again, in a musical event entitled "Dream Concert 2017" held at the Seoul World Cup Stadium. It was one of the biggest K-Pop concerts, a yearly event sponsored by the Korea Entertainment Producer's Association. They shared the stage with popular K-Pop artists such as EXO, Twice, NCT, and Red Velvet.
In August 2017, Pristin released its second EP entitled "Schxxl Out", with five tracks including "You're My Boy," "Aloha," "We are Pristin," and the lead track, "We Like." The album charted at No.4 on the Gaon Album Chart, and No.5 on the US Billboard World Albums Chart.
It also surprisingly entered the Japanese Oricon Albums Chart at No.116, still, the sales of the album failed to surpass their debut EP, with only 30,000 units sold in South Korea. The lead track almost didn't make it to the Top 100, as it peaked at No.94 with just 22,000 downloads.
Pristin V, First Sub-Unit (2018)
Her label decided to launch the sub-unit called Pristin V, with Kyulkyung, Nayoung, Rena, Roa, and Eunwoo. On 28 May 2018, they released the single album entitled "Like a V," which consisted of the lead track "Get It," and the B-side, "Spotlight." It peaked at No.5 on the Gaon Album Chart with over 18,000 units sold, and No.18 on the Taiwanese Album Chart. Both songs failed to enter the Gaon Digital Chart, but entered the US Billboard World Digital Song Sales chart at No.6 and No.19, respectively.
Pristin Disbandment (2019)
K-Pop fans were shocked that Pledis Entertainment announced the disbandment of the group in May 2019, as they were considered relatively new on the K-Pop scene. They even received the New Female Artist of the Year from major music award-giving bodies in 2017, including Mnet Asian Music, Asia Artist, and Seoul Music Awards. There was much speculation, but fans mostly blamed the label for mismanagement with only two EPs released as a group since debut, and none in 2018 except for the unit's album. They felt bad that the artists were treated poorly and that the label just gave up on them. Eventually, one of the former members, Kyla, came out with a post on her social media account, saying that all the members felt it was the best decision for them at that time.
Solo Career and Contract Dispute with Pledis Entertainment (2018 – 2019)
Pledis Entertainment announced that Kyulkyung would stay with the label to pursue a solo career, but in January 2018 Kyulkyung returned to China and participated as one of the dance coaches in the Chinese version of "Produce 101" called "Idol Producer." She also released the single "Leave It To Brother," which was used as the soundtrack for the TV program entitled "I Got You."
On 6 September 2018, Kyulkyung made her debut as a solo artist in China with the release of the digital track, "Why."  She held her debut showcase in one of the popular shows on the Chinese streaming platform iQiyi, called "Idol Hits." She also became active in Chinese TV shows, as one of the regular hosts of the dating program, "Love Timing" from April to June 2019, and was in the cast of the reality-TV series "Hi! Housemate," aired in September 2018.
— kyulkyung pics ♡ (@kyulkyungpic) November 3, 2020
After her group disbanded in 2019, she stayed in China, and continued appearing in dramas and TV shows.
In May 2020, Pledis Entertainment revealed that they'd filed a lawsuit against Kyulkyung. Apparently, she sent the company a legal request for nullification of her exclusive contract back in September 2019. While fans thought she was being managed well in China by her label, it seemed that Kyulkyung had cut off all communication with them and their Chinese counterpart, XCSS Entertainment. Pledis Entertainment claimed that all her Chinese activities since then didn't go through them, and they'd never given her their consent.
Kyulkyung then posted on her Weibo account her side of the story, saying that she initially wanted to resolve it as quietly as possible, and 'legally between the parties, without causing an inconvenience to everyone with this personal issue, but since it already happened, I'll face it and resolve it.'
While thanking her former label, she also said there were serious issues with them in the past, and when she thought deeply about her career's future, she decided to be independent.
The contract dispute between the two parties hasn't been settled yet, but in the meantime, Kyulkyung's acting career in China has been flourishing.
In 2020, she was the main female lead of the 36-episode historical drama series "Miss Truth," a TV adaptation of the novel "The Tang Dynasty's Female Forensic Doctor," written by Xiu Tang, which was aired from February to March 2020. Kyulkyung was also in the 51-episode historical drama series "Legend of Fei" aired in December 2020, in which she played a supporting role.
In 2021, she was included in the TV series entitled "To Be With You", in which she played the main role in one of the six mini-stories included in the daily drama, and which also starred Lu Yi, Zeng Li, Jing Yan Jun, and Zhang Xue Han.
Kyulkyung started filming the drama series entitled "Be My Princess," which was adapted from the novel of the same name written by Xiao Jia Ren; it should be aired sometime in 2022.
Personal Life
Kyulkyung is officially single, as there is no news that she's currently in a relationship. However, she wasn't spared from dating rumors in 2019, even if it was generally accepted that a dating ban for K-Pop artists was enforced for the first three years of their careers, as stated in their exclusive contracts. She was first rumored to be dating the Chinese billionaire Wang Sicong, as he was allegedly spotted as the one driving the car that met Kyulkyung at Shanghai International Airport in March 2019. Pledis Entertainment denied the rumor, and vowed to go after the people who were spreading fake news.
In June 2019, she was rumored to be dating the Chinese Pop Star Cai Xukun, who won the competition series "Idol Producer" for which Kyulkyung was the dance coach. Fans would find similarities between the artists' Weibo posts, and concluded that they were dating. It was denied by both their agencies.
Hobbies, favorites, rumors, and interesting facts
Kyulkyung has many nicknames, such as China's Miracle, China's Dancing Machine, and Pinky, which she formerly used as a stage name. Her bandmates fondly call her Juju.
She has two cats named Mumu (Abyssinian) and Lulu (British Shorthair).
Kyulkyung gave most of her earnings after winning in "Produce 101" to her mom.
Her favorites: pink (color), Japanese and Thai (food), Nana of Afterschool (role model), and After School, SNSD, and f(x) (girl groups).
Kyulkyung's celebrity friends are Ailee, Daehyun (Twice), SinB (GFriend), and Jun (Seventeen).
Appearance
She is 5ft 6ins (1.67m) tall, weighs 103lbs (47kg), and has a slender, sexy body. She has long black hair and dark brown eyes.
Net Worth
According to authoritative sources, Kyulkyung has an estimated net worth of $2.5 million as of March 2021.