Rowoon is a South Korean singer-dancer, model, and actor, who became known as a member of the Korean Pop boyband, SF9, short for Sensational Feeling 9, in 2016. His stardom soared when he played the main lead in the Korean drama series in MBC's "Extraordinary You" in 2019. His newfound fame helped his group secure a music show win with their song, "Good Guy" in 2020, which indicated that his group had reached mainstream success in the K-Pop industry.
Just a simple reminder that article is created and owned only by kpopwiki.org. Article cannot be re-published in any other pages or documents. Copyright is protected by DMCA. All found copies will be reported.
Original source: https://kpopwiki.org/the-untold-truth-about-sf9-member-rowoon/
Early Life and Family
Rowoon was born Kim Seok Woo on 7 August 1996, in Ilsan, South Korea. Growing up, he was a diligent student and had a great memory – in elementary, he was known locally as the student who could memorize 400 different plants, and won a contest for this skill. He was also a good soccer player, as his team won third place in a national competition. His parents raised him and his older sister in a comfortable household in Daechidong, an affluent community in Gangnam. His mother ran a hagwon (cram school) in Seoul.
Educational Background
He attended Seoul Daehyun Elementary School and Whimoon Middle School, and matriculated from the exclusive all-boys Kyunggi High School, then graduated from Kyung Hee Cyber University.
Career
Rowoon started his vocal, dance, acting and hosting training when he was in 9th grade under FNC Entertainment, home to K-Pop groups F.T. Island, CNBLUE, and AOA. He was first introduced to the public as a resident trainee in the agency-produced reality television series, "Cheongdam-dong 111," aired on the TVN cable channel from November 2013 to January 2014.
In 2015, his agency divided him and the other trainees into two groups, called NEOZ Band and NEOZ Dance. Both groups competed in the reality TV survival series, "D.O.B," (Dance or Band) for the chance to be given a grand showcase debut. Rowoon along with Chani, Dawon, Hwiyoung, Inseong, Jaeyoon, Taeyang, Youngbin, and Zuho belonged to the dance group that won the competition.
First Steps – Debut Year (2016)
After winning the survival series, Rowoon and his group were given the pre-debut web interactive drama series, "Click Your Heart." Rowoon played the main male lead along with Chani and Zuho, opposite Kwon Mi Na – the romantic story's ending depended on the viewer's vote. The seven-episode series, which aired in March 2016, was a marketing strategy by FNC Entertainment to hype the arrival of its new group.
His agency produced two more reality TV variety series for the group – "SF9–Spectacle Fantasy" and "SF9-Special Food", so that fans could get to know the boys more, and drum up more interest before they were officially launched.
After six years of training, Rowoon debuted along with the other boys on 5 October 2016, as the K-Pop boyband SF9, with the release of their single album, "Feeling Sensation." They held a grand debut showcase the next day on Mnet's "M Countdown", performing the lead track, "Fanfare."
After a month, the group promoted the second single from the album – "K.O." – which was their winning song during the "D.O.B" survival series competition. The single album entered the Gaon Album Chart at No.8, and after promoting it for two months on popular music shows, it peaked at No.6 with over 32,000 units sold, and ended up at No.78 on the year-end Gaon Album Chart of 2016.
By December, they'd released the digital single,"So Beautiful," which was initially used as the official soundtrack (OST) of the web series "Click Your Heart." They also capped their debut year with Male New Artist of the Year nominations from several award-giving bodies, and took home the award from the 2017 Seoul Success Awards.
Rising Popularity as a Singer (2017)
In 2017, Rowoon's acting career took a back-seat with only accepted one drama series, "School 2017" in a supporting role, to give more time in building his singing career as the main vocalist of SF9.
#Rowoon Talks About How His Thoughts On Acting Have Changed, Living With #SF9 Members, And Morehttps://t.co/DB8dTVacXd pic.twitter.com/Gn6TkZYJxY

— Soompi (@soompi) February 24, 2021
His group released their first extended play (EP), "Burning Sensation," on 6 February 2017. It consisted of six tracks including "Still My Lady," "Youth, Tell Me What It Is," "Jungle Game," and the lead track, "Roar", and charted high at No. 3 on Gaon with 35,000 sold, and at No.6 on US Billboard's World Albums Chart. Rowoon and the boys were surprised it also charted at No.92 on the Japanese Oricon Album Chart, as they hadn't promoted anything there. Japanese fans have been known to prefer Japanese versions of Korean singles, and K-Pop artists would always re-record the songs just for the Japanese fans.
It amazed Rowoon that some Japanese fans appreciated their Korean album, with almost 800 units sold, so FNC Entertainment capitalized on their growing popularity in Japan, by having Rowoon's group stage a pre-debut show in Tokyo in the first week of April to test the waters. It was a sold-out show.
The boys went back to Seoul to release their second EP, "Breaking Sensation," with the lead track, "Easy Love" on 18 April. While it charted higher than its predecessor on both local and international charts, the album only sold close to 30,000 units in South Korea, but around 900 units were sold in Japan. After the album promotions, Rowoon and the boys went back to Japan to officially debut on 6 June 2017, and released the Japanese version of their first single, "Fanfare," which topped the Tower Records Single Album Chart, was No.4 on the Oricon Single Chart, and No.14 on Billboard's Japan Hot 100 with close to 24,000 units sold. The second Japanese single, "Easy Love," peaked at No.6 on the Oricon Single Chart, and No.12 on Billboard's Japan Hot 100 with around 25,000 units sold.
With their rising popularity, in 2017 SF9 was included in the line-up of performers for the annual Korean wave convention, KCON. Rowoon and his group then flew to the US and performed in Los Angeles and New York.
The group returned to Seoul to prepare for their third EP, "Knights of the Sun," which was released on 12 October 2017, consisting of six songs including the lead song, "O Sole Mio." It peaked at No.4 on Gaon Album Chart and No.7 on the US Billboard's World Album Chart, with almost 35,000 units sold in South Korea and over 1,000 units in Japan.
There were requests for overseas shows, so after they finished the third EP promotions in South Korea, they headed to the US in November. They held a series of concert shows in Seattle, Boston and Dallas entitled "2017 Be My Fantasy in U.S.A."
Immediately after the US shows, SF9 released their first Japanese full-length studio album, "Sensational Feeling Nine," with10 tracks, most of them Japanese versions of their Korean songs. The album peaked at No.7 on the Oricon Album Chart, with around 23,000 units sold.
Korean Dramas, International Fan Meetings and Album Releases (2018)
Rowoon became busier in 2018, as he was included in the cast of two Korean drama series, which he filmed in between album promotions.
His group released their fourth EP, "Mamma Mia" on 26 February 2018, and performed the title track in popular music shows; it peaked at No.3 on the Gaon Album Chart and No.10 on Billboard's World Album Chart. For the first time, almost 45,000 units were sold locally, and close to 2,500 units in Japan. They released a Japanese version of the title track. and embarked on a Japanese tour entitled "SF9 Zepp Tour 2018 Mamma Mia!", performing in Aichi, Osaka, and Tokyo in May.
Rowoon's first Korean drama series in 2018 was aired from May to July, in which he played a supporting yet significant role as Choi Wi Jin, the brother of the female lead. The 16-episode series starred Lee Sung Kyung, Han Seung Yeon, and Lee Sang Yoon.
On the 31st of July, his group released its fifth EP entitled "Sensuous," with two physical versions of the album. It consisted of five tracks with "Now and Never" as the lead, and while it peaked in the same positions as its predecessor, it didn't surpass the number of units sold.
In August, Rowoon headed to South America with the boys for a fan meeting with their Latino fans, two fan in Brazil, then one in Mexico. In September, they flew to Taiwan for a meet-and-greet with their fans in Taipei.
Back in Seoul, Rowoon's second drama series, "Where Stars Land," also known as "Incheon Airport People," aired from October to November 2018. It was another supporting role to popular main leads Lee Je Hoon, Lee Dong Gun, and Chae Soo Bin, playing the close friend of the main female lead with unrequited love for her, receiving an acting nomination from SBS Drama Awards.
The year ended with his group's first concert, "Dreamer," on October 27 held at Yes24 Live Concert Hall.
Commercial Breakthrough as an Actor and as a Singer (2019)
2019 became Rowoon's year, as he experienced mainstream success not only as a singer but also as an actor.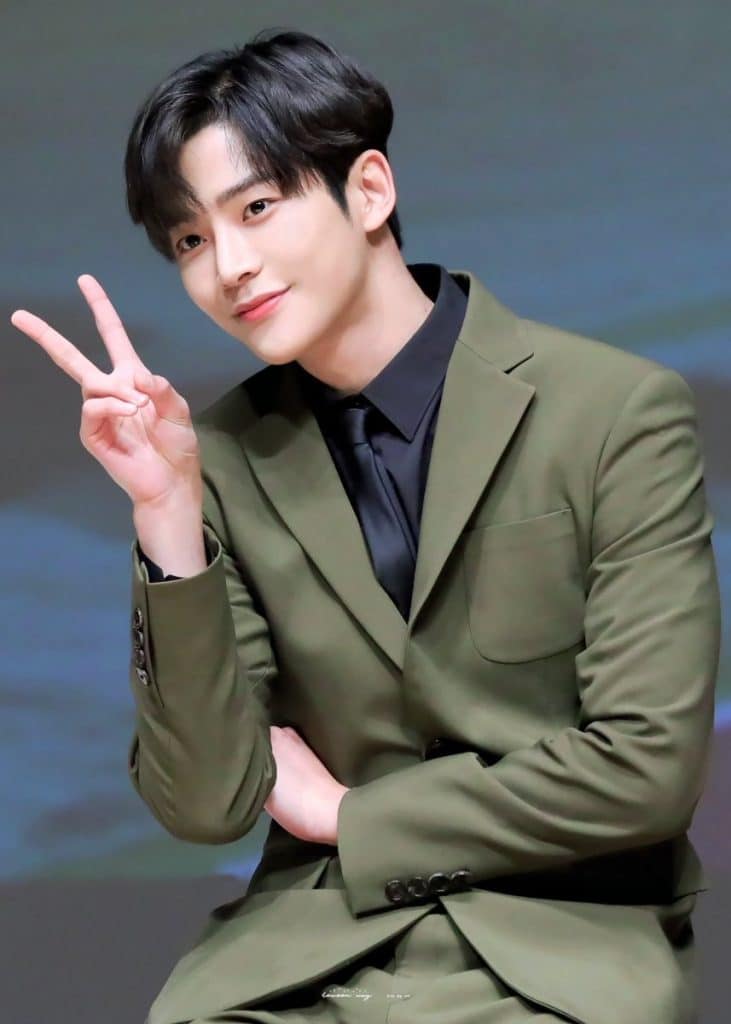 He landed the main male lead role in the Korean drama series "Extraordinary You," aired over at MBC in the primetime slot every Wednesday and Thursday night. It was an adaptation of the popular webtoon series, "July Found Chance," written by Moo Ryoo, and won Best Drama in Grimae Awards, MBC Awards, and Seoul Drama Awards, while Rowoon took home the Best New Actor award from Grimae Awards and MBC Awards. His popularity skyrocketed after this drama series was aired.
His newfound popularity helped with the release of SF9's two EPs in 2019, the sixth, "Narcissus" released on 20 February, and the seventh, "RPM" on 16 June. Both charted highly on the Gaon Album Chart, and surpassed their previous sales record, the former with over 50,000 units sold and the latter with nearly 60,000 sold in South Korea.
Due to the successful releases of SF9's albums, they went on different concert tours, including the "SF9 2019 ZEPP TOUR – ILLUMINATE." They held concerts in Nagoya, Namba, and Tokyo in the first week of April to promote their second Japanese studio album, "Illuminate."
Then Rowoon and the boys embarked on their first world tour – the first leg was in the US entitled "2019 SF9 USA Live Tour Unlimited", and they performed in Los Angeles, Atlanta, New York, and Chicago. The second leg was in Europe called "2019 SF9 Europe Live Tour Unlimited", with successful shows in six cities including Paris, Berlin, Amsterdam and London.
Mainstream Success and First Music Show Win (2020-present)
Amidst the pandemic caused by the Covid-19 virus, Rowoon and his group's star shone brighter than ever. When they released their first Korean full-length studio album, "First Collection," it sold way more than their debut single album, and broke their previous sales record with almost 70,000 units sold during the first week, and 120,000 units in South Korea by the end of 2020. All 10 tracks charted on Melon 100, including "Am I The Only One," "One Love," "Like The Hands Held Tight," and the lead track, "Good Guy."
"Good Guy" gave Rowoon and his group the elusive music show win as the Top Song of the Week, courtesy of the popular music show Mnet's "M Countdown", and they scored another trophy from KBS' "Music Bank" for the same song.
It was an achievement that every K-Pop artist longs for – it took the boys about four years to get it.
The group's eighth EP entitled "9loryUS" was released on 6 July 2020 with six tracks including the lead track, "Summer Breeze."  It peaked at No.3 on the Gaon Album Chart with more than 110,000 units sold in South Korea, and No.13 on the Oricon Album Chart with close to 5,000 units sold in Japan.
Rowoon's new Korean drama series, "She Would Never Know," was the TV adaptation of the web novel by Elizeu entitled "Senior, Don't Put on That Lipstick." The 16-episode series was aired in January 2021 on the JTBC cable channel.
Product Endorsements (2019-2020)
Rowoon became the new ambassador for several products in 2019-2020, including the make-up brand KLAVUU, famous tea drink Gong Cha, alcoholic beverage FiLite Fresh, and skincare Innisfree.
Personal Life
Rowoon is officially single as there is no news of him dating anyone right now. K-Pop stars are known to be very private and don't openly date anyone, as South Korean fans are notoriously possessive of their idols. If he would date a girl, she would be tall, near his height.
He lives in a dormitory provided by his agency, and shares a room with Inseong.
Hobbies, favorites, rumors, and interesting facts
His favorite nickname is Ronrandoong-ee which was given to him by fans. He is also called Ddeguri by his mother and older sister.
Rowoon's favorites: Americano (coffee), soccer and skateboarding (sports), anything spicy (food), white (color), Park Hyoshin and Minhwan of F.T. Island (artists).
His close celebrity friends are SF9's Chani and Yeo One of Pentagon.
Rowoon has been known to be a neat freak in his group, as he doesn't like clutter in the dorm.
Appearance
Rowoon is 6ft 3ins (1.90m) tall and weighs 160lbs (74kgs) with a lean, well-toned body. His shoe size is 275mm. He has black hair and dark brown eyes.
Net Worth
According to authoritative sources, Rowoon has an estimated net worth of over $2.5 million, as of February 2021.