Lai Guanlin –also known as Kuanlin- is a Taiwanese actor, rapper and singer, born on 23 September 2001 in Taipei, Taiwan. He's best known for being a former member of K-pop boy-band Wanna One.
Just a simple reminder that article is created and owned only by kpopwiki.org. Article cannot be re-published in any other pages or documents. Copyright is protected by DMCA. All found copies will be reported.
Original source: https://kpopwiki.org/lai-guanlin-kuanlin-kpop-rapper-age-height-net-worth/
Early Life
Not much is known about Lai Guanlin's early life and childhood, though he revealed that at some point in his teens he moved to Los Angeles, USA, where he lived for five years, and learned to speak English at an advanced level. Lai has an older sister – name unknown – and his father is a successful chief officer of a technology company.
Besides his love for languages, music and acting, Lai Guanlin is also a fan of basketball, and his admiration for Stephen Curry led him to join his school's team.
He attended Lin-kou High School in his home country, however, he moved to South Korea before his matriculation. He concentrated on learning the Korean language at an advanced level too, by having lessons three days a week.
Career
Pre-Debut
At the early age of 15, Guanlin was recruited by the agency Cube Entertainment in an audition held in 2016 in his home country of Taiwan.
As part of Cube, in 2017 Guanlin had the opportunity to join the TV survival show "Produce 101", centered on dozens of trainees competing against each other to win a place in a K-pop boy group, and to be signed under a major label.
Although Guanlin was very young at the time, he deeply impressed the judges and managed to pass each episode.
By the end of the show, he was placed in seventh position, with almost one million votes on his favor, which meant that he was officially part of the boy-band Wanna One.
Debut
Now signed under YMC Entertainment, Guanlin made his official debut with Wanna One with the release of their first extended play (EP) "1×1=1 (To Be One)", and their first concert held at Seoul's Olympic Hall.
The lead single of the EP entitled "Energetic" –released on 8 August 2017- topped Gaon's music chart and reached an impressive number six on Billboard's World Music List. With more than 600,000 pre- orders, the album ultimately broke records, and became one of the most successful debut albums by a K-pop group.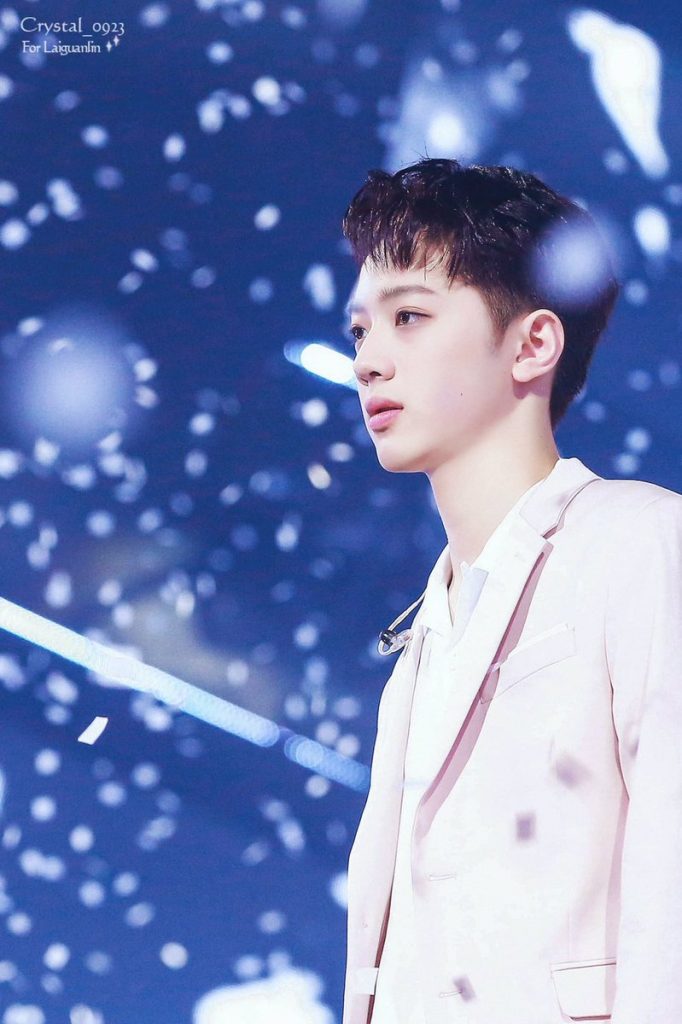 In November that year, a re-package of their debut album entitled "1-1=0 (Nothing Without You)" was released with four additional songs – the lead single "Beautiful" topped South Korean's music lists.
Golden Age and Other Projects
In February 2018 Wanna One presented the work "Golden Age Begins" to their fans, who enjoyed a teaser series of images showing the members of the group in an artistic way.
This work was followed by the track "I Promise YOU (I.P.U)" as an introduction to Wanna One's second EP, "0+1=1 (I Promise You)". Breaking records once again, the pre-release order for this album surpassed 700,000 copies.
Wanna One's contract with YMC Entertainment expired on 31 May that year, thus all the activities of the band from then on were under the management of Swing Entertainment, a company especially created for the group.
A new album entitled "1÷x=1 (Undivided)" was released in June that year, and included the collaboration of songwriters and singers such as Nell, Heize, Dynamic Duo and Zico. It once again topped Gaon's album list, and charted in Billboard's.
In June 2018, Wanna One's world Tour – "One: The World" – took the band through 11 countries including the US, Japan, Indonesia and Australia.
"1¹¹=1 (Power of Destiny)" was Wanna One's first studio album, which included tracks such as "Spring Breeze" and "Deeper".
The album topped South Korea's charts, and reached number 12 on Billboard, and number three on Japan's Oricon.
2019 – Present
On 31 December 2018, Wanna One's contract with Swing Entertainment ended, thus the group was set to be disbanded. Allowing the members to attend official events representing the band until January 2019, the agency announced Wanna One's last concert, "Therefore" would be held at Seoul's Gocheok Sky Dome.
After the disbandment, Cube Entertainment was in charge once again of Lai Guanlin's career management.
Solo Career
One of Guanlin's first appearances as a solo artist was in the variety show "Happy Camp". He then joined the cast of "A Little Thing Called First Love", a Chinese drama in which he appeared in the lead role.
In an interview with Chinese media, Lai Guanlin revealed his favorite scene of the series was when the protagonist remembered his deceased mother: 'I still feel incredible now when I recall it. I started to cry while reading the script, and cried harder and harder. The first filming was not available at all because I totally lost control. I couldn't control my face muscles.' In the same interview he said he wanted to keep improving as an actor and wanted his fans to keep supporting his career.
In February 2019, Guanlin collaborated with fellow label mate Wooseok –of Pentagon – for an EP entitled "I'm A Star". In April that year, Guanlin held his first individual fan meetings in Seoul, Singapore, Hong Kong, Bangkok and his native Taipei.
Guanlin signed a contract with beauty brand Dr. Jart to promote their skincare line, which resulted in a highly successful association, as the products were sold out in less than an hour.
#FotoProfilBaru #twitter #mutualan #guanlin #WannaOne pic.twitter.com/T70vfakXrD

— Dwi_jyns (@DwiJayani1) September 5, 2020
In 2020 Guanlin was cast as Lin Xiao Ran in Chinese drama "Don't Think About Interrupting My Studies".
Problems With Cube
In 2019 Guanlin tried to annul his contract with Cube Entertainment, arguing the agency had sold his contract to Chinese company Tazzo Entertainment without his permission. A legal battle between both parts resulted in the dismissal of Guanlin's demand.
In support of his son, Guanlin's father posted a statement regarding the situation: 'As far as I know, Kuanlin has had some problems with Cube Entertainment (…) We are very grateful of the company, but various arguments have occurred during the time they have worked together, including problems that involve moral beliefs that have even affected my son's health. (…) Basically, I want my son to work in a peaceful environment'.
Personal Life
There isn't much information about Lai Guanlin's personal life, thus details of his romantic associaitons are unknown.
However, it's known that he's good friends with Sehun from EXO, S.Coups from SEVENTEEN, and Jackson from GOT7. As Guanlin is the youngest of them, he considers the other men his idols: 'I really like to be with my older friends, including our members (Wanna One's). They give me a lot of life advices. I started very early, so there are still a lot of things to learn from their experiences'.
Net Worth
As of late-2020, Lai Guanlin has an estimated net worth of $1 million, which is a result of his successful career as singer and actor.
Physical Appearance
Lai Guanlin has handsome features, and during his time in "Produce 101", he was voted the second best looking contestant. He weight 140lbs (63kgs) and is 6ft (1.83m) tall.
Interesting Facts
His favorite seasons are autumn and spring.
He doesn't like horror movies.
He was bullied in school.
Out of the eleven Wanna One members, he's the one who cries the least.
In an interview with The Musician, Guanlin admitted he wasn't good at playing video games.
Bella from the girl-group ELRIS was strongly criticized for imitating Guanlin's accent in a video. She publicly apologized for it, and assured she wasn't trying to make fun of foreigners.