Noh Yoon Ho – better known as Ayno – is a South Korean singer, rapper and dancer, born under the zodiac sign of Taurus on 1 May 1996, in Ansan, South Korea. He's known for being one of the members of the K-Pop boy group VAV.
Just a simple reminder that article is created and owned only by kpopwiki.org. Article cannot be re-published in any other pages or documents. Copyright is protected by DMCA. All found copies will be reported.
Original source: https://kpopwiki.org/ayno-vav-age-height-parents-net-worth-is-he-gay-bio/
Early Life
Although it's known Ayno has a younger sister, there's no further information about the rest of his family, his early life, childhood and education. Then, he did start his career at a very early age, as he was a model and a child actor. However, it's undisclosed what series or dramas he appeared in.
Career
Early Steps
Ayno became a trainee for Starship Entertainment in 2008, when he was 12 years old. During his time signed under this agency's management, he participated in the survival TV show "NO MERCY" in 2014, in which he had the opportunity to appear in the music video of "Hieut" by Junggigo. Unfortunately he was eliminated from the show in the ninth episode, with MONSTA X as the debuting winners.
After this, he left Starship Entertainment and joined Dreamcatcher Company – at the time known as Happy Face Entertainment.
As a trainee for this company he met Ziu, who years later would become his band mate.
Though he ended up leaving this agency too, he was promptly signed under A Team Entertainment – previously known as AQ Entertainment.
Debut
Although the boy group VAV (Very Awesome Voice) debuted in November 2015, with the release of their first extended play (EP) "Under the Moonlight", Ayno – along Lou and Ziu – didn't join the group until February 2017, after former members Xiao, Zehan and Gyeoul left the group consecutively.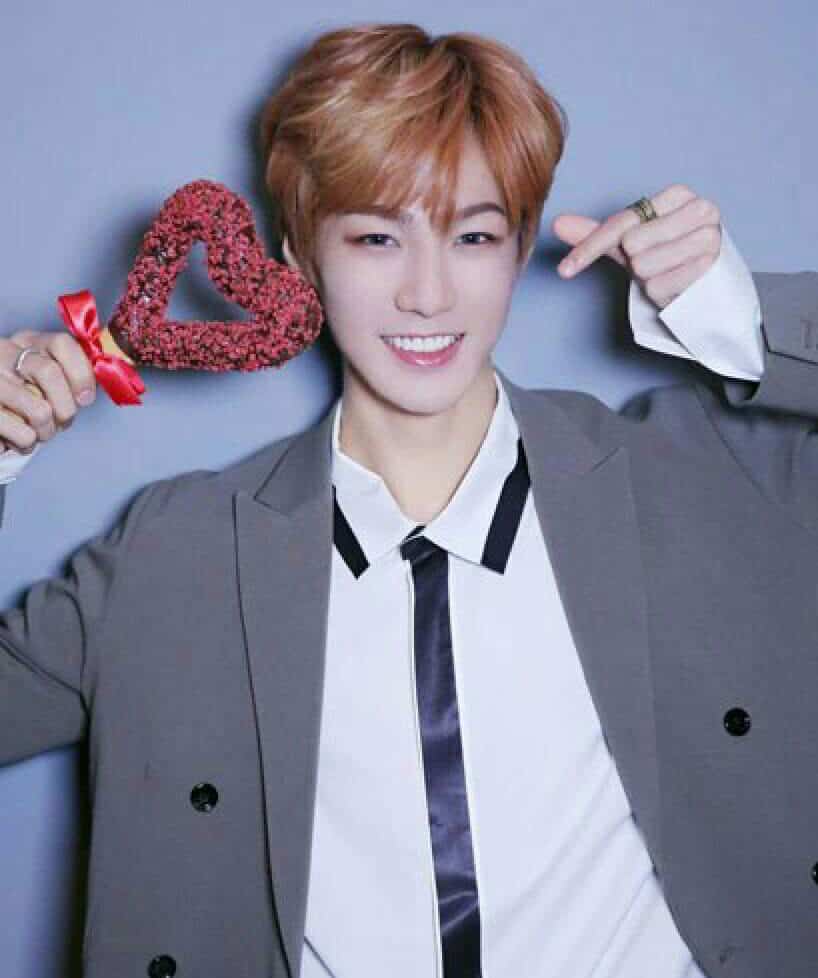 Now with seven members, VAV released the single "Venus (Dance With Me)", which was followed by "Flower (You)", "ABC (Middle Of The Night)" and "She's Mine". The EP entitled "Spotlight" – the group's third – was finally released on 29 January 2018, which  included previous singles released by the band.
In February 2018 VAV started an international tour, during which they visited Brazil. Regarding this experience, Ayno said: 'One of our fans had a tattoo of our group name on her arm, which was mind-blowing. Some fans said they had waited at the concert venue for seven days, just to see us'.
The group further addressed their growing popularity overseas, which they admitted is a result of their social media presence and their efforts to offer international fans translated content, as Ayno pointed out: 'It's really interesting that more than half of our social media followers were from Brazil, even before we visited the country. We didn't realize our popularity in Brazil until we got there'.
In March 2018, Ayno released a solitary song featuring his VAV band mate Ziu, entitled "Don't Sleep". The song was released under Ayno's real name and the lyrics were entirely written by him.
Thrilla Killa & Others
"Thrilla Killa" – VAV's their fourth EP – was released in March 2019 including the leading single of the same name, in addition to songs "So in Live" – with lyrics written by Ayno – and "Señorita", which gained the group international recognition and became Ayno's favorite: 'In the beginning I wasn't completely sure about it, but the reaction to it was so great and the music video reached a very high number of views on YouTube… up 'til now, I've enjoyed that the most.'
Regarding his experience working as the main songwriter of "Touch You", Ayno told BananaBlog: 'I wanted to write a fun, exciting song which our fans could enjoy, and I could connect with them during the performance'.
In the same interview he also confessed that he worked on songs at night, after his normal schedule ends.
In July 2019 VAV released the song "Give Me More", which featured Puerto Rican singer and rapper De La Ghetto, and was produced by Play-N-Skillz. This single had three versions, and included lyrics in Korean, Spanish and English.
Poison
In October 2019 the group's EP "Poison" was released. Although the album's leading singles didn't achieve any memorable position on the charts, the album peaked at number 14 in Gaon's list.
In September 2020 VAV released the EP "Made For Two". However, as member Baron had to enlist in the military in September 2020, the group promotions showcase only six members for the time being.
Personal Life
Is He Gay?
In an interview Ayno said his ideal type in a relationship is his fellow band member Ace. However, as he chooses to keep his personal life out of the spotlight, information about his romantic partners or sexual orientation is uncertain.
Support of his Parents
After his debut with VAV, Ayno received a heartfelt letter from his parents in which they showed him their support for his career: 'Mom and Dad are so happy that our Yoon Ho is finally debuting.
Moving forward, we believe that you and the rest of the VAV members will continue to put effort into your performance for your fans'.
Touched by his parents' encouraging words, Ayno thanked them and VAV's fans for their support.
Controversy
In August 2019 Ayno made a hand sign after a performance in the TV music show Inkigayo, arising a controversy in VAV's fanbase, as the hand gesture was presumed to be a nod to a far right community on the Internet. However, AT Entertainment soon negated the alleged implications of Ayno's hand sign, and affirmed he made it to resemble a gesture popularized by Dele Alli, a British soccer player.
Net Worth
As of late 2020, Ayno has an estimated net worth of over $100,000, which is a result of his work as a member of VAV.
Physical Appearance
Ayno is a young man of handsome features and slender build. He's 6ft (1.83m) tall and weighs 140lbs (64kgs).
Interesting Facts
He likes to dye his hair with colorful tones.
His blood type is B.
The Rat is his Chinese sign.
He wrote the song "I'm Sorry" with his fellow band member St. Van, a song that conveys the message of an apology and asking a woman you love to come back. 'We included a lot of poetic lyrics'.
190715 pic.twitter.com/dkMQtmUGzH

— ayno pics (@aynopic) July 30, 2019
He has appeared in various TV shows, including "Tour Avatar" and "God Creation".
He was known as YoonHo before his debut, though he later changed his artistic name to Ayno: 'I had an older friend who was into hip-hop and he used to call me like, 'ay, ay' and when they called me, they put my last name's two letters (No) after it, so Ayno came out of it.'
He affirmed he puts a lot of effort working out, thus he appreciates fans' excitement about his physical appearance.
He always loses when he plays games.
Ayno has confessed that he admires his father deeply.