Xiaojun is a Chinese singer-songwriter and dancer, who became known to K-Pop fans when he debuted as a member of WayV, a sub-unit of NCT, under the management of SM Entertainment's Chinese agency, Label V.
Just a simple reminder that article is created and owned only by kpopwiki.org. Article cannot be re-published in any other pages or documents. Copyright is protected by DMCA. All found copies will be reported.
Original source: https://kpopwiki.org/xiaojun-nct-wayv-age-height-girlfriend-net-worth-wiki/
Early life and family
Xiaojun was born Xiao Dejun on 8 August 1999, in Dongguan, Guangdong, China. Not much is known about his family, except that his father and brother are said to be involved in the music industry too.
His earliest memory is being in the water, and his father and brother were trying to get him out of it. When he was little, his brother told him that he wouldn't grow tall if his thigh muscles are big, so it was only when realized that he'd stopped growing that he began doing leg exercises. He said that he is so bad at arm wrestling that he can't even beat his mom.
Educational background
He attended Shanghai Theatre Academy, Music Department.
Career
First steps
Xiaojun joined the Chinese survival show, "X-Fire" in 2015 – produced by EE Media (Chinese Record Label), Tencent Video (Chinese video-streaming site), and SM Entertainment (South Korean entertainment company) – for a chance to become a member of a Chinese boyband they planned to debut – unfortunately he didn't make the cut. When he was eliminated, he sang a song he said he'd composed for all the 16 participants of the show during the three weeks that he'd been with them.
In 2016, he participated in Wuhan University's musical theatre production of "Fame," which is based on the 1980 American teen musical movie of the same name, playing the role of comic character Joe, which he said was challenging.
He was officially introduced as a member of SM's pre-debut training team called SM Rookie on 17 July 2018, and by the end of the year, it was announced that he would become a member of Way V (WeiShenV), the fourth sub-unit of NCT (Neo Culture Technology).
The group is comprised of seven members: Xiaojun (main vocalist and sub rapper), Kun (leader and main vocalist), Hendery (main rapper), Ten (main vocalist and main dancer), Winwin (lead dancer and lead vocalist), Yangyang (main rapper and main dancer), and Lucas (visual and face of the group).
WayV debuted on 17 January 2019 with the release of their digital single album entitled "The Vision." It contains three tracks, namely "Regular," "Come Back," and "Dream Launch" that were sung in Mandarin, with the first two being previously released by the group NCT 127. The lead track, "Regular," made it to the Chinese QQ music chart at No.9, and Billboard's World Digital Song Sales Chart at No.3. The group entered Billboard's Social 50 at No.4.
Further steps
Their first extended play, "Take Off," released on the 9th of May, entered Billboard's World Albums Chart at No.7, and topped the Chinese QQ chart, plus the iTunes Album Chart in 30 countries. The EP has six tracks including the "Let Me Love U," "Say It," and their title track. The official music video has accumulated 24 million views, while its dance practice video has 6.6 million views. As part of their group promotion, they starred in their own reality show called "Dream Plan" that has 12 episodes, which aired on video-sharing online platforms YouTube and Youku, in August and September.
On the 29th of October, their second EP entitled "Take Over The Moon" was released with six tracks including "Love Talk", and the lead single, "Moonwalk."
Xiaojun was not part of the fourth track, "King of Hearts," but he along with Ten and Kun were the only ones who recorded the fifth track, "Face To Face." The group went on their album promotions in Korea, as they made their debut stage performance in MBC Music's "Show Champion the following day. The EP subsequently peaked at No.5 on the Gaon Album Chart.
The boys also released an English version of "Love Talk" digitally on the 5th of November, and it charted at No.3 on Billboard's Digital Song Chart and No.2 on QQ Music Weekly Digital Chart. They included this and a monologue track called "WayV.oice #1" – which features the members reading their message to their fans with music accompaniment – in "Take Over The Moon – Sequel." This repackaged album was released on 30 March 2020, and it performed better as it peaked at No.3 on Gaon.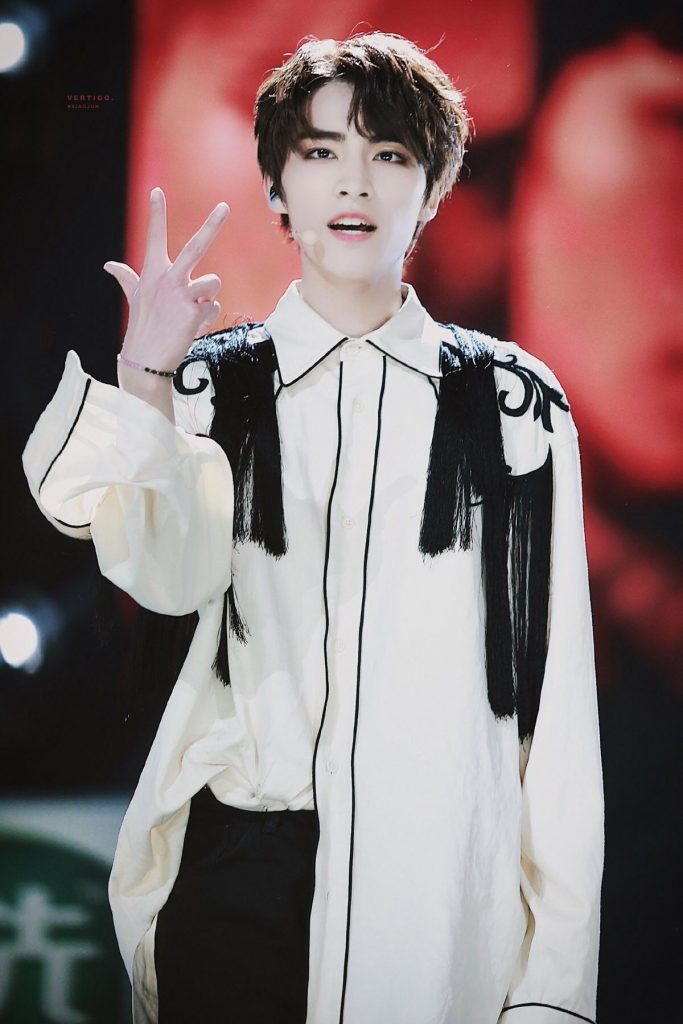 From November to December of 2019, WayV went to Shenzhen, Wuhan, Bangkok, and Seoul for their promotional tour called "Section#1_We Are Your Vision." They performed their hit songs and received the Best New Asian Award at the 21st Mnet Asian Music Awards, held at the Nagoya Dome, Japan on 5 December 2019.
Because of the COVID-19 pandemic restrictions, they held their first concert, "WayV – Beyond The Vision," online on 3 May 2020 as part of the "Beyond Live" live concert series produced by SM Entertainment and Naver. They treated their fans to a mashup of the songs, "Bad Alive" and "Turn Back Time" from their upcoming album.
They launched a web-based interactive game that can be played on smartphones, in which the primary goal is to unlock a teaser video, and photo of each member as part of their album promotions.
Their first studio album, "Awaken The World," was digitally released on 9 June 2020, and physically on the 18th. It contains 10 tracks including "After Midnight," "Electric Hearts," and the lead track, "Turn Back Time," which they performed on Korean music shows. They released an English version of the second track, "Bad Alive," which topped the QQ Music Daily Digital Song Sales chart, earning them a Gold Certification. It also charted at No.12 on Billboard's World Digital Songs Chart.
Since the group was based in Korea during the pandemic, they were only able to promote the album locally due to travel restrictions. It was a commercial success as it charted at No.3 on Gaon, No.13 on Oricon Weekly Albums Chart (Japan), and No.9 on Billboard World Albums Chart. It also topped the iTunes Album Chart in 21 countries.
NCT – The 2nd Album RESONANCE Pt.1#XIAOJUN#NCT #RESONANCE#NCT2020 #RESONANCE_Pt1#NCT2020_RESONANCE pic.twitter.com/rR2KP2LREi

— NCT (@NCTsmtown) October 1, 2020
On 1 September 2020, Xiajun's cover of Sam Kim's "Who Are You" – the soundtrack of the hit drama series, "Goblin" aka "Guardian: The Lonely and Great God" (2016-2017) – was posted on WayV's official YouTube channel.
The boys starred in their first Korean reality show, "WayVision," which started airing on 21 September 2020. They had a special live broadcast, "Resonance Live Event – Wish," on the 23rd in which all NCT members were present.
NCT as a group is set to release the album entitled "NCT 2020 Resonance pt.1" on 12 October 2020. This is the first time that WayV would join the other sub-units, namely NCT U (United) with rotational members, NCT 127 with Seoul-based members, and NCT Dream, which is formerly a teenager-based unit but has become what they called a flexible-style unit. Also, two new members, Sungchan and Shotaru, were added. This is part of SM Entertainment's NCT 2020 Project.
Personal life
Xiajun is 21 years old and single. Having debuted only in 2019, he is still bound by the no-dating policy for the first three to five years after debut that the management impose on their artists, to keep them focused on their career as an idol. Dating is considered a potential scandal that would affect not just the artist involved, but also his group.
He lives in the dormitory provided by their agency, and he sleeps on the top of the bunk bed with Yangyang on the bottom. Sharing a room with him brought them closer together, although Xiaojun's habit of going up and down the bunk bed at around three in the morning annoyed Yangyang. His roommate, on the other hand, likes to play pranks on him, but Xiaojun doesn't get mad, only chases Yangyang when it happens. They both love to play computer games.
Hobbies, favorites, rumors, and interesting facts
His Korean name is So Deok Jun.
He has a high EQ (emotional quotient); he is known to have a very optimistic nature and is full of positive energy.
His motto in life is "Being complacent will result in loss, being humble will bring benefit."
Nicknames: Junjun, Childish Kid
He plays the ukulele, guitar, drums and piano.
He sleeps with his eyes open.
His hobbies include watching movies (even ones he's already seen), writing songs, reading, and eating non-stop.
When he is reading a book, he has this habit of suddenly saying the lines out loud.
Favorites: green (color), Paris (destination), eight (number), 11 p.m. (time of day), laughter (sound), Jack from the "Titanic" (movie character), Mimosa Pudica or Touch Me Not (plant), "Turning Page" by Sleeping At Last (song)
His dog's name is Zhupi.
His dream is to become a movie director, and he wants his hometown to be the set of the film.
He said that he is health-conscious but you would always find him eating snacks, which he says is his way of bringing down his body heat.
Xiaojun likes green tea-flavored latte, cake, and ice cream. He also has to have Lao Gan Ma, a Chinese chili sauce, with his food. He said that Cantonese people can combine anything that can be eaten together, as he explained why he once ate cheese with the sauce.
Yangyang said Xiaojun looked like the Logan character in "X‑Men" when he first saw him.
The "F*ckn Cool Jap" badge and "Agent Orange" patch that were used as accessories on the outfits of two members as seen in the teaser photos for their first studio album, was said to be insensitive by Knetizens (Korean online users) and they complained about it to the group's agency. As a result, the release of the physical album was delayed as they had to make some changes to the album cover. The stylists of the group didn't escape the criticisms, as it's known that they are usually responsible for putting together the outfits of their artists, especially during promotions.
The hashtag #BoycottNCTVoting started trending on Twitter, when SM Entertainment revealed their plans for NCT promotions in which the fans would have to vote for the members they want to see participate in special activities. This did not sit well with the fans, as this would mean that the less popular members would be left out. SM Entertainment apologized for it and said that fans would only be voting for the activity that they want NCT members to do.
WayV is the only sub-unit of NCT that doesn't use the fandom name, NCTzen. Their fandom name is called WayZenNi. They also have their own lightstick which they called "leekbong."
K-Pop fans were confused at first about the real status of WayV when they were first introduced, even if four of their members already debuted as members of NCT. They were not promoted as part of the NCT group, and are being managed by a Chinese label. The distancing of WayV from NCT was said to be because of the tense relationship between China and South Korea during that time.
Xiaojun along with Kun and Seventeen's Jun was seen dining at a hot pot restaurant on the 9th of August, and it was later revealed that this place was also visited by someone who is said to be a coronavirus patient. This caused fans to worry, although there are those who criticized the idols for eating at a place that offers a buffet table for side dishes.
Appearance
He is 5ft 7ins (1.70m) tall and has a lean build. He has black hair and black eyes.
Net worth
Xiaojun aka Xiao Dejun, has an estimated net worth of close to $1 million as of September 2020, according to sources.