Wang Zi Wei is a Chinese actress and model, who gained early notice when she became part of the Chinese drama, "The Starry Night, The Starry Sea," and "Ice Fantasy Destiny" portraying minor roles. She later became popular when she took on one of the main roles in the popular teen romantic comedy series, "A Love So Beautiful," and had a significant role in the historical 73-episode series, "The Story of Ming Lan."
Just a simple reminder that article is created and owned only by kpopwiki.org. Article cannot be re-published in any other pages or documents. Copyright is protected by DMCA. All found copies will be reported.
Original source: https://kpopwiki.org/who-is-chinese-actor-wang-zi-wei-age-height-husband-bio/
Early Life and Family
Wang Zi Wei was born on 20 November 1996 under the zodiac sign of Scorpio, in Shanghai, China.
Educational Background
She attended local Chinese schools for her primary and secondary education, then graduated from the Shanghai Theater Academy with a degree in Performance Arts.
Career
First Steps – Acting Debut (2017)
Zi Wei made her television acting debut in the Chinese drama romance-fantasy series entitled "The Starry Night, The Starry Sea," on 2 October 2017 via Hunan TV. She plays a minor role of Mi Xue Er in the Feng Shaofeng and Bea Hayden TV series, which was based on a popular Tong Hua novel with the same title, published in 2015.
It was followed by another epic fantasy drama series, "Ice Fantasy Destiny," with William Feng, Ray Ma, and Alina Zhang in the same year. Zi Wei again played a minor role, but she was getting noticed by TV producers and directors.
Drama Series That Changed Her Life
Zi Wei continued accepting TV roles, hoping to land something that would change her life, and it happened through the teen romantic comedy series "A Love So Beautiful," aired on Tencent Video channel. This time instead of just playing a minor part, she was given a meatier role included in the main cast of the series. While the lead roles were given to more popular actors, Shen Yue of the mega-hit "Meteor Garden," and Hu Yi Tian, Zi Wei's wonderful portrayal of the character Lin Jing Ziao, helped her gain wider recognition from the viewing public. She took on the role of the fierce best friend of Yue's character, and also had a cute love-hate relationship with Lu Yang, played by Sun Ning.
Through this drama series, she gained an international following with established fan clubs, particularly around Asia. It ultimately totaled of more than 5.5 billion online streams, making it one of the most popular Chinese teen drama series that year.
More Significant TV Roles and Drama Series (2018 – 2019)
Zi Wei benefited considerably from the success of her previous drama, so that she was given an opportunity to be part of the large-scale epic historical drama series entitled "The Story of Ming Lan," a TV adaptation of a popular novel written by Guan Xin Ze Luan, aired from December 2018 to February 2019 on Hunan TV. It consists of 73 episodes starring popular and veteran actors Feng Shaofeng, Zhu Yilong, and Zhao Liying. She gained massive exposure through this series, as she played the role of lead character Xiaotao, Sheng Ming Lan's maidservant. The drama series started at No. 5 on the TV ratings in the timeslot that it belonged in, but eventually topped the rating game by the 20th episode, and they never looked back.
With the online ratings, it immediately went up to No.2, and by the airing of the third episode ruled the timeslot for online streaming.
Zi Wei was eager to learn more of the craft, so would accept anything that challenged her, and there's no such thing as small roles for her. She again took on a supporting role, in the teen romantic comedy series about the Chinese music industry entitled "My Idol", with Liu Dong Qin, Lia Cui, and Blue Wang. It has 24 episodes that aired in 2018 on iQiyi network.
Further Success – Lead Roles in 2020
Zi Wei's patience and hard work paid off as she was given lead roles in the three drama series she filmed in 2020. The first was "Love of Summer Night," a teen-romance, sports drama series also known as Basketball Loveball or Warm Summer Nights with Aaron Deng as her love interest. He played the role of Su Nuan Xia, who was determined to fulfill his father's last wish to lead his basketball team to victory. Its 24 episodes aired in June of 2020 on Mango TV.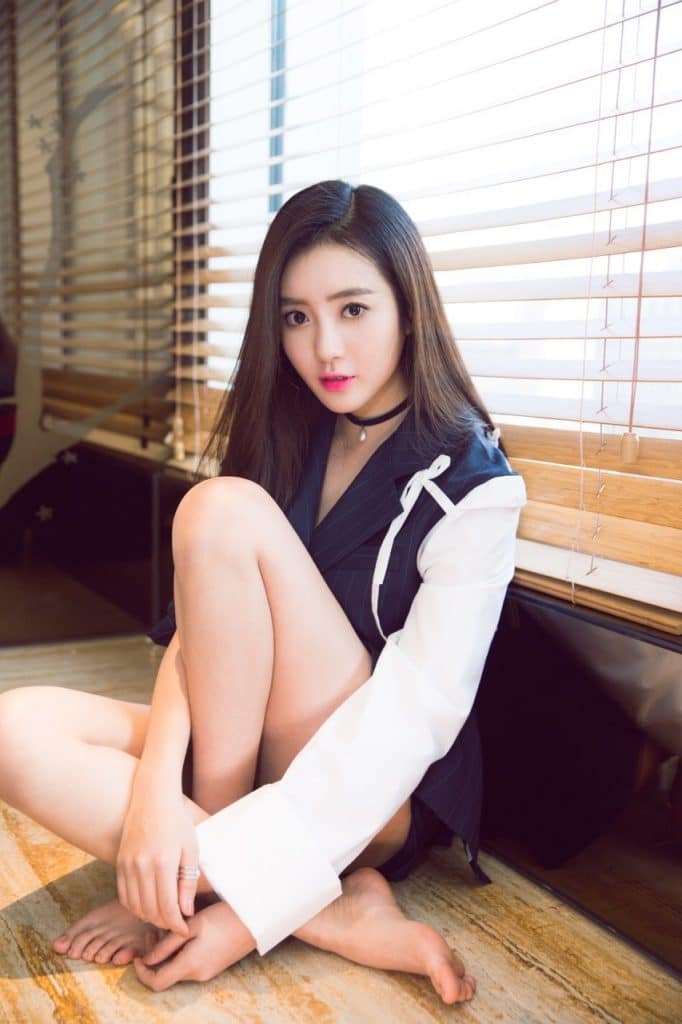 The next drama she filmed was a fantasy/romantic-comedy entitled "The Timeliness Change," a TV adaptation from the popular webtoon called "Seven o'clock" with Will Song and Kido Gao. It tells a story of two people, one of them Zi Wei's character Dangdang, who for some unknown reason turned to their 12 year-old self for two hours every single day, but not at the same time – one at seven in the morning and the other at seven in the evening. It consists of 24 episodes, scheduled to be aired in December of 2020.
From a fantasy, modern romantic comedy series, she went to the opposite end of the spectrum, an epic historical drama series entitled "Qing Luo", directed by David Liu. Zi Wei plays the title role, and becomes a reputable physician during the olden times, after giving birth to her son. It's about her journey as a physician using unorthodox methods as she looks for the father of her child, who pretty much resembles the current royal prince of Feng Cang Kingdom.
Actor Liu Xue Yi plays the royal prince Ye Xiu Du, and actress Daisy Dai is the antagonist in the series. It is also scheduled to be aired in December of 2020, but due to the Covid19 pandemic restrictions, no press announcements yet of its exact date of airing.
Personal Life
After being thrown into the spotlight with the immense success of her drama series, "A Love So Beautiful," Zi Wei was dragged twice into a dating rumor with Chinese boyband, UNINE's leader, Li Wenhan. Back in April of 2019, online rumors came out that during the 10th Year Anniversary of Yuehua Entertainment, Wenhan brought her as his date to the event. Some online entertainment bloggers wrote that certain fans found proof of the date; apparently, many of them used it as clickbait for their vlogs, and to gain more online followers.
When no proof emerged, the rumor died a natural death. However, on 7 August 2019, which is the celebration of Chinese Valentine's Day, the rumor was revived, and this time Zi Wei addressed the rumors to put an end to it. She posted on her popular Chinese social media app Weibo account, "This is the second time already. Please don't bring me into this anymore," also announcing that she is single.
It should have been the end of those rumors, but when Wenhan fans had a fight with another fandom, Zhou Zhennan's, the old issue resurfaced again, and was used to get back at Wenham. Online users at Weibo went into a heated debate on the issue, but ultimately some of the fans posted apologies to Zi Wei's account, as she was dragged into it again.
She has never married, nor is she known to be dating anyone, as of late 2020.
Hobbies, favorites, and interesting facts
During free time, she loves playing online video games on her mobile phone.
Zi Wei had a great time in South Korea, and listed it as one of her favorite places to visit.
She has a collection of stuffed toys, notably those affiliated with movie characters.
Wi Zei developed a close friendship with the cast of the drama series "A Love So Beautiful," particularly of Shen Yue. They would often get together, and she would post about Yue on her Instagram account.
Painting is one of her hobbies.
She was the brand ambassador for products such as OffOn, Australian Make-Up Né, and YoungFace Oxygen.
Appearance
Zi Wei is 5ft 6ins (1.68m) tall and weighs about 100lbs (45kg) with a slender body frame. She has long black hair and dark brown eyes.
Net Worth
According to authoritative sources, Zi Wei has an estimated net worth of over $200,000, as of October 2020.