Ren – whose real name is Choi Min-gi – is a South Korean singer, actor and dancer, born on 3 November 1995 in Busan, South Korea. He's known for being one of the members of K-Pop group NU'EST.
Just a simple reminder that article is created and owned only by kpopwiki.org. Article cannot be re-published in any other pages or documents. Copyright is protected by DMCA. All found copies will be reported.
Original source: https://kpopwiki.org/ren-nuest-age-height-plastic-surgery-real-name-dating/
Early Life
There's no information about Ren's family, though it's known he studied in Yongho Middle School until 2010 when he moved to Seoul and was enrolled in Korea Art School, from where he matriculated in 2014. He's currently attending Hanyang University, though his subject is unknown.
In an interview with Jisin in 2015, Ren talked about his childhood, revealing he was popular in his community due to his adorable appearance and good manners: 'I was very polite, always greeted people, besides I was so cute too (laugh). I lived with my grandparents so I think they harshly taught me rites.'
However, he also revealed his attitude in home was different than in school, as he was known as a troublemaker and his grades weren't over average. In the same interview he also talked about the artists that inspired him to become a singer: 'When I was in primary school, I watched TVXQ and Super Junior performances and dreamt to be like them.'
Career
Early Steps
In 2010 Ren was recommended to participate in a Pledis Entertainment audition by an unknown agent: 'After an audition, on the way back home, there was someone coming to me and asked 'Do you want to attend this audition?', and gave me a name card.' Luckily for him, Ren was rapidly recruited by the agency and joined the pre-debut group Pledis Boys, with whom he collaborated in the song "Love Letter" along with other label mates groups.
The song was on the company's Christmas mini album "Happy Pledis", and was performed in the TV show "Gayo Daejeon", when Pledis Entertainment announced the group had been renamed as After School Boys.
As part of his pre-debut activities Ren modeled in Seoul's fashion week, where he took the attention of media as his style and features were described as androgynous.
Debut
At 16 years old, Ren debuted as the sub vocalist of K-Pop group NU'EST, with the release of the single "Face" and its performance in "M! Countdown" on 15 March 2012.
The group made their first comeback in July that year, with the release of the extended play (EP) "Action", which contained four tracks and sold more than 20,000 copies.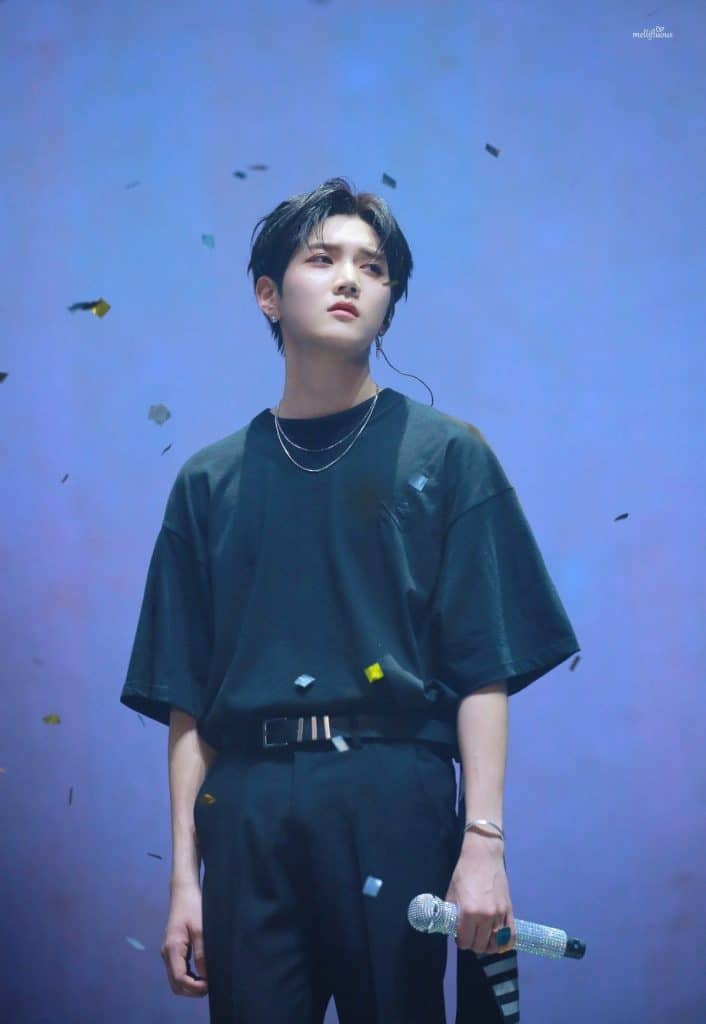 Not only did the group become the Scout Association of Korea ambassadors thanks to their popularity, they also extended their activities to other Asian countries, Europe and the US. In January 2013, Ren made his acting debut in the fantasy series "Jeon Woo-chi" as the messenger Kang-sul.
First Anniversary – More Activities
In February 2013 NU'EST's EP "Hello" was released, followed by the group's appearance in the reality show "MTV Diary". To commemorate their anniversary in March, the group held a concert in Japan as part of their efforts to extend NU'EST's activities in the country.
In August NU'EST made their comeback with the EP entitled "Sleep Talking", which contained six tracks and charted at four on Gaon's list.
During the promotional tour for the album, Ren was interviewed by Kpopeurope, and was asked about the artists he wanted to work with: 'My role model is Lady Gaga. I simply love her fashion concepts and performances. She's an artist who can always create an unique stage. If I ever have the opportunity, I want to collaborate with her'.
In March 2014 Ren performed the song "Something" by Girl's Day in the TV show "Music Core". Then in July, NU'EST made their comeback with "Re: BIRTH", the first album of the group's career, which was followed in November by their official debut in Japan with the single "Shalala Ring".
In February 2015 the group released the single "I'm Bad" during their third anniversary celebration. Then in May that year NU'EST visited America, where they held a solo concert in Dallas.
After the release in May of NU'EST's Japanese single "Nanananamida", the group continued their activities in the country with the album "Bridge the World".
In December 2015, Ren was cast in the movie "Their Distance" as Kim Leon, marking his debut in Japan as an actor.
Fifth Anniversary & Produce 101
As part of their fifth anniversary celebration, NU'EST released the EP "Q" in February 2016, followed in August by another EP entitled "Canvas". Although both albums were commercially successful, its singles didn't reach good positions on the local music charts, leading their agency to consider disbanding the group. Due to this, Ren and his four band mates joined the reality survival show of Mnet "Produce 101" during its second season, in which they competed with other agencies' rookies to join a new boy band.
However, Minhyun was the only NU'EST member to win a position in the newly formed group, Wanna One. Despite the unfavorable outcome, Ren was able to become friends with several of the contestants of the show: 'Everyone had good personalities, and I'm the kind that likes to get close to everyone without exceptions. After all, in such a program, the younger trainees may be uncomfortable with the older hyungs. However, because I approached them in a way that was more like a friend, I think we got close quickly.'
During Ren's and his band mates' participation in the show, NU'EST's music had a rise in popularity, and their previous singles and albums suddenly re-entered Gaon's lists.
Nu'est REN On-Clip <UNBOXING>
Behind Clips 🐰💌📦#렌 #뉴이스트 #최민기
🔗https://t.co/T65H6ayc1N pic.twitter.com/cSz3jErv0P

— cookie ✿ | busy (@cookiepath) October 2, 2020
Not missing this opportunity, Ren and his two remaining band mates – Minhyun became an inactive member as he was promoting with Wanna One at the time – formed a sub unit named NU'EST W.
During his time with NU'EST W, Ren released two solo songs entitled "You & I" and "Paradise". He also became Labiotte's model, and a recurrent member of the show "Learning the Hard Way". In addition, Ren was cast as Yeo Hoon in "Four Sons", though the series was never aired as its production was suspended.
Reunion of NU'EST
After Minhyun returned to NU'EST in January 2019, the group reunited and released "A Song For You" during their anniversary, followed by a solo concert in April and the release of the EP entitled "Happily Ever After", which achieved huge commercial success and topped the local charts.
"The Table" was released in October 2019, which presented a concept very different from the group's previous works, as Ren explained to Marie Claire: 'Our past performances and music revolved around a fictional story and contained a lot of fantasy-like concepts. This time around we are doing the complete opposite. We're taking a realistic and relatable approach.'
In November 2019, Ren wrote and published a children book entitled "We're Happy Because We're Together", and donated its profits to the Pediatric Cancer Foundation of Korea.
The group's latest EP "The Nocturne" was released in May 2020, when it was also announced the group's Japanese comeback was set for October that year.
[160819, TWITTER/INSTAGRAM] NUESTNEWS || BORNTHISREN: NU'EST The 5th Mini Album 'CANVAS' OFFICIAL PHOTO 01 #REN #CANVAS #NUEST 2016.08.29 Release. [Rennie]

Posted by NU'EST Argentina on Friday, 19 August 2016
"Jamie" – Play Debut
In July 2020 Ren made his debut as a theater play actor, with the leading role in the musical play "Jamie", the South Korean version of the original "Everybody's Talking About Jamie". The play is centered on a teen boy who fights social prejudice in his way, to achieve his dream of becoming a drag queen. Regarding his participation in it, Ren said: 'I've always wanted to show off my talents and charms, but there hadn't been many opportunities to do that, so I was feeling hungry for that chance. I felt like it would be great to be able to properly express my energy through a musical. That's when I learned about the auditions for this musical, and I worked hard to prepare for it'. He also confessed that acting while wearing high heels was exhausting and a new experience altogether.
Personal Life
Romantic Interests
There's no information about Ren's romantic life and partners. However, he has revealed he is more comfortable with letting his partner take the relationship's lead and had his first love during his school years: 'Yes it happened when I was an elementary student. At that time, too, I was passive. You have to pull me over and guide me along.'
Plastic Surgery
Although he and his agency have never denied or admitted it, speculation about Ren undergoing esthetic procedures has been circulating on the internet. NU'EST's fans have observed his physical appearance and concluded Ren had a rhinoplasty, as in his early career the bridge of his nose used to be more prominent compared to the straight nose he has nowadays.
Grandfather's Death
Ever since the start of his career, Ren has made especially emphasised the importance of his grandparents in his life, and the way they have influenced his character and personality. This is why when his grandfather died in March 2020, he received hundreds of messages of condolence from fans.
Ren shared a message on his Instagram account showing his gratitude for the support he received: 'I sent someone very important to me, someone who raised me when I was young and immature, to heaven today, so [this letter] is a little late. Because he saw me receiving so much love, I believe that my grandfather will be happy in heaven.'
Net Worth
As a result of his work as an actor and as member of the K-Pop group NU'EST, Ren has an estimated net worth of over $100,000, as of late 2020.
Physical Appearance
Ren is a man of handsome facial features and slender build. He's 5ft 10ins (1.78m) tall and weighs approximately 125lbs (57kgs).
Constantly praised for his fashion sense, Ren talked to Marie Claire about his style: 'It's my personal preference. Instead of clearly stating my intentions, I want people to experience and interpret it from their own perspectives. And I don't like playing it safe. It's not fun.'
Interesting Facts
Ren's name means 'lotus' in Japanese.
After his musical play debut, he received several gifts: 'received rice cake, drinks, and a cake from them. I was able to share it all with the other cast members and staff.'
His blood type is O.
The first member of NU'EST he met was JR.
He knows how to play the piano.