Wonwoo is a South Korean singer-songwriter and rapper, who in 2015 became known as a member of the Korean Pop boyband, Seventeen,. He eventually gained global recognition when his group released its seventh and eighth extended plays, "Heng:garae" and "; [Semicolon]," which sold over a million units each within a week of their release. Seventeen became a contender for the next K-Pop Kings as they were named one of Forbes Asia-Pacific 100 Digital Stars 2020, and made it to 5th place on Billboard's Social 50 Artists in 2020 year-end list. He also made it to the "100 Most Handsome Faces of 2017" at No.72.
Just a simple reminder that article is created and owned only by kpopwiki.org. Article cannot be re-published in any other pages or documents. Copyright is protected by DMCA. All found copies will be reported.
Original source: https://kpopwiki.org/the-untold-truth-about-seventeen-member-wonwoo/
Early Life and Family
Jeon Wonwoo was born on 17 July 1996, in Changwon, Gyeongsangnam-do, South Korea. His name was chosen by his parents because it means to live by helping people with a rounded heart – Won means "round" and Woo means "help."
His parents knew early on that he would pursue a music career, since he was always been interested in music as a young child. Growing up, he was fascinated with different musical instruments, but focused mainly on learning how to play the guitar when he was in middle school. His younger brother, Jeon Bohyuk, works as a model.
Educational Background
He attended Sahwa Elementary School for his primary education, then went to Palryong Middle School before transferring to Munseong High School. He changed school again when he moved to Seoul to start his K-Pop idol training, and eventually matriculated from the School of Performing Arts Seoul (SOPA) in 2015. He is currently enrolled at Hanyang University Institute for Future Talents.
Wonwoo enjoyed studying and it showed in his school grades when he was a student; his favorite subjects are Math and English.
Career
Wonwoo took the harder route to acceptance in the training program of Pledis Entertainment, which was through the Open Audition, as compared to most of the trainees in the company at that time who were street-cast by a talent scout. He wasn't that serious yet in pursuing a music career, when he went to audition out of curiosity, and wanted to experience the audition process. However, he passed several rounds of auditions, so in 2011 he decided to grab the opportunity to undergo professional training.
Four years later, he found himself preparing to be launched in Pledis Entertainment's newest boyband, Seventeen, along with 12 other boys – Dino, DK, Hoshi, Jeonghan, Joshua, Jun, Mingyu, S.Coups, Seungkwan, The8, Vernon, and Woozi.
First Steps – Debut Year (2015)
Initially, Wonwoo was focused on improving his vocals, but sometime during his training he was advised to shift his interest to rapping for the group. His voice has a low register, perfect for delivering rap verses. He was then included in the Hip Hop Team of the group, with S. Coups as the group's leader along with Mingyu, and Vernon; this unit was formed primarily to focus on creating raps for Seventeen songs.
On 26 May 2015, Pledis Entertainment gave Seventeen a one-hour grand debut showcase aired at the MBC network. Their first EP, "17 Carat" was released three days later, consisting of five songs including the lead track "Adore U," "Jam Jam," "Shining Diamond," and "Ah Yeah," which was solely performed by the Hip Hop Unit. The EP debuted at No.4 on the South Korean Gaon Album Chart, and No.8 on Billboard's World Album Chart.
to non-carats, this is jeon wonwoo pic.twitter.com/lnevzR9dLS

— ً (@wonwoopictures) November 30, 2020
Both K-Pop fans and music insiders were surprised that a rookie group was able to chart that high both locally and internationally. It initially sold around 553,000 units in 2015, and later stayed on the Billboard Chart for 11 weeks.
After three months, Wonwoo and the boys released another EP, "Boys Be" on 10 September 2015 – this time it debuted at No.2 on the Gaon Album Chart, and No.1 on the Billboard World Album Chart. It has five tracks with "Mansae" as the lead track, and Wonwoo co-wrote the lyrics of the song. In the year-end chart, the EP ranked at No.15 with over 125,000 units sold. At that time, it was the highest-selling album for any rookie in the K-Pop music scene which led the group to be included on the list of Billboard's 21 under 21 Music's Hottest Young Stars in 2015.
Wonwoo ended his rookie year performing in his group's concert, "Like Seventeen – Boys Wish," which was held for three consecutive days at Yongsan Art Hall on Christmas week. They also scored a Best New Artist Award from the Golden Disk Awards.
Self-Producing Group, Rising Popularity, and Concert Tour (2016-2017)
Seventeen as a group started to be praised as a self-producing group, which means most of the members were involved in the songwriting and music production, along with the dance choreography of their stage performances. It started with Woozi having a hand in creating five songs in their first EP, and one by one another member would join the songwriting team, and by 2017 all the members had writing credits. Not all K-Pop groups were given the license to do all this, but Wonwoo's group from the get-go were allowed to be a part of the creative process.
On their first studio album, "Love & Letter" released in April 2016, all ten songs including the lead track, "Pretty You," were composed by some of the members, and Wonwoo contributed in writing his rap parts.
This was the time when the group received its first music show trophy for the Top Song of the Week courtesy of MBC's "Show Champion." The album peaked at No.1 on the Gaon Album Chart and No.8 on Japan's Oricon Album Chart, and charted high on Billboard including No.3 on World Album Chart, No.5 on Heatseeker's Album, and No.42 on Independent Albums. To date, it has accumulated 210,000 units sold in South Korea, 75,000 sold in Japan, and 1,000 in the US.
With their rising popularity across Asia, Wonwoo and the boys went on their first concert tour, "Seventeen's 1st Asia Tour 2016 Shining Diamonds."  From August to September 2016, they performed in 10 cities including Singapore, Bangkok, Beijing and Taipei.
They embarked on their first world tour the next year, "2017 Seventeen 1st World Tour," and aside from Asian cities, they also performed in North America with shows in New York, Toronto, Chicago, and Dallas.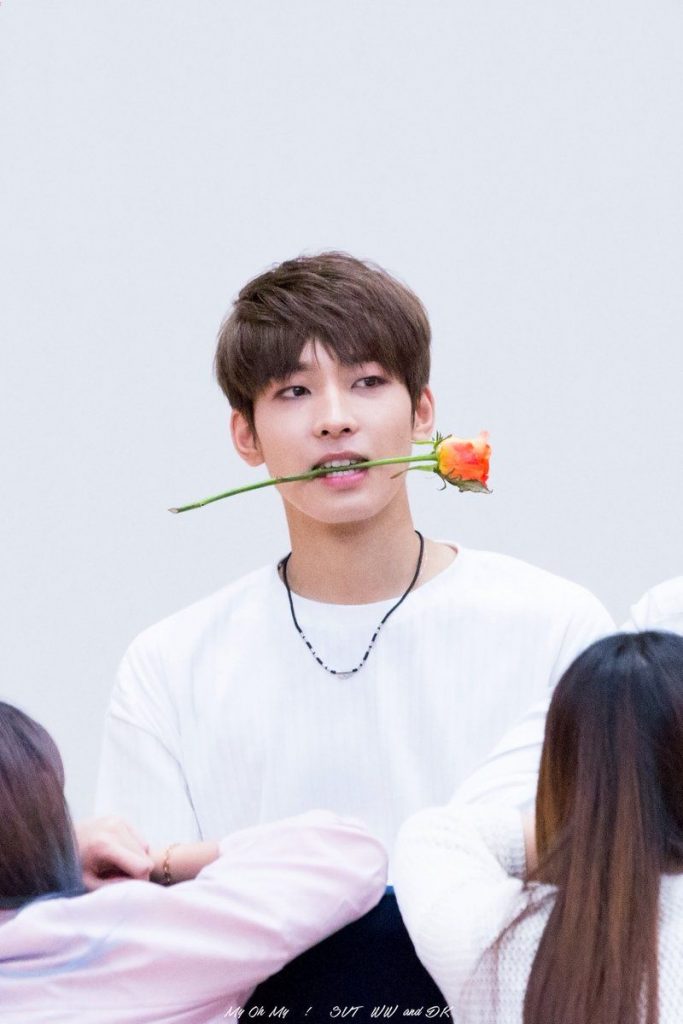 The group then released its fourth EP, "Al1" with the lead track, "Don't Wanna Cry," and its second album, "Teen, Age," with the lead track, "Clap." Both were successful, as they topped the local and international charts with each having sold more than 300,000 units in 2017.
Global Success, Japanese Debut, Platinum and Gold Certifications (2018-19)
The year 2018 proved that Seventeen was a force to be reckoned with in the K-Pop music industry, as all the EPs and albums that they released from here on were awarded Gold and Platinum certifications, either from the Korea Music Content Association (KMCA) or the Recording Industry Association in Japan (RIAJ).
On 30 May 2018, Wonwoo officially debuted in Japan along with his group, with the release of the EP "We Make You." It peaked at No.2 on both the Oricon Album Chart and Billboard's Japan Hot 100, with enough sales for them to receive a Gold certification from RIAJ.
Back in Seoul, they released their fifth EP, "You Make My Day" on 16 July 2018, which peaked at No.1 on the local charts and No.3 on Billboard's World Album Chart with over 420,000 units sold in South Korea, and over 130,000 in Japan. This became their first platinum-certified EP from KMCA.
Wonwoo continued writing his rap parts in some of the songs included in the albums released, which either debuted or peaked at No.1 on the Gaon Album Charts in 2019. When they released the group's sixth EP, "You Make My Dawn" on 21 January, it accumulated sales of over 500,000 units in South Korea and more than 175,000 units sold in Japan –  Seventeen received its first double-platinum certification from KMCA.
Just when they thought things couldn't get bigger and brighter, their third full-length studio album entitled "An Ode", released on 16 September 2019, became the group's first million-seller – KMCA awarded them with multiple platinum certifications for this feat. It consisted of 11 tracks, and Wonwoo was credited as one of the lyricists for the song "Back It Up."
The demand for concerts around the world increased, and Seventeen embarked on "Seventeen World Tour, Ode To You," performing 15 shows spread across seven Asian cities from August to November 2019, including Osaka, Jakarta, Bangkok, and Seoul. The boyband continued with the world tour in January 2020, and performed in seven cities in the US including Chicago, Houston, Los Angeles and Seattle. Wonwoo and his group were scheduled to perform in several European cities after their Manila concert in February 2020, but due to the Covid19 pandemic all the shows were canceled.
New travel guidelines due to the Covid19 virus outbreak restricted the movements of most artists, and public events were no longer allowed, so Wonwoo and the boys used every single online platform to continue communicating with fans.
They released their seventh EP, "Heng:garae" on 22 June 2020, with the lead track "Left & Right." To promote its release, they used the popular app TikTok to create a dance challenge, and it worked, topping the Gaon Album Chart with over 1.4 million units were sold within a week of its release, and was eventually given a Million Certification by the KMCA.
They also release their second Japanese EP "24H", which peaked at No.1 on the Oricon Album Chart, with over 250,000 units sold. The RIAJ awarded the group a platinum certification.
After a few months Seventeen released its eighth EP, "; [Semicolon]" on 19 October 2020, and it was as successful as its predecessor, topping the local charts with over a million units sold, and they were again awarded a Million Certification by the KMCA.
Solo Activities
Wonwoo has been fascinated with video editing/directing, and would learn more about it during his free time. In 2018, he was given the opportunity to direct one of the group's official music videos for the song, "Holiday." He was also credited as one of the lyricists on 27 songs Seventeen released from 2015 up to 2020.
Personal Life
Wonwoo is officially single, and there is no news or rumors of him dating anyone at the moment. Whether he is allowed to date or not would depend on his contract, but since most agencies would only enforce a no-dating policy during the first three to five years after the official debut, it no longer applies to him. However, it's rare for K-Pop artists to date openly, as South Korean fans are reportedly quite possessive of their favorite idols. If ever he dates, it would be someone he has known for quite some time as he doesn't believe in love at first sight. Wonwoo is also quite shy, and it would take one or two months before he warms up to a new friend.
Wonwoo currently lives in a company dormitory located in Seoul, along with other bandmates. During the first few years, he shared a room with S.Coups, and when they transferred into the new dorm, he has Mingyu for a room-mate.
Hobbies, favorites, rumors, and interesting facts
He is not into dogs, and is actually scared of them.
Wonwoo is a homebody, and would spend his free time playing games such as basketball or billiards, reading books, and watching movies.
He needs to wear prescription eyeglasses or contact lenses as he suffers from poor vision. He also suffers from having xerophthalmia – abnormal eye dryness.
Wonwoo's favorites: pomegranates (fruits), hamburgers and ramen (food), blue (color), psycho-thriller and horror (movie genre), Tablo of Epik High and Lupe Fiasco (artists).
His fashion style leans more on casual, preferably comfortable clothes such as sweatshirts, jerseys and parkas, but would sometimes buy fancy clothes including a leather jacket, which is his favorite piece of clothing during winter.
When he took the Myers-Briggs Type Indicator Personality Test, he was categorized as having an INFJ personality – Introverted, Intuitive, Feeling and Judging.
Wonwoo carries an international driving license.
Fans who sent him gifts know not to include anything with seafood, as he doesn't like it.
Wonwoo has a close friendship with Himchan of B.A.P.
Ballads and sad songs help him sleep at night.
While Wonwoo prefers to watch scary movies, he also enjoyed watching the Korean melodrama, "Miracle in Cell No.7." He still cries whenever he watches that movie.
Appearance
Wonwoo is the second tallest member in Seventeen. He is 6ft (1.82m) tall, weighs 140lbs (63kgs), and has a lean muscular body. His shoe size is 10 US (270mm). He has black hair and dark brown eyes.
Net Worth
According to authoritative sources, Wonwoo has an estimated net worth of $2.5 million as of December 2020.