Jung Yerin is a member of the Korean girl group, GFriend, under Source Music, who rose to fame when their lead single, "Me Gustas Tu" (I Like You), from their second extended play (EP) "Flower Bud" became a huge hit in 2015.
Just a simple reminder that article is created and owned only by kpopwiki.org. Article cannot be re-published in any other pages or documents. Copyright is protected by DMCA. All found copies will be reported.
Original source: https://kpopwiki.org/yerin-gfriend-age-height-partner-plastic-surgery-wiki/
Early life and family
Jung Yerin was born on 19 August 1996, in Hyoseong-dong, Gyeyang-gu, Incheon, South Korea. Her parents, Jung Young Don and Jung Hyun Nam, raised her and her 11 years older brother as Christians.
At first her mother wasn't supportive of her dreams of becoming a singer, when she broached the subject just saying 'Go to your room and study.' They wanted her to have a stable job such as a nurse, banker or flight attendant.
She was really hurt at that time, but after that, whenever someone asked her about her dreams, she would lie and say she wanted to become a nurse.
However, her parents must have had a change of heart, as they were in the audience to cheer her on when she performed samba in the "Go Dream Team's Muscle Queen" special in February 2016. When the host commented that her father was handsome, she said that she looks like him, but when she laughs, she looks like her mother, too.
Education background
She attended Hyosungnam Elementary School and Myunghyun Middle School, then matriculated from the School of Performing Arts, Seoul in February 2015.
Career
First steps
She had been a trainee of Fantagio and Cube Entertainment companies, but it was only when she became part of Source Music in 2013 that her dreams of becoming an idol came to fruition. The audition piece that got her in was Younha's "Password 486."
Yerin debuted on 16 January 2015 as the lead dancer, sub-vocalist, center and face of the six-member girl group, GFriend, with the digital release of the extended play (EP), "Season of Glass." The physical album was released the next day, and the three-track EP made it to No.9 on the Gaon Album Chart, with over 11,500 units sold. The lead single, "Glass Bead," peaked at No.25 on the Gaon Digital Chart, with close to 700,000 downloads sold by the end of the year.
GFriend was included in the Billboard list "Top 5 K-Pop Artists to Watch in 2015", and their official music video was No.9 in the list of YouTube's "Most Viewed K-Pop Videos Around the World", for the month of January 2015.
They released their second EP, "Flower Bud," six months later in July 2015, and peaked at No.6 on the Gaon Album Chart with over 18,000 copies sold by March 2016. The lead single, "Me Gustas Tu" (I Like You) that has a catchy tune and powerful dance choreography, peaked at No.8 on the Gaon Digital Chart with more than two million digital downloads. The official MV has around 33 million views while their dance practice video has over 51 million views.
It was said that the success of their single and increased popularity was partly due to a fan-taken video of the group's performance at an SBS radio event on 5 September 2015, that went viral after it was posted on YouTube.
What caught the attention of netizens (online users) was that her co-members SinB, who fell once, and Yuju, who fell several times because the floor was slippery from the rain, continued to perform.
As a rookie group, it was already an achievement for GFriend to be nominated at the 2015 MTV Europe Music Awards for the "Best Korean Act", even if they didn't win. However, they won the "Best New Female Artist" at the Melon Music Awards, and "Rookie of the Year" at the Golden Disk Awards.
Further success
"Snowflake" was the third EP that the group released, in January 2016 after their first anniversary. It was more successful than their previous Eps, as it charted at No.2 on Gaon and No.10 on Billboard's US World Albums.
[PIC] 201010 – @GFRDofficial #Yerin (every__nn) post

💝Pinkpink💝https://t.co/U1E3JFFJqZ pic.twitter.com/pY1B7WwIOF

— GFSquad (@GFSquad__com) October 10, 2020
The lead single, "Rough," reached the top spot on the Gaon Weekly Digital Chart, and No.3 on the year-end chart with almost two million downloads sold, thus becoming South Korea's best‑selling song of 2016. It has achieved an "All-Kill" as it topped multiple music charts, and by June 2018 had sold more than 2.5 million downloads.
The song also gave them their first music show win, through SBS MTV's "The Show", and has now compiled 15 wins. Billboard ranked it as No.13 on the "20 Best K-Pop Songs of 2016: Critics' Picks." The average viewer rating for the "2016 KBS Song Festival" was 6.5%, but it peaked at 10.3% during GFriend's performance, which showed how popular their song was at that time.
Yerin and the girls released their first full-length album, "LOL," on 11 July 2016, with two versions of the physical release, namely "Lots of Love" and "Laughing Out Loud."
The 12‑track album peaked at No.3 on the Gaon Album Chart, and No.7 on the Billboard World Albums Chart. Their lead single, "Navillera," topped the digital chart on Gaon, and reached No.12 on Billboard's World Digital Song Sales Chart, and gave them 14 music show wins.
The group released two EPs in 2017, firstly "The Awakening" which charted at No.1 on Gaon, No.5 on Billboard's US World Albums, and No.18 on Japan's Oricon. The EP has six tracks with the lead single, "Fingertip" reachingd No.2 on the digital chart of Gaon. Their second was the eight-track EP entitled "Parallel", that made it onto the Gaon Album Chart at No.3. Its lead track, "Love Whisper," was No.2 on the Gaon Digital Chart. A repackaged album was released entitled "Rainbow" with two new songs added, including the lead single, "Summer Rain." They also held their first fan-meeting called "Dear Buddy" on 2 April 2017, at the Olympic Hall in Olympic Park, Seoul – Buddy is the official fandom of GFriend.
In 2018, Yerin and her co-members held a two-day concert on the 6th and 7th of January called "Season of G-Friend", that totaled 6,000 attendees; for her solo stage, she sang a cover of Lee Hyori's hit song, "U Go Girl." They released their sixth EP entitled "Time for the Moon Night," which topped the Gaon Album Chart with almost 85,000 copies sold, and a summer EP entitled "Sunny Summer," which charted at No.2 on Gaon with close to 55,000 copies sold.
GFriend signed with King Records, a Japanese recording company, and they released the group's first Japanese album entitled "Kyō Kara Watashitachi wa: GFriend 1st Best." It contains six of their hit songs in Korean, as well as their Japanese versions. The compilation album reached No.10 on the Oricon's Weekly Chart and No.25 on its monthly chart. They also released their first Japanese single, "Memoria," and it was No.6 on the Oricon chart.
They continued to be busy in 2019 with the release of another EP, "Fever Season," and studio album, "Time for Us" in South Korea. They also dropped the single album "Flower/Beautiful," and studio album, "Fallin' Light," in Japan. It was announced in July 2019 that BTS' label, Big Hit Entertainment had acquired Source Music to become its subsidiary, and would retain the company's management team. Since its acquisition, GFriend has released two EPs, namely "Labyrinth" and "Song of the Sirens" in 2020.
On 15 July 2020, Yerin was reported to have been taken to hospital to be treated for acute gastroenteritis (stomach flu), and was unable to join her co-members in their promotional activities. This was not the first time she had to take a rest from group promotions, as she was diagnosed with appendicitis back in September 2017, although it wasn't serious enough to require surgery.
Solo Activities
Seven weeks after her debut, she appeared as a guest in the popular Sunday variety show, "Running Man" that aired on SBS.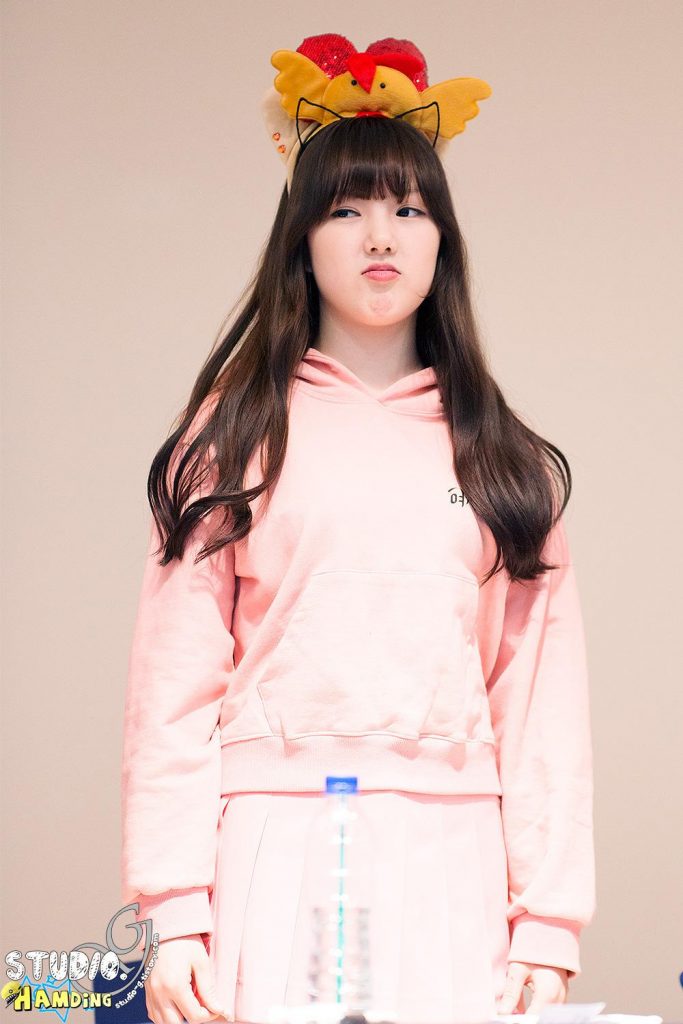 After that, she made her acting debut in MBC Every1's web drama, "Midnight's Girl," also known as "Girl of 0AM" in May 2015.
She also tried her hand at hosting, as she became an MC for SBS MTV's "The Show" from 2 February 2016 to 6 September 2016. She said that she practiced so hard the night before a broadcast, but would still make a mistake during the actual show. She was so disappointed in herself that she can't watch those episodes in which she messed up.
In SBS' 2017 reality survival series, "Law of the Jungle in Komodo," Yerin impressed the viewers as she showed no fear in helping to catch a lizard, then skinned and prepared it for their meal. She was also the first one to take a bite after it was cooked and said that it tasted like chicken. She conquered her fear of heights when she rappelled down a cliff in the show.
She appeared in "King of Mask Singer" disguised as the "Fat Macaron" in November 2019, but only reached the second round of the singing competition.
Personal life
Yerin is 24 years old and currently single. Although dating is not banned by her company, there is still no news of her dating anyone or having a boyfriend. She revealed that her first love was her classmate in high school, and that she dated back then and had experienced what couples at that age do, such as trying out new restaurants and watching movies together in their school uniform.
In an interview, she said that she likes a man who has a sweet smile. Her ideal type is the South Korean actor, Lee Hyun Woo.
She has her own small room on the lower floor of a two-story apartment provided by their agency, that she shares with her co-members.
Hobbies, favorites, rumors, and interesting facts
Yerin's name means treasure.
She wants to give energy to her co-members, which is why she was given the nickname, "Ginseng." She is also described as the "Rice Cracker of Happiness." Her mom used to call her "binsoonie" because she pouted a lot.
Cleanliness is her forte.
Motto: "Have no regrets"
Her hobbies include listening to music, watching Netflix, playing the "Angry Birds" game, and working out.
Yerin likes dancing, and she created what she called the "chicken dance," which became her signature dance move.
She likes chocolates but hates raw carrots.
Her special talents include doing a "Doraemon" voice impression, and flipping pancakes.
She enjoys reading manga and watching anime – her favorite is "One Piece."
Yerin likes diaries and dolls.
She has been a big fan of the idol group Shinee, since she was in elementary school.
Favorites: yellow (color), spelling (subject), dog (animal), Kim Hyun-Joong (actor), Ha Ji-Won (actress), Jin of BTS (singer), London (place)
She and her co-members received their first paycheck in 2017, which is considered earlier than usual because with their hit songs, they were able to pay back the money invested by the company into their debut fast.
A GIF was posted of Yerin poking her co-member SinB in a rude manner, and the latter reacted as if she couldn't believe Yerin did that to her.
According to a former classmate, Yerin was already gorgeous even before debut, and couldn't understand why the idol had plastic surgery done to her eyes, nose and cheeks. It seems that Yerin now has bigger eyes, puffy cheeks, and an unnatural-looking nose.
She was a guest in MBC's "Unexpected Q," and when asked what song makes her the most excited, she chose Bigbang's "Bang Bang Bang" and even danced to it. The choreography involved making a fist and looked as though she was punching someone. Unfortunately, she did it as she was facing toward another guest, Kim Chang Ryul, who was once accused of assaulting a former Wonder Boyz member. When she realized her mistake, she immediately made a 90-degree bow and apologized to the person.
Yerin said in the KBS' show, "Happy Together 3," in 2017 that her group's choreography of "Love Whisper" is more difficult than that of other girl groups' dance choreographies and proceeded to demonstrate it. She was bashed for this as some fans said that she's looking down on other girl groups. EXO's Kai was also bashed for dissing Yerin by saying it doesn't look difficult at all. Apparently, there were mistranslations on what was actually said. She said that their choreography was tough on their bodies, and more difficult than the usual cutesy girl group choreography. Kai said male idols were taught, and have been involved in similar dance techniques, so it's not that hard for them.
Source Music only allowed her and the girls to use a cell phone two and a half years after debut. It was also years later before they were able to meet their friends without their manager accompanying them.
Appearance
She is 5ft 5ins (1.67m) tall, weighs 110lbs (50kgs), and has a slim build. She has brown hair and black eyes. Her dress size is 2 and her shoe size is 6 inches (230 mm).
Net worth
Yerin has an estimated net worth of $3 million as of October 2020, according to sources.