Kim Hongjoong is a South Korean rapper, dancer and singer-songwriter, who gained early notice mostly from international Korean Pop (K-Pop) fans, with the release of the docuseries "KQ Fellas American Training" on YouTube. He later debuted as the leader of the idol group ATEEZ, managed by KQ Entertainment.
Just a simple reminder that article is created and owned only by kpopwiki.org. Article cannot be re-published in any other pages or documents. Copyright is protected by DMCA. All found copies will be reported.
Original source: https://kpopwiki.org/kim-hongjoong-ateez-age-height-family-net-worth-bio/
Early life and family
Kim Hongjoong was born on 7 November 1998, in Anyang, Gyeonggi-do, South Korea; his name means "be the center of the wide world." He has an older brother, who is an actor.
His mother has been very supportive of his dreams, as she said that he can do anything as long as he sets his mind to it. This inspired him to pursue making music and performing.
Educational background
He studied at the Kwiin Elementary School in his hometown. He was too busy working in the studio that he barely attended high school, but he somehow managed to matriculate from Dongan High School. Hongjoong is about to enroll at the Global Cyber University, into the Department of Entertainment & Media.
Career
First steps
His interest in music and songwriting started when he was young, and developed into a passion that led him to take the initiative to write to KQ Entertainment, home to Zico, one of his role models from his favorite idol group called Block B, about wanting to become a trainee.
He sent in his mixtape along with his letter, which became his ticket to becoming an official trainee of the company, as those who listened to his songs recognised his potential and signed him up.
Although he had to forego his studies at that time, and sacrificed what normal teens usually do such as having fun and making memories with friends, he didn't have any regrets, as he considers spending time inside the studio learning about producing music and practicing as valuable. He has been mentored by EDEN, singer-songwriter and producer of KQ Entertainment, and wrote his first song at 16. It took six months before other boys started signing-up to join Hongjoong in the training program.
"MIXNINE" survival series
While preparing to debut, Hongjoong along with other KQ Entertainment trainees, namely Wooyoung, Jongho, and Mingi, managed to pass the audition held by YG Entertainment to enter the reality television survival series called "MIXNINE", that YGE and JTBC cable channel produced to launch an idol group out of the winning participants. They received additional training from various coaches, and were given challenges that showcased their talents. Most aspiring K-Pop artists are put through this route, not just for a chance to debut early, but also to get some screen time and win the viewers' hearts. Even if they lose, when their respective agencies finally launch them they already have fans supporting them.
Unfortunately, none of the KQ trainees made it, with Hongjoong's final rank at No.42 and he didn't make it past the second elimination round.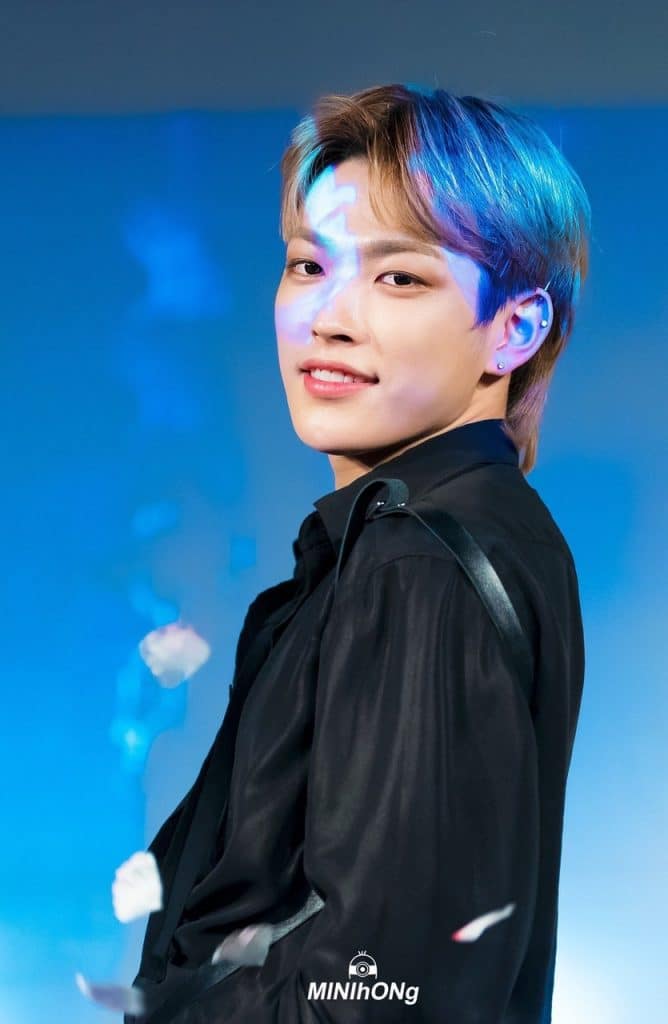 Participating in the idol competition show was a reality check for them. They knew they needed to work on their skills some more, so the company decided to send him along with seven others to Los Angeles, California, to receive dance training from the Millennium Dance Complex and Movement Lifestyle. Their stay in the US was documented, and made into a series entitled "KQ Fellas American Training", with KQ Fellas as their group's pre-debut name. They released the single "From" that Hongjoong and the members wrote for the docuseries' finale, written to their future selves.
Their confidence and much-improved dancing skills as a result of their intensive training were evident in the dance performance video they also uploaded on YouTube; it was a cover of "Pick It Up" by the American rapper, Famous Dex.
Debut as Ateez
Hongjoong and the boys were officially introduced as ATEEZ in the reality show, "Code Name is Ateez," and was aired on Mnet in July 2018. Their name stands for "A TEEnager Z," which represents teens and what they like. He finally debuted as the leader of the group on 24 October 2018, with the release of the extended play, "Treasure EP.1: All To Zero." The six-track EP with its two lead singles, "Pirate King" and "Treasure," peaked at No.7 on South Korea's Gaon Album Chart, with over 23,500 copies sold by the end of the year, and now has cumulative sales of more than 85,000 copies. It also reached No.12 on Billboard's World Album Chart. Hongjoong co-wrote the lyrics of all tracks except for the intro.
A few months later, they released another EP entitled "Treasure EP.2: Zero To One," and it peaked at No.6 on the Gaon Album Chart, No.5 on Billboard's World Album Chart, and No.7 on Billboard Heatseekers Album.
I vote @ATEEZofficial for HallyuLife Awards 2021 – Global Fans' Choice #ATEEZ_HLA2021 #HLA2021 pic.twitter.com/kSzXZKbL3f

— 💙Kim Hong Joong💙(Pyeonghongman)김홍중 홍중🦋🌸🌟1117 (@KimHongjoong3) January 3, 2021
The EP has six tracks including the lead single, "Say My Name," which made it to Billboard's list of "The 25 Best K-Pop Songs of 2019" at No.13, and BuzzFeed's "30 Songs That Helped Define K-Pop in 2019" at No.4.
Less than six months after their debut and with two EPs under their name, they embarked on their first tour called "The Expedition Tour", from March through April, with five shows in the US followed by 10 shows in Europe. The tickets were all sold out, which was a clear indication that they'd developed a strong following overseas. Hongjoong and his group were included in the line-up of performers at the Korean Wave Convention music festival, or KCON 2019 in Japan that May. They also went to Australia in August as part of their expedition tour.
On 10 June 2019, they released "Treasure EP.3: One To All," which peaked at No.2 on the Gaon Album Chart, No.9 on Billboard's Heatseekers Album Chart, and No.8 on Billboard's World Albums Chart. Three singles from the six-track EP were released, namely "Illusion," "Wave" and "Aurora."
"Wave," which was voted by the fans to be the lead track, gave the group their first music show win through Mnet's "M Countdown." This is a huge deal particularly for a rookie group, as this is about legitimately recognizing the song as the most popular one in South Korea that week, and this is difficult to achieve with many K-Pop artists vying for it with their newly released singles.
That was a defining moment for them as it established their popularity in Korea, which eluded them after their debut.
Hongjoong and the rest of the boys were grateful for the support and dedication of ATINY (a combination of ATEEZ and the word "destiny"), the official name of their fandom, for making this possible, as winning involved digital single sales, album sales, music video views, and votes of fans through various platforms.
They went on to perform at the KCON 2019 NY in July, and KCON 2019 L.A. in August to meet their international fans. In September, they released their first studio album entitled "Treasure EP.Fin: All To Action," which consists of 11 tracks including "Dancing Light," "Mist," "Sunrise," and the lead single, "Wonderland." The album claimed the top spot on the Gaon Album Chart with over 165,000 copies sold that year, and now has cumulative sales of over 210,000 copies. It also charted at No.7 on Billboard's World Albums Chart, and No.10 on Billboard's Heatseekers Albums Chart.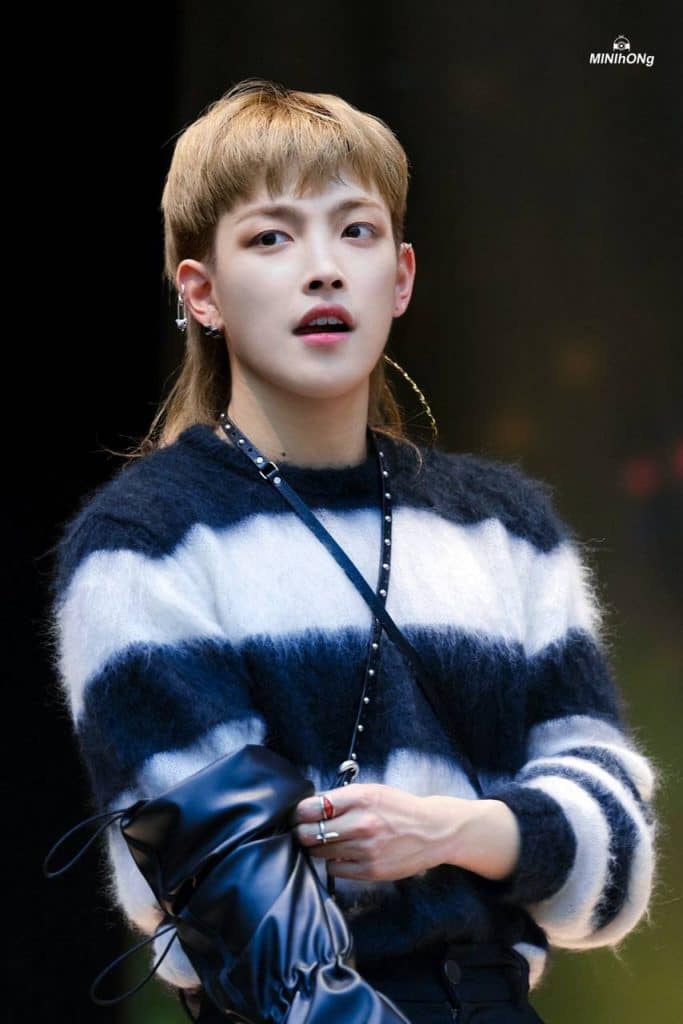 Before the year ended, they released their first Japanese album entitled "Treasure EP.Extra: Shift The Map," which peaked at No.9 on Japan's Oricon Chart with more than 13,000 copies sold.
Hongjoong and the boys released the final part of their Treasure series in January 2020, entitled "Treasure Epilogue: Action To Answer", with the lead single "Answer." This fourth EP with five tracks topped the Gaon Album Chart, with almost 130,000 copies sold that month, and entered Billboard's World Album Chart at No.5 with 1,000 copies sold. They released another Japanese EP, "Treasure EP.Map To Answer," which peaked at No.5 on the Oricon Chart with almost 20,000 copies sold.
ATEEZ held their second world tour called "The Fellowship: Map The Treasure," which kicked off in Seoul in February. However, before they could meet their international fans in the US, Europe and Japan with tickets that were mostly sold out, their tour was postponed indefinitely due to COVID-19 pandemic restrictions imposed by the government, as all travel and mass gatherings were prohibited in an effort to limit the spread of the virus.
KQ Entertainment decided to hold an online concert on the V Live app for free, called "Crescent Party", on 30 May 2020, with around 1.4 million viewers who tuned in. Hongjoong and the boys joined the line-up of performers for the KCON:TACT 2020, the online version of the K-Pop music convention, held in June and then again in October.
The group released their fifth EP entitled "Zero: Fever Part.1" on 29 July 2020, which topped the Gaon Album Chart and was awarded platinum certification by KMCA for surpassing the 250,000 copies sold mark, as it has cumulative sales of over 375,500 copies by October 2020, and performed well at No.6 on the Billboard World Albums Chart. It has seven tracks including "Fever," "One Day At A Time," "Thanxx," and the lead single, "Inception," which won the No.1 Song of The Week on SBS MTV's "The Show", and MBC's "Show Champion."
When the concept photo for the second single, "Thanxx," was posted, Hongjoong was seen sporting neon blue cornrows, and this raised concerns about cultural appropriation. KQ Entertainment issued an apology, and released a statement that the hairstyle was part of the concept and they didn't have any intention to commercialize or depreciate other cultures.
They further added that although Hongjoong wouldn't be seen with that hairstyle during album promotions, the controversial photo would still be included in the album booklet and other promotional materials. Hongjoong said that the criticism he received was unexpected, and he learned that they have to acknowledge cultural and historical issues in a more comprehensive manner, to prevent something like this from happening again.
The group's cover performance of Turbo's "Black Nero" at the KBS' show "Immortal Songs: Singing The Legend," in August 2020, was highly appreciated by the judges, and won them that night's competition, and were the first and only fourth-generation K-Pop group to win that show.
Ateez won the Worldwide Fans' Choice Award and Discovery of the Year Award at the Mnet Asian Music Awards in December 2020.
As a songwriter
He took part in the songwriting process on most of the tracks in all their extended plays and studio albums. According to Hongjoong, the sound of Ateez has no limitations when it comes to genres; their goal is to offer musical diversity. He also said that he would always write for the group and never for himself only, so his fans might have a long wait for the release of his solo album or single.
Personal life
Hongjoong is 22 years old and single. Although it is not certain if KQ Entertainment imposes the dating ban for the first three to five years after the debut of their artists, there is no news of him dating anyone at the moment.
His ideal type is a warm-hearted person, who is on the same wavelength as him.
Goodnight Everyone😴😴😴😴

Have a wonderful night/day💙

Tomorrow I will be selling more Ateez photocards so keep an eye out for that💕💕💕💕💕💕@ATEEZofficial #ATEEZ #에이티즈 #HONGJOONG #김홍중#홍중 #HongjoongWorldDomination#ATINYLovesHongjoong #Hongjoong_MyLight pic.twitter.com/VwKd7hnD2J

— 💙Kim Hong Joong💙(Pyeonghongman)김홍중 홍중🦋🌸🌟1117 (@KimHongjoong3) January 3, 2021
Hobbies, favorites, rumors, and interesting facts
Nicknames: Mini-Hong, Hong-leader, Hongee, Hongzart (Hongjoong + Mozart), and "Korean Big Minion" (for being a fan of the minions in "Despicable Me")
Favorites: yellow and red (color), "La La Land" (movie), fall (season), frozen yogurt (dessert)
His hobbies are mostly related to his work, such as composing and listening to music. Most of his free time is spent at the studio working on music.
Hongjoong can speak basic English, as he has been learning the language through watching various Netflix shows, including "Modern Family."
He doesn't like greens such as bell peppers.
His role models are G-Dragon of Bigbang and Zico of Block B.
He is known for trying out various styles when it comes to fashion, so his fans have come to expect something different from him during album promotions.
He would often be seen having a painted pinky nail in support of the Polished Man Campaign, which aims to bring awareness to violence against children – that painted fingernail represents one in five children experiencing this atrocity. Seeing Ikon's Bobby supporting the cause inspired him to do the same. He felt that this is the least he can do as an idol while appearing on stage or broadcast.
Ateez is known for having a "demon line" and Hongjoong is one of them due to his intense and sometimes downright scary expression, looks, and demeanor when performing on stage according to his fans.
Appearance
Hongjoong is 5ft 6ins (1.72m) tall, weighs 135lbs (61kgs), and has a lean build. He has black hair and dark brown eyes. He's known for trying out not just different hair colors, but also various hairstyles for their album promotions, such as the mullet, two braided rattails, and the controversial cornrows.
Net worth
Kim Hongjoong has an estimated net worth of $400,000 as of December 2020, according to sources.