Just a simple reminder that article is created and owned only by kpopwiki.org. Article cannot be re-published in any other pages or documents. Copyright is protected by DMCA. All found copies will be reported.
Original source: https://kpopwiki.org/ateez-choi-san-wiki-who-is-choi-san-age-hair-height/
Who is Choi San?
Choi 'Sanjook' San was born in Namhae, South Gyeongsan, South Korea, on 10 July 1999 – his zodiac sign is Cancer, and he holds South Korean nationality. He is a pop singer, best known for being a member of the South Korean boy band ATEEZ.
Choi's early life
Choi was raised alongside his older sister in Namhae by their father, who is a martial artist and the owner of a Taekwondo studio, and their mother who is working at a local supermarket. It was Choi's father who chose the name 'San' for him, as he wanted his son to become 'a comforting hill for some people and for others'.
(๑˙°theard san vs santan.˙๑) #San #CHOISAN pic.twitter.com/tqm2vCd1Yj

— – ♡ atsd (@ne0ppuniya) August 16, 2020
His father also encouraged him to start taking martial art classes, and although Choi tried at the age of nine, he was never very good at it.
He was raised more by his grandparents than by his parents, as they were busy working most of the time, and he grew up being interested in music and wanting to become a singer. He attended a local high school in Namhae, where he played volleyball for the school's team and was one of the best players in the team, however, he didn't want to become a professional player. Upon matriculation in 2017, Choi decided to focus on singing, and didn't enroll at college.
Singer for the band ATEEZ
In 2018 Choi was signed to KQ Entertainment, which created the band KQ Fellaz and tested it by uploading their music videos onto YouTube in a series called "KQ Fellaz American Training"; it featured the boys working on their singing skills in Los Angeles, California USA. The band consisted of nine members, but only eight made it as the final crew as Lee Junyong was eventually let go. It was announced on 26 June 2018 that KQ Entertainment would be launching a reality TV show called "Code Name is Ateez", meaning KQ Fellaz were officially becoming a band, and were going to be called ATEEZ.
The show aired its first episode on 20 July 2018, and on 24 October made their debut performance at Yes24 Livehall, after having uploaded teaser pictures onto their social media accounts each day for two weeks. The band's debut extended play (EP) "Treasure EP.1: All to Zero" came out on the same day, and included music videos for songs "Treasure" and "Pirate King" – the EP attracted a lot of attention, and reached #7 on the Gaon Albums Chart.
Their second EP – "Treasure EP.2: Zero to One" – followed on 15 January 2019, and the music video for the EP's lead single, "Say My Name", was released on the same day.
They soon went on to announce that they were going to tour around the US in cities such as Chicago, Illinois and Atlanta, Georgia – all the tickets were sold not long after they were put up for sale on the internet. As the band's popularity was growing, they announced on 20 February that they were doing a tour around, Europe performing in cities such as London England, Paris France. and Milan Italy, and six other European metropolis – all the tickets were sold out once again. The band performed at KCON 2019, in Chiba Japan on 17 May 2019, and their Australian tour was then announced starting in Melbourne on 9 August.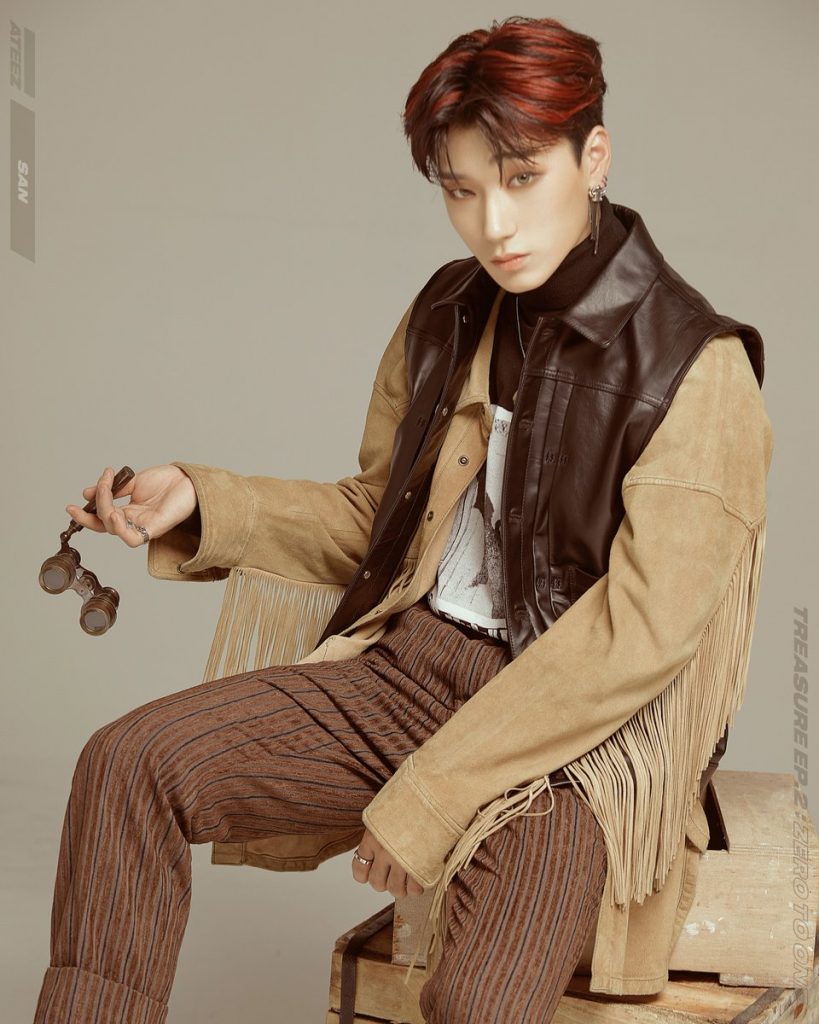 On 10 June the boys released their new EP "Treasure EP.3: One to All", and the song "Wave" was chosen as the EP's lead single by ATEEZ's fans. On 20 and 25 June, the boys won their first two awards – a Next Generation Award and 1st Place The Show Choice Winner, while they have also won a Worldwide Fans' Choice Award, Best Korean Act Award and a Best Performance Award, all in 2019.
The boy band went on to perform at KCON 2019 NY and KCON LA on 6 July and 17 August respectively, and they were also invited to perform at KCON Thailand on 29 September.
Their first full-length album – "Treasure EP.Fin: All to Action" – came out on 8 October, and was loved by the fans, then on 10 November 2019, they released their first song in the Japanese language entitled "Utopia", followed by their performance at the Mnet Asian Music Awards held in Nagoya, Japan on 4 December 2019 – they released their debut Japanese album on the same day, entitled "Treasure EP.Extra: Shift the Map".
The band's fourth EP came out on 6 January entitled "Treasure Epilogue: Action to Answer", which concluded their "Treasure" EP series, and although ATEEZ was supposed to go on their European tour in March 2020, the tour had to be postponed due to the outbreak of the COVID-19 virus.
Choi auditioned for the South Korean show "MIXNINE", but wasn't one of the chosen singers.
Love life and girlfriend
Choi San is currently dating his girlfriend Seong Ngor, for around three years now. Most of his fans are very curious to learn more about their relationship, and even joined on the internet to help Choi woo her, and make him her girlfriend in January 2017. Choi is one of the rare K-pop band members who seems to be allowed to have a girlfriend, as rookie singers usually have a ban on dating, and are often let go from their bands if they find a girlfriend.
This is because it leads to bands having fewer fans if their members are taken.
Choi is currently dating Seong Ngor; he hasn't married and doesn't have children.
Interests and hobbies
Choi is a huge lover of plush toys and has many of them, while he calls his favorite 'Shiber', and often carries it around with him. He is interested in learning new languages, and is currently learning Japanese while he can speak English nearly perfectly. He likes to taste various cuisines, and meat is the favorite part of his meals, but Choi is also a huge lover of sweets, with his favorite being chocolate; his favorite snack is "Oh Yes".
He is keen on listening to music in his spare time, and several of his favorite performers are Justin Bieber, Zion T and Dean.
Choi's main hobby is reading books, with mystery novels being his favorite, and has read numerous, with one of his most recent having been "What The Cat Taught Me At The Bottom of the Sorrow" by Cynthia L Copeland. He is also keen on watching movies, as well as playing video games with his friends from ATEEZ.
Choi's age, hair, height and net worth
Choi is 20 years old. His hair color is brown although he dyes it blue, and he has brown eyes. His height is around 5ft 8ins (1.73m). ATEEZ's net worth is estimated at around $500,000 as of July 2020, making Choi's share around $62,500.