SinB is a South Korean dancer and singer, who rose to prominence when she became a member of the Korean Pop girl group, GFriend. Her group first gained widespread media attention in 2015, when she and other bandmates fell several times while the group was performing their single, "Me Gustas Tu," on a slippery stage due to rain. They continued dancing energetically with smiles on their faces that made headlines, and the video went viral. The girls were praised for their professionalism, and the song became a huge hit. GFriend has come a long way since then, and is now one of the K-Pop music industry's biggest stars.
Just a simple reminder that article is created and owned only by kpopwiki.org. Article cannot be re-published in any other pages or documents. Copyright is protected by DMCA. All found copies will be reported.
Original source: https://kpopwiki.org/who-is-sinb-from-gfriend-nose-height-plastic-surgery-bio-wiki/
Early Life and Family
SinB was born Hwang Eunbi on 3 June 1998, in Cheonngju, Chungcheongbuk-do, South Korea. She and her older brother were raised by their parents in a Catholic household; her baptismal name is Esther.
She started quite early in the entertainment business, as while growing-up she modeled children's clothing.
Educational Background
She attended Wonpyeong Elementary School and Wonpyeong Middle School, then transferred to Chonanbuk Middle School. She matriculated from the School of Performing Arts Seoul (SOPA) in 2017.
Career
Her love for dancing pushed her to enroll into classes in three dance schools, including Krazy Dance Academy, DM School, and Def Dance Skool before she took part in open auditions. SinB trained for two years at Big Hit Entertainment, home of the boyband BTS, and for one year at Loen Entertainment, before moving to Source Music in 2014. After a year, she was launched as the main dancer and center of the K-Pop girl group, GFriend, along with Eunha, Yerin, Yuju, Umji, and Sowon. Her stage name was given by one of the former directors in Source Music, and means mysterious.
GFriend started out with a school concept when they released their first extended play, "Season of Glass," on 15 January 2015. It consisted of five tracks, two were instrumentals along with "Neverland," "White," and the lead track, "Glass Bead." They were supposed to debut with another song, but when SinB and the girls heard "Glass Bead" for the first time, they all fell in love with it and felt that the song matched them better. The EP peaked at No.9 on the South Korean Gaon Album Chart, with only 22,000 units sold, while the lead track had over a million downloads.
When almost every female K-Pop act in 2014 had a sexy concept, GFriend offered something quite refreshing, such as the classic innocent look which was very reminiscent of Girls Generation's "Into The New World" way back in 2007. It worked for the girls, and they were included in the "Top 5 K-Pop Artists to Watch in 2015" Billboard list, impressing with the non-stop dance choreography of a bubblegum pop song.
Halfway through their debut year, SinB and the girls released another EP entitled "Flower Bud", consisting of six tracks including "My Buddy," "Under The Sky," "One," and the lead track, "Me Gustas Tu," along with two instrumentals. It peaked at No.6 on the Gaon Album Chart with over 28,000 units sold, while the lead track initially charted at No.27 and then after a week on the Gaon Digital Songs Chart went up to No.15.
However, in September 2015, the video of their aforementioned performance on a slippery stage went viral worldwide; they were praised for their professionalism, the song peaked at No.8, and was downloaded more than 2.5 million times.
GFriend capped the year with a nomination for Best Korean Act in the MTV Europe Music Awards 2015, which was quite a feat since no other female K-Pop artists were nominated.
Their songs, "Glass Bead" and "Me Gustas Tu," were included in the year-end best-selling songs from two major music charts, Gaon Top 100 and Bugs Top 100. They also won the Best New Female Artist from Melon Music, Golden Disc, Seoul Music, and Gaon Chart K-Pop Awards.
Commercial Success, Music Show Win with Triple Crowns, Billboard Chart Entry (2016)
SinB was kept busy along with her group, as they continued to successfully release new music. In January 2016, they released their third EP, "Snowflake," which peaked at No.2 on the Gaon Album Chart, with over 42,000 units sold in South Korea, and more than 2,000 in Japan. It was also the first time that they entered the Billboard World Albums Chart, peaking at No.10. The lead track entitled "Rough" proved that GFriend's popularity wasn't just a fluke courtesy of the 'falling' video that went viral.
It peaked at No.1 on the Gaon Digital Chart, was downloaded over 2.5 million times, and the music video was one of the most-watched K-Pop videos in January 2016. It was this song that SinB and the girls were rewarded with their first music show win for being the No.1 Song of the Week. They earned what they call in the K-Pop music industry "Triple Crowns", from popular music shows including "Inkigayo," "Music Bank," "M Countdown," and "Show Champion," for a total of 15 wins, becoming the second girl group with the most music show wins at that time. According to the Gaon Year-End Chart, it was the most downloaded song in 2016.
Their first full-length studio album, entitled "LOL" reached 60,000 unit pre-orders. It peaked at No.3 on the Gaon Album Chart, with the lead track, "Navillera" topping the Gaon Digital Chart with over 1.2 million downloads. It even charted at No.12 on Billboard's World Digital Song Sales Chart.
More Successful EPs and Albums Released, First Solo Concert (2017-2018)
In the next two years, SinB and her group continually released one album after another. Their fourth EP, "The Awakening," was released in February 2017 with the lead track, "Fingertip."
[WEVERSE] 201228 – @GFRDofficial #SINB post

I'm uploading an unrevealed photo
It's a photo that i cherish a lot..🥺❤️ pic.twitter.com/AtTJ6FSlvO

— GFSquad Subs (@GFSquadSubs) December 28, 2020
It was one of their most successful Eps, as they received pre-orders of over 100,000 units, and it debuted at the top of the Gaon Album Chart, and No.5 on the Billboard World Albums Chart. The lead track peaked at No.2 on the Gaon Digital Chart, and they managed to get two music show trophies as the Top Song of the Week, courtesy of SBS MTV's "The Show."
In August 2017 they released their fifth EP, "Parallel" with eight tracks including the lead track, "Love Whisper." It peaked at No.3 on the Gaon Album Chart with over 62,000 units sold, and at No.10 on Billboard's World Albums Chart. The lead track reached at No.2 on the Gaon Digital Chart with over 500,000 downloads.
In 2018, SinB and the girls held their first solo concert, "Season of GFriend," in January at the Olympic Park in Seoul – they were quite overwhelmed that they were able to perform for three hours singing their own songs, instead of just doing cover songs as in the past. For their solo stages, SinB performed BoA's popular hit song, "No.1."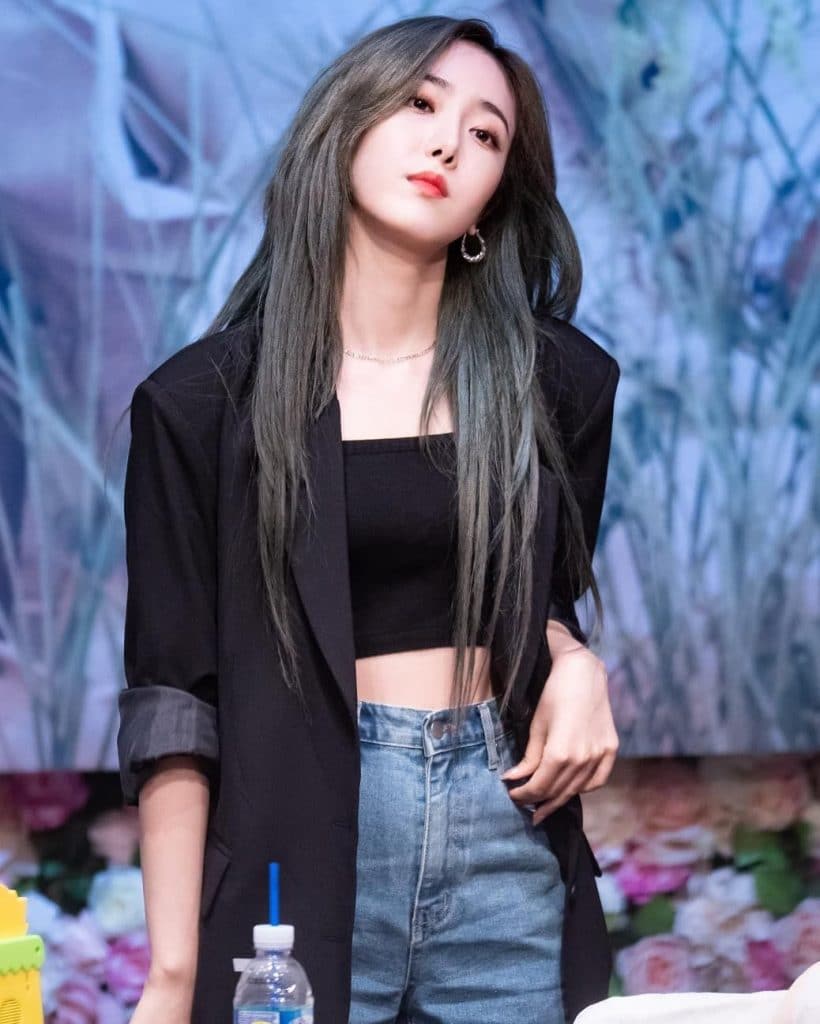 Two more EPs were successfully released in 2018, entitled "Time for the Moon Night," which peaked at No.1 on the Gaon Album Chart and No. 6 on Billboard's World Albums Chart, and "Sunny Summer," which charted at No.2 on the Gaon Album Chart and No. 13 on Billboard's World Album Chart.
Further Success and Japanese Promotions (2019-2020)
The year 2019 was one of their busiest years, with the release of their seventh EP, "Fever Season," and the full-length album "Time For Us," as well as their second Japanese full-length album, "Fallin' Light." They were all commercially successful, just like their previous releases. Even their lead singles did well, including "Fever," which received seven music show wins during its promotion. The only difference was that the girls were becoming more involved with the creative process of their music – they were all credited as lyricists for the song "Hope." In July 2019, Source Music was acquired by Big Hit Entertainment, and made it one of their subsidiaries.
By 2020, all the music that GFriend released was personally handled by Big Hit Entertainment founder, Bang Si-hyuk. Their eighth EP, "Labyrinth" was released in February, while their ninth EP, "Song of the Sirens," was released in July. Both charted high on the Gaon Album Chart with the former at No.1 and the latter at No.3. On 9 November 2020, they released a full-length studio album, "Walpurgis Night," and it peaked at No.3 on Gaon Chart.
These three album releases showed different sides of GFriend; crew and staff were shocked at the transformation of the girls when they filmed the music videos for the lead tracks. They have come a long way from being the innocent schoolgirls having fun at the gym in 2015, to empowered women making their own choices to fulfill their destiny in 2020.
GFriend still raked in music show wins after being in the business for five years. The song "Crossroads" from the EP "Labyrinth" has seven, "Apple" from the EP "Song of Sirens" has three, and "Mago" from the album "Walpurgis Night" has two.
Solo Activities and Collaborations
While SinB hasn't debuted as a solo artist, she has been asked to sing some original soundtracks for a few South Korean drama series and children's shows. In 2015 she sang "I'll Be There" for the children's musical drama entitled "The Fairies In My Arms," in which she also played the role of Shawing. In 2016, she collaborated with Sijin for the song "Confession," used in the drama series "Cinderella with Four Knights," and in 2020 she sang the song, "Like A Dream," for the romantic comedy series, "Do Do Dol La La Sol."
SinB was included in a project girl group, "Station Young," along with Soyeon of (G)I-dle, Seulgi of Red Velvet, and solo artist Chungha. They released the song entitled "Wow Thing", produced by SM Entertainment for the Station X O project on 28 September 2018, along with a music video posted on YouTube that has a total of more than 50 million views.
In 2019 she was chosen as an endorser for the casual clothing brand "Evisu," along with the boys of SF9. She welcomed the opportunity to work with SF9 as one of the members, Chani, was a childhood friend of hers, and they had modeled together in the past.
Personal Life
SinB is officially single right now, as there is no news about her dating anyone. She was once rumored to have been dating Jungkook of BTS, only because some fans tried connecting those two together with ridiculous pieces of evidence.
While SinB might already be allowed to date as the no‑dating policy no longer applies to her, it is quite rare for K-Pop artists to date openly. However, if she were to date anyone, she prefers men with a sweet smile along with a stable and reliable personality. She also likes men who are caring, even if he might look cold on the outside. She could easily fall for someone close to her personality.
Hobbies, favorites, rumors, and interesting facts
She could pass as Jessica Jung's twin sister, as they look quite similar to each other.
She likes extreme sports such as bungee jumping, paragliding and skydiving.
SinB is quite flexible, and can easily rotate her hand 360 degrees.
Her favorite female artists are actress Song Ji Hyo, and CL of 2NE1.
SinB's all-time favorite boyband is Bigbang from YG Entertainment, and her ideal type is someone like G-Dragon, Bigbang's leader.
Among all her GFriend bandmates, she is particularly close to Eunha as they have been friends since they were kids. They are the most talkative in their group.
One of her close celebrity friends is Moonbin of Astro as they have been childhood friends. They grew up together since they both lived in the same neighborhood. They both enrolled in the same dance company and both were child models for the same clothing brand. It wasn't a surprise anymore that she wrote a short thank you note for him in one of G-Friend's album.
SinB also has a close friendship with Jackson Wang of Got7. It started when they both hosted a segment of the show "Weekly Idol."
She has a pet dog named Angkko which she adopted.
SinB knows everything about Harry Potter, because she is a huge fan of the movie series.
She is allergic to purple grapes, but for some reason, she can tolerate the green ones.
If given a chance, she would like to learn kickboxing.
If SinB wasn't a K-Pop artist, she would have become a soldier.
Appearance
SinB is 5ft 6ins (1.67m) tall, and weighs over 100lbs (47kg) with a slender body. Her shoe size is 7 US (240mm). She has long black hair and dark brown eyes. Some fans wondered if her face was surgically enhanced, but based on her childhood photos through to her pre-debut photos, her features are consistently the same.
Net Worth
According to authoritative sources, SinB has an estimated net worth of over $100,000, as of December 2020.