Sana, a Japanese singer, dancer, and songwriter, rose to fame in 2015 as a member of one of the best-selling South Korean girl groups of all time, TWICE. Her iconic rendition of the short line, "Shy, shy, shy," in the song, "Cheer Up," became a household meme that contributed to her popularity. She made it to the top 15th on the Gallup survey of the most popular K-Pop idols in South Korea, which made her the highest-ranking Japanese personality in that year.
Just a simple reminder that article is created and owned only by kpopwiki.org. Article cannot be re-published in any other pages or documents. Copyright is protected by DMCA. All found copies will be reported.
Original source: https://kpopwiki.org/the-untold-truth-about-twice-member-sana-minatozaki/
Early Life and Family
Sana Minatozaki was born on 29 December 1996, in Tennoji-ku Osaka, Japan. She's an only child, and has always been interested in music, which grew into a fascination with South Korean girl groups, Girls Generation and Kara. At 13, she enrolled in dance classes at the Exile Professional Gym (EXPG), supervised by LDH Japan, a successful Japanese entertainment company based in Osaka.
Educational Background
She finished middle school in Japan before starting her training in South Korea. She passed an academic qualification examination in 2016, that is equivalent to a high school diploma in Japan.
Career
In April 2012, when she was still a high school student, a JYP Entertainment (JYPE) talent scout spotted her in a shopping mall with friends, and she was invited to audition. Sana passed the audition easily, by performing the song "Mr. Taxi" by Girls Generation, and was offered an opportunity to undergo K-Pop training – it would mean quitting school and living overseas. Her parents were quite reluctant to let her go, but allowed her to pursue her dream after seeing her reaction when she went to watch the K-Pop boyband 2PM's live concert in Osaka, realizing how serious Sana was in wanting to perform on the big stage.
When 15 years old, she flew to Seoul and started her training with one of the biggest entertainment companies in South Korea, JYPE, home to past and current popular K-Pop acts including Rain, Wonder Girls, 2PM, and Got7.
Sana spent three years under JYPE's training program, and at one point was included in the girl group called 6MIX which was supposed to launch, but for some reason the label abolished the plan.
First Steps – Sixteen, Reality TV Survival Series and Debut (2015)
Park Jin Young, the founder of JYPE, decided to produce the reality TV survival series "Sixteen" in 2015, to choose the members of the label's next girl group to be called Twice. He was personally involved in the selection process throughout the 10 episodes, from which 16 girls competed for a spot in the nine-member group. It was aired through the cable channel, Mnet, from 5 May to 7 July 2015.
The competition was quite tough – the trainees were divided into two teams, Major and Minor. Team Major would automatically be treated as if they were about to debut complete with a better apartment, better food, tips from JYPE, and chauffeured daily trips from dorm to work. Team Minor had everything at a disadvantage, including the use of the training room only from 9 pm to 9 am daily after Team Major finished using it. Sana was part of Team Minor just a couple of times during the whole series, initially when they were introduced, but was quickly elevated to Team Major in the next episode. The second time was when she lost the 1:1 battle, but was eventually moved back permanently to the Team Major line-up.
Finally, on 20 October 2015, Sana along with Mina, Jeongyeon, Dahyun, Momo, Chaeyoung, Jihyo, Tzuyu, and Nayeon debuted as members of Twice, releasing their first extended play (EP) "The Story Begins."
It peaked at No.3 on the local charts with around 50,000 units sold. The EP consists of six tracks including its lead track, "Like Ooh-Ahh," which peaked at No.10 on the South Korean Gaon Digital Singles Chart and No.6 on Billboard's World Digital Song Sales Chart. The official music video of the song was the most watched debut MV in 2015, with almost 17 million views.
Sana and the girls capped their rookie year by winning the Best New Artist of the Year from two major award-giving bodies in South Korea, Mnet Asian Music Awards and Golden Disk Awards.
First No.1 Song and First No.1 EP, and Song of the Year (2016)
Due to their rising popularity, JYPE was encouraged to release another EP, entitled "Page Two," which made it to the No. 2 position on the Gaon Album Chart and No. 6 on Billboard's World Album Chart, with a total of over 180,000 units sold digitally in South Korea. It has six tracks including the lead track "Cheer Up," which debuted at No. 1 on the local charts with over 1.8 million units sold digitally. It also peaked at No. 3 on Billboard's World Digital Song Sales Chart.
This was the song that made TWICE a force to be reckoned with, and propelled Sana and the girls to K-Pop stardom. Sana's short line, 'Shy, shy, shy,' during live performances of the song went viral making her one of the most recognized faces in the group. Two years later, the single has amassed over 160 million streams and 2.7 million downloads, and is was one of the group's most loved songs, with the music video still gaining new views each year ,now totaling over 417 million as of December 2020.
At the end of 2016, the girls scored big in the major music award-giving bodies with the song, "Cheer Up," and took home Song of the Year from Golden Disk Award, Mnet Asian Music Awards, and Melon Music Awards.
While TWICE has achieved a No. 1 song, they have yet to top the charts with an EP or studio album.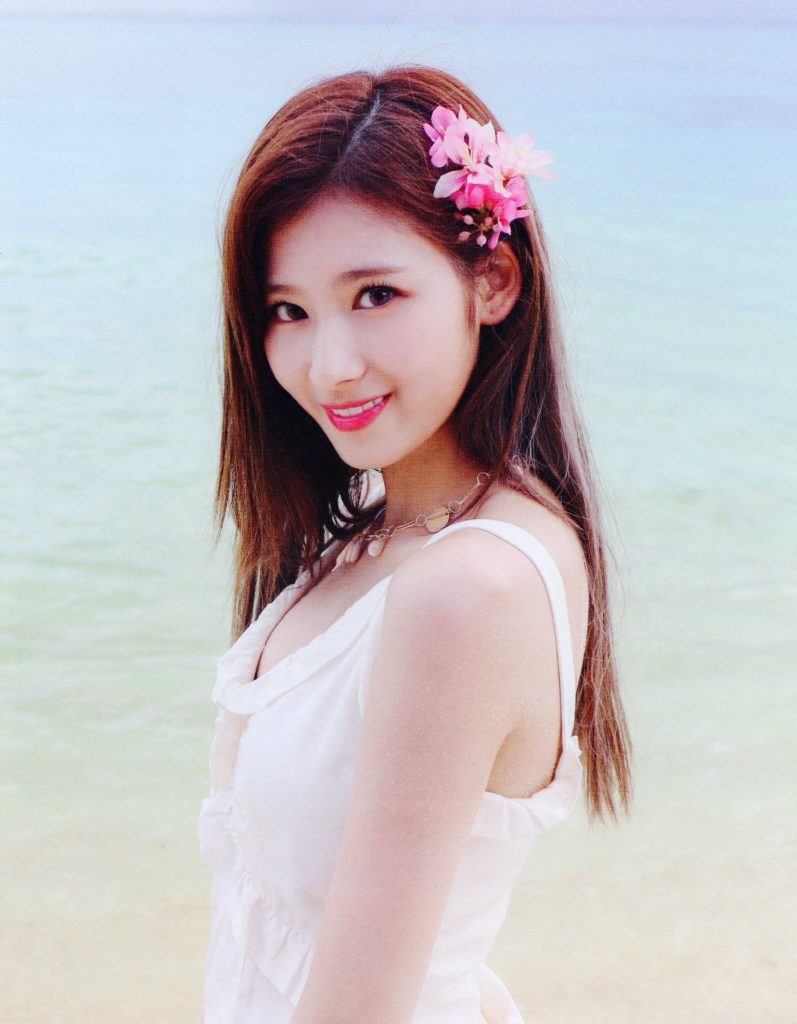 Christmas came early for them via the EP "Twicecoaster: Lane 1," released on 24 October 2016, and which became the highest-selling album by a K-Pop girl group, with a total of over 350,000 units sold at the end of the year. It has seven songs including the lead song, "TT," which was one of the group's best-selling songs, topping the Gaon Chart for four consecutive weeks, peaking at No. 2 on Billboard's World Digital Song Sales Chart, and reaching No. 3 on Japan's Hot 100. The Recording Industry Association of Japan (RIAJ) rewarded the group with a Gold certification for the song for having sold over 100,000 units. Sana and the girls also amassed 13 music show wins, as the No. 1 Song of the week from November 2016 to January 2017. By 2018, the song had a total of over 2.5 million digital units sold.
Platinum-Certifications and Concert Tour (2017-2020)
Sana and her bandmates continue to release one successful album/EP after another. JYPE knew they had a goldmine in their hands that they released not only brand new music but repackaged albums and compilation albums. They were all commercially successful, and started to receive Platinum certifications from the Korea Music Content Association (KMCA).
As of September 2020, the group has six platinum certifications – the most notable were "What is Love," fifth EP released in 2018 with over 415,000 units sold; "Fancy You," 7th EP released in 2019 with over 417,000 units sold; "Feel Special," 8th EP also released in 2019 with over 450,000 units sold; and the highest-selling EP to date, "More and More," released in 2020 with a double-platinum certification for having sold over 566,000 units.
From 2017 to 2020, TWICE has accumulated nine No.1 songs in South Korea, and achieved numerous music show wins from all popular music shows, such as SBS' "Inkigayo," Mnet's "M Countdown," KBS' "Music Bank" and MBC's "Show Music Core." Three of those nine songs have been Platinum-certified by the KMCA, such as "Dance the Night Away," "Yes or Yes," and "What is Love."
With numerous chart-topping hits, the demand for Twice concert tours became high, particularly in Japan. The first tour they held was from February to June 2017, entitled, "Twice 1st Tour: Twiceland – The Opening", with seven shows including five nights in Seoul, along with one show in Bangkok and another in Singapore; they also performed two shows in Japan for "Touchdown in Japan" on 2 July 2017. It seems that the Japanese fans couldn't get enough of them, and so for the whole month of January 2018, Sana and the girls performed for eight nights in several cities in Japan, including Tokyo, Osaka, Saitama, and Fukuoka.
The group now conducts a yearly concert tour in Seoul, Japan and across Asia – they only included North America in their itinerary during the Twice World Tour 2019-2020; based on the Billboard chart data, TWICE only entered the US Billboard 200 chart in June of 2020 at No.200. It seemed that while they became huge K-Pop superstars in Asia, the girls haven't penetrated the US market as effectively as other K-Pop acts, and it's remained elusive to them.
Controversy over Japanese Transition Post
Sana was embroiled in a controversy over her Instagram post about Japanese Emperor Akihito's abdication. Her post, 'As a person born in the Heisei era, I was very sad because the Heisei era was about to end, however, Heisei you worked hard…' was heavily criticized by the South Korean right-wing conservatives. Some Korean netizens (online users) called it insensitive, since the post can refer to the time when Koreans were forced to become slave laborers on Battleship Island by the Japanese, and even asked the founder of JYP Entertainment to educate his artists.
Sana's label have never addressed the issue, and the girls never talked about it at that time.
Some news reports concluded that Sana, as a Japanese citizen, writing something about the Japanese was completely alright, but as a K-Pop artist, she shouldn't have posted her thoughts in her group's public account. However, a university professor in Kwangwoon said that Sana's post was not politically incorrect, because the Japanese are known to use "eras" just simply to refer to a certain generation, while Koreans use numbers. From his point of view, Sana wasn't praising the era but just referring to its generation.
Reality TV Series and Variety Shows (2020)
Sana has mostly focused on group activities, and rarely goes solo. From time to time, she would be seen appearing in variety shows but with two or three other members of TWICE. Since her debut, she's appeared in "K-Rush," "Idol Star Athletics," "Idol Room" and "Hidden Singer" as a guest, but never as a regular member of the show.
To make sure the fans would get to see her and the girls regularly, JYPE produced several reality TV series for the group. In 2020 alone, they already had around nine shows including "Time to Twice: Crime Scene," "Twice TV: More & More," "TWICE: Seize the Light," and "Time to Twice: Healing Camp."
Personal Life
Sana is officially single – there is no recent news about her dating anyone. She is no longer under any dating restrictions as she is way past her dating ban of three years after her debut.
A dating rumor circulated in 2019 that she and Suho, the leader of the K-Pop boyband EXO, were a couple. It was a surprise to many since the two singers do not have any connection at all, or any hint of dating one another in the past. Apparently, it was just some overzealous fans trying to connect Suho's Instagram posts to Sana's posts, but eventually it was dismissed by many as rumor-mongering by delusioned fans.
She is currently living with other members of TWICE in a dormitory located in Seoul and provided by her label.
Hobbies, favorites, rumors, and interesting facts
She's not a picky eater and can almost eat anything except for beans and eggplant. She likes spicy food and yogurt smoothies.
Sana is quite afraid of thunder, and would hide under the blankets during a thunderstorm.
She can't be too close to weeds, trees, and grasses especially during spring, summer, or fall as she has a pollen allergy, and would sometimes suffer seasonal allergic rhinitis.
During her free time she likes to stay in bed and relax, just stretching out if she can't sleep.
Horror is her favorite movie genre – she likes to scream while watching the movie.
Sana is also a huge fan of Harry Potter, and one of her childhood dreams was to attend a school of wizardry just like Hogwarts.
Her favorite sport is swimming especially during summer, and her favorite drink to counter the heat is to drink a glass of a Thai Tangmo Pan, which is some sort of Watermelon Smoothie.
Appearance
She is 5ft 4ins (1.63m) tall and weighs 105lbs (48kgs) with a slender body type. Her shoe size is 6 (230mm). She has black hair and dark brown eyes.
Net Worth
According to authoritative sources, Sana has an estimated net worth of close to $1 million as of December 2020.