BM Matthew Kim (KARD Member) Wiki
Kim Jin Seok (English name Matthew Kim) was born on 20 October 1992, in Los Angeles, California USA; he holds both American and South Korean nationality but lives in Seoul, and his zodiac sign is Libra. He is a singer and a dancer, perhaps best known for being a member of the co-ed group KARD.
Just a simple reminder that article is created and owned only by kpopwiki.org. Article cannot be re-published in any other pages or documents. Copyright is protected by DMCA. All found copies will be reported.
Original source: https://kpopwiki.org/bm-matthew-kim-kard-member-age-height-girlfriend-wiki/
Childhood and education
BM was raised partly in Los Angeles alongside his two younger brothers by their mother who is a clothes designer, and their father who is a travelling salesman. BM and his brothers spent a lot of time with their babysitter while they were growing up, as their mother was busy working and their father worked in Brazil for several years.
BM attended a high school in Los Angeles at which he played a variety of sports, but also practiced dancing and singing which represented a hobby to him. After he matriculated in 2010, he enrolled at a college to study philosophy and while there he and his dancing crew took part in the dancing competition "World of Dance", held in Los Angeles – BM's mother watched him perform without having known prior to that that her son was a great dancer. His mother then signed him up for a K-pop audition, to which BM almost refused to go because he couldn't speak Korean that well. However, with the help of his mother and the South Korean solo singer BoA, passed all three auditions and signed a contract with DSP Media.
He graduated from college with a Bachelor of Arts degree in Psychology in 2014, and then chose to focus on singing rather than to work in his field of studies.
Career as a singer – group KARD
BM trained with DSP Media for nearly five years, together with J. Seph, before it was announced that they would both become members of the new co-ed group KARD, which would also be made up of two girls Somin and Jiwoo. It was initially planned by DSP Media to have J. Seph and BM found a two-boy hip-hop group, but when Somin – who was once a member of the Japanese girl group Puretty, left her second group April – management decided to put her into the new group, along with Jiwoo who only trained only for two months under them.
KARD released their debut single "Oh NaNa" on 13 December 2016, featuring Heo Young-ji as a 'hidden card' – the group KARD represents each of its members as a playing card, with BM's sign K standing for the card King. KARD attracted the attention of USA's Billboard, and it placed the group on their list of "Top 5 Notable K-pop Artists" on 19 January 2017. The group's second single came out on 16 February entitled "Don't Recall", while its English version followed on 1 March. KARD started collaborating with LG Electronics in April, and served as their G6 Smartphone's global ambassadors – KARD also released their third single, "Rumor", as a collaboration with LG Electronics on 24 April.
The song became a hit, topping the iTunes K-pop charts in over 10 countries, including ranking high around Europe, Asia and the USA. In May, KARD embarked on their first tour of the US called "2017 The 1st Tour 'Wild K.A.R.D'" and which finished in June.
Their first extended play (EP) "Hola Hola" was released on 19 July 2017, made up of six songs, and on the same day they were invited to perform in the music program "M Countdown". KARD went on to tour Europe in September, visiting big cities such as Milan in Italy, Rotterdam in the Netherlands and London in England, and they also performed in North American cities such as Washington D.C. and San Francisco. Their second EP "You & Me" came out on 21 November 2017, with the song "You In Me" serving as its lead track.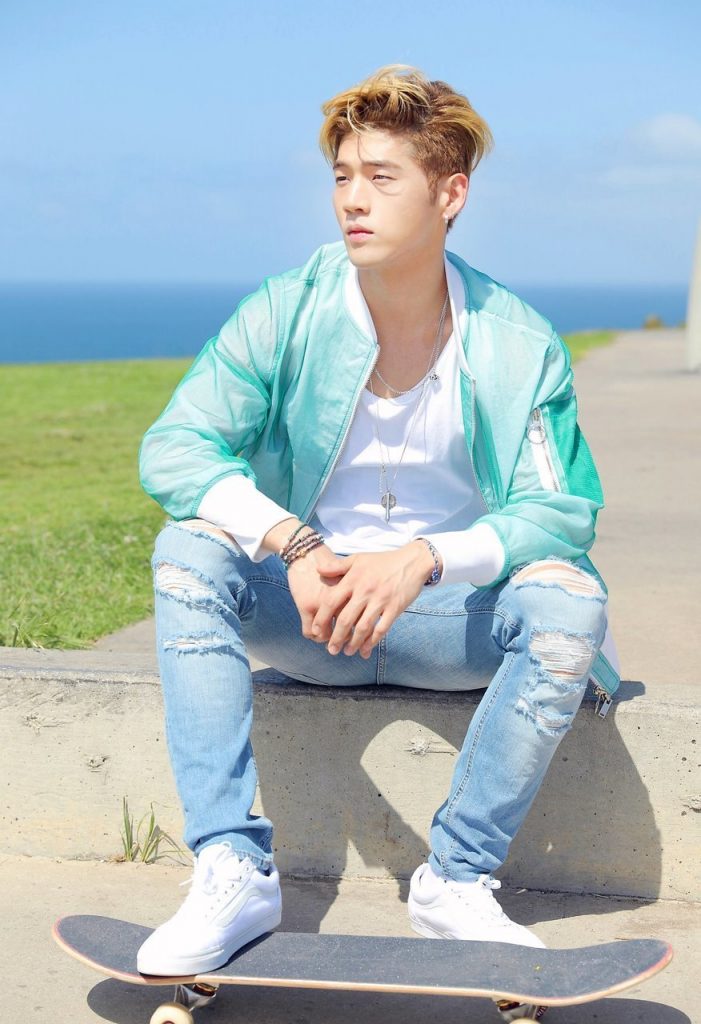 Somin and Jiwoo were allowed by DSP Media to collaborate with the musician Super Junior on his song "Lo Siento", which later found its way onto his album "Replay" that came out on 12 April 2018, and the girls were then invited to keep Super Junior company in Korean music programs, and perform the song with him.
Shortly after that, KARD embarked on another tour, visiting four countries the Philippines, Taiwan, Singapore and Hong Kong, and performed at the music festival South By Southwest. The group was the only K-pop group to be made one of the '2018 year expectation teams' by the American pay TV channel FUSE TV. Then while performing in Jakarta in Indonesia, KARD attended their first fan meeting, followed by an additional two meetings organized on 26 April in Melbourne, Australia and three days later in Sydney.
Their third EP "Ride On the Wind" was released on 25 July 2018 followed by their performance in "M Countdown" on the following day.
On 27 March 2019, their new digital single "Bomb Bomb" came out, and on 19 August KARD held their debut solo concert in South Korea.  They released another digital single on 21 September 2019, entitled "Dumb Litty" and both the aforementioned songs made their way into the top 50 on the Billboard Digital Sales Chart. On 6 November, KARD members talked about "Dumb Litty", and played the Mystery Box Challenge in Los Angeles' Young Hollywood.
Most recently, their fourth EP "Red Moon" came out in February 2020.
Relationships and girlfriend
The agencies of K-pop groups do not allow their members to be dating, because most of their fans are interested in them not only because of their music but also because they are single – if any of the members started a relationship, the group would most likely lose many fans. This is one of the reasons why BM hasn't been seen spending time with any girls, nor has he spoken about any girlfriends he might have had since the launch of his singing career. He has, however, talked about his ideal type of a girl: BM would like to date a girl who has a healthy mind and soul, and could understand that he has to spend a lot of time working – singing and touring.
As of August 2020, BM is single, hasn't married and doesn't have children.
Hobbies and other interests
BM likes to taste various cuisines while travelling and touring around the world, but states that his favorite food will always be French fries, while he also likes to eat chicken breast.
He prefers to listen to South Korean music rather than American, and some of his favorite performers are Monsta X, Jessi and Super Junior.
BM is a huge lover of animals, and when asked about which animal he would have as a pet if he could choose, said that he'd have an alpaca named BM Jr., but if he could choose to become an animal, he would become a lion.
Taking pictures is one of his greatest passions, and there are many pictures taken by him featured on his Instagram account.
He is a huge fan of the actor Jason Momoa and would like to either star alongside him in a movie, or play a gangster in any film.
BM likes tattoos and has two inked onto his skin. He is physically very active as he has four to five training sessions at the gym each week, which usually last about one hour, and he also plays a variety of sports including soccer and basketball.
Encouraged by his mother, BM launched his own clothing line called "Staydium", with the catchphrase reading 'Stay motivated. Stay Inspired'.
Age, height and net worth
BM's age is 27. He has brown hair which he usually dyes blonde, and his eyes are brown as well. His height is 6ft 1in (1.86m) and he weighs around 175lbs (80kgs).
As of August 2020, BM's net worth has been estimated at around $200,000.