Oh Sehun is a South Korean singer-songwriter, dancer, rapper and actor, who gained early notice when he debuted as a member of the Korean Pop (K-Pop) idol group called EXO under SM Entertainment, and rose to prominence with the release of their breakthrough hit "Growl." According to Forbes Korea, Exo was among the Top Ten Powerful Celebrities in South Korea for six years, and held the record for the number of best-selling albums in South Korea from 2013 to 2017. "Exodus," "The War," "Don't Mess Up My Tempo," and "Obsession" made it onto the Billboard 200. Sehun also had Platinum-certified albums with Chanyeol in the sub-unit Exo-SC, and ventured into acting in the web series' "Dokgo Rewind" and "Secret Queen Makers."
Just a simple reminder that article is created and owned only by kpopwiki.org. Article cannot be re-published in any other pages or documents. Copyright is protected by DMCA. All found copies will be reported.
Original source: https://kpopwiki.org/exo-member-oh-sehuns-biography-age-height-profile-2021/
Early life and family
Oh Sehun was born on 12 April 1994, in the Jungnang District of Seoul, South Korea. He has a brother who is three years older than him.
Educational background
He attended Mangwoo Elementary School and Sinhyeon Middle School, and also attended Sinhyeon High School before matriculating from the School of Performing Arts Seoul in February 2013.
Career
First steps
Even as a pre-teen, Sehun's visuals would stand out, which was why he was approached by casting agents from SM Entertainment, actually while he was eating tteokbokki or spicy rice cake out in the street. The ladies who spotted him gave him their business cards, and asked for his mother's number, which he refused to do as he remembered his mother's warning on giving personal information to strangers. However, when he noticed that he was being followed for at least five minutes on his way home, he gave them what they asked for, so they would leave him alone; he was in sixth grade at that time.
After people from SM Entertainment talked to his mom, he got permission to audition, and did so four times before entering the company's training program in 2008. He started living with other trainees when preparing for their debut; they held weekly meetings as a group to hash out their concerns about living together, and presenting themselves at broadcasting stations. More often than not, Sehun was criticized for some of his habits including not cleaning up after himself, especially after eating. He would end up in tears as he felt it was unfair that he couldn't call them out for doing the same thing, as he's the youngest among them. All he could say was, 'Before I go to bed, I always make sure to pray for you all. Why are you all ganging up on me?' Although holding these meetings is a great way to keep each other in check and ensure harmony in the group, discussions would turn to disagreements, so they stopped doing it.
one of my favorite fashion events that sehun attended is back in '17 during valentino event in hk where everyone went loud when he arrived and sehun had to look up & sush them to tone it down. truly a memorable one and you can see how he was really happy ♡#SEHUN #세훈 #오세훈 pic.twitter.com/oUIB6rKqsD

— 𝒔𝒆𝒉𝒖𝒏 ♡ 𝒎𝒂𝒆 !! (⊼⌔⊼ ) (@_sehunism) January 27, 2021
As early as 2011, company founder Lee Soo-man announced plans for launching the boyband called EXO, which stands for "exoplanet." There was much anticipation for this group, as SM Entertainment is known for producing highly successful K-Pop acts such as H.O.T., S.E.S., DBSK, and Super Junior. With the goal of actively promoting not just in Korea but also China, the 12 members were divided into two groups – EXO-K for Korean (Sehun, Suho as the leader, Chanyeol, Kai, D.O., and Beakhyun) and EXO-M for Mandarin (Kris as the leader, Lay, Luhan, Tao, Chen, and Xiumin). Having an initial concept of a group being "out of this world," each member had "superpowers" (Sehun's power was to control the wind) and this was how they introduced themselves during album promotions.
Sehun officially debuted aged 18 on 8 April 2012, with the release of the single "Mama," which was the title track of their first EP released the following day.
It peaked at No.46 on the Gaon Digital Chart, and had over 200,000 download sales in that month alone, with eventual cumulative download sales of more than 380,000.
The EP had two versions that charted high on South Korean, Chinese and Billboard charts. The Korean version topped the Gaon Album Chart with close to 295,000 copies sold and cumulative sales of over half a million, and reached No.8 on Billboard's World Album Chart and No.4 on Sina. The Mandarin version topped China's Sina Album Chart, reached No.12 on Billboard's World Album Chart, and No.4 on Gaon.
Exo won the Best New Asian Award at the Mnet Asian Music Awards, while Exo-K bagged the New Artist Award at the Seoul Music Awards and Golden Disc Awards.
Further success
Sehun and his co-members became million-sellers in 2013 with "XOXO" and its repackaged album, "Growl," along with their Mandarin versions. This was the first time in Korea since 2001 that an album reached the one-million mark.
Their first studio album, "XOXO" (Kiss and Hug editions), released in June claimed the No.1 spot on Gaon and No.2 on Sina, with close to 500,000 copies sold. The choreography, which took five months for the members to perfect, made an impression, and was much talked about during their promotional run. The lead track, "Wolf," reached No.10 on the Gaon Digital Chart with over 265,000 download sales that month, and No.4 on Billboard's World Digital Song Sales Chart, giving them their first music show win for No.1 Song of the Week on KBS' "Music Bank."
"Growl," which was released a month later, topped the Gaon Chart and placed second on the Sina Chart, with over 535,000 copies sold. The title track reached No.2 on the Gaon Digital Chart with 1.1 million download sales that year, and cumulative sales of over two million. It peaked at No.3 on Billboard's World Digital Song Sales Chart, staying on the chart for 39 weeks. Billboard, Dazed, and British GQ included the song in their lists of best K-Pop songs that year.
With over a million copies sold, it became 2013's best-selling album in South Korea. The EP also topped the Billboard's World Albums Chart and stayed three weeks on the chart, and won Album of the Year Award at the Mnet Asian Music Awards, and the Disc Daesang (Grand Prize) at the Golden Disc Awards.
Commercial success
Sehun and the boys released numerous EPs, studio albums, live albums and singles that further cemented their place as one of the top idol groups in the country. Most of their EPs such as "Miracles in December" (2013), "Sing For You" (2015), and "Universe" (2017) topped the Gaon Album Chart, and sold more than half a million copies each.
"Exodus" and its repackaged album, "Love Me Right" (2015); "Ex'Act" and the repackaged album, "Lotto" (2016); and "The War" with its repackaged album, "The War: The Power of Music" (2017) were all million-sellers, topping the Gaon Album Chart and becoming the best-selling album in the year they were released.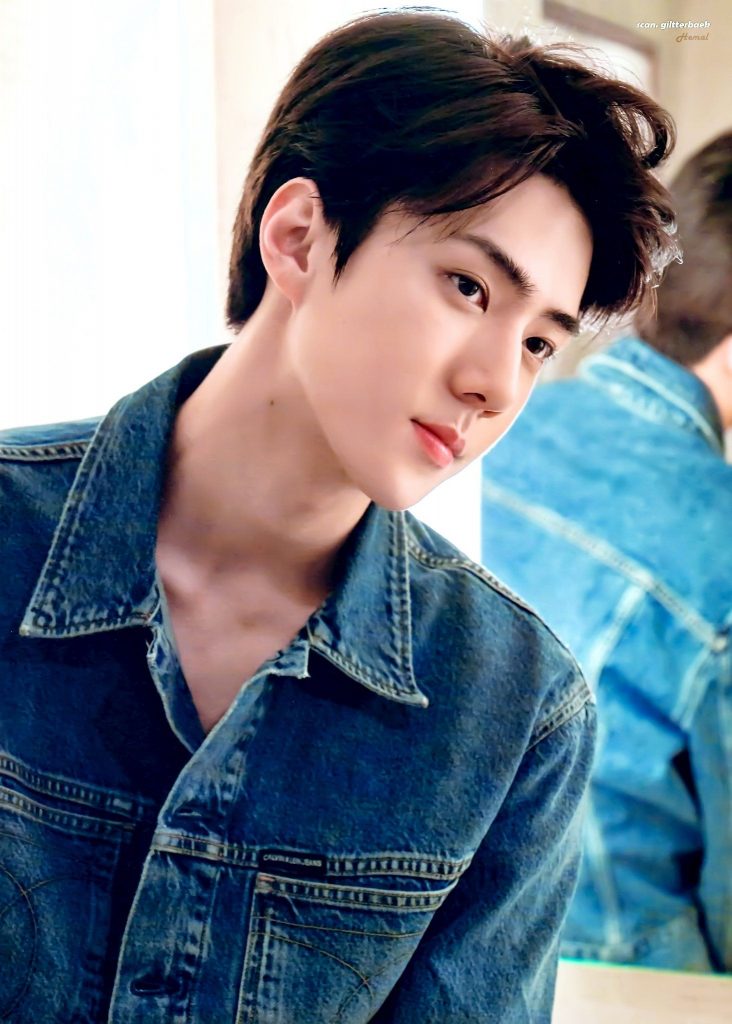 Although the third EP, "Overdose," only managed to sell over 650,000, it still became 2014's best-selling album in Korea.
Their first entry on Billboard 200 was "Exodus" at No.95, followed by "The War" at No.87. "Obsession" and "Don't Mess Up My Tempo" also made it onto the chart at No.182 and No.23, respectively. The latter was released in November 2018 and was certified gold by the Korea Music Content Association (KMCA) for exceeding one million copies sold; the repackaged album, "Love Shot," released in December, was certified double Platinum by KMCA as it surpassed 500,000 copies sold. "Obsession," released in November 2019, had cumulative sales of over 825,000 copies, and was certified 3x Platinum by the KMCA.
The singles they released that became million-sellers include "Overdose" (2014), "Call Me Baby" (2015), "Love Me Right" (2015), and "Ko Ko Bop" (2017). Sehun and his group also held the record for the most number of music show wins at 117 for 17 songs until December 2020, which goes to show their immense popularity and dedication of their fandom, EXO-L.
With Sehun and his group's overwhelming success, Forbes Korea included them at No.5  on the list of the Top 40 Powerful Celebrities in the country in 2014, then topped the list in 2015 and 2016, and they remained in the top ten from 2017 to 2019.
SM Entertainment announced in February 2020 that Sehun and the boys would focus on individual and sub-unit activities, as Xiumin and D.O. enlisted in the military for mandatory service in 2019, followed by Suho and Chen in 2020.
As Exo-SC
Sehun and Chanyeol formed the sub-unit Exo-SC (for SeChan), and debuted in July 2019 with the release of the EP "What A Life." It has cumulative sales of over 415,000, was certified Platinum by KMCA, and topped the Gaon Album Chart and reached No.8 on Billboard's World Albums Chart. Sehun co-wrote the lyrics for all six tracks, including "Just Us 2," "Closer To You," and the title track, which gave them their first music show win.
He also participated in composing the music for "Roller Coaster" and "Daydreamin," which wasn't their first collaboration, as they performed the song "We Young" during the group's concert tour called "Exo Planet 4: The Elyxion" held in Seoul and Macau, and it was later released digitally for an SM Station Project in 2018.
In July 2020, the two released their studio album "1 Billion Views," which again topped the Gaon Chart and received double Platinum certification from the KMCA, as it surpassed 500,000 copies sold. Sehun took part in the songwriting process of all nine tracks.
Solo activities
Sehun made a guest appearance as the dishwasher and orange seller on tvN's reality show "Coffee Friends" (2019), in which four actors including Choi JiWoo (shop manager) run a coffee shop in Jeju Island. The proceeds were donated to disabled children.
He was cast as a regular member of the Netflix Original "Busted!", starring the "Nation's MC," Yoo Jaesuk, along with a comedian, actors, and idols; it's a variety show in which the cast would solve a murder mystery. The first season was aired in 2018, and its third season was released in January 2021.
As an actor
He made a cameo appearance as himself in SBS' "To The Beautiful You" (2012) and JTBC's "Royal Villa" (2013). In the web series, "Exo Next Door" (2015), he played the fictionalized version of himself, along with Chanyeol, Baekhyun, and D.O. who moved next door to a fan of their group. The 16-episode series that aired on Naver TV Cast became a huge hit, as it garnered around 50 million views. He also appeared in the second season of the promotional web series for Lotte Duty-Free entitled "Secret Queen Makers" (2018).
For his first serious role, he starred in the web series "Dokgo Rewind" (2018), playing a dual role as identical twins in a story that revolved around bullying, school violence, and friendship. Sehun said he accepted this project, which was based on the webtoon of the same name, due to its genre. As the main dancer of Exo, he's confident about doing action scenes, and it was something he had always wanted to do. The director praised Sehun, and was glad it was him who was cast for the role.
Sehun portrayed the lead role of Liang Qu, a half-man, half-cat with the ability to heal broken hearts, in the Chinese romantic-fantasy movie entitled "Catman", set for 2021 release, and starring opposite Janice Wu, who played the role of Miao Xiao Wan, the creator of an app that translates cat sounds. Also for 2021 release is the Korean adventure film "The Pirates: Goblin Flag," which stars Sehun in the main role along, with famous actors such as Han Hyo Joo, Kwon Sang Woo, Kang Ha Neul, and Lee Kwang Soo.
Personal life
Sehun is 26 and known to be single. His ideal type is a woman who is kind, neat, and has a bubbly personality. Marriage is off the table until he turns 30, and he wishes to have a wife who would be kind to his parents.
He was rumored to be dating Wassup's leader, Nari, in 2014, but she denied it, saying it only started when he danced to her part in her group's song during the Idol Star Athletics Championships and a fan thought it was because he liked her. She received a lot of hate from his fans, as they said talking about it was her way of getting attention.
During a live broadcast on Instagram in January 2021, Gugudan's Sejeong clarified dating rumors involving her and Sehun, which resulted in malicious comments and direct messages in social media platforms she and her parents received from fans against them dating. She assured fans that there was no truth to it, and that they only have good chemistry in "Busted."
210127 SomeByMi instagram story update 💚

We have a new photo of Sehun with a flower by SomeByMi 💚✨🥰 They also said that Sehun's refined and soft image is why he was chosen as SomeByMi's muse 😭😳💚❤️#SEHUN #세훈 #엑소세훈 pic.twitter.com/zYj5eA3E78

— 𝙅𝙤𝙨 🐣 𝙊𝙣 𝙈𝙚 🖤 (@hunniesday) January 27, 2021
Hobbies, favorites, and interesting facts
His hobbies include listening to music, dancing, and acting.
Favorites: bubble tea (beverage), meat and sushi (food), black and white (colors)
He's a big fan of the Australian model Miranda Kerr, and followed her on Instagram the moment he opened his personal account, and she returned the compliment. He sent her a signed "Exodus" album in 2015, which she posted on Instagram, thanking him for it.
South Korean singer-songwriter and record producer Boa is his role model.
Appearance
He is 6ft (1.83m) tall and weighs 145lbs (66kgs) with a lean body. Sehun is known for having smooth and milky skin. He has black hair and black eyes.
Net worth
Sehun has a net worth estimated at $8 million as of January 2021, according to sources.