Who is Taewoon?
Taewoon is a South Korean singer-songwriter, rapper and record producer, who first became known as the brother of the famous rapper Zico, then later made a name for himself as he joined reality television survival series' such as "Show Me The Money" and "MIXNINE." He debuted as a member of the Korean Pop (K-Pop) groups Co-Ed School and Speed, before going solo with the stage name Wuno.
Just a simple reminder that article is created and owned only by kpopwiki.org. Article cannot be re-published in any other pages or documents. Copyright is protected by DMCA. All found copies will be reported.
Original source: https://kpopwiki.org/the-untold-truth-of-zicos-brother-taewoon/
Early life and family
Taewoon was born Woo Ji-seok on 11 May 1990, in Mapo-gu, Seoul, South Korea. He along with his younger brother, Woo Ji-ho, best known as Zico, was raised in a catholic household. The brothers are competitive enough that neither wanted to lose to the other – Taewoon would lose his temper and become violent when his pride as an older brother was pricked whenever Zico would not back down from an argument; it didn't matter to him if he was in the wrong.
He admitted to hitting Zico a lot when they were young, although there was a time when the tables turned. Taewoon recalled that they were both in middle school playing badminton when he got mad and tried to hit Zico, however, he was unable to catch him because he was a bit chubby at that time, whereas Zico was in shape and able to move faster. It ended with Zico hitting Taewoon with his racket.
Their parents are proud and supportive of their children. When asked who their parents favor the most, the answer would vary depending on what each son was doing at that time, which means that they cheered them on whenever they are working on something or achieving milestones in their careers. Their father treated them fairly, age notwithstanding. In a Korean household or society, the age hierarchy is usually followed in which the older one is always first or favored; he remembered his father saying to him that no brother is as kind as him, and it comforted him.
Who is Zico?
Zico was born on 14 September 1992, in Dohwa, Seoul. He is a successful singer-songwriter, rapper and record producer. He started his career as an underground rapper named Nacseo, debuted with Park Kyung as a duo called Harmonics in 2009, and released his first mixtape in 2010. He 2011 he became the leader of the K-Pop group Block B, and the most popular member.
Most of the extended plays and single albums they released performed well, not only on Gaon Album Charts but also on Billboard World Album Charts such as "Blockbuster" (2012), "Very Good" (2013), "H.E.R" (2014), and "Blooming Period" (2016). Zico has been credited in the lyrics and music of the group's releases, also releasing solo tracks and collaborating with various artists when he's not busy with the group's promotional activities.
Zico left the agency after his seven-year contract expired in 2018. His career as a solo artist is quite successful, as his EPs, studio album, and singles have charted well on local and international charts. His most successful work to date is the digital single, "Any Song," which he both wrote and produced. Released in January 2020, the single was certified platinum by the Korea Music Content Association (KMCA). It charted at No.1 on Gaon Digital Chart for seven non-consecutive weeks, and achieved an "all-kill" status on Instiz Chart with the song topping major digital charts at the same time. He enlisted in the military for mandatory service on 30 July 2020.
Education background
Taewoon attended Tokyo Polytechnic University when his family lived in Japan for three years.
Career
Taewoon along with his brother Zico, had been training to debut as members of Block B. However, with the group centered on Zico, Taewoon decided to leave to avoid problems that might arise later with Zico being his younger brother but the leader of the group. Their relationship would be messed up because it's usually the older one who makes the decisions and the younger one should obey or give in, and this would also cause the rest of the members to be uncomfortable around them. He said that he didn't want to get in the way of his brother's success, so he left.
As a member of Co-Ed School
Fortunately, he found another agency that helped him realize his dream of debuting as a singer and rapper. He signed with Core Contents Media, which later became MBK Entertainment, and debuted on 30 September 2010 as the lead rapper and vocalist of the K-Pop group, Co-Ed School – the ten-member co-ed group has six boys and four girls.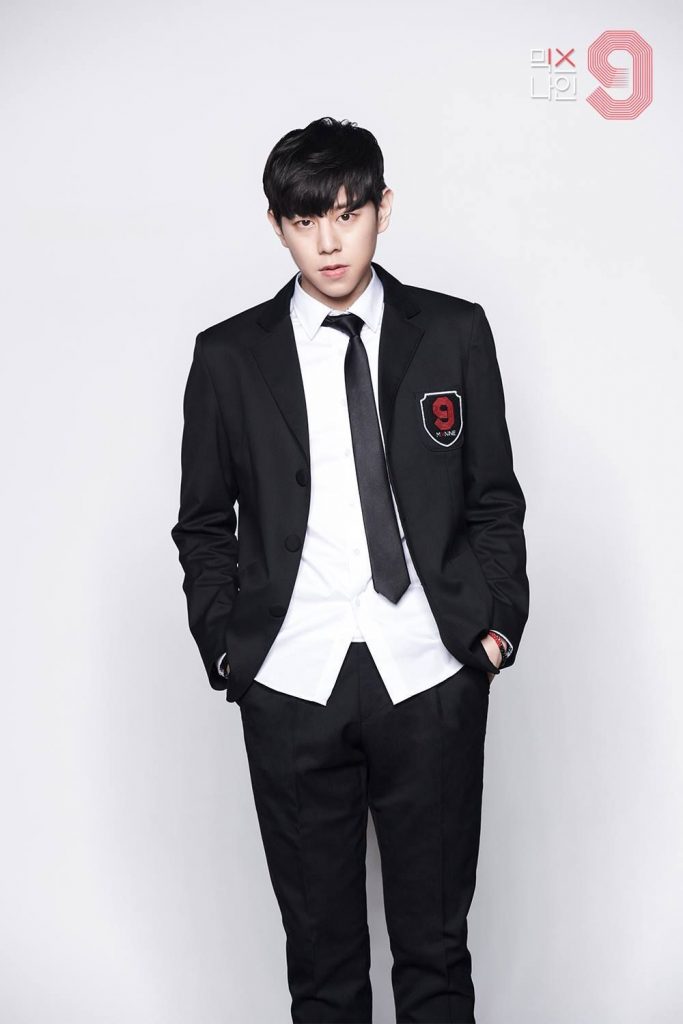 They released their first single entitled "Too Late," which peaked at No.13 on the Gaon Album Chart, and its music video (MV) garnered more than 800,000 views. Their follow-up single, "Bbiribbom Bberibbom," released three weeks later only made it on Gaon to No.61, but its official MV did better with over 8.5 million views, as it featured T-ara's Eunjeong. Taewoon and the group also released the ballad, "I Love You A Thousand Times," around that time and the MV has gained over 180,000 views.
All previously released singles along with several remixes were included in the mini-album entitled "Something That Is Cheerful And Fresh", that was made available on music stores on 28 October 2010. It reached No.8 on Gaon, with over 45,000 copies sold at that time.
However, before they could release another single or continue with group promotional activities, one of the members, Kangho, was accused of violence, extortion, and rape, which allegedly happened when he was still in high school.
He was not named when the accusation was first posted in an online community, only that it was a member of a newly debuted group; netizens coined the term "rape-dol" for the culprit; he was later named by another alleged victim. At first the company said they would sue those who started the rumor, but later on, it was reported that Kangho would be leaving the group.
As a member of the subunit, Speed
Because of the scandal, all activities for Co-Ed School were halted. In February 2011, the female members of the group formed a sub-unit called 5Dolls (later changed to F-ve Dolls) and debuted. Another trainee was added as the main vocalist to replace Kangho, and the boys formed the sub-unit called Speed. They debuted with the release of "Hommage to Lovey-Dovey" on 14 February 2012, with the lead single "Lovey Dovey-Plus," which is a remake of T-ara's hit single, "Lovey Dovey."
In 2012, many things happened to Taewoon's group, as their management was transferred to a subsidiary company, but later returned to its original agency. He also became the leader and the main rapper of Speed, as two more members left and three new ones were added.
In January 2013, Speed dropped their pre-release digital single entitled "Speed of Light", with the lead track, "Sad Promise" aka "That's My Fault" peaking at No.20 on Gaon. To help promote the song, they released two versions of the music video. The dance version featured Kang Minkyung from the popular duo, Davichi, while the drama version featured A Pink's Naeun, and the actors, Ha Seok-jin, Ji Chang-wook, and Park Bo-young.
A week later, they released the 10‑track album entitled "Superior Speed", with "It's Over" as the lead single, which reached No.43 on the Gaon Chart. Taewoon participated in writing the lyrics of two tracks in the album, namely "Bbang Bbang" and "I Do I Do." In February 2013, a repackaged album was released entitled "Blow Speed", with the lead track "Pain, The Love of Heart," peaking at No.76 on Gaon. It was also announced in 2013 that the company had no more plans for Co-Ed School, so Taewoon and the boys would continue to promote as the independent group Speed.
They held a showcase in February 2014 that was broadcast on the SBS MTV channel. In their first EP, "Speed Circus," Taewoon had a hand in writing the lyrics, composing the music, and producing all five tracks. However, it didn't fare well on the charts, with only about 2,000 copies sold. A repackaged album, "Look At Me Now," was later released with three tracks added, which didn't do well on the music charts either.
Dimples 🥺 my favorite face accessory 🥺#Taewoon #태운 #Speed #스피드 pic.twitter.com/cdfAXEocYI

— Scarlet 🎄 (@WhenMusicSounds) May 6, 2020
Taewoon left the group in March 2015, but he remained under the management of MBK Entertainment.
Solo activities
His first release as a solo artist was back in 2011, with the mixtape, "Dear Fan," and then in 2012 with "Saturday Night." Later on, his solo track, "Focus," was included in Speed's first EP. He became a member of the rap group Royal Class, along with hip-hop artists including Mino of Winner, KittiB, Sims of M.I.B, and Roydo then released "Walkin' On Ma Way," "Hooted," and "This F*cker" in 2014.
In trying to establish himself as a serious rapper, in 2015 he decided to join the fourth season of Mnet's reality television survival series, "Show Me The Money" (SMTM).
It took a lot of courage for him to perform, as his younger brother was one of the judges. Although he won the rap battle round, Tablo of Epik High, who was also a judge, advised him to practice more for the next stage, as he was still lacking compared to others who also passed. He made it to the Top 24, but didn't advance further.
Taewoon signed with MillionMarket in 2015 and started using ₩uNo as his stage name, and in 2016 released two singles, namely "Copy Ma Lyrics" and "Fine Apple".
He tried his luck again by competing in season five of "SMTM." His rapping skills were much improved, but he still didn't win the competition, as he didn't make it past the rap battle. It was a tight match as it reached four rounds with him finally losing to his opponent, myunDo. The judges were heavily criticized by netizens (online users) for their unfair treatment of Taewoon, as they believed he should have won the first round when myunDo made a mistake with the lyrics.
It seems that his motto in life is to never give up, as he joined another survival series called "MIXNINE", in which the final nine members would debut. He came close when he ranked seventh for two missions, but he was eliminated in the end as he was No.20 in the final rankings.
As a songwriter
Taewoon contributed to the lyrics and music of tracks included in the albums of other K-Pop groups, such as Girl's Day, Sonamoo, and JJCC in 2015 and then Momoland and Map6 in 2016.
Personal life
Taewoon is 30 years old and currently single, with no news of him dating anyone. His ideal type is someone who has fair skin, glamorous, and a bit wild. He considers the actress dubbed as the "Barbie Doll of Korea," Han Chae-Young, as his ideal girl among celebrities.
He enlisted for mandatory military service in March 2018, and was assigned as a public service worker after a four-week basic military training course.
Taewoon's hobbies, favorites, rumors, and interesting facts
His hobbies include watching movies, playing basketball, and composing songs.
He is good at speaking Japanese, writing lyrics, and painting.
Taewoon speaks formally to his brother since Zico became a big star. In Korea, people use formal language when talking to people older than them even if there is just one year age difference and to those who are their seniors in the business. He said that the gap between them was huge in terms of success and popularity, so he felt small and started to feel uncomfortable talking casually to his brother.
In an interview, he said he's willing to die in his brother's stead because it was Zico who provides well for their family.
When they were both studying in Japan, Zico wasn't bullied by students in higher grades because of Taewoon.
Taewoon discovered a music file in the computer that has songs that Zico wrote in which the lyrics talked about wanting to destroy someone, and he thought it pertains to him. It turned out that Zico used a lot of curse words when composing mixtapes since he was young, and that this had nothing at all to do with his brother.
During summer, he never switches off the air-conditioner and likes the room to be really cold when he sleeps, but would stay under the blanket shivering.
According to Zico, his father got rid of the wallpaper in the room that Taewoon slept in when they were in Japan, because the latter had put boogers on them – Taewoon denied it.
When Zico saved enough money to buy clothes when they were still young, it would always be Taewoon who would wear them first. Even if he locked the closet, Taewoon would find a way to open it.
There was a time when Taewoon woke his brother angrily at dawn to ask him if he ate his fried chicken. Taewoon beat him up when Zico said yes.
Appearance
Taewoon is 6ft (1.84m) tall and weighs 155lbs (70kgs). He has black hair and dark brown eyes.
Net worth
Taewoo has an estimated net worth of over $100,000 as of October 2020, according to sources.