Dami is a South Korean singer, rapper and dancer, born on 7 March 1997, in Seoul, South Korea. She's known for being a member of the Korean pop (K-Pop) group Dreamcatcher.
Just a simple reminder that article is created and owned only by kpopwiki.org. Article cannot be re-published in any other pages or documents. Copyright is protected by DMCA. All found copies will be reported.
Original source: https://kpopwiki.org/who-is-dami-from-k-pop-girl-group-dreamcatcher-biography/
Early Life
Dami – whose real name is Lee Yu Bin – has an older brother who has been enlisted in the military for years. Although details about her childhood are undisclosed, it's known her interest in music started at a very early age, as she told KCRUSH: 'I began dreaming of becoming a singer after joining the choir in elementary school. Because I loved the response from the audience I wanted to become a singer.' Dami matriculated from the Seoul-based Jinsin Girls High School.
Career
Debut with MINX
During her teens, Dami tried to enter various entertainment companies. However, it wasn't until she auditioned for Happy Face Entertainment that she was signed under the agency's management.
It's unknown how long she remained as a trainee, though on 18 September 2014 she along with four other girls officially debuted as a member of group MINX with the release of the song "Why Did You Come To My Home" and its performance on the stage of "M! Countdown".
After half a year of relative inactivity, in July 2015 MINX made their comeback with "Love Shake", their first extended play (EP). During the promotions, MINX performed their songs in various TV music shows, such as "Show Champion" and "The Show".
Debut with Dreamcatcher
Two years after MINX's debut, Happy Face Entertainment decided to change the entire concept of the group, renaming it as Dreamcatcher and adding two additional members.
In January 2017 the group released their first single entitled "Nightmare", in which each member was introduced as a phobia instead of charms, as is usual in the K-Pop industry. Dami represents the fears of scars, also known as Oulinophobia.
Dreamcatcher made their official debut on TV on 19 January 2017, during the show "M! Countdown", performing the album's lead track "Chase Me'.
The group made their first comeback in April with the release of "Fall Asleep in the Mirror", their second single. This release was followed in July by the EP "Prequel", which achieved a huge commercial success internationally as it charted on Billboard's and iTunes' albums lists.
In September Dreamcatcher started their first world tour, during which they visited Asia, Europe and South America. As was stated by Happy Face Entertainment: 'The world tour was made possible thanks to all the fans' much love and support for Dreamcatcher.'
MixNine & More
In October 2017, it was announced that Dami along with her bandmates Jiu, Siyeaon and Yoohyeon would participate in MixNine, a reality survival TV show in which 170 trainees competed to form a K-Pop group.
However, the Dreamcatcher girls' participation in the reality program was brief, as in December they left the show to join the group's tour of South America.
In January Dreamcatcher celebrated their first anniversary with a sold out fan-meet, and the digital single "Full Moon", followed by their second international tour in February, which included concert dates in various European countries.
Dreamcatcher's second EP – "Escape the Era" – was released in May 2018. The album's lead single was entitled "You and I", and it's music video showed Dami performing a magic trick, which went viral on the internet.
Due to the success of the album – it topped Hanteo's list – the group started their second international tour for the year, visiting South America and the US.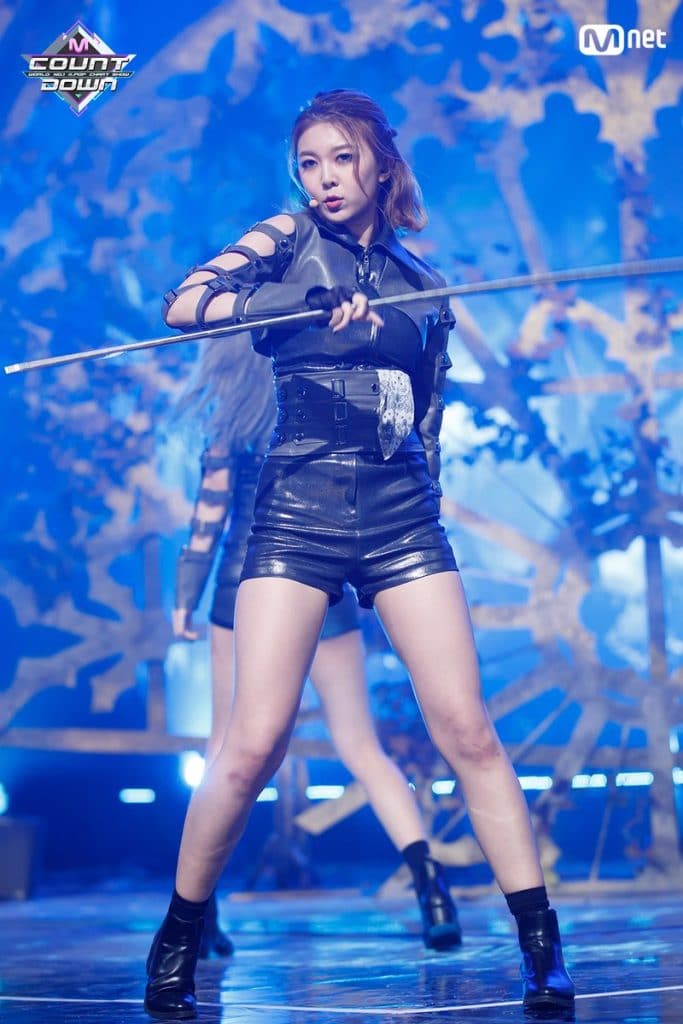 During the performances of "You and I", Dami impressed fans by showing a lighting stick. When asked about it, she revealed that the trick wasn't as easy as it seemed on stage: 'During the actual shows, nothing happened. But during rehearsals, the stick sometimes wouldn't open, or get flung up high. It was pretty hard.'
After Dreamcatcher released their third EP, "Alone in the City" in September 2018, the group debuted in Japan with the single "What", which was also later released in Korea.
As a commemoration for their second anniversary, Dreamcatcher released the EP "The End Of Nightmare" in February 2019. In this album the group showcased a more rock-oriented sound, focusing on instruments instead of the common electronic music often found in the K-Pop industry.
In the following month, Dreamcatcher started their Asian tour, visiting Indonesia, Singapore and Japan.
After a short break, the group continued their activities overseas with the tour "Invitation From Nightmare City", during which they visited various cities in Australia and Malaysia. Dreamcatcher's official fan club InSomnia was announced in August, including memberships for their Japanese fans.
In September the group released their first album in Japanese, entitled "The Beginning of The End", for which Dreamcatcher held a LINE Livestream performing the album's songs. Right after the release of the album, the group made their comeback in Korea with "Raid of Dream".
European Tour
From October to November 2019, Dreamcatcher held concerts in various European countries such as the UK, Italy, Germany, Finland and France. Then in December, Dreamcatcher held a mini tour in the US, which included stops in cities such as Los Angeles, Dallas, Jersey City, Chicago and Orlando.
In 2020, Dreamcatcher celebrated their third anniversary with "Dystopia: The Tree of Language", their first studio album in Korea, which not only showcased their customary rock sound, but also incorporated EDM (electronic dance music). This release was followed in March by their Japanese single "Endless Night".
In collaboration with the Global Education Coalition of United Nations Educational, Scientific and Cultural Organization (UNESCO), Dreamcatcher was featured in the song "Be The Future", alongside artists IN2IT and AleXa. The project's goal was to support the organization's teaching staff in the middle of the COVID-19 situation.
In June 2020 Dreamcatcher made their comeback with "R.o.S.E BLUE", which was part of the original soundtrack (OST) of the game "Girl Cafe Gun". This release was followed by the group's online concert, "Global Streaming Into The Night" on 4 July.
In August Dreamcatcher's EP "Dystopia: Lose Myself" was released, achieving huge commercial success.
Break the wall Dami rap part🔥 MY HEART IS CRYING#Dreamcatcher #dami pic.twitter.com/2rg7cy4Tay

— Jas🥰 (@exidhoe) October 18, 2020
Personal Life
Not much is known about Dami's personal life, including her friends and romantic partners – management usually bans dating during group members' first contract. Her hobbies don't include endangering or physically daring activities, as she told KCRUSH in 2017: 'I usually read a book or watch a video when I have free time. I carry a book when I have schedules and read constantly, enjoy whatever genre.'
Net Worth
Dami has an estimated net worth of over $100,000, which is a result of her work as a member of Dreamcatcher.
Physical Appearance
Dami is a gorgeous woman of beautiful facial features. She's 5ft 4ins (1.63m) tal, and weighs approximately 100lbs (45kgs).
Interesting Facts
Dami's zodiac sign is Pisces, and her blood type is A.
She practiced Kendo during her childhood.
She likes Haruki Murakami's books, though she also enjoys other authors' works: 'I read the books, "Seoul District" by Sangwook Hahn and Youngjin Mun's "Living Is Like A Flower".'
Her favorite manga is One Piece.
Her roommates are JiU and Siyeon.
She has a mezzo-soprano type of voice.
She knows how to speak Spanish at a basic level.
Dami's favorite snacks are sweet potatoes and dumplings.
She deeply admires her parents: 'Their whole existence is an honor to me.' However, when it comes to music she considers girl K-Pop groups EXID and Girls' Generation her role models.
Her favorite colors are yellow, white and black.
Dami considers that licking her lips is her bad habit.