Yubin is a South Korean singer-songwriter, rapper and actress whose claim to fame was her inclusion in the Korean Pop girl group, Wonder Girls. In 2007 they took South Korea by storm with the song "Tell Me", along with its addictive choreography. Two years later, the English version of their monster song hit "Nobody" was the first K-Pop song to chart on the Billboard Hot 100, debuting at No.76. Her group was one of the first few Korean acts that helped pave the way for K-Pop to be widely recognized around the world. In 2018, she debuted as a solo artist, and two years later established her own record label, RRR Entertainment.
Just a simple reminder that article is created and owned only by kpopwiki.org. Article cannot be re-published in any other pages or documents. Copyright is protected by DMCA. All found copies will be reported.
Original source: https://kpopwiki.org/the-untold-truth-about-wonder-girls-member-kim-yubin/
Early Life and Family
Kim Yubin was born on 4 October 1988, in Gwangju, South Korea. Her parents raised her in their hometown, but later moved the family to San Jose, California when she was in high school. After matriculating in the US, she returned to South Korea and started her K-Pop idol training.
Educational Background
She went to the local grade school for her primary education and started her secondary education at Anyang High School in Korea, but matriculated from Leland High School in Almaden Valley in San Jose. She moved back to South Korea and graduated from Myongji University in Seoul, with a bachelor's degree in Film and Musical.
Career
Yubin trained under the Good Entertainment Media Group, a subsidiary of CJ Music. She was scheduled to debut in a girl group called Five Girls with then trainees Uee of After School, Hyoseong of Secret, Jiwon of Spica, and G.NA. However, the company had financial troubles, so it didn't push through. All five girls tried their luck in different established companies, and successfully debuted. Yubin went to JYP Entertainment, responsible for launching the successful careers of Rain and g.o.d.
First Steps –  Debut Year as a member of Wonder Girls with "Tell Me" (2007)
On 7 September 2007, she was launched as the newest member of the K-Pop girl group, Wonder Girls, replacing one of the members of the group, Hyuna, who left for health reasons. Yubin became the resident rapper of the group, although she would contribute her vocals on some of their songs too.  It didn't take long for her to form a bond with the other members, namely Sohee, Yeeun, Sunmi, and group leader, Sunye.
Her first live performance with the group was with the song "Tell Me", from their debut studio album "The Wonder Years." However, her voice wasn't included on the album version, since she joined them after it was already recorded and released to the public. She wasn't initially in the official music video, but it was later edited to include her. JYP Entertainment founder and record producer, Park Jin Young, decided to record another version of the song, which included Yubin's rap verse that she wrote, and she was credited for the lyrics and music of the song, along with Park Jin Young.
It became such a huge hit in South Korea that everyone was singing the song and dancing its iconic dance moves. The song topped the local music charts, and became No.1 in the KBS' flagship music show, "Music Bank" for seven weeks. It also managed to achieve a triple crown at SBS' "Inkigayo."
Commercial Success, First K-Pop Act on Billboard's Hot 100 and Concert Tour (2008 – 2010)
Park Jin Young decided to take Yubin and the girls as his special guests on his local and international concert tour in February 2008 to help boost their popularity. When they released the digital single "So Hot" in May 2008, it topped the music charts in South Korea. JYPE then decided to release a maxi-single album, and make it as the lead track along with the rap version of "Tell Me" and two new songs, "This Time" and "You're Out."  It peaked at No.3 on the Music Industry Association of Korea (MIAK) chart, with close to 60,000 units sold – this was prior to the creation of the Gaon Chart.
이따 유튜브라이브에서 만나요오😘🎄🎁🎅🏻 pic.twitter.com/nokqCAypFv

— 유빈(Yubin) (@yubinofficial) December 24, 2020
During live promotions, Yubin didn't have any choice but to lip-sync her parts as per the doctor's orders, as she suffered from vocal cord injury at that time. The girls were given a break for three months, as they had been working non-stop since their debut; it was also to let Yubin recover from her injury.
By September 2008, the group's first extended play, "The Wonder Years: Trilogy" was released; it has nine tracks but only three original songs, the rest either a remix or an instrumental version of the songs included in the EP. The lead track, "Nobody" was composed by Park Jin Young. It became Wonder Girls' biggest hit, and started another dance craze in South Korea. The girls also continued with the retro look, very reminiscent of the 70's Motown girl groups, during their live performances and in their music video as well.
The MV became the most viewed K-Pop video at that time, and the song won Song of the Year in 2008 and Best Video in the Mnet Km Music Video Festival Awards, now renamed and known today as Mnet Asian Music Awards.
Following its massive success in South Korea, JYPE released an English version, and Wonder Girls made history by charting at No.76 on the Billboard Hot 100 – no K-Pop act had done it before. It accumulated about 80,000 downloads in the US in 2012, and when combined with the sales of the physical units, it reached 120,000.
Yubin and the girls performed the song on one of the popular talk shows in the US, "The Wendy Williams Show," the first K-Pop act to be invited to perform in an American TV show. Later, they also performed the song on the reality TV dance competition, "So You Think You Can Dance," aired on Fox Network. Five years after it was released, the song was included in the animated movie, "Penguins of Madagascar" in 2014.
Global Stages with Jonas Brother World Tour and Wonder Girls Solo US Tour (2009-2012)
Yubin and her group served as the opening act for the North American leg tour of the "Jonas Brothers World Tour 2009." They performed on 45 concert dates, and was the last time Yubin performed with Sunmi as the latter decided to leave the group to pursue her college degree.
In April 2010, the girls embarked on their own "The Wonder World Tour" around the US and Canada. They were also invited to perform on other global stages including Singapore's Singfest 2010, and MTV World Stage Live in Malaysia 2010.
Yubin and the girls became busy with promotions of their second EP, "2 Different Tears," in May 2010. It topped the South Korean Gaon Album Chart, and reached No.21 on Billboard's Heatseekers Album Chart. The title track peaked at No.1 on the local charts, with close to 2.5 million downloads.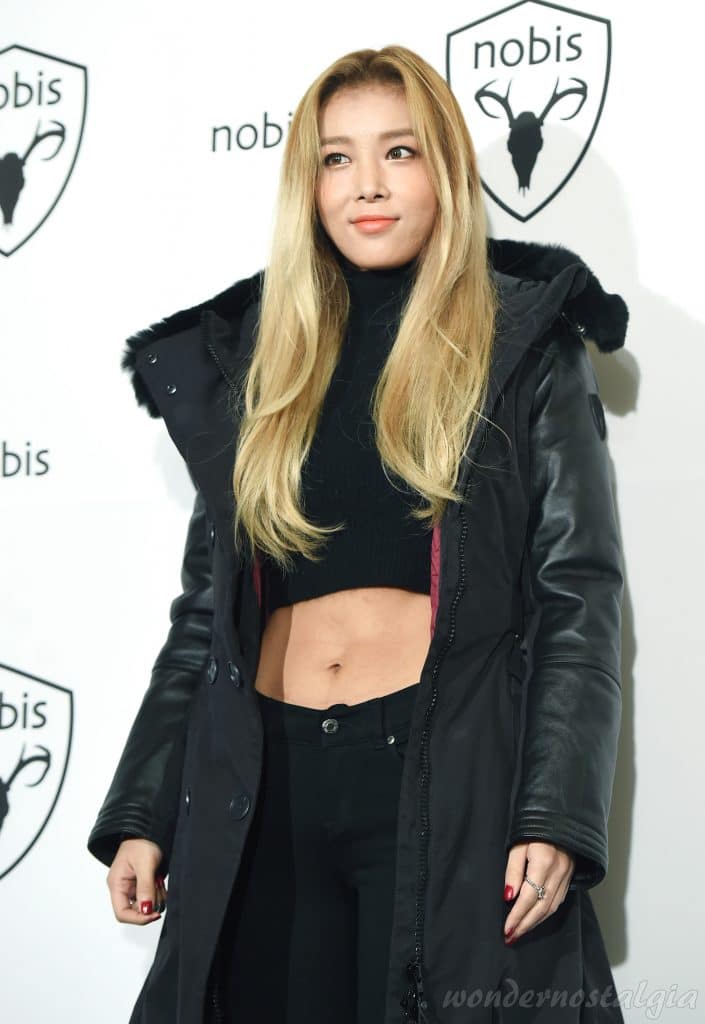 In 2011, Wonder Girls released its second studio album, "Wonder World," and this time the girls were active in the songwriting process of the songs. Yubin was credited for writing the lyrics of three tracks such as "Me In," "Girls Girls," and "Sweet Dreams." It was commercially successful with close to 45,000 units sold and it debuted at No.1 on the Gaon Album Chart, also peaking at No.5 on Billboard's World Albums chart.
Wonder Girls collaborated with Akon on the song "Like Money," in 2012; it was included on the group's third EP, "Wonder Party," which was also released in the US. It peaked at No.3 on the Gaon Album Chart and No.9 on Billboard's World Albums Chart.
Temporary Hiatus, Unpretty Rapstar, Comeback and Disbandment (2013-2017)
When two of the original members left the company in 2013, the group went on a temporary hiatus. Yubin enrolled into acting classes, and was later part of a Korean drama series entitled "The Virus", aired on the OCN channel, with Lee Ki Woo and Um Kijoon. She played the role of an IT specialist, with a knack for hacking security systems.
In 2015, Yubin participated in the second season of the reality TV rap competition series, "Unpretty Rapstar", competing against 13 other rappers who were mostly from girl groups. She ended up as one of the semi-finalists, and gained considerable popularity during its run, as her fashion style, makeup and hairstyle became popular with the fans.
JYPE made some line-up changes in the group, with the return of Sunmi who left the group in 2010. Wonder Girls made a comeback after three years of hiatus, but as a band. Yeeun played the keyboards while Sunmi was on bass, Hyerim on guitar, and Yubin on drums. In August 2015, they released the group's third and final studio album, "Reboot," with 12 songs including the lead track, "I Feel You." It peaked at No.5 on the Gaon Album Chart and No.2 on Billboard's World Albums Chart. Yubin and Park Jin Young composed the lead track, which peaked at No.1 on eight online music charts, and No.3 on the Gaon Digital Chart.
Billboard and iTunes Japan ranked the album as No.1 on their list of the Best K-Pop Albums in 2015, and it was also ranked No.4 on Billboard's decade list of the 25 Greatest K-Pop Albums of the 2010s.
In 2016, Yubin and the girls released the digital single entitled "Why So Lonely," which topped the Gaon Digital Chart, and won a trophy for the Top Song of the Week during one of their live performances on a music show.
On 26 January 2017, Wonder Girls disbanded as Yeeun and Sunmi didn't renew their contracts with JYP Entertainment – Yubin and Hyerim stayed to pursue solo careers. To commemorate their 10th anniversary in the business, the girls released the group's final digital single entitled "Draw Me" in February. Yubin and Yeeun wrote the lyrics of the song, and collaborated with Hong Jisang to create the music.
Solo Music Career (2018-2020)
Yubin debuted as a solo artist on 5 June 2018, with the single album entitled "Lady." It was supposed to have a B-side track, "City Lover," but due to claims that it sounded quite similar to the Japanese song, "Plastic Love," it was never released. After five months, Yubin released her first solo EP, "#TUSM," and was credited as the songwriter for all the songs included on it. The lead track, "Thank You Sooo Much," peaked at No.21 on Billboard's World Digital Song Sales chart.
She became active in variety shows, and in April 2018 was part of the reality TV dance competition series, "Stage K."  Yubin was one of the judges in the show, along with K-Pop's biggest stars including Park Joon Hyung (g.o.d), Eun Jiwon (Sechkies), and Sandara Park (2NE1).
In October 2019, she released her third single album "Start of the End," with the lead track "Silent Movie" featuring Yoon Mirae, and a B-side track "Not Yours." It was her last collaboration with JYPE; she left the company in January 2020.
By February 2020, she'd established her own record label, RRR Entertainment, and after two months released her first single under her label, "Yaya (Me Time)." During a talk she gave through the YouTube channel "Sebasi Talk," she shared her feelings that she might have bit off more than she could chew in launching her label. However, she said that it's okay to have feelings of regret, so it can be used as a learning experience in pursuing what you want in life.
Personal Life
Yubin is officially single, as there is no news about her dating anyone right now. During an interview, she said that when it comes to dating, she would like to keep it private until she knew that he's the one she wants to end up with, just as in the case of former bandmate, Hyerim. She said there's no problem with dating publicly; the only drawback is that when it doesn't work out, the break-up will also be very public.
Her ideal date would be someone passionate about everything he does, and who is athletic.
하이윱🧡 pic.twitter.com/U3IvsPh2ZH

— 유빈(Yubin) (@yubinofficial) August 17, 2020
Hobbies, favorites, rumors, and interesting facts
Friends fondly call her BoNoBoNo based on the Korean cartoon character.
Yubin loves the sea as she is fond of swimming and scuba diving. She does Pilates for her daily workout.
Her favorites: sashimi (Japanese food); apples (fruit); gold (color); thriller (movie genre); Le Labo LYS 41 (perfume); G-Idle, Mamamoo, and Oh My Girl (K-Pop girl groups); Lauryn Hill and Eve (singers).
Yubin considers Jennifer Lopez and Gwen Stefani as her beauty and fashion role models.
Yubin often dabbles in photography, and reads about fashion trends.
Appearance
She is 5ft 4ins (1.63m) tall, weighs 99lbs (45kgs), and her vital statistics are 34-26-37. Her shoe size is 6. She has long black hair and dark brown eyes.
Net Worth
According to authoritative sources, Yubin has an estimated net worth of over $100,000, as of December 2020.