Sowon is a South Korean singer-rapper and dancer, who became known when she debuted as the leader of the Korean Pop (K-Pop) girl group, GFriend. Her group attracted global attention when some of her co-members slipped several times during a live performance of their second single, "Me Gustas Tu." The fan video of the slipping incident went viral, as the girls earned worldwide appreciation for their professionalism. Since then, GFriend has successfully released four studio albums, ten extended plays (EPs), and nineteen singles, and has become one of the biggest girl groups from South Korea.
Just a simple reminder that article is created and owned only by kpopwiki.org. Article cannot be re-published in any other pages or documents. Copyright is protected by DMCA. All found copies will be reported.
Original source: https://kpopwiki.org/sowon-gfriend-age-height-legs-husband-family-bio/
Early Life and Family
Sowon was born Kim Sojung on 7 December 1995, in Eunpyeong-gu, Seoul, South Korea, raised by her parents with her older sister in a middle-class household.
As a child, she already knew what she wanted when she grew-up, and during 8th grade she started professional training to become a K-Pop artist under an established entertainment agency.
Educational Background
She went to Pungmu Middle School, and matriculated from Hanlim Arts School in 2014. She graduated from Sungshin Women's University with a bachelor's degree in Media Visual Performance in 2017.
Career
Sowon trained for four years under DSP Media, home to successful first-generation K-Pop groups including Fin.K.L and Sechs Kies. In her pre-debut years, she appeared in the music video of the songs "To Me" in 2011 and "Tell Me Tell Me" in 2013 by K-Pop girl group, Rainbow. She was supposed to be launched as part of the group, KARD, but for some undisclosed reasons she left the company and moved to Source Music in 2014. Sowon spent another year in training before she was given the green light to debut with five other trainees such as SinB, Yuju, Eunha, Umji, and Yerin as the girl group, GFriend.
First Steps – Debut Year (2015)
On 15 January 2015, she debuted as the leader of GFriend and released the group's first EP, "Season of Glass" – it peaked at No.9 on the South Korean Gaon Album Chart, with close to 25,000 units sold. The EP has five songs including two instrumentals and three original songs such as "White," "Neverland," and the lead track "Glass Bead." The official music video (MV) of the lead track was one of the top 10 most viewed K-Pop MVs on YouTube at that time. The song also accumulated over a million downloads, and was considered a strong debut as the group also made Billboard's list of the Top Five K-Pop Artists to Watch in 2015.
GFriend's innocent, fresh and perky look was quite reminiscent of Girl's Generation concept, which at that time was a welcome change from all the strong sexy concepts that most girl groups had adopted back in 2014-2015.
In July, Sowon and the girls released their second EP, "Flower Bud," with the lead track, "Me Gustas Tu." It debuted at No.6 on the Gaon Album Chart with close to 30,000 units sold, and the lead track peaked at No.8 on the Gaon Digital Chart with 2.5 million downloads. During a live performance of the song at the Hyundai Eco-Driving Concert 2015 held in an outside arena, some the members kept falling down on the slippery stage, due to the water puddles from the rain. They maintained their composure and continued dancing, earning them positive feedback, with the incident making global headlines, as a video taken by a fan went viral capturing the attention of international media. Some of the girls suffered bruises, and one of them even broke a finger, but it gave them much media mileage that contributed to their rising popularity.
In the year-end list of best-selling K-Pop songs, both "Glass Bead" and "Me Gustas Tu" were included, and Sowon with the group also ended the year with a nomination for Best Korean Act from the MTV Europe Music Awards. They took home the awards for Best New Artist in 2015 from Golden Disc, Gaon Chart K-Pop, Seoul Music, and Melon Music Awards.
Triple Crown Win, Charted at Billboard, Solo Concert (2016-2018)
One of the biggest hits of the group came from their third EP entitled "Snowflake," which was released in January 2016. The lead track, "Rough," cemented their place in the K-Pop music industry as one of the rising stars that year. It also debunked the claims of some people that their popularity was just a one-time thing due to the fan-taken video that went viral. The EP went to No.2 on the Gaon Album Chart with close to 45,000 units sold, and was the first time GFriend entered the Billboard World Albums Chart, as the EP peaked at No.10.
The lead track was a huge hit peaking on top of the Gaon Digital Chart with 2.5 million downloads, achieving triple crowns and accumulating 15 wins from television music shows as the Top Song of the Week during its promotion run. At the end of 2016, it was the most downloaded song of the year.
It was followed by another hit song, "Navillera," the lead track of the group's first full-length album, "LOL," which was released on 11 July 2016, topping the Gaon Digital Chart and being downloaded close to 1.5 million times. It entered the Billboard's World Digital Song Sales chart at No.12, and made it to their list of "The 100 Greatest K-Pop Songs of the 2010s" at No.98. The 12-track album peaked at No.3 on the local charts, and No.7 on Billboard's World Albums Chart.
GFriend continued to prove their supremacy with the release of four more EPs, two in 2017 and another two in 2018.
#SOWON throughout 2020 ✨ pic.twitter.com/NWWHdyXupH

— sowon loops (@sowonloops) December 29, 2020
The most notable were the group's fourth EP, "The Awakening," and sixth EP "Time for the Moon Night," which topped the local charts once again. The former peaked at No.5 and the latter at No.6 on Billboard's World Albums Chart.
While the lead tracks of these EPs didn't accumulate a million downloads, they still charted highly with over 500,000 downloads each.
3-Day Diet, Japanese Promotions, Concert Tours, and further success (2019)
Sowon was under a lot of pressure in 2019, because it was one of GFriend's busiest years. It didn't help that she would go under a harsh diet of cucumbers and tomatoes three days before the release of a new song or album, wanting a perfect look onscreen during TV promotions. Her road manager would prepare one of her favorite dishes such as jjajangmyung, or black bean noodles and give it to her right after they finished their live performances.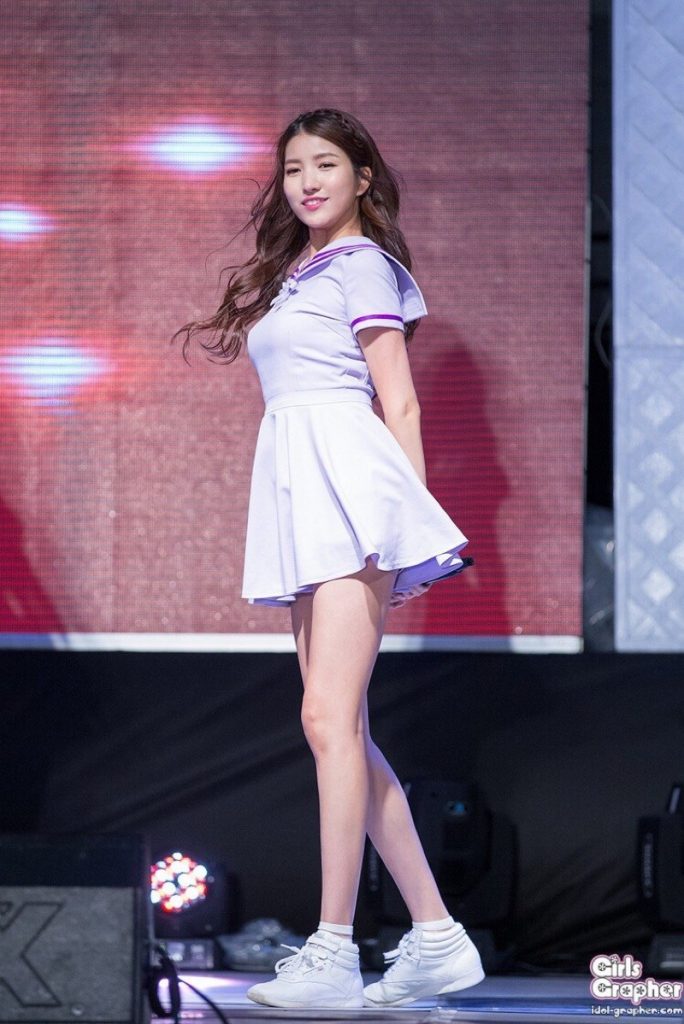 GFriend started 2019 with the release of their second studio album, "Time For Us," which consists of 13 songs including the lead track, "Sunrise." It peaked at No.2 on the Gaon Album Chart and No.12 on Billboard's World Albums Chart. The girls achieved six music show wins for the lead track during their TV promotional run. The EP was their best seller to date, with over 100,000 units sold in South Korea.
They went to Japan in March 2019 to perform in a series of concerts entitled "GFriend Spring Tour 2019: Bloom", with two shows in Tokyo and one each in Osaka and Nagoya. They released their second Japanese studio album, "Fallin'Light," on 13 November 2019, and it peaked at No.7 on the Oricon Album Chart and No.11 on Japan Billboard Hot 100.
GFriend embarked on their second Asian Tour "GFriend 2nd Asia Tour: Go Go Friend." The successful tour started with the Seoul shows and then they performed in eight cities including Hong Kong, Singapore, Taipei and Yokohama.
The six girls at this time were actively participating in the creative process of their music. All of them were credited for writing the lyrics of the song "Hope" from their seventh EP "Fever Season," which was released on 1 July 2019. The EP peaked at No.1 on the Gaon Album Chart and No.10 on Billboard's World Albums Chart, and the lead track, "Fever," gave GFriend six Top Song of the Week trophies from various music shows.
New Image Branding with the "回" Series (2020)
Big Hit Entertainment, home to BTS, acquired Source Music in July 2019, but GFriend would still be managed by the same people, even if the agency became a subsidiary. In 2020, Big Hit Entertainment head honcho, Bang Shi Hyuk, has been hands-on in the creative process of their music, and planning their schedule of activities.
In February, GFriend released the first part of the "回" series entitled "Labyrinth," their 8th EP. It coincided with the 5th anniversary of the girls in the business, and the EP was all about their journey from rookies to successful K-Pop stars.
The title track peaked at No.1 on the local music charts, as well as in 13 other countries on the iTunes Chart. The EP debuted at No.1 on the Gaon Album Chart, making it their fourth album to do so.
Sowon and the girls released their ninth EP in July entitled "Song of the Sirens," which was the second part of the "回" series. It has six tracks, and Bang Shi Hyuk was credited for three songs. Some of the other members also contributed to writing the lyrics of the songs in the album. It charted at No.3 on the Gaon Album Chart, and the lead track, "Apple," won them three trophies for Top Song of the Week in music shows.
The third part of the "回" series was released in November with the group's third studio album entitled "Walpurgis Night." It has 11 tracks including the three lead singles of previous Eps, along with "Three Cups," "Love Spell" and its lead track "Mago." Sowon has been credited for the song "Better Me," which she co-wrote with Umji.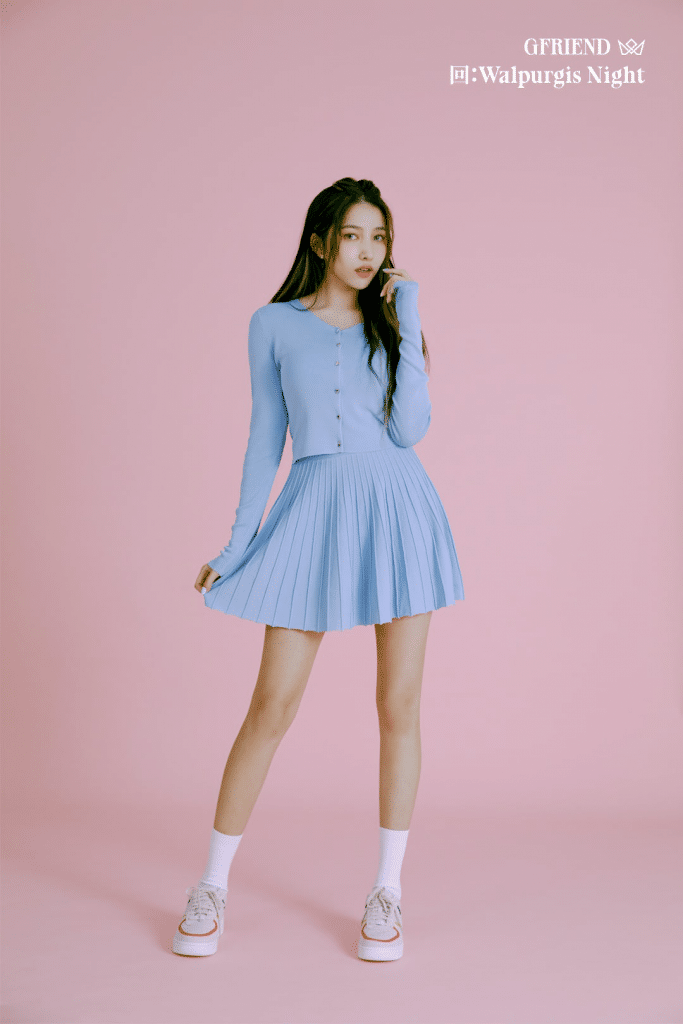 The album peaked at No.3 on the Gaon Album Chart, and earned many accolades, plus being included in the list of Time Magazine's Albums That Defined K-Pop in 2020, and the South China Morning Post list of The Top K-Pop Group Albums of 2020. The lead track also gained positive reviews, and was ranked fourth on Billboard's 20 Best K-Pop Songs of 2020.
It was in this series of releases that GFriend transformed from their classic innocent and fresh image to a more mature, sexier, and fiercer concept. During photoshoots and MV filming, their crew and staff were pleasantly surprised by the changes they made; the fans were shown a different side of GFriend.
Solo Activities
Sowon had appeared as a guest in many talk, variety, and reality TV shows since her debut, including "Hidden Singer," "Idol Star Athletics Championships," "Weekly Idol," and "Real Men." She was often included as a regular cast member in beauty and lifestyle shows including "Look At Me" in 2018 along with Jaekyung (Rainbow), Lizzy (After School), and actress Nam Bora that was aired on MBC.
Sowon was part of KBS's "Trend By Me" in 2019 with Lizzy and Nam Bora, along with Soyou (Sistar). Due to her visuals and fashion styles, she won the Beauty Icon Award at Korea's First Brand Awards in 2019.
Personal Life
Sowon is officially single with no news or serious rumors of being in a relationship at the moment. This is her fifth year in the business, so the no-dating policy is no longer in effect. However, it's rare for K-Pop artists to date publicly, as South Korean fans are possessive of their favorite artists. There are times when her name would be linked to K-Pop artists including Cha Eun Woo (Astro), Jeonghan (Seventeen), and Jin and V (BTS), but were always proven to be just plain wishful thinking of their fans. If she dates in the future, she prefers men who are tall with a well-built body, similar to the actor Park Hae Jin from the drama series, "Cheese in the Trap."
She currently resides in a dormitory provided by her agency. She used to share a room with other members of her group, but she has her own room now.
Hobbies, favorites, rumors, and interesting facts
Sowon is the Korean word for "Wish", and the reason why she chose it as her stage name. Because of her model-like height and figure, she was initially given the stage name of PB, which means Perfect Beauty.
Her tall height has led her to be invited to walk the catwalk in the 2019 Spring-Summer Hera Seoul Fashion Week for the D-Antidote S/S Collection.
Sowon is fond of dogs, and is the proud fur parent to Meonji, a silver poodle dog.
Her celebrity friends are mostly from K-Pop groups, including Nayoung (Pristin), J. Seph (K.A.R.D), Namjoo (Apink), and Nayeon (Twice).
She possesses a driving license as she wants to freely move around in a car and not too heavily dependent on a hired driver.
Sowon's music playlist has more upbeat songs than ballads, as she prefers listening to bubbly and happy songs.
Appearance
She is 5ft 8ins (1.73m) tall, weighs 110lbs (51kgs), and her legs are 1.13m or 3'8" long. Her shoe size is 8 US (250mm). She has long black hair and dark brown eyes.
Net Worth
According to authoritative sources, Sowon has an estimated net worth of almost $3 million as of December 2020.