Momo Hirai is a Japanese dancer and singer-songwriter, who found fame when she made her debut as part of the nine-member Korean Pop (K-Pop) girl group called Twice under JYP Entertainment. She is recognized as one of the best dancers in the Korean entertainment industry today.
Just a simple reminder that article is created and owned only by kpopwiki.org. Article cannot be re-published in any other pages or documents. Copyright is protected by DMCA. All found copies will be reported.
Original source: https://kpopwiki.org/the-untold-truth-about-twice-member-momo-hirai/
Early life and family
Momo Hirai was born on 9 November 1996, in Kyōtanabe, Kyoto, Japan; Momo is the Japanese word for peach Her father was an American Football player, and is now the dean of an orthopedic hospital. Her parents are supportive of her career choice and kept in touch with her all the time. She has a sister named Hana who is two years older than her, and has been part of a 6-member dance group called The Crew. Hana uploaded her dance covers of Twice's songs onto YouTube.
Educational background
She attended a local school for her primary education; there is no record of later studies.
Career
First steps
She was as young as three when she started learning to dance, which became her passion as she continued to hone her skills through years attending Step Out Dance Studio in Osaka. She was inspired to become a singer by Amuro Namie – dubbed as the Queen of Japanese Pop – but what got her into K-Pop was watching the performances of Korean superstars, Rain and Lee Hyori.
When she was around 11, she appeared in the "Ma People" music video of the Korean hip hop and R&B singer, Lexy, in March 2008. During season 3 of the reality television series "Superstar K Japan" in 2011, she and three others auditioned as a group called Barbie, and did a cover of 2NE1's debut hit single, "Fire," but failed to pass the preliminary round.
Her big break came when a dance video of her and her sister on YouTube was seen by JYP Entertainment's casting team, and they were invited to audition in Tokyo. She liked to challenge herself, so she was more excited than nervous at that time; unfortunately, she was the only one who passed. Her parents flew with her to Korea in April 2012, so that she could begin her training. Momo lived in the dormitory provided by the agency, and as she was shy it didn't help that the only Korean words she knew were 'annyeong haseyo,' which means 'hello.' She did sing a Korean song during her audition, but didn't understand a word of it. Although there were other Japanese trainees, she still didn't talk much.
Momo was most confident about her dancing skills.
She knew she wasn't that good at singing, and worried so much about it that she cried before every singing class, but it was something she needed to do so she persisted. Training has become her life, as she spent most of her time at the studio, practicing for 12 to 14 hours from 12 noon until 10 or 12 midnight, almost every day for more than three years.
JYP Entertainment (JYPE) announced in February 2015 that they would launch a 7-member girl group through the reality TV survival series called "Sixteen", aired from May to July 2015 and hosted by the company's founder, Park Jin-young (known as JYP). The 16 participants were given missions to show which among them had what it takes to be a star and ready to debut. Momo was eliminated in the fourth mission based on viewers' votes. Although this was something that could have made her give up her dreams of becoming a K-Pop star, she actually went straight to the training room instead, to practice some more.
TWICE "I CAN'T STOP ME" M/Vhttps://t.co/ED5HxGXPGc#TWICE #트와이스 #Eyeswideopen #ICANTSTOPME

— TWICE (@JYPETWICE) October 26, 2020
The winners would debut as an idol group called Twice ,as they would touch the hearts of people twice – once through the ears and once through the eyes, according to JYP. Jihyo, Nayeon, Jeongyeon, Sana, Mina, Dahyun, and Chaeyoung made the cut. However, during the show's finale, it was announced that two members would be added to the final line-up with Tzuyu chosen due to her popularity based on the votes by the viewers, and Momo chosen by JYP himself. Momo's inclusion was particularly controversial, as she had been eliminated earlier in the series, so causing some fans to be upset as they felt it was unfair to the other participants who survived 'til the end. JYP explained that the seven members were chosen as per the show's criteria, but he believed adding the two would benefit the group more, saying 'I have chosen Momo whom I believe will improve Twice's dance line and the group's performance overall.'
Twice debut
Momo officially debuted as the main dancer, sub-vocalist, and sub-rapper of Twice on 20 October 2015, with the release of their first extended play (EP), "The Story Begins." It peaked at No.3 on South Korea's Gaon Album Chart with close to 50,000 units sold, and entered the Billboard World Albums Chart and Japan's Oricon Chart, peaking at No.15 and No.43, respectively. The lead single, "Like Ooh-Ahh," reached No.10 on the Gaon Digital Chart, and No.6 on the Billboard Digital Song Sales Chart.
"Cheer Up," the lead single of their second EP, "Page Two," released on 15 April 2016 was such a huge hit that it became the best-performing single that year, topping the Gaon Digital Chart with over 111.5 million streams and 1.8 million digital sales.
It not only won the No.1 song of the week almost a dozen times in various TV music shows such as SBS' "Inkigayo" and KBS' "Music Bank", but also the Song of the Year Award ifrom major award-giving bodies such as the 18th Mnet Asian Music Awards (MAMA), 8th Melon Music Awards, and 31st Golden Disc Awards.
Aside from promoting their EPs on music shows, the group also starred in their own reality show called "Twice TV", and appeared in variety shows, either as a group or just a few of them. Momo joined Mnet's dance survival show, "Hit The Stage," which premiered on 27 July 2016, and competed against known dancers of other K-Pop groups including Hyoyeon of Girls Generation, Taemin of Shinee, Chungha (formerly of I.O.I), and Yugyeom of Got7. She didn't fare well in the competition, and ranked last then 5th during the first two rankings based on judges' score and audience votes. She only appeared in four episodes.
For Momo and the girls' anniversary, they held a live broadcast online on the Naver V Live app, in which they introduced the seventh track, "One in a Million" of their third EP, "Twiceoaster: Lane 1."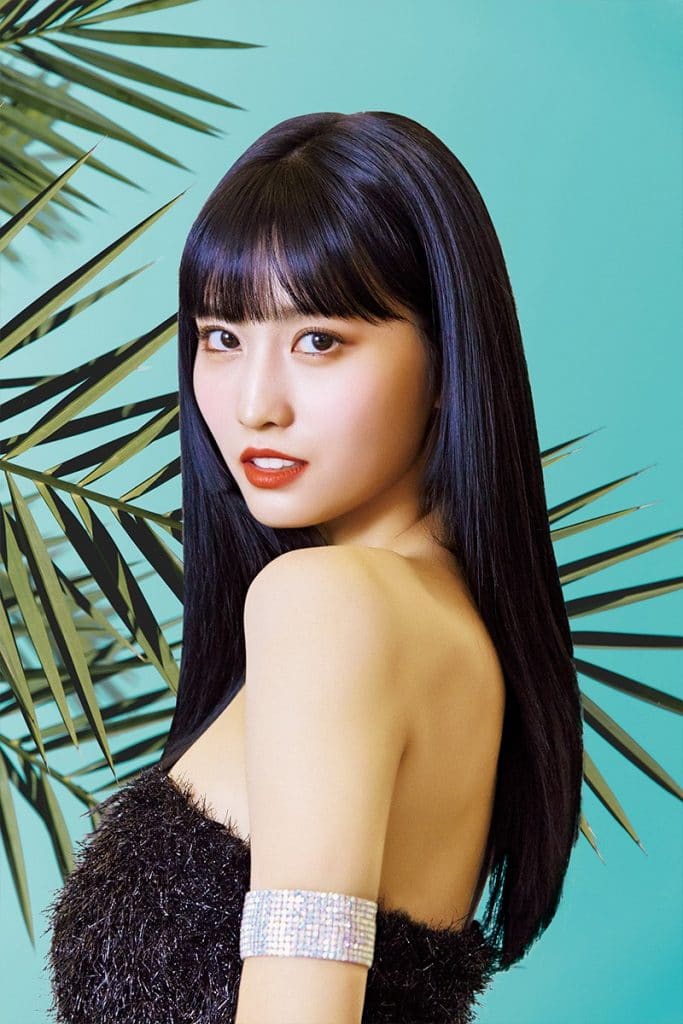 Incidentally, they also use the name of the title as part of their greeting when they introduce themselves – 'One in a million, hello, we are Twice!' The song was dedicated to their fandom called "ONCE," which means 'If you love us even once, we will repay your love with twice of our love.'
They released the seven-track EP on 24 October 2016, and it became the best-selling album released by a girl group that year, with over 350,000 copies sold. The lead single, "TT," the emoticon for sadness or crying, made it to the No.1 spot on the Gaon Digital Chart, No.3 on Billboard Japan Hot 100, and No.2 on Billboard's World Digital Song Sales Chart. It won the Song of the Year – October Award at the 6th Gaon Chart Music Awards (2017) and Song of the Year by Download (Asia) at the 32nd Japan Gold Disc Awards (2018). It was certified Gold by the Recording Industry Association of Japan (RIAJ) for reaching the 100,000 sales mark, and Billboard included it on their list of "The 100 Greatest K-Pop Songs of the 2010s" at No.18.
Momo and the girls held their first concert tour, "Twice 1st Tour: Twiceland – The Opening," from February to June 2017. It started with a sold-out three-day concert in Seoul, followed by Singapore and Thailand, ending with an encore concert back in Seoul, with a total of 52,000 attendees.
With their releases doing well on the Japanese music charts, they officially debuted in Japan on 28 June 2017 with the release of the 10-track compilation album, "#Twice," consisting of their Korean hit songs and the Japanese versions. They held their debut showcase, "Touchdown in Japan," and it was well attended with 15,000 fans. The album was certified Platinum by the RIAJ for exceeding 250,000 in sales in less than two months after release.
Twice continued to release Korean EPs, studio albums, and singles that performed well on local and international charts.
TWICE & 2020 MBC 가요대제전

"I CAN'T STOP ME" on NAVER TVhttps://t.co/fERqPcD5Wj#TWICE #트와이스 #ICANTSTOPME

— TWICE (@JYPETWICE) December 31, 2020
They were the first girl group to be awarded Platinum certifications by the Korea Music Content Association (KMCA), for surpassing 250,000 copies sold with their fifth EP entitled "What is Love" released on 9 April 2018 – music recording certifications were first introduced in April 2018. When a reissue of the fifth EP was released on 9 July entitled "Summer Nights", with its lead single, "Dance the Night Away," it also received Platinum certification from KMCA – Momo contributed to writing the lyrics of the third track, "Shot thru the Heart." Other Platinum-certified EPs include "Yes or Yes," "Fancy You" in which she co-wrote the lyrics of the fifth track entitled "Hot," and "Feel Special" in which she co-wrote "Love Foolish" and "21:29."
Momo and the girls signed with Republic Records in February 2020 for their US promotions.
Their ninth EP, "More & More" released on 1 June 2020 was certified double platinum for exceeding 500,000 copies sold, making it their best-selling album to date. It was also their first entry on the Billboard 200, at No.200, and enabled them to enter the Billboard Artist 100 at No.96. Twice members were criticized when viewers heard them sing the title track live during their encore performance after winning the No.1 song of the week on MBC M's "Show Champion" – it was obvious that Momo was aware that she sang off-pitch, and was bothered by it. Some K-Pop fans wondered why they were poor at singing live considering they were a few months shy of their fifth anniversary, and mistakes like that made them seem unprofessional.
The studio album, "Eyes Wide Open, with its lead single, "I Can't Stop Me" was released on 26 October 2020, and peaked at No.2 on the Gaon Weekly Album Chart.
Most of their Japanese studio albums have been certified platinum by RIAJ for outstanding sales, including "BDZ," "&Twice," and "#Twice3." They held their first arena tour in 2018 called "BDZ", with 70,000 in attendance and their first dome tour, "#Dreamday," in 2019 with 220,000 attendees.
Momo and the girls then embarked on their first world tour, "Twicelights," which kicked off in Seoul at the KSPO Dome on 25-26 May 2019, with more than 20,000 in attendance. It was followed by key cities in Asia and North America, however, they were unable to finish the last leg of the tour scheduled in March to April 2020, due to the restrictions caused by the COVID-19 pandemic. Twice held an online concert called "Twice: World in a Day" in August 2020, watched  by100,000 people.
Personal life
Momo is 24 and currently dating Kim Hee-chul, who is 37 years old and debuted in 2005 as a member of Super Junior. Dating rumors started in August 2019 when Market News reported that they were in a relationship, although it was denied by both their agencies at that time.
However, on 2 January 2020, JYPE and SM Entertainment's Label SJ confirmed the rumors, and said that what started as a close senior-junior relationship developed into something more. They said it happened just recently although there was speculation that they started dating in 2017, as there were reports that the two were seen in Osaka together. The news was met with mixed reactions from both fandoms, as some felt the 13-year age gap was too big while others were supportive of them.
Hee-chul has been vocal about being a fan of Twice since they debuted, with Momo as the one he likes best among the members. In November 2016, Hee-chul and Min Kyung-hoon released the single, "Sweet Dream" as a project of the JTBC variety show, "Knowing Brothers." Momo appeared in the official music video (MV) as his love interest, and the MV has garnered over 24 million views. They have been seen together in other shows since then, often with Hee-chul as one of the hosts and Momo as a guest.
Hobbies, favorites, rumors, and interesting facts
Nicknames: dancing machine, eating machine, and moguri (Momo said she looks like a raccoon, which is "noguri" in Korean)
She has several ways of relieving stress, including talking to her co-members, watching movies or dramas, or eating.
Although allergic to dogs and her skin gets itchy when she touches its fur, she loves them, and is a proud owner of four.
She has a fear of heights – acrophobia or vertigo
Favorites: pink (color), jokbal or braised pig's trotters (food)
She is allergic to salmon, and doesn't like cucumbers, melons, and watermelons.
Appearance
She is 5ft 4ins (1.63m) tall, weighs 105lbs (48kgs), and has a slim build. She has black hair and brown eyes.
Net worth
Momo has an estimated net worth of over $500,000 as of December 2020, according to sources.