Jung Wooseok may be the maknae (youngest sibling) of the popular K-pop group Pentagon, but he is also widely recognized as among the most talented of the member, and holds the coveted role of lead rapper and dancer for the group. Woosoek's musical ability is undeniable, and he has also made a point in extending his abilities outside the normal realm of band work, assisting in composing music, and practicing the violin, an instrument known for the extensive musicality required of its musicians. Pentagon is recognized for the level of raw intensity and emotion within their music, and Wooseok is no different, a fervent advocate for freedom from society and social constructs.
Just a simple reminder that article is created and owned only by kpopwiki.org. Article cannot be re-published in any other pages or documents. Copyright is protected by DMCA. All found copies will be reported.
Original source: https://kpopwiki.org/jung-wooseok-pentagon-age-height-net-worth-family/
Early Life and Family
Jung Wooseok was born on 31 January 1998, in Gwangju, South Korea.
If there is one thing that the K-pop industry excels at, it is their ability to keep the families of stars out of the spotlight and maintain their privacy. Due to this, the names of Woosek's parents and an older sister are all unknown. Although Woosek was born in Gwangju, he attended school in Seoul, and it is likely that it was there that he began to develop and hone the skills he is known for today.
Education
Wooseok has always had a strong background in music, a product of his time spent studying at the Seoul School of Performing Arts, which is famous for producing the majority of stars that make it into the K-pop and South Korean acting industries. Wooseok shared that he was always the tallest student in his year, a fact that hasn't changed as he still stands above most members of the industry.
Wooseok is an accomplished violinist and musician and won a special prize at a violin competition as well as a silver medal for his participation in a band competition. Wooseok matriculated from Seoul School of Performing Arts on 6 February 2017, with the class also including some of the best-known names in the industry today – SinB and Umji of GFriend and Jungkook of BTS. Wooseok was certain to make fans part of this milestone in his life, and posed for the camera in the school's yellow and navy uniform, while making the Pentagon sign with his hands.
Career
Beginnings
Wooseok is well known as a rapper and dancer for the group Pentagon, but this wasn't always the career path he intended to take, as initially he auditioned to be represented by Cube Entertainment in the latter half of 2014 as a model.
The agency, however, recognized the young performer's untapped ability, and decided to take him on as a singing trainee.
PENTAGON
Although Wooseok is now seen as an integral member of the band, when the Mnet boy band survival show, "Pentagon Maker" first aired on 26 April 2016, Woosoek was faced with stiff competition. He had no professional portfolio at the time, while other participants on the show had already spent time on other reality shows, a part of dance troupes, or in other K-pop bands. Despite this, Wooseok dominated the competition from an early stage in all five categories – rap and vocal, talent, teamwork, dance, and mind. Wooseok and the other nine members of Pentagon were announced by the end of the show in July, but internal issues delayed their scheduled debut.
Unusually for most groups, Pentagon released their first songs on 9 July 2016, prior to their actual debut. The two collaboration songs, "Find Me" and "Young", included three of the members who were originally eliminated during "Pentagon Maker". While Cube Entertainment delayed the planned debut of the group on 23 July 2016, which was planned to occur at the Jamsil Indoor Stadium, this only served to increase the public's anticipation of the even. By the time the debut was finalized to take place on 10 October 2016, tickets to the performance were sold out within eight minutes of their release.
The debut was a major success, and also marked the release of the group's first extended play (EP), "Pentagon".
#펜타곤 10th Mini Album
[WE:TH]
Concept Image #2 UNSEEN Ver. 💫

2020.10.12. 18:00 (KST)#PENTAGON#우석 #WOOSEOK#WE_TH pic.twitter.com/pQ8g4rSS1i

— PENTAGON·펜타곤 (@CUBE_PTG) October 6, 2020
The EP consisted of seven tracks including the song "Gorilla", which would earn the group the nickname 'King Kongdol' for the accompanying dance number. The EP was an immediate success, remaining within the top 10 of the Japan Tower Record K-pop Weekly Chart for two consecutive weeks, and making it to number seven on the Gaon Chart.
The rest of the year continued to be a series of successes, with the release of their second EP, "Five Senses" on 7 December, their Japan debut on 10 December, and earning the position as number nine on Billboard's 10 Best New K-pop Groups.
2017 was a particularly popular year for Wooseok, as he was able too to exhibit his composition and writing abilities, co-writing the entire Pentagon discography of the year, and also penning the lyrics for other groups such as Nation's Song and Wanna One.
He has continued this line of creativity since then, usually working alongside fellow bandmate Hui, which also awarded him the opportunity to produce music outside of Pentagon.
Wooseok X Kuanlin
After years of composition collaboration with Wanna One, Cube Entertainment announced that Wooseok and Wanna One member Kuanlin, would debut as their own unit. Lai Kuanlin, a Taiwanese rapper, proved to be the perfect complement for Wooseok, and the pair debuted as Wooseok X Kuanlin on 11 March 2019. Their EP, "9801", rocketed to number two on the Gaon Chart, and sold over 36,000 copies. Once again, Wooseok is credited with the music and lyrics of the EP, except for "I'm a Star" for which he's credited only with the lyrics.
Television and Drama
Since the popularity of Pentagon exploded, Wooseok has appeared on numerous television channels as both a guest and host. After the conclusion of "Pentagon Maker" in 2016, his first appearance was on "The Immigration", closely followed by "Fact iN Star" both in 2016. As is often the case with K-pop bands, the group's musical career spawned a plethora of related TV shows, including "Pentory" and  "Pentagon X Happiness Train" both in 2017, "Pentagon – Just do it Yo!" (2018), and "Star Road: Pentagon" (2019). He has also made appearances in many of the South Korean television idol shows and competitions. Most recently, he and Yoo Seonho were cast as cat owners in the cat behavior centric show "Decoding Meow" (2020).
Wooseok has also played a couple of roles in South Korean dramas, although his focus lies outside of the acting industry. He played a minor guest role in 2016 in "Spark", and a more significant role as Thor in "Age of Youth 2" in 2017.
Personal Life
Personality
Wooseok instantly appealed to audiences due to his optimistic and bubbly personality, saying that it stemmed all the way from childhood. Training as a pianist and violist from a young age, he recounts a competition in which he was feeling particularly nervous – his nerves got the better of him and he made an error which caused the audience to titter and laugh. Instead of regressing even further into his nerves, he says that he found himself laughing along with the audience. He explained that "After you make a mistake, the nervousness goes away.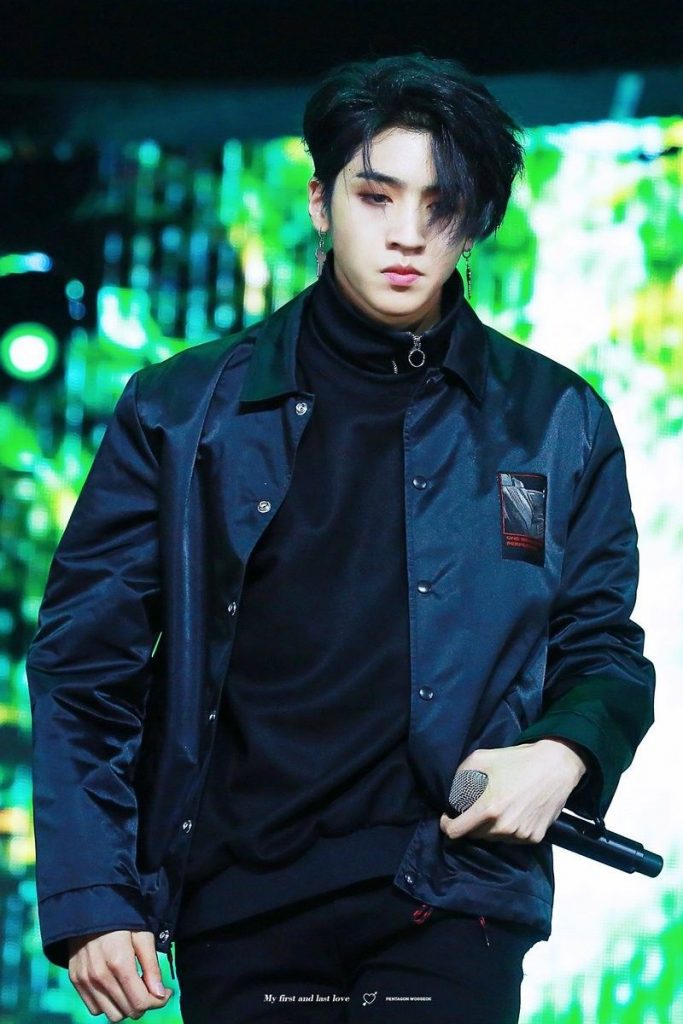 I considered it to be one of my worst performances ever. Ironically though, it was then that I decided that whatever it is, I have to find a job that is on-stage. I really liked performing."
Wooseok is also very passionate about his art, and professes that he would love to share his work with the public and see how they interpret his work. This gels with his love of anime in general and the accompanying art style. While he is far from haughty, Wooseok doesn't appreciate being taken for granted and having his efforts degraded. He is also highly excitable, and his bandmates relate that he is prone to screaming when he is. In contrast to this, Wooseok claims that he can be shy around people that like him.
Controversy
In late 2019, Wooseok was an object of much controversy when fans started circulating screenshots from an old show that he appeared on, which depicted his cell 'phone open in a chat on KakoaTalk, a South Korean messaging application. While the actual content of the chat is benign, it was the background that caught the attention of viewers, which prominently displays a sexually explicit quote that sparked outrage from the community. While many maintained that this was a fault of Wooseok, others pointed out that he has a limited understanding of English, which could easily have resulted in his misinterpretation of the explicit words of the quote.
Appearance
Wooseok is well known for his tall and slender figure; he is always easy to pick out of a crowd as his height is particularly unusual in the K-pop industry.
Wooseok is also unusual in the industry the way he treats his hair – while many members of the industry are want to dye their hair a vast array of colors, Wooseok usually maintains his head of black hair, but not without a couple of exceptions – most famously his green hair during the promotions for "Green Thumb". He has also experimented with red tips and blonde tips, but seems to prefer keeping it natural. Wooseok is 6ft 2ins (1.88m) tall and weighs 155lbs (70kgs).
Net Worth and Salary
Wooseok's main source of income remains his role as rapper and dancer in the K-pop band Pentagon. In addition, he is known to have written lyrics and composed music for various other groups, radio programs, and television. He has also taken up minor roles in the modeling industry, which continues to be a profitable for the star. Wooseok has a net worth estimated at over $300,000, as of late-2020.