Seo Hye-lin is a South Korean vocalist and dancer, who became popular when she debuted as a member of the K-Pop idol group, EXID, and is now working as a solo artist under SidusHQ.
Just a simple reminder that article is created and owned only by kpopwiki.org. Article cannot be re-published in any other pages or documents. Copyright is protected by DMCA. All found copies will be reported.
Original source: https://kpopwiki.org/seo-hye-lin-exid-age-height-net-worth-family-biography/
Early life and family
Seo Hye-lin was born on 23 August 1993, in Gwangju, Jeolla, South Korea. Not much is known about her family, except that she is an only child and that she began learning to play the violin at the age of six. When she was young, she was hurt by her father's words about her singing such as 'She must be crazy' and 'What is she thinking?' that she didn't talk to him for three months after that.
Sometimes her name is written as Hye-rin; the letters "L" and "R" are often interchanged when Korean words are translated in English.
Education background
She attended Ildong Junior High School, and matriculated from Gwangju High School. She subsequently graduated from Dongduk Women's University.
Career
First steps
Singing has always been what she wanted to do since she was a child – together with her two friends, they imitated Korea's first-generation girl group, SES. She later attended Seungri's Vocal and Dance Academy, and when she was 18 years old in 2011, she joined season three of Mnet's talent show, "Superstar K," as a contestant; she passed the audition but was unable to advance further. She is a former trainee of Cube Entertainment, then transferred to AB Entertainment.
Her label and Shinsadong Tiger, a well-known producer and hitmaker, formed a group called EXID, which is short for "Exceed in Dreaming." She was at first to be considered for the original lineup, but didn't make the final cut.
The six-member girl group, EXID, debuted on 16 February 2012, and sold more than 800,000 digital copies of their debut song, "Whoz That Girl?" However, not long after that, the company announced that three of the members would be leaving the group to pursue other things, and as a result, Hye-lin as lead vocalist along with the group's former vocal coach, Solji as the leader and main vocalist, were added to the group. The remaining members are LE as the main rapper, Jeonghwa as the main dancer, and Hani as the lead vocalist and face of the group.
Hye-lin was finally able to debut as an idol in August 2012, when the group released their second single, "I Feel Good," from the extended play (EP), "Hippity Hop." Its official music video (MV) has 13 million views. Her debut stage performance was in KBS' "Music Bank." In October, they released the digital single, "Every Night," which was another version of "The Call" included in the previous EP. They also recorded a reggae version of "Hey Boy," for the soundtrack of the MBC sitcom, "The Thousandth Man."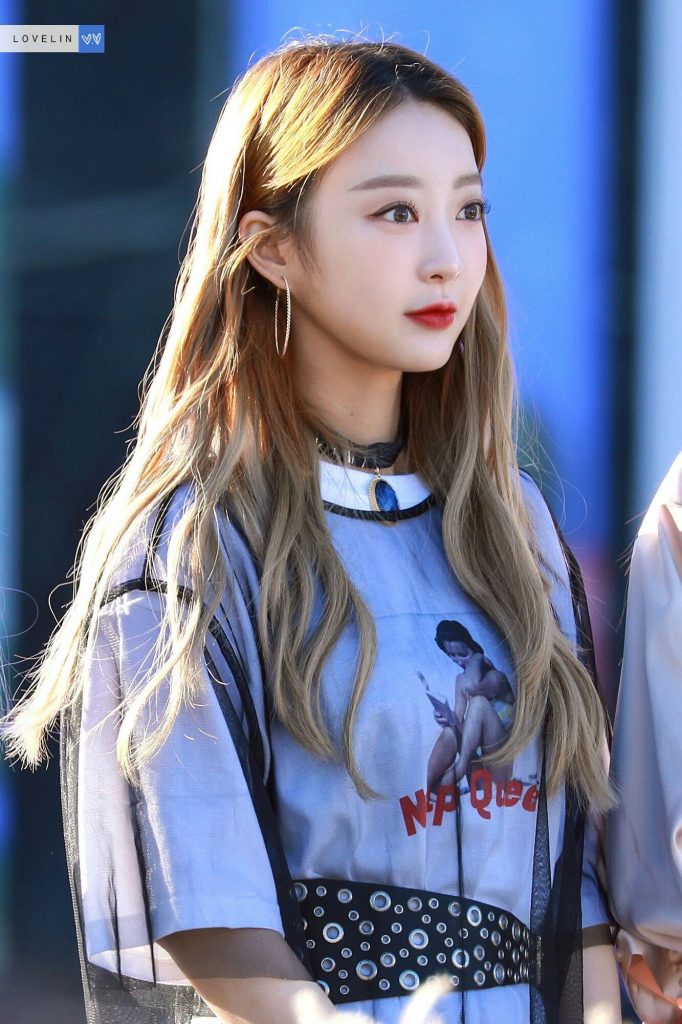 EXID collaborated with Brave Entertainment's Big Star and D-Business Entertainment's D-Unit for an album and concert entitled "The Bugs Show Vol 1", held in Seoul in December 2012. By the end of the year, they won Rookie Awards from Arirang's Simply K-Pop, and Korean Culture and Entertainment Awards.
As she was struggling financially during the early days of her career as an idol, she worked part-time at an ice cream store in the early morning before going to practice; Hani thought she was working out whenever she left their dormitory.
Further success
Hye-lin and the girls recorded the song, "Up & Down," in February 2013, which was included in the soundtrack for the dramedy (drama and comedy) series, "Incarnation of Money," aired on SBS. They also signed a new exclusive management contract in June 2014 with Yedang Entertainment, while still having Shinsadong Tiger as their producer.
They released the single "Up & Down" in August 2014, and promoted it tirelessly in several music and variety shows, but it still failed to enter the top 100 of Gaon music charts. When invitations to guest in television shows became scarce, they performed at various music festivals across the country, as well as in military camps. The girls said that they were close to disbanding at that time, until one of their dance performances to "Up & Down" was recorded by a fan, with Hani as the main feature, and it went viral in various social networking sites, not just in Korea but also in other countries after it was uploaded.
K-Pop (Korean Pop) fans became interested in them, and soon they were invited to what seemed like all the television shows and events in Korea, just to perform the song, becoming very much in demand during that time, because they also became very busy signing endorsement deals, filming commercials, and doing photoshoots for magazines.
The single started climbing the music charts until it eventually topped the Gaon Chart, and they were given the nickname the "Queens of Chart Reversal." They even won the song of the week award in Mnet's "M Countdown," and their success continued in other shows for a total of 11 music show wins.
The song's popularity continued in 2015, and it has become the group's signature song. They included it as the lead single in "Ah Yeah," the second EP they released in April. They were invited to perform at the Korean Music Festival in May that was held in Los Angeles, California. MBC Every 1 featured them in the fifth season of the reality show, "EXID's Showtime," which aired from July 9 to August 27 for eight episodes. Hye-lin and her co-members won the Bonsang (Main Prize) Award at the 24th Seoul Music Awards, and the Discovery of the Year (2014) Award at the 4th Gaon Chart K-Pop Awards.
The group signed a management contract in January 2016 with Banana Project, a Chinese Entertainment Company, for a joint project with their label, Yedang Entertainment, which changed their name to Banana Culture in March 2016. They held their first Chinese fan meeting on March 18, called "EXID's LEGGO Show in Shanghai." They released "Street," their first Korean studio album in June, and then their first Chinese single, "Cream," in December followed by their second Chinese single, "Up & Down," in January 2017.
Their success continued with the release of their EPs "Eclipse" and "Full Moon," and they went on an Asian tour called "EXID Asia Tour 2017." They started promoting in Japan in 2018, with a debut showcase in Tokyo followed by the release of the Japanese version of "Up & Down." In 2019, they released their Japanese single "Trouble," and held the "2019 EXID Valentine Japan Live Tour" and "2019 EXID Summer Live Tour."
Their last Korean EP was entitled "WE", released in May 2019, and they also released the Japanese single, "Bad Girl for You" in December 2019, and the Japanese album, "B.L.E.S.S.E.D," in August 2020.
The company announced that the group would go on an indefinite hiatus, with each member pursuing solo activities. Hye-lin left Banana Culture on 15 January 2020, and signed with SidusHQ for an exclusive contract on 6 May 2020. She is active on her YouTube channel.
Personal life
Hye-lin is 27 years old and currently single. Although she is no longer bound by the no-dating clause usually included in contracts of debuting girl group members, there is still no news of her dating or seeing anyone. When she appeared in MBC Every 1's talk show, "Video Star," in January 2019, she revealed little about her dating history. After her debut, she has caught the attention of many guys but hasn't been able to get past the first date with them.
After eating out or watching a movie, she didn't receive a call from any of them. She heard from friends that the reason for that was that apparently, she would act prim and proper when they first met, but afterward would show her true nature of being loud and doing crazy antics that she scared them off. Since all this happened during the early years of her debut, they were done in secret. Her bad luck with men continued, as she dated a couple of guys who both cheated on her.
She used to know exactly what her ideal type was when she was younger, but it has become quite difficult to pinpoint as of late, although she did say that she wants a guy who can grasp her thoughts, and that she doesn't want someone who is too gentle because she finds them uninteresting. She said she would probably get married in her early thirties.
Hobbies, favorites, interesting facts, and rumors
Hye-lin's English name is Jenny.
One of the things that made her trainee days difficult was when the trainees did not know each other well at that time, which led to a misunderstanding about food. She was invited by other trainees to eat sundae soup (blood sausage soup), but it is something that she couldn't eat.
She is called a lunatic or crazy girl because she sometimes acts in a frivolous manner even while she is on stage or during a live broadcast. You can see that her co-members, especially LE find her weird at times based on her expression, while the rest just laugh at her and try to calm her down when she became hyperactive.
She earned the nickname "jjeop jjeop," because this is the sound one hears when she is chewing loudly.
When she appeared as a guest in JTBC's "Knowing Brothers," she showed how flexible she is by rotating her wrist and hand 360 degrees, twisting her arm in the process, as well as bending her thumb and index finger toward the back of her hand past the wrist.
She joined YouTube in April 2019 – her account's name is "Hye-lin's My Way," and she has more than 100,000 subscribers. Hye-lin said she started this account to meet her fans – whom she calls her babies – and to show them what her life is about when she is not performing on stage, or doing album promotions.
EXID's fandom is called Leggo. Hye-lin's solo fandom name is "Jagiya," which is an endearment that means "Honey" in English.
Favorites: Soybean soup with barley rice, and sushi (food), blue (color)
She doesn't like cats and tuna.
The actors, Kim Woo Bin and Seo In Guk, used to be her ideal guys, but she said that not long after she mentioned their names, news of them dating would be released, so she refrained from mentioning any more names of guys.
As she looked back during her trainee days, she doesn't remember anything fun about it. She said, 'How can training or practice be fun?'
When asked what her favorite EXID song was, she couldn't say any of them is a favorite as she said that she had sung or performed them too many times that it came to a point that she no longer finds them interesting, or words to that effect.
In one episode of the TV Chosun variety show, "Shopping King" in 2019, Hye-lin's products were sold out in seconds, even before she started talking about them.
At one of the wrestling matches between members of girl groups in Idol Star Athletics Championships (ISAC), she brought down her opponent in three seconds.
Hye-lin is good at imitating Korean emoticons, such as being disgusted, feigning ignorance, being sneaky, and showing great shock.
Rumors of her dating Monsta X's Minhyuk started spreading when fans realized that they were close, based on the comments they leave on each other's Instagram posts. Although both camps denied it, some fans don't believe them. She received hate comments and was cursed for it, which bothered her greatly. While she and her co-members were pre-recording for "The Show" in 2018, she grabbed the mic and addressed the audience saying, 'There are Monsta X fans here, right? I've got something to say; I'm not dating Minhyuk.' Her label said that she did this to clarify things so fans wouldn't misunderstand their friendship.
Appearance
Hye-lin is 5ft 6ins (1.67m) tall, weighs 110lbs (52kgs), and has a slim build. She has brown eyes, and her natural hair color is black. She's tried a lot of hairstyles, and changed her hair color often when EXID was still active. During her debut days, her company told her to change the way she looks to leave a strong impression. She copied Sandara Park's signature coconut tree hairstyle, but it was painful as her hair needs to be pulled all the way up to achieve that look, and said that she has lost plenty of hair in the process. She considers this the worst hairstyle she's ever tried.
Her scalp also hurt a lot from dyeing and bleaching her hair too many times. When Solji went on hiatus, she was stressed out as the lead vocalist that she developed a bald spot the size of a coin at the back of her head, and it kept spreading, so she received treatment for it. She has a tattoo on her upper arm that says, "Mind over matter."
Net worth
According to sources. Seo Hye-lin has an estimated net worth of over $2.5 million, as of September 2020.