K-pop stars are often the subject of much admiration for their broad range of skills and abilities, and in the case of Kim Minjoo (also written Kim Minju), this is no different. The only evident difference is the order in which the artist entered the entertainment industry. While most of the artists land their first acting jobs through fame gained in the K-pop industry, Kim Minjoo started her career as a child actress, long before she made any sort of venture into the world of music. Kim has been preparing for this career choice for much of her life, attending performance school from a young age. Her dating life is also the subject of much speculation and intrigue to her fans.
Just a simple reminder that article is created and owned only by kpopwiki.org. Article cannot be re-published in any other pages or documents. Copyright is protected by DMCA. All found copies will be reported.
Original source: https://kpopwiki.org/kim-minjoo-izone-age-height-appearance-boyfriend-wiki/
Early Life and Family
Kim Minjoo was born on 5 February 2001, in Seoul, South Korea. She is the middle of three children with a brother two years older and a sister three years her junior. From a young age, it was already determined that Kim Minjoo's future lay within the entertainment industry, and she was cast in several movies and TV shows. Later, when it became apparent that she was musically talented, she transferred her focus to this industry, but never gave up her passion for acting. While she was in middle school, Kim Minjoo had a whimsical desire to become a stewardess, so that she could travel the world.
Education
Kim Minjoo attended Sungbo Middle School, and then Samsung High School.
However, it became clear to her that her future would not lie in academics and she transferred to Seoul Performing Arts School, only recently matriculating from the Performing Arts school at the age of 19 on 13 February 2020. She expressed her mixed feeling – the excitement of a fresh start mingled with the loss of her time spent with friends on the school grounds.
Kim Minjoo spent two years training to qualify to participate in the K-pop industry, which can be extremely taxing and competitive. Although she already had a background in acting, many other girls hoping to join IZ*ONE already had experience dancing and singing in other K-pop groups. Although she was ultimately far from the first pick for the group, she still did well enough and has proven herself to be an excellent choice.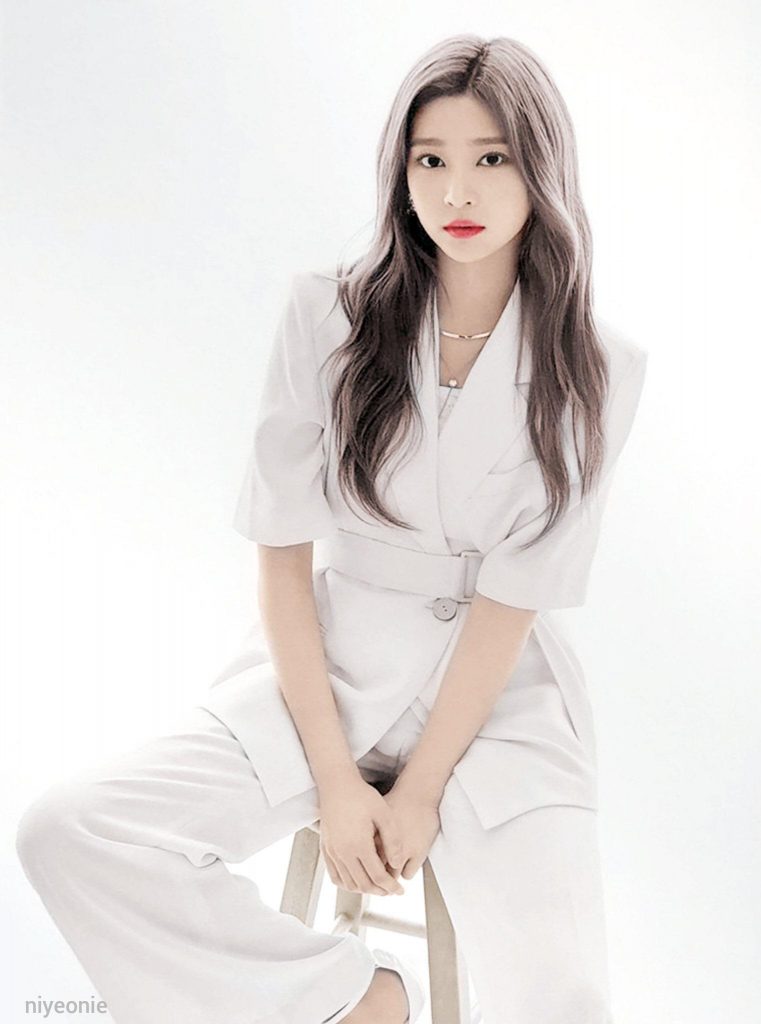 Career
Acting and Drama
Kim Minjoo made her acting debut when she was only two years old, in the film "The Great Seducer" (2003). Due to her age at the time, it is unlikely that this required a large amount of acting, but this appearance served as her first foothold in the entertainment industry. Her next drama appearance didn't come until 13 years later, when she had a guest role in the 2016 drama series, "Immortal Goddess". This was the final role that she played before her musical debut.
However, after her debut in the K-pop industry, Kim Minjoo was able to land significant roles in several films. In 2018, she played the leading role in the film "Anything Worth Noting Never Happens Before Your Eyes".
She followed this when she landed a supporting role in "The Fault is not Yours" (2019), a film that tells the story of a teacher ridden with grief and guilt in the wake of a student's suicide, and the teacher's struggle to continue to teach and guide the students. Kim Minjoo also made a cameo appearance in "A-Teen-2" that same year.
In 2020, Kim Minjoo and the other members of IZ*ONE starred in their own film, "Eyes on Me: The Film", which gave their wide following insight into the everyday lives of the artists, from rehearsals, recording sessions, to the friendships and dynamics of the 12 girls.
K-pop
Kim Minjoo was picked as one on 98 competitors to appear on Mnet's reality show "Produce 48" which ran from 11 June to 31 August 2018. She was represented by Urban Works Entertainment with whom she had been training for some time.
"Produce 48" was a collaboration between the South Korean "Produce 101" franchise and the Japanese idol "AKB48" Group, intended to create the perfect K-pop group.
In the final episode of the show, 12 out of the 20 finalists were selected by audience vote to become the members of IZ*ONE. Kim Minjoo came in at number 11, just managing to secure a place in the group. IZ*ONE consists of three Japanese members – Sakura, Hitomi, and Nako – and Kim plus eight other South Korean members – Eunbi, Wonyoung, Hyewon, Yujin, Yena, Yuri, Chaeyeon, and Chaewon.
IZ*ONE
The group made their debut on 29 October 2018 with their extended play (EP), "Color*Iz", with the song "La Vie en Rose" as the lead single. The release of the album was accompanied by a spectacular showcase at the Olympic Hall in Seoul, the tickets for which sold out in under a minute on release.
The success of the group was immediate, garnering attention from across the spectrum.
IZ*ONE started breaking records only ten days after their debut, receiving their first Music Program win on 8 November, breaking the record at the time of the shortest time to a win after debut. Their EP also made it to second place on the Gaon Album Chart. "La Vie en Rose" received 4.5 million views in 24 hours, and sold 34,000 units on its first day. The group continues to achieve equally impressive results with their Japanese debut and subsequent releases.
Scandal and Hiatus
All was looking good for the K-pop group, with their first full album scheduled for release on 11 November 2019. They also had a movie in the works and several performances planned. However, in July of 2019, viewers of Mnet show such as "Produce 48", noticed peculiar patterns in the numbers of votes meant to signify the public's votes.
two years ago pic.twitter.com/XkndjoanWf

— kim minju pics (@minjuarchives) August 30, 2020
Shows such as "Produce 101", "Idol School", and indeed "Produce 48", are all based on the premise that it is the audience vote that selects the final members of the K-pop group.
On 1 August, an official suit was filed against Mnet by 272 viewers, alleging that the votes had been rigged. The Mnet Vote Manipulation Investigation was undertaken, and until the Seoul Metropolitan Police had thoroughly investigated the allegations, all appearances and plans were put on hold, including the release of the IZ*ONE album, movie and concerts.
The results of the investigation were damning – it was discovered that the producer of "Produce 48" had handpicked the 12 winners prior to the show airing. Several arrests were made, and warrants issued all the way until February of the following year.
Return
Fortunately for IZ*ONE, the producers were able to negotiate a deal that put the group back into action on 6 January 2020. The group was finally able to release their film, "All Eyes On Me: The Film", and their album, "Bloom*Iz" on 23 February. Once again, the album was a virulent success, breaking the record of Girls Group First Week Sales, not only surpassing 300,000 sales within a week, but the total was a truly impressive 356,313.
TV Appearances
Along with the stardom that K-pop brings is the opportunity to appear in countless TV shows, Although Kim Minjoo has been appearing on television from as early as 2011, subsequent to the debut of IZ*ONE, she was in high demand across the board. In 2020. Kim Minjoo was even awarded a position as the main host of her own TV show – "Show! Music Core".
Personal Life
Kim Minjoo makes the most of her time away from rehearsal, stage and the camera. She has an interesting array of hobbies to which she dedicates her time. Kim Minjoo is a talented guitarist, spectacular cook, and is very good at doing impressions. She is also fond of the Harry Potter franchise, and loves to read the books.
Kim also likes to take walks and take photographs, but is also perfectly content to curl up and watch a sitcom.
Dating Life
Kim Minjoo is currently single, but that is not to say she isn't subject to dating rumors. From time to time, fans return to pose the idea that Kim Minjoo is dating her fellow bandmate Kim Chaewon. However, this is denied time and time again, and has no substantial basis. This may stem from a cultural misunderstanding as members of the same gender holding hands is a symbol of close friendship, and not necessarily an indication of romantic involvement.
In addition, Kim Minjoo maintains that she is straight, and therefore would not be dating Kin Chaewon.
Appearance
Kim Minjoo is petite and slender, likely a by-product of her experience as a dancer. Kim keeps her hair quite long but has experimented with all the colors that seem to come with the K-pop culture – variations of blonde, pink, red, brown, ombre, and her natural black hair. Kim Minjoo is 5ft 5ins (1.66m) tall and weighs 100lbs (45kgs).
Net Worth and Salary
Kim Minjoo has received multiple endorsements from a variety of brands, including Urban Works, SALEWA, and the RPG game "OVERHIT". She also receives a hefty salary for her role in IZ*ONE and the extensive royalties of the group's successful albums and EPs. Kim Minjoo is estimated to have a net worth of over $100,000 as of late-2020.