Anda – previously known by her first stage name Andamiro – is a South Korean singer, born under the zodiac sign of Aquarius on 5 February 1991, in Seoul, South Korea. She's best known for her songs "Touch" "What You Waiting For".
Just a simple reminder that article is created and owned only by kpopwiki.org. Article cannot be re-published in any other pages or documents. Copyright is protected by DMCA. All found copies will be reported.
Original source: https://kpopwiki.org/anda-kpop-singer-plastic-surgery-net-worth-is-she-lesbian/
Early Life
Anda – whose real name is Won Min-ji – graduated with a major in Performing Arts from Sungkyunkwan University. Although information about her family is undisclosed, it's known that she grew up in an economically underprivileged family, and actually lived with her grandparents.
Anda's interest on becoming a singer started when she was 14 years old, inspired by an American pop song: 'I was watching the movie 'Mean Girls' and there was a memorable scene where a gay student called Damien sang the song, 'Beautiful' by Christina Aguilera.
I later searched the song on the Internet and really loved it. That's when I started singing and inventing my own dance moves by myself at home.'
Career
Debut as Andamiro
Under the management of Trophy Entertainment, Won Min-ji debuted in 2012 under the name of Andamiro – a Korean word to describe an overflowing bowl – with the release of the song "Don't Ask", which was well received by the critics and gained Andamiro compliments for her unique style and vocals. Then in September 2012 she released her first extended play (EP) entitled "Hypnotize", including its homonymous track sung in Korean, and two additional versions in Spanish and English. In 2013 she collaborated with Double K in the song "Waiting". However, despite the moderate success of the song, Andamiro took an hiatus from music after its release.
Comeback – 2015
Now under the management of Emperor Entertainment Korea, in 2015 Won Min-ji shortened her former stage name and started promoting her work as Anda. When asked about the reason for the change of brand, she said: 'The meaning for the name was great, but it was too long and wasn't really efficient to pronounce at times. There were also too many businesses using and connected to the name. So we made a decision to shorten the name'.
Her name wasn't the only thing she changed though, as her long-time fans were surprised with her single "Mastering", which showcased a music style more oriented to the current electronic dance than her previous euro-pop oriented tracks.
Featuring The Quiett, Anda released the hip hop track "It's Goin' Down", which was followed by "Touch", a single that caused an uproar due its music video's concept, which non-explicitly showed two girls bathing together.
Regarding the reason she chose said concept for the song, Anda declared: 'Undeniably, the concept for "Touch" does contain a slight homosexuality code, but when you pay attention to listen to the lyrics, I would not say the music video is excessively sexual or intended to draw focus on homosexuality.'
To set "Touch" apart from other songs was definitely Anda's idea, who planned it that way from the start: 'We wanted to try a concept that was less common and different because the truth is that you see a female singer with male actors and dancers all the time in music videos.
At first, arrangements were made to feature only male models for the music video, but they were switched to all female models at the very last minute. The change happened just a day before the shoot of the video.'
During the promotions of her music, Anda appeared in various episodes of the second season of "Let's Go! Dream Team Season" and in "Saturday Night Live Korea", and in 2016 Anda released another two singles, entitled "Taxi" and "Like Family".
Change of Label & More: 2017 – Present
In 2017 Anda released the song "Nobody Knows", which was part of the original soundtrack (OST) of the historical drama "Saimdang, Memoir of Colors".
In August that year, Anda changed her label for the second time when she signed with Esteem Entertainment.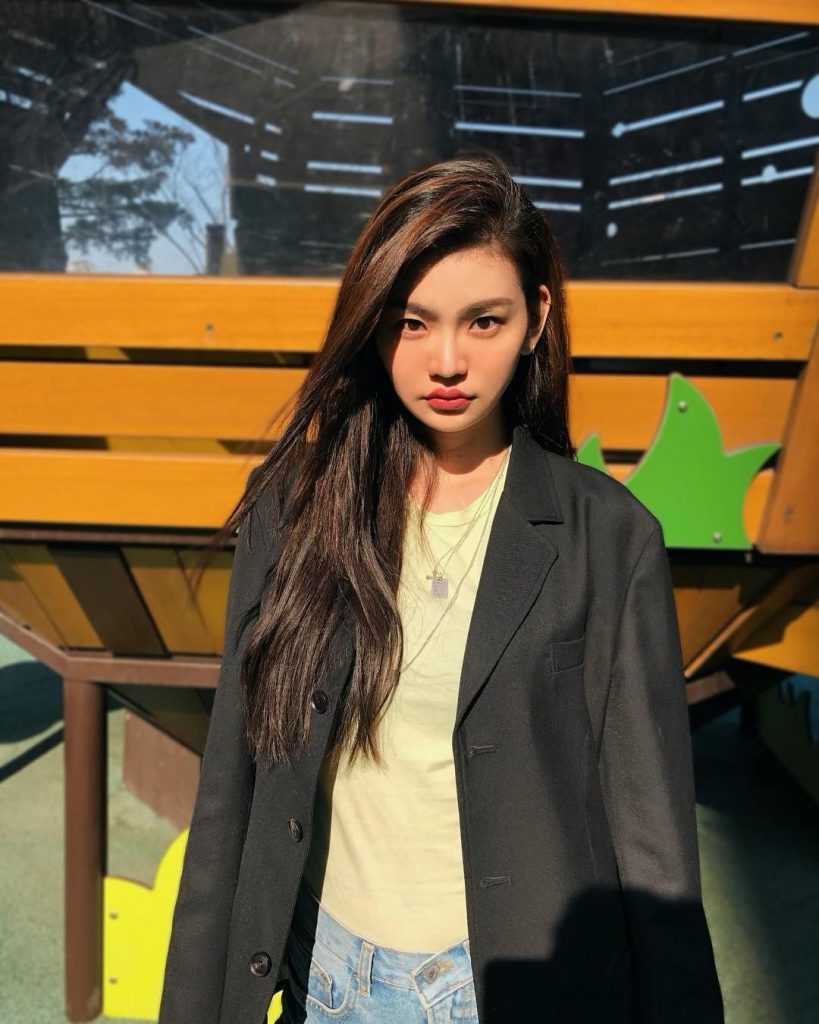 Although she didn't release music under the label's management, she collaborated on the song "Dressroom" with the hip hop artist Primary.
In June 2018 she left Esteem to join YGX, which is a subsidiary label of YG Entertainment directed by BIGBANG'S Seungri. Apparently, she was 'discovered' by a producer of the company when he watched her music video for "Touch", as Anda recalled in an interview: 'He was impressed and told me, 'You're a character not found in Korea. I will recreate you.''
Grateful for the opportunity Anda signed with the label, as she was searching for stability after leaving her former agencies: 'It was such an honor and I couldn't believe it.
It was a big company that I wanted to join ever since I was young. It was great.'
2019 – What You Waiting For
In March 2019 Anda released her first single for YGX entitled "What You Waiting For".
The song was written and produced by R.Tee, who has been in charge of producing many of YG's artists, and has worked alongside the successful group BLACK PINK since their debut.
Anda was ecstatic to work with the talented songwriter, as she revealed to Allkpop: 'I'm nervous, excited, and jittery with anticipation. I'm a fan of BLACK PINK, and I was so glad to receive a collaboration offer from BLACK PINK's producer.
R.Tee oppa is very unique – his music has an unexpected side, and it can be strange. He works with experimental music.'
In the same interview she opened up about her doubts to continue pursuing a music career, as she was feeling discouraged after leaving her previous agencies: 'I worked extremely hard. This year is my 8th year since I debuted, and moving from company to company, I've experienced failures and considered giving up on my career as a singer. But through good chance, I was able to join YGX through a dance team, and I was able to meet a great new song. I think "What You Waiting For" was my destiny.'
Personal Life
Plastic Surgery
There are few photos of Anda during her teens and pre-debut years, thus it's hard to compare her features then with her appearance in more recent years. Plastic surgery however, is very common in South Korea and in the K-Pop industry, and it's possible that Anda has undergone esthetic procedures during her career.
Is She Lesbian?
Ever since the release of the song "Touch" – the video of which has clear homosexual connotations – it has been rumored that Anda is a lesbian. Although Anda has declared the lyrics of the song weren't directly linked to a sexual orientation in particular, she's never denied or confirmed the speculations, thus leaving the question about her sexuality open.
180430 Anda's Instagram updates pic.twitter.com/CNz9Pp8Hm6

— Anda pics (@andapics) May 1, 2018
Marriage Proposal
In January 2016 it was rumored Anda was given a marriage proposal from the billionaire Sheikh Mansour, after they spent time together during an event. However, Anda's agency at the time negated said claims, stating there wasn't any romantic relationship between the singer and the older man: 'She knows him, but the two do not have any deeper relationship. It is true that he was smitten with her at the Hong Kong event they both attended, but she politely declined his offer'.
Net Worth
Anda has an estimated net worth of close to $200,000, which is a result of her career as a singer.
Physical Appearance
Anda has gorgeous features and a slim figure. She's 5ft 8ins (1.72m) tall and weighs approximately 110lbs (50kgs).
Interesting Facts
Anda's blood type is O.
She failed her first University entrance test.
She appeared in Seungri's solo video "1, 2, 3!", thus winning the nickname of Seungri's girl.
She's disciplined about improving her artistic skills, as she revealed to KCrush in 2015: 'I train as many hours as possible at the studio by singing, dancing, and playing instruments from the moment I get up in the morning until I get home to bed. I try to do my best to train hard because I know how important hard work is; it really pays off later.'
She wants to hold a concert in New York.
"What You Waiting For" is the song she says represents her the most.
She has said she's not picky about food, as she usually enjoys eating sweets and cakes.
When asked to describe herself with a word, she chose "orange": 'I want myself to be different from others, It's something that you don't know where it's going to go, you can't tell what's going to happen, but it's fun and it's fresh. Oranges are full of vitamins that relieve your stress. I think I want to be like that [to people]. Those moments are what keep me going in music.'